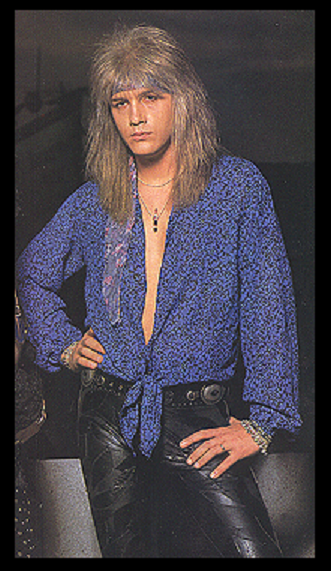 20 QUESTIONS
Cinderella bassist Eric Brittingham – June 22nd 1999 
This weeks 20 Questions is with Cinderella Bassist and Sludgeaholic Eric Brittingham.  We emailed Eric last fall about doing 20 Questions, but he never got our email.  So we put him on the cowards list, but then Eric emailed us recently and said he wanted to do an interview.
He told us "i love your site and visit here almost on a daily basis to get a laugh."  We applaud Eric for having the balls to admit that and speaking out on a variety of topics, so we can see why he's a Sludgeaholic.  We now present to the world, the much anticipated and highly controversial Eric Brittingham 20 Questions!
1.  What are you currently up to? (This is your only chance to plug your shit!  Speak now or forever hold your peace.)
taking time to write and compile songs for our upcoming album( which translates to sitting around wishing we were touring )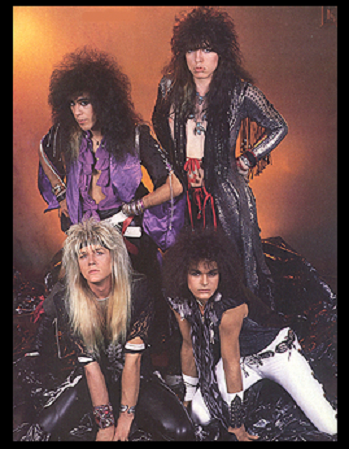 2.  Other than Cinderella, what 80s band should give it up and call it a day?
i think any band who is productive shouldn't give it up. alot of what came out in the 80's should've fallen into that category before they made their first album.
3.  Lately have you spent more time on tour or in the hospital?
hospital, definately
4.  What was the last time you did something rock and roll in a hotel?
never really fucked up a hotel room, on purpose that is. too busy using it for other things

 5.  For $1,000,000, (that's one million) would you release a long, hard piece of shit into the toilet from your own ass.  Pick up the log, put some salt on it, and take only one bite of it.  But you have to swish it around so that it gets stuck in your teeth, then swallow what remains.  You may not brush your teeth or eat or drink anything for the next 12 hours. Would you do it?
no fucking way. i'm on a low salt diet
6. Why does Tom Kiefer sound like he ate a bowl of glass and drank gasoline before every vocal take?
hey, how did you know about that. it's a trade secret
7.  If you could put one Cinderella song in a vault labeled "Songs The Fucking Suck", which song would it be?
one for rock n' roll
8.  What rock star deserves the biggest smack in the mouth?
dana strum with an aids infested dick!
9.  If you could be a Tampon for any celebrity, who would it be?
a tampon just sits there, seems boring to me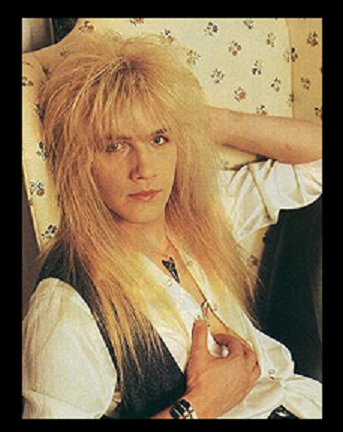 10.  Rate these chicks on a scale of 1 – 10.  1 being a train wreck, and 10 being a hot bitch.
Shania Twain – 9
Janet Jackson – 7 
Ariel, The Little Mermaid – 1 gotta have a mean fem. hygene problem 
Snow White – 1 who would want her after doing all them dwarves 
Cinderella – 1 star fucker 
Jessica Rabbit – 10 
Gwen Stefani – 2 – maybe a 5 without that dot on her head 
Shannon Tweed – 7 ( i meant 10 gene, really ) 
Donna D'Errico – 9 
Richard Simmons – 0 
Gerri Miller – 0
11.  Is it true that Cinderella will be going out on tour with Ratt, Great White and Union?  If so, how embarrassed will you be that Union was included in a line up of cool 80's bands?
i like john corabi, but it doesn't make alot of sense why they're on the bill

12.  You guys made the guitar/bass toss over the shoulder famous along with Yngvie Malmsteen. Did it ever get caught on anyone's hair (extensions) while playing live?
no, but i've dislocated my shoulder from it

13. Cinderella has toured with a lot of bands.  What bands were the most difficult to get along with?


s…laughter
14. How come Fred Coury never got to play on hardly any of the Cinderella recordings? Did he suck that bad?


no, he just was intimidated by a psycotic producer
15.  For $50,000, you walk into a room and there is a nude man with a bag over his head.  You are required to walk over to him and lick the sweaty underside of his ball bag 3 times.  You may then leave and get paid.  Would you do it?


maybe if it was mark slaughter because he doesn't have any balls anyway. no harm in licking imaginary balls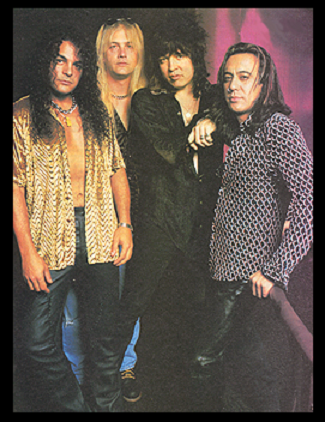 16. Is or was your long blonde hair fake? Was Tom's? Was Jeff's? We won't ask about Fred's cause who would want a short fake afro anyways.
contrary to rumors, none of us ever had fake hair, weaves, etc.

17. Did you ever consider getting some short trendy dread locks and going solo like Tommy Lee?
i like t-bone but don't think i'd like to do any of the stupid things he's done lately
18.  Which Cinderella video do you think should be sponsored by Velvetta because it's the cheesiest?
nobodys fool
19. Do you think Britny Fox was merely Cinderella light?
they were formed by people kicked out of cinderella before we got signed. shows how creative they were huh
20.  Time for Metal Sludge's word association.  We mention a name and you give us your thoughts.  You've seen our interviews before, so you know what to do!

Dana Strum – mother should've kept the plecenta and thrown him out
Jon Bon Jovi – rich
Pamela Anderson – silicone
Jani Lane – bret michaels/don knotts love child
Dizzy Dean Davidson – unemployed
Pauly Shore – nice guy, funny
David Lee Roth – shecky green
Stephen Pearcy – jack daniels
Bret Michaels – showman
Kevin Valentine – casualty of our madness
So how was that?  We think that was pretty damn good!  But for those of you wondering why Eric went off about Slaughter, well then your a bunch of idiots.  But Eric posted the following on AOL to explain why he said what he said.
Subject: 20 questions
Date: Fri, 18 June 1999 01:47 PM EDT
From: BRITTERIC
i thought i should give you all a pre-warning about my answers so nobody gets in an uproar. i made a couple of harsh digs about slaughter and wanted to explain why. slaughter was our opening act on the european heartbreak tour. prior to starting, dana did an interview with a major european magazine stating that it was beneath them to have to open for cinderella and we sucked and they were the reason the tour was sold out. then went on to say how they would blow us off the stage. though i wanted to beat the living crap out of him at the time, we decided to just let it go. after doing two weeks of dates in the uk we dicided to cancel the rest of the tour due to the gulf war that just started. our reasons were obvious, we were concerned for the safety of everyone with us and the fans attending the shows. there had already been bomb threats and we were advised by the u.s. embassy to end the tour. also, it would have been a nightmare trying to get our gear through customs due to the heighted security. we couldn't get a flight back home and decided to charter a plane and actually flew slaughters crew and our people back home. slaughter stayed and did a promotional press tour in which they hammered us for cancelling, saying how we were wimps and whatever. so.., anyway, we had two months before the u.s. tour started, which they were booked for the first two weeks. day one of that tour, tom opens up a rip magazine to read an interview with mark slaughter dissing us again. tom physically grabbed him by the throat, slammed him against the wall and said, in harsher words than i can use here, if he had anything to say about us say it to our faces. mark, shaking and nearly in tears, tried to say they made it up. i don't have a problem with blas and thought tim was a nice guy. the other two, i can't stand.
Now your probably asking yourself, "Self, what was the comment that Bitch Boy Mark Slaughter made in Rip?"  We're glad you asked.  We went deep into the Metal Sludge Library where we keep thousands and thousands of stupid, old magazines and various other shit.  We found the issue and here's the exact quote;
"The band was over-paranoid about the threat of terrorism.  Shit, White Lion, Warrant and David Lee Roth are still going over there to play.  And I wanted to play; so did the band.  It was a chickenshit move."  – Mark Slaughter, Rip Magazine, June 1991
Rip then asked Mark, in the November 1991 issue, if there was any fallout for making that comment.
"There was a confrontation.  Tom Keifer came up to me and asked me if I really said that.  And I replied, "Every word of it."  I told him I said it because he'd slagged me in the beginning of the whole situation.  You know, we had no beefs at all with Cinderella.  I just think it's a matter of them not believing that I would stand up for what I believe to be the truth.  They had their manager stepping in and creating more tension.  Look, I have a lot of respect for the guys in Cinderella, but when somebody says something about me, what am I going to do?  Bend over and reach for the soap?  No, I don't do that.  Talk to the next Zest boy over there."
Really?  Well you bend over for Dana everyday, so it looks like your Mr. Zest Boy.  And according to Eric, when Tom confronted you, you denied it and were almost in tears.  Plus the entire music industry knows you have no nuts in your ball sack.  But enough about Slaughter.  This is Eric Brittingham's 15 minutes of fame, so let's get back to him. 
Cinderella has a live album out called "Live At The Key Club."  We think it's out, maybe not.  Either way, go to the store and find out for yourself.  For more info and shit like that, visit www.cinderella.net