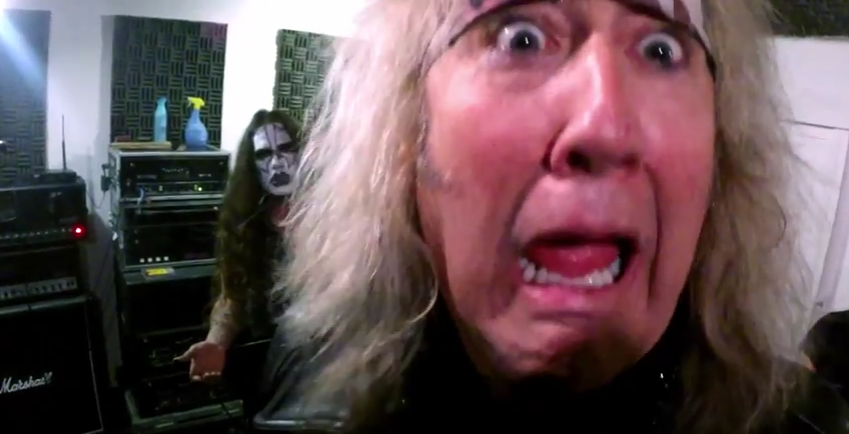 ACE FREHLEY WHO? 
Kiss and Tommy Thayer get Punk'd by Black N' Blue
Monsters of Rock Cruise — Black N' Blue has officially punk'd Kiss and their former guitarist Tommy Thayer.
Black N' Blue has released a brand new promo for the Monsters of Rock Cruise, and it's a must see.  Video is below.
Especially if you're a true diehard Kiss fan.
Black N' Blue has a long storied relationship with Kiss. As most know Kiss bassist Gene Simmons produced records for the group. Simmons had his hands in the producing role for both Geffen Records releases "Nasty Nasty" (1986) and "In Heat" (1988).
Years down the road Black N' Blue guitarist Tommy Thayer became a member of Kiss replacing the legendary Ace Frehley.
"In 1994 Kiss' Gene Simmons and Paul Stanley hired Thayer to work part-time on their forthcoming book Kisstory, which led to other projects and eventually a full-time role with Kiss. Thayer's work for Stanley & Simmons began by performing such tasks as painting Stanley's house and cleaning out Simmons' gutters." source Wikipedia
During the reunion era of the mid 90's it was widely reported that Thayer infact had to help Frehley relearn his parts.
"By 2002 and with the growing uncertainty of Ace Frehley's involvement in the band, Thayer stood by for a Kiss performance at the 2002 Winter Olympics Closing Ceremony in Salt Lake City to fill-in on lead guitar if necessary. One month later Thayer got the call and donned the Spaceman makeup for the first time, filling in and performing onstage with Kiss at a private concert in Trelawny, Jamaica. Several TV appearances followed in 2002 including ABC's Dick Clark's American Bandstand 50th Anniversary Show and That 70s Show on Fox." source Wikipedia
Black N' Blue celebrated their 35th anniversary (1981-2016) last year.
The group performs with 3 of their classic lineup including vocalist Jaime St. James, bassist Patrick Young and Pete Holmes (drums).
Holmes is no relation to the late Porn legend John Holmes.
The Monsters of Rock cruise is slated for February 2-7th 2017.
Black N' Blue @ WebSite – Facebook  – iTunes – Jaime St. James
Monsters of Rock Cruise @ WebSite – Facebook – Twitter 1 – Twitter 2 – Instagram