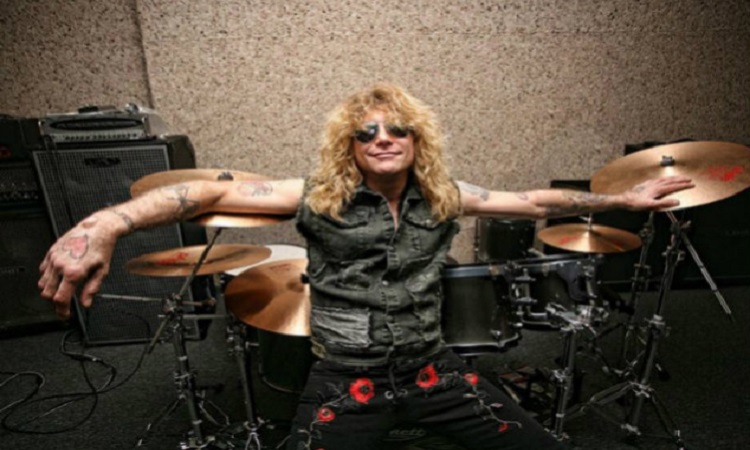 AMERICAN IDOL'ER
Steven Adler adds American Idol singer Constantine Maroulis to Adler's Appetite
Blabbermouth — Following the announcement last month of his Australian tour, ex-GUNS N' ROSES drummer Steven Adler has unveiled the members of the the newly formed ADLER'S APPETITE FEATURING CONSTANTINE MAROULIS band that will be playing alongside him to celebrate the 30th anniversary of GNR's classic debut album by performing "Appetite For Destruction"in its entirety. They are:
Constantine Maroulis (Vocals)
Carl Restivo (Rhythm Guitar)
Sean McNabb (Bass)
Michael Thomas (Lead Guitar)
Constantine is a Greek-American actor and rock singer from Wyckoff, New Jersey. He was the sixth-place finalist on the fourth season of "American Idol" and received a nomination for the Tony Award for "Best Performance By A Leading Actor In A Musical" for his role in "Rock Of Ages". He starred in the title role in "Jekyll And Hyde" on Broadway, for which he received a Drama League Award nomination for a "Distinguished Performance Award."
Each stop on Adler's Australian tour will feature a question-and-answer session with Stevenand his mother, Deanna Adler, steadfast supporter and author of "Sweet Child Of Mine: How I Lost My Son To Guns N' Roses". During the last quarter century, Deanna Adler kept her diaries, journals, and personal letters, as well as a dozen scrapbooks and hundreds of photographs, putting them aside for safekeeping. This is your opportunity to experience the rare personal and emotive journey about raising her son, and the efforts of keeping him alive and herself sane.
Tour dates:
May 16 – Discovery, Darwin 
May 17 – The Gov, Adelaide 
May 18 – Capitol, Perth 
May 19 – The Backroom, Brisbane 
May 25 – 170 Russell, Melbourne 
May 26 – Max Watts, Sydney
ADLER'S APPETITE FEATURING CONSTANTINE MAROULIS will make its live debut on May 10 at the Whisky A Go Go in West Hollywood, California.
"Of course, GUNS N' ROSES was the soundtrack to my youth," Maroulis told Billboard. "To play with Steven has been the highlight of my career. He's a lovely guy, and his playing on 'Appetite [For Destruction]' was second to none, and that sound he made on it defined that whole generation's sound."
Adler stated about the singer: "Let me just fucking tell you something… this guy Constantine, who I call 'Casanova'… he came up to New York and I'm, like, 'Oh my God, I got this great rock and roll singer!' I'm finally working with a real superstar again. I call him 'Casanova' because he's so goddamn sexy. Because he dresses so nice. I wish I was his size so I could double my wardrobe! … He flew up to New York and within five minutes, I wanted to kick his fuckin' ass! And within 10 minutes, I fell in love with him!"
Read the full story at Blabbermouth