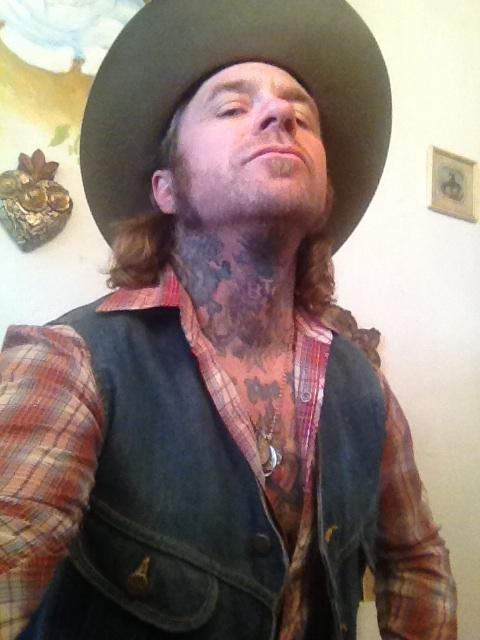 FORMER BIG BANG BABIES FOUNDER IS ALL GROWN UP
Metal Sludge exclusive: Once a Sunset Strip sensation in the post-Poison glam era, Charlie Overbey, formerly known as Kit Ashley, is set to make his grand return with his new band Broken Arrows at the Viper Room
By Gerry Gittelson
Metal Sludge Editor at Large
HOLLYWOOD –Big Bang Babies might have been the most popular band on the Sunset Strip never to sign a major record deal. In the early 1990s, no one got more attention, as the group led by singer Kit Ashley and guitarist Keri Kelli played to soldout crowds at the Roxy and Whisky, toured America (in a real bus) as an unsigned act, and produced an eight-song, self-titled CD that to this day remains a treasured collectible worth more than $100 on eBay.
While Kelli went on to international stardom as a guitarist for Vince Neil, Slash, Alice Cooper and others, Ashley – who would change his name to Charlie Overbey – has remained an underground cult hero still reaching for that brass ring.
With a new buzz band called Charlie Overbey and the Broken Arrows, the tattooed Californian with a penchant for catchy songs returns to the Sunset Strip on Thursday, Nov. 6 at the Viper Room – scheduled to hit the stage at about 10 p.m. – and a capacity crowd is expected.
Overbey is different than the glamorous Kit Ashley we remember – gone are the fancy custom leather outfits, the lipstick and eyeliner, the long, blond locks of hair and even the trademark little boots with bells on them – but the underlying soulful lyrics, the addicting chord changes, the voice that melts girls' hearts, those are all still intact.
Metal Sludge tracked down the former glam god turned singer/songwriter, and Overbey was only too happy to tell us about the new project and to spend a few moments reliving the awesome memories from back in the day.
——————————————————


Big Bang Babies with Kit Ashley front and center
METAL SLUDGE: So all these years later, after Big Bang Babies was so dominant in Hollywood and on the Sunset Strip, you're back, playing the Viper Room.
CHARLIE OVERBEY: Well there are still a lot of memories in the back of my old Jaguar, Gerry. As far as all the memories, it's hard to do it justice in just a few words, but there was just so much debauchery. I don't know. To get into that head space again, I don't know. It was a lot of craziness. But you know that Gerry because you were there for most of it.
SLUDGE: What's interesting, almost ironic, is Big Bang Babies were so over the top, not just with the image but the whole thing with the huge guitar sound and big choruses and all the hype and the light shows and smoke machines and everything. This new project, meanwhile, Charlie Overbey and the Broken Arrows, it's totally stripped down, so much more basic and simple, an Americana-type of thing.
It all goes back to where you come from, I think. Before Big Bang Babies, before first being into punk rock, if I go way back to when I was really young, it was '70s music with the Eagles, Tom Petty and Jackson Browne and Bob Seger, and they're all timeless classics and still on the radio.
SLUDGE: I love '70s music.
My old man used to listen to Johnny Cash. Then my older brother brought home records like Aerosmith and Boz Scaggs and Jackson Browne. As you go on, you kind of bury what's not cool anymore. It was punk, then it was Van Halen, and then glam was cool, but at the end of the day, a timeless song is what's cool forever. A great song is a great song. Now I'm a little bit older, or a lot older. Back in the days of Big Bang Babies, I was 22 or 23. Now I'm 46, and I hate to say it, but I've come full circle, and that means going back to great songs. At this stage in my life, I'm not playing a Marshall amp at 10 but instead a Fender at eight, you know what I mean?
SLUDGE: Tell me about the new band.
We've got four guitar players – including myself, I play acoustic and sing – so it's a guitar onslaught. I've got Jimmy James and Dave James, not related, playing guitar, plus Jordan Shapiro, who plays pedal steel guitar. They're all amazing players who come from heavy rock bands as their roots. Jimmy played with the Comatones on the Strip, and Dave played in several bands including the Superbees, who had great success.
Jordan Shapiro came from the world of glam in Seattle, and he played with the Supersuckers. I've also got Joe Ginsberg on bass, who plays for Chuck Ragan, who has massive success right now as a solo artist. He just sold out the Fonda Theatre, but Joe wants to be a part of the Broken Arrows, so we're figuring it all out, and then I have Charlie Nice on drums. He's the new kid from Rhode Island, and he is a monster on the drums.
SLUDGE: Speaking of guitar players, you started Big Bang Babies with Keri Kelli, who has gone on to have a lot of success, one of the top guitar players in the world.
Yeah, Keri has played with everyone from Slash to Vince Neil to Alice Cooper to John Waite to Night Ranger. He was even in Skid Row. He is unstoppable.
SLUDGE: I thought you two made a great one-two punch in Big Bang Babies, Kit Ashley and Keri Kelli.
Not to put us in the same category of Van Halen or anything, but with most great bands, there are normally two main guys who do the writing and run the show, like David Lee Roth and Eddie, and that's the way we kind of thought of ourselves – like Dave and Eddie or Mick and Keith. We wrote really well together, and Keri and I, we're brothers to this day, still very close, and we still get together. We thought about doing a Big Bang Babies reunion, but we're both just two busy doing all this stuff.
SLUDGE: Big Bang Babies was a band that touched a lot of hearts. There a lot of people, all these years later, who are still very, very fond of that band.
Again, it goes back to the songs. We had great songs with great pop elements to them.
SLUDGE: And my god, you were such a lady killer on the Strip. Did you set any world records?
Well, I don't know, but one night I walked up to Wilt Chamberlain and told him to watch out 'cause I was right behind him. He had supposedly slept with 10,000 women. I didn't have those kind of numbers — but I was pretty close.
SLUDGE: You've continued to plug away, too, as far as keeping your music career alive. You've yet to really hit the big time, but you've never stopped trying. You've never quit doing this pretty much full-time. There is something in you, something that has kept you going.
I don't have any delusions of grandeur at this stage of the game, but after Big Bang Babies, I went on to some other things, and I actually feel like I was lucky and blessed because with Custom Made Scare and with another band called Deadbolt, we were signed and got to tour all over America and all over Europe several times, and that was amazing. All these years, it's been all life experiences, and you live and learn and grow, and I've taken all these experiences and put them into songs with some history behind it, telling a story – and god knows, I've got some stories.
SLUDGE: The new album is called "California Kid." You wrote that song "California" for X-Drive, signed to Frontiers, and in Big Bang Babies, a lot of the songs were about Hollywood and Los Angeles. You're very loyal to California, right? You love being in California.
I do love California. I was born in Lynwood, California, raised in La Habra, California, moved to Hollywood at 19, and you know, there is just no place like California. When David Lee Roth did the Beach Boys song "California Girls," it wasn't because California sucks, and it wasn't because California girls aren't happening, you know what I mean? But I guess there are beautiful girls all over the world, not just in California. You know that, Gerry, right?
SLUDGE: No, I don't know that. You know that.
(laughs) Well, I was just telling one of the guys at rehearsal that the debut of this new band, it's really kind of a homecoming for me. Big Bang Babies made a pretty good mark on the Sunset Strip, and this Broken Arrows show at the Viper Room, yeah, it's like a homecoming for me, a really big deal. It might be the biggest show of my career. There is a lot of interest in this band, a lot of people coming out. Like I said, I don't have any delusions of grandeur, but I do have some high hopes.
Info HERE for Charlie Overbey and The Broken Arrows @ Viper Room Nov.  6th 2014
 Charley Overbey and The Broken Arrows @ WebSite
A flashback with Big Bang Babies, let's hope they recycled all that plastic
Gerry Gittelson can be reached at gspot@metalsludge.tv
Metal Sludge
Sunset Sludge