BACHERMOUTH
Read Sebastian Bach's political 4-letter word filled meltdown fighting with fans, "Put my nuts in your mouth"
Blabbermouth — Last September, Bach told Music Injection that things had gotten particularly bleak in the months after president Donald Trump took office.
"Well, since Donald Trump became president, Facebook became not fun for me," he said. "Every headline sucks, everything sucks and I get to the point where I can't take it! All of that news, constantly, day after day, week after week, it gets me down and it gets me in a bad mood.
——————————————————–
The above is an excerpt from a new Blabbermouth posting.
But the article is only the start of what has turned into an endless war of words between Sebastian Bach and the online Blabbermouth community.
Bach is on tour and it's usually when he makes headlines.
Not just for a live show (good or bad), but usually for one of his (expected) public meltdowns.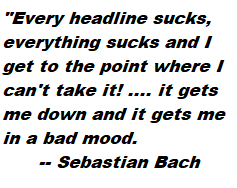 Whether it's a screaming episode from the stage directed at fans (for taking his picture, or perhaps the set list) or a tantrum style outburst during a interview.
You can almost bet on every tour, there will be an incident where Bach steps out of bounds.
Back in late June the former Skid Row screamer had been commenting on various Blabbermouth threads, but the recent political post has Bach … well, simply put … losing it.
Anyone with any level of celebrity, understand that the world's internet trolls will comment on everything you (they) do.
The same thing happens with friends, enemies and unknowns on Facebook, Twitter and the World Famous Metal Sludge Gossip Boards.
But, most … not all, but most celebrities over time figure out a way to deal with it.
Bach is now 50, married for the 2nd time, and living in a new California home.
However it appears this man is still angry and unhappy.
Especially when he is challenged or told 'No'.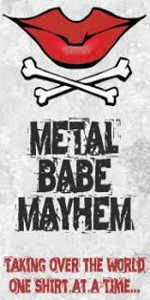 Now after the recent article, where Bach speaks his mind on politics, some fans have interjected their thoughts on the same.
Some in agreeance with the famed rocker, but not everybody agrees.
Oh SNAP!
How dare someone not agree with Sebastian Bach challenging his intellect, or knowledge.
The article ran, and like every other article, on every other website around the globe – people commented.
Bach did too.
Not once, not twice and not 5 times.
Nope, not even 10 or 20 times.
We lost count, and it appears that Bach has blasted away upwards of 50 times over several hours.
And it's all kinds of … well … juvenile exchanges that you'd hear at recess in say, the 6th grade.
They include all your favorite four letters words, references to people's Mother and threats to kick someone's ass in fight.
Here is a list of some of the singer's comments and comebacks to anyone who doesn't agree with him.
We got tired from cutting and pasting so there are only about 30 here.
Some select fighting words from the mega star Sebastian Bach with fans on Blabbermouth. (see actual screen captures below)

"FUCK YOU"
"You are an idiot."
"Put my nuts in your mouth"
"Fuck off"
"Not as much as the cum from my cock 
🤗"
"I have more intelligence than you , Brian Dillon."
"Loser"
"Why would to comment then ? Suck a fart out of my asshole."
"FUCK YOU"
"Fuck you Doug coe! Suck me."
"Angel down you fucking idiot 
😃
😃
😃
😃
😃
😃
😃
😃
😃
😃
😃
😃
😄"
"Because you all suck."
"Stay out of life been Arnold! Because you suck at it."
"You suck"
"Peggy Hayden fuck you lifetime loser."
"Suck my cock"
"Thanks for following, xoxsuchker"
"Yeah and your tounge feels good up my asshole. Fuck you and your mom"
"FUCK YOU"
"A lot brighter than you are, asshole"
"Steven A. McKay lose my nuts in your mouth bro."
"Peggy Hayden is one of the stupidest human beings of all time. A complete lifetime loser. In every way. Fuck off and get a life"
"Tim, you're a fucking moron. Fuck you"
"Any time. Suck my dick"
"you're reading my shit no matter what I say. You're the fucking idiot. Once you stick your tongue right between my ass cheeks and lick"
"Mick Trivane get a life"
"Fuck off Bob moron"
"Fuck you idiot"
"Yes. The pattern is is that your life completely sucks. Fuck you asshole"
"Fuck you, you washed up tool. Happy now pussy boy?"
"Fuck you, Christophee Kersey. I will whup your ass In person! You realize that right?"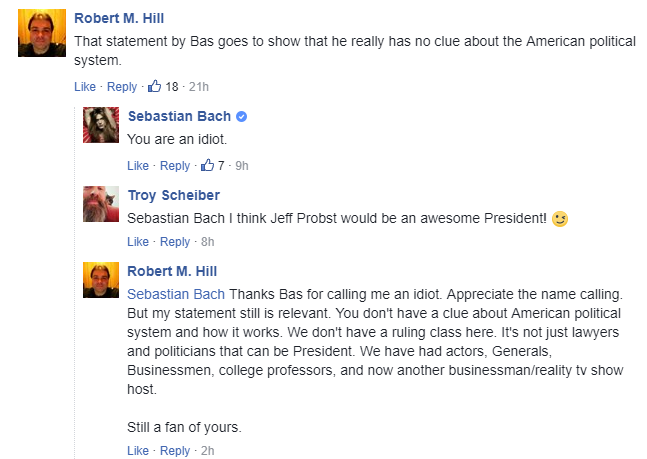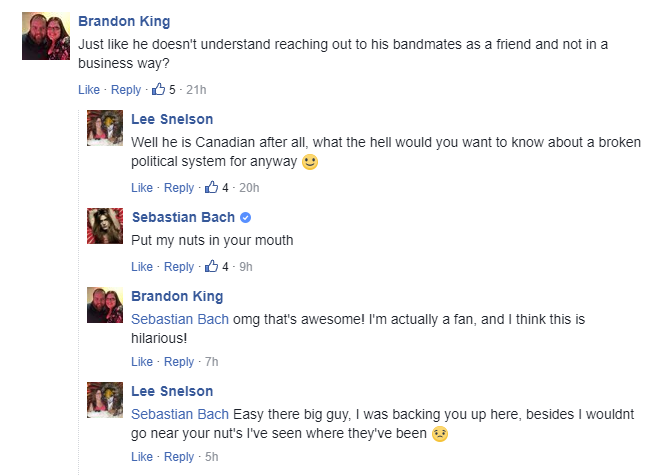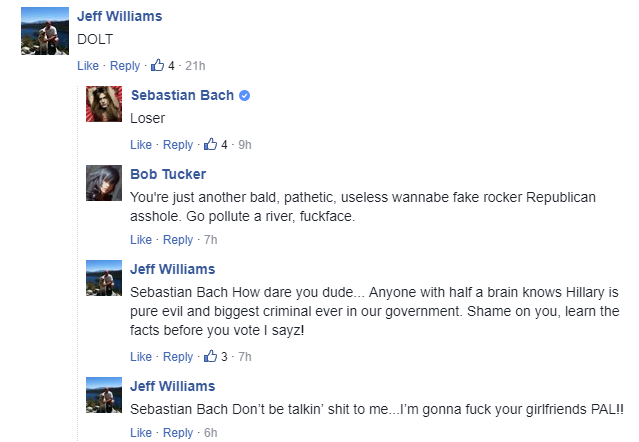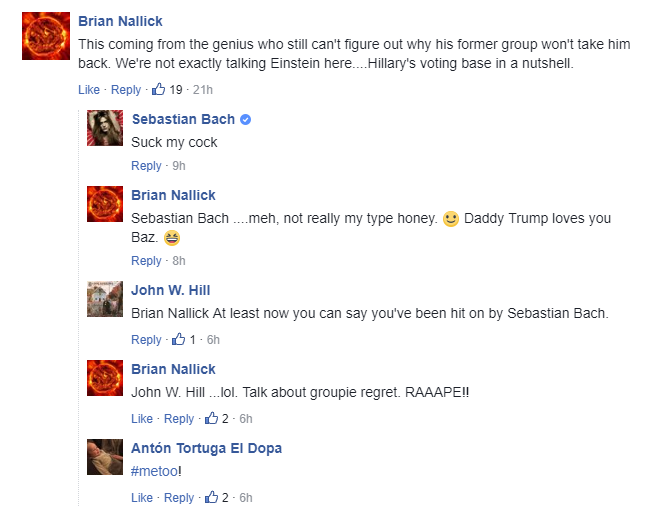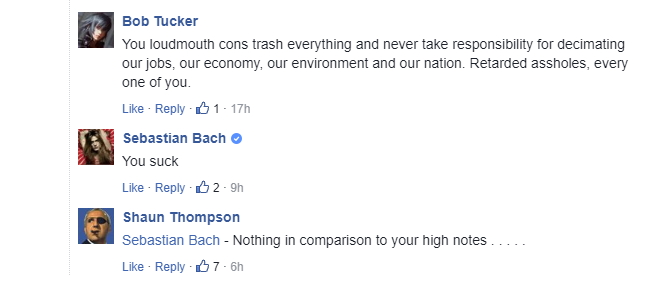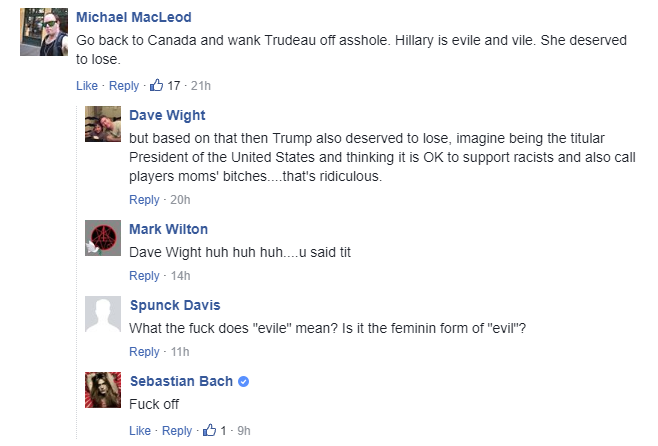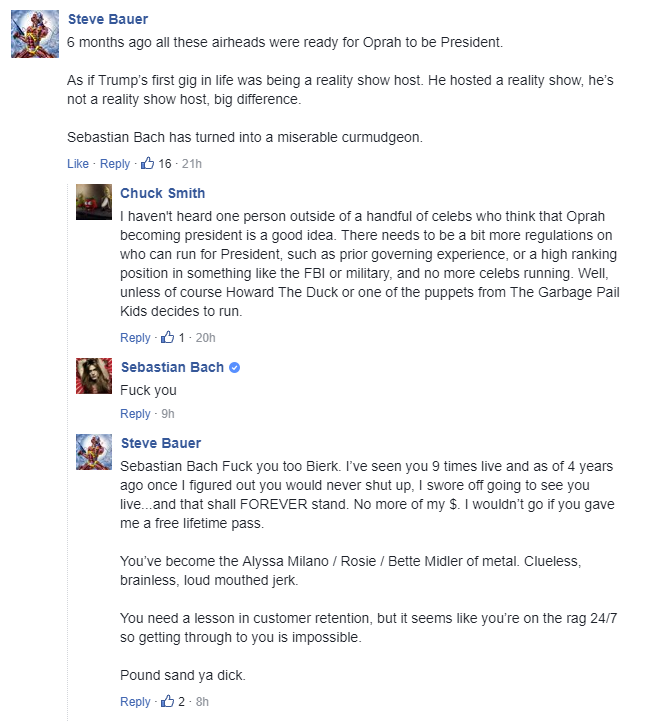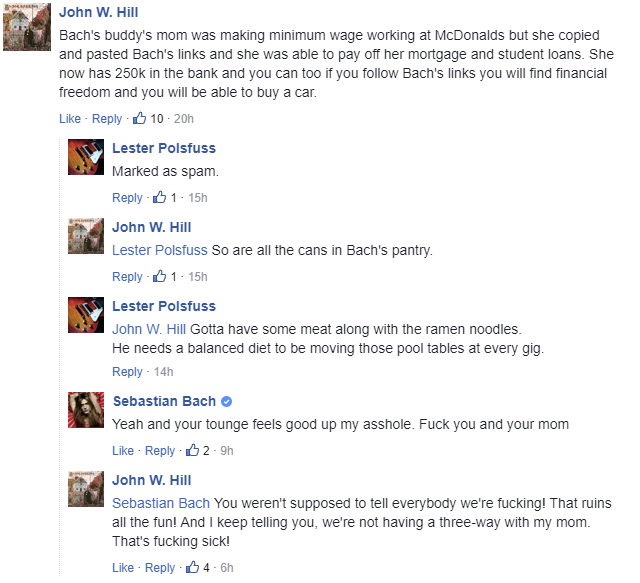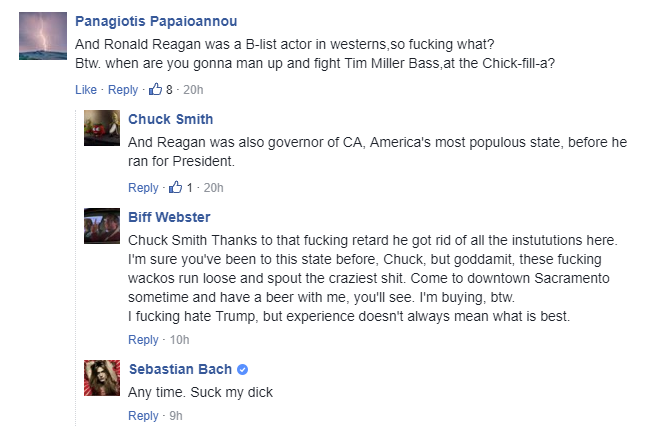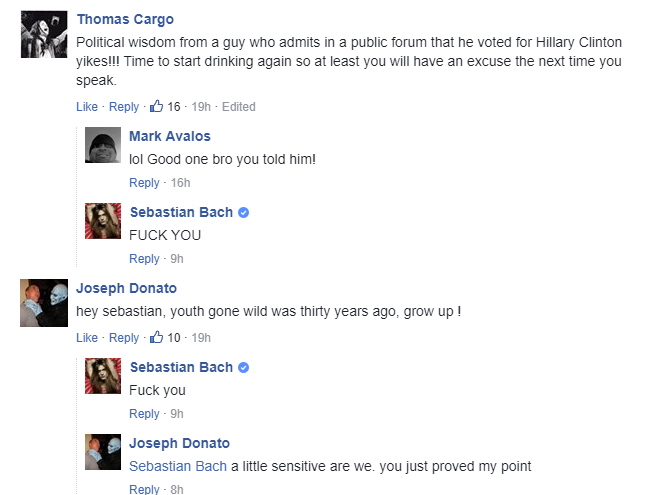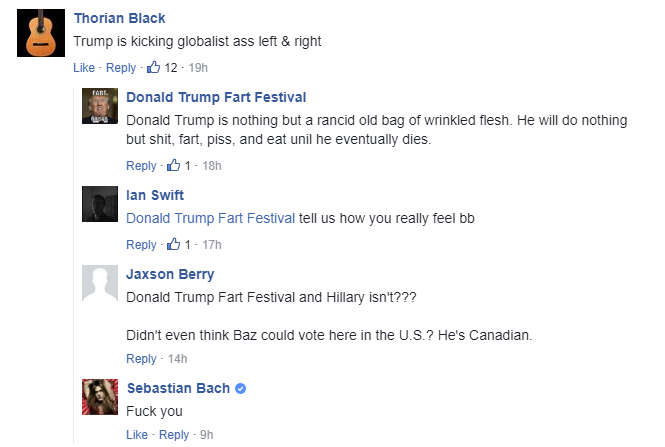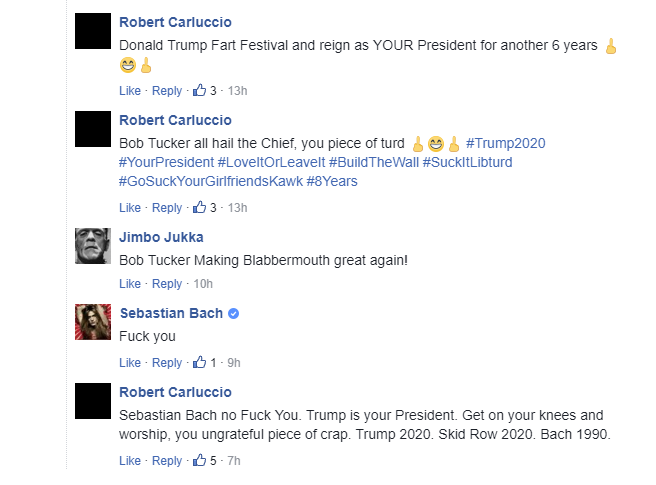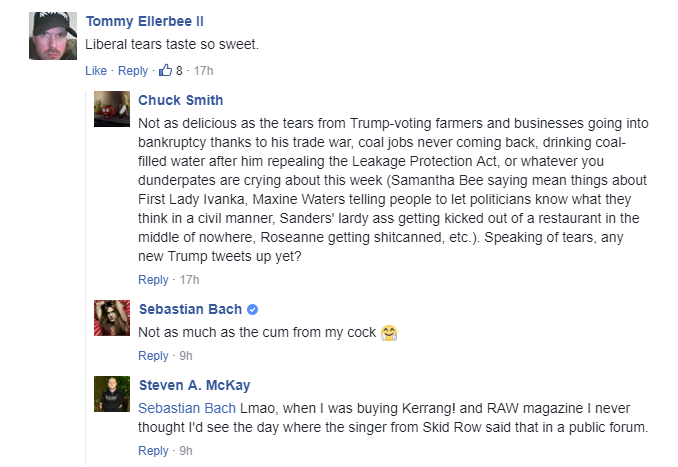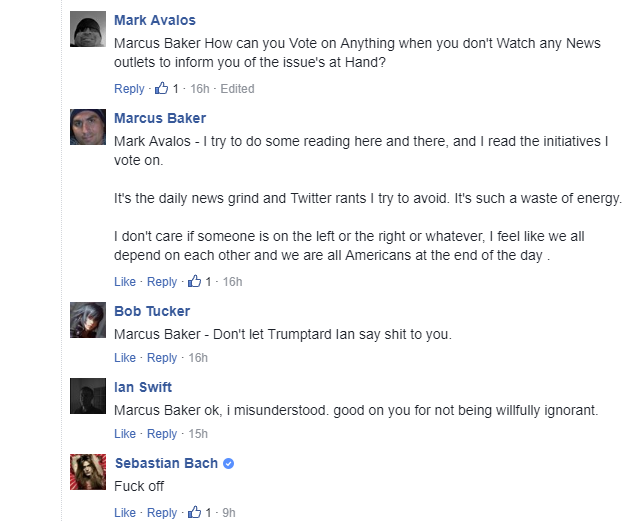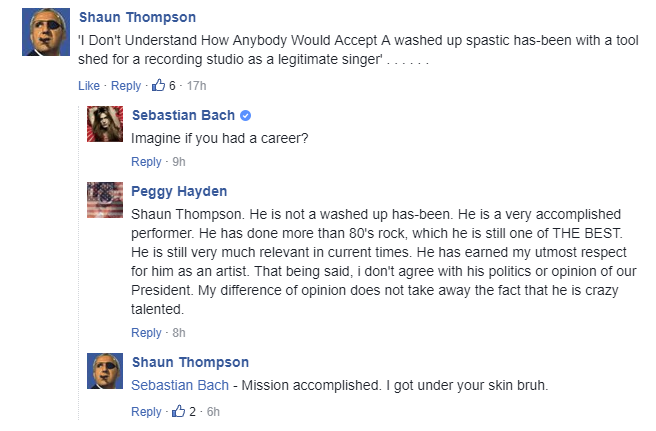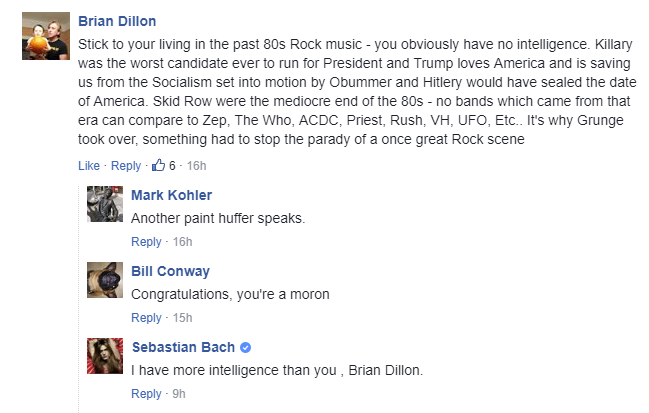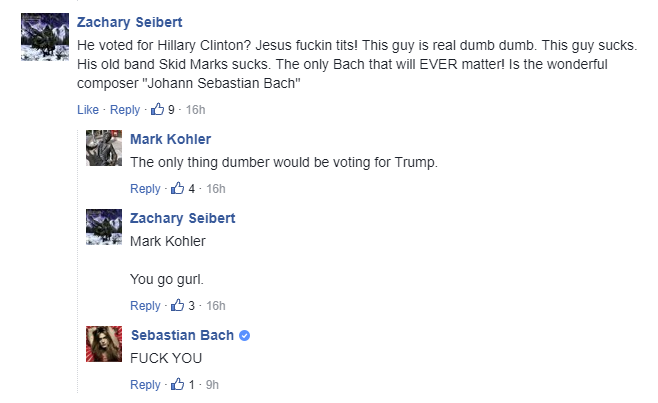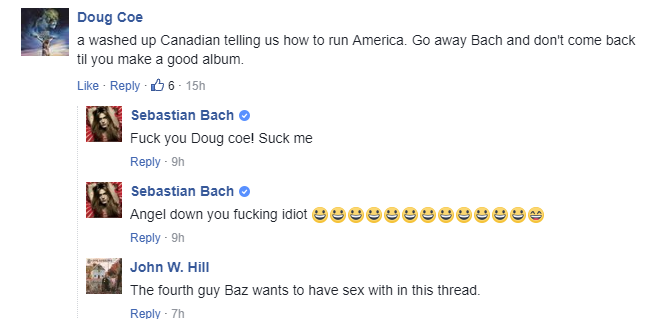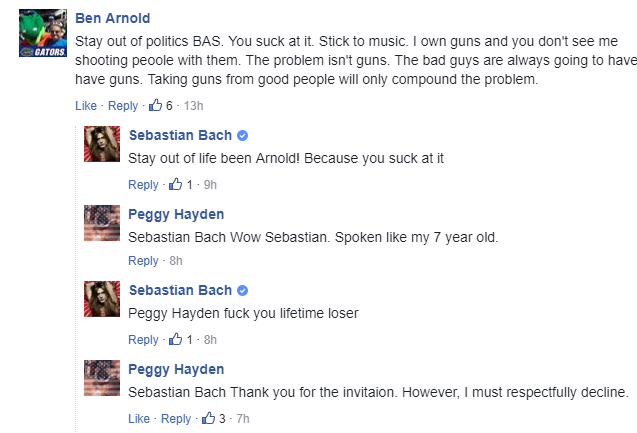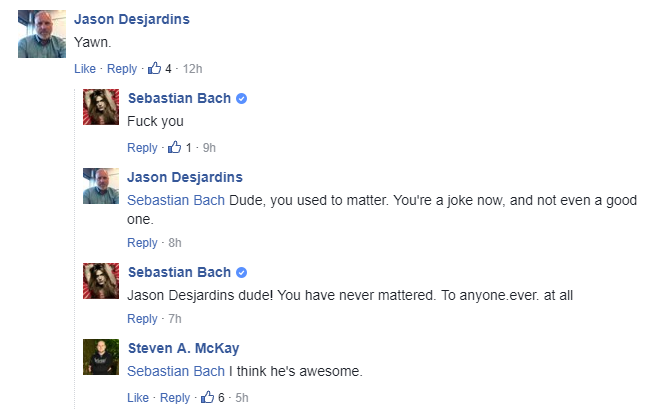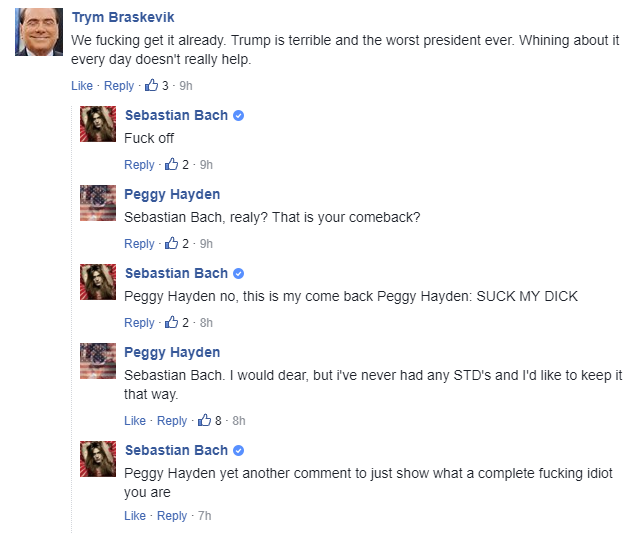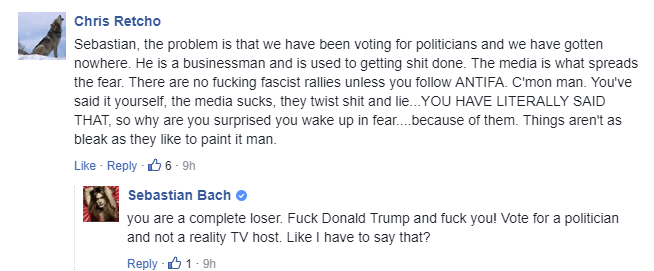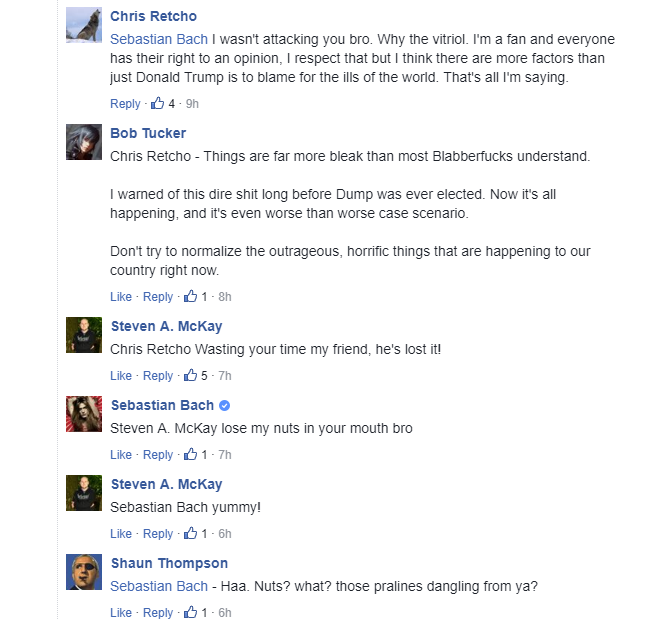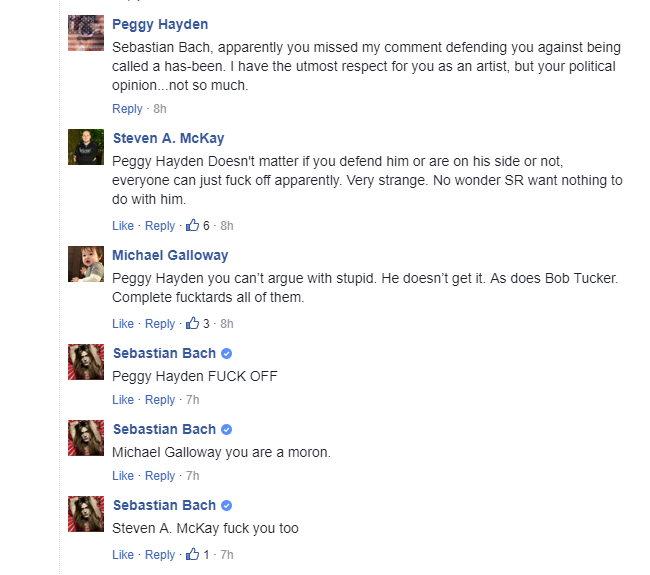 It appears that at some point Bach becomes less focused and typos are a plenty.
Maybe he's slurring his texts… from too much Jesus juice?
Bach is open about his love of wine and has recently shared social media videos with glass in hand.
It also appears that Bach lashes out at both men and women.
Many times, without even being provoked.
Sadly for Bach, these actions are what reduce him to D-list.
Yeah, you all read that right.
Sebastian Bach is not A-list, and never was.
He's not even B-list.
Hell, the Cash Me Outside girl (Danielle Bregoli pka Bhad Bhabie) is more relevant than Bach.
And at 15, she appears more mature too.
List 25 artists who went platinum, and then make a list of who would engage this behavior with unkowns on social media?
The list is short.
But if you are a miserable loose canon and entitled jackass – then you make the list.
Congrats Baz, you win again.
Read the full story and read dozens of comments on Blabbermouth