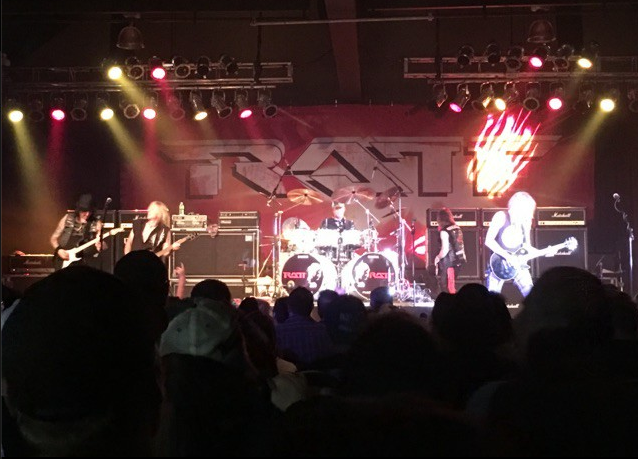 BACK FOR LESS
Bobby Blotzer's Ratt perform debut show with new singer Seann Nicols
FORT YATES, North Dakota — After admitting to ignoring a cease and desist, Bobby Blotzer's version of the band Ratt played their first gig of 2017 last night.
Blotzer's Ratt performed at "Prairie Knights Casino" in Fort Yates, North Dakota. Firehouse were support. (see review below)
The drummer took to his group's official Facebook page in the last 72 hours posting several blogs, rants and videos.
Blozter who has been in an on-going battle with what many industry people refer to as the real Ratt, seems to be digging in and standing firm that he still owns the name.
The classic era Ratt drummer ranted on Facebook writing: "My corporation, STILL OWNS THE NAME.  I'm going into detail here only because this show was served by the three blind bland mice a Cease and Desist. Anyone can send one of those to anybody."
Blotzer continued in a 10 plus paragraph rant going over details of the case ending his post with; "PS. There is no court injunction to preclude us from playing. It isn't over folks!"
Below are several clips from last night's performance. Some from Blotzer's 'The Ratt Experience' page, and others from youtube.
Songs included are; "Back For More", "Lovin' You's A Dirty Job", "Dance, Dance, Dance", "Lay It Down" and their encore "Round N' Round".
Blotzer's Ratt features Seann Nicols (Ex-Quiet Riot, Ex-Adler's Appetite) on vocals, Mitch Perry (Ex-Lita Ford Band) lead guitar, Stacey Blades (Ex-L.A. Guns) guitars and Brad Lang (Ex-Y&T) on bass.
In a short (post show, next morning) blog on March 19th, Blotzer writes; "Myself and the band just wish to keep bringing it to you all, as we've been doing for 2 years now. I'd also like to thank our band Members and our team behind the scenes for steering the course."
Blotzer gives props to his latest addition Seann Nicols noting; "Seann did a fantastic job out front for his first up to bat."
In closing that blog Blotzer added; "We appreciate all perspectives, especially the positive ones."
We've added one fan's perspective of last night's show, see below.
In a pre-weekend blast, Blotzer took shots at a former bandmate on Friday March 17th writing about Juan Croucier.
The drummer posted a video and added several questionable comments about the bassist. But fans shot back at Blotzer with some choice words in Croucier's defense. It appears the post (screen captured below) has now been edited.
Stay tuned for more from the world of Ratt.