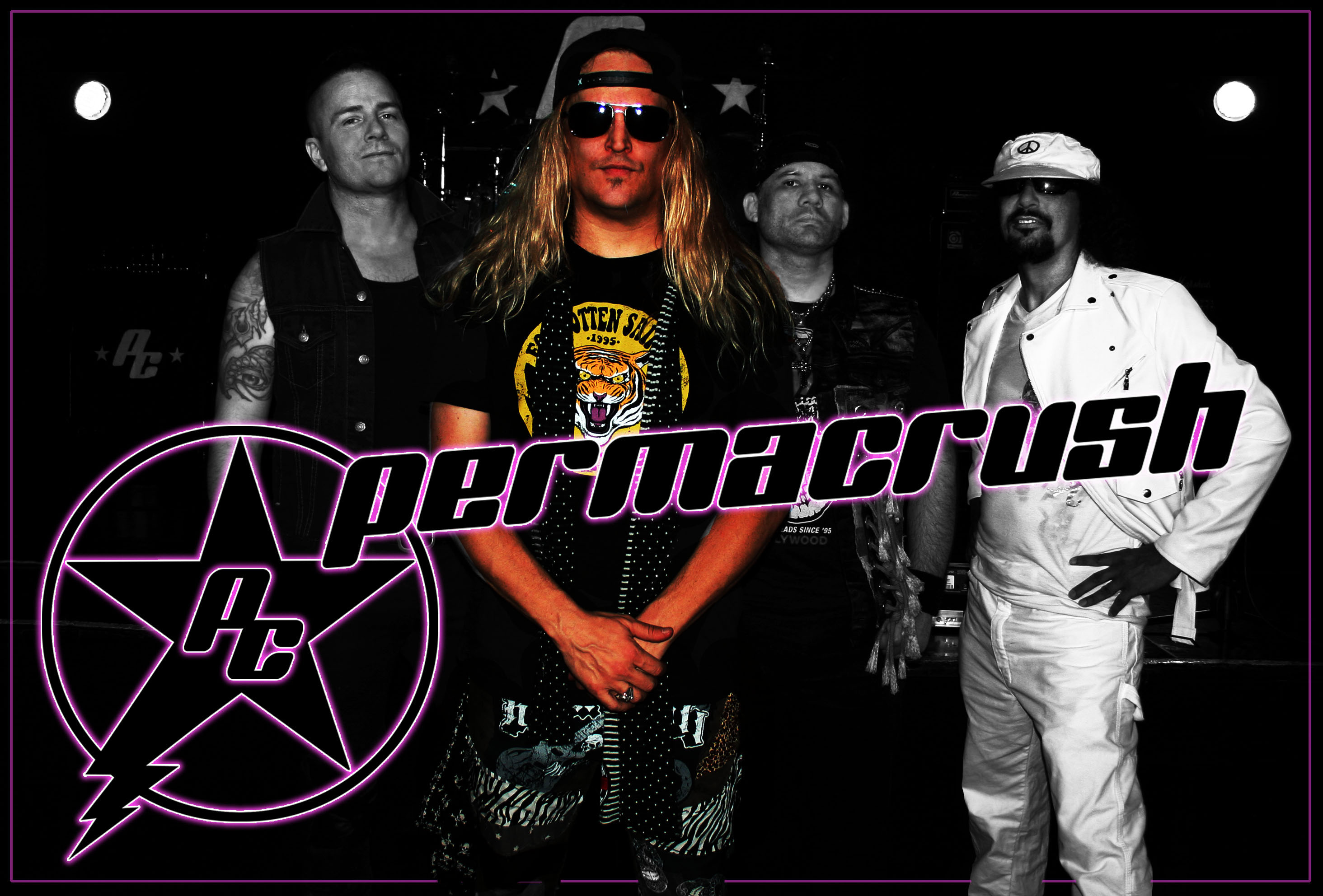 CRUSHED
METAL SLUDGE EXCLUSIVE: Rock talk with rising star Chris Crush of L.A. glam hopefuls Permacrush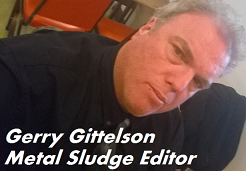 Metal Sludge loves to write about the same old favorites over and over again, but we have an eye for up-and-coming talent, too.
The past two Los Angeles local bands Metal Sludge has given a shit about enough to actually publish something — Joyous Wolf and Six Gun Sal — both parlayed the momentum into major record deals, as Joyous Wolf signed with Atlantic and Six Gun Sal with Sony (Wright Records).
Permacrush could be next. Led by singer Chris Crush, the Los Angeles band is making a splash on the west coast, including a couple of popular videos on youtube and some high-profile concert performances supporting acts like Dokken, L.A. Guns and Faster Pussycat. The other members are drummer Alex Tuccio, guitarist Brett Baugh and new bassist Harley Duggan.
Which brings us to the iconic Rainbow Bar & Grill, where Crush lined up shots of Jack Daniels as Metal Sludge lined up our latest interview questions.
Cheers!
——————————————————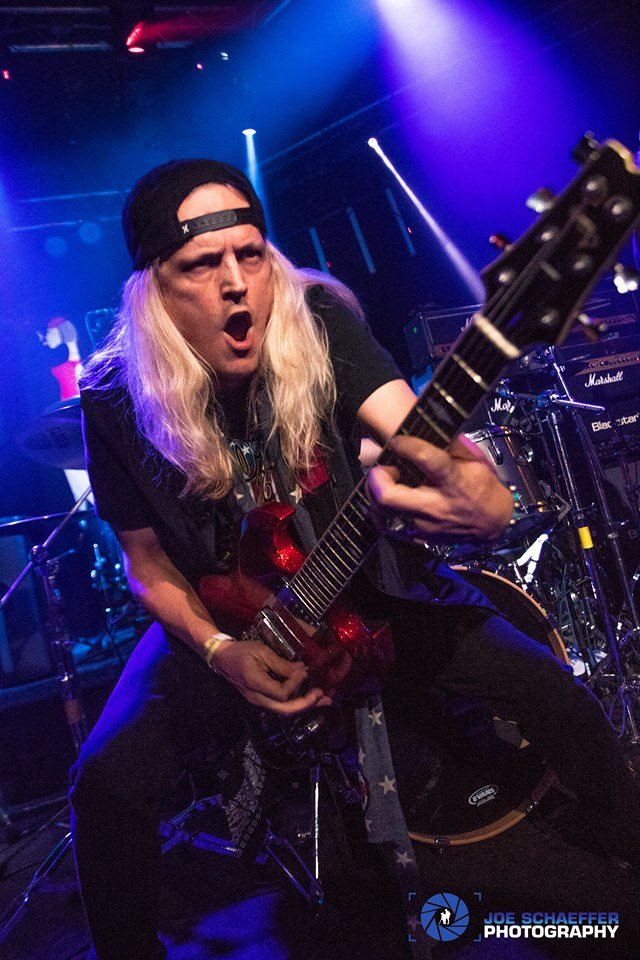 METAL SLUDGE: What's the very latest with Permacrush?
CHRIS CRUSH: Hey Gerry, good to see you again. We are kicking more ass now than ever. We just got an investor who believes in the band and has rewarded us with our own ROCK Record Label, Meanstreak Records. It's being run with an old-school approach, right from Hollywood. Its how I run my band and I respect that the label is letting me do this MY WAY. I also just scored a deal with Diamond Guitars, so you will see me playing some smokin'- hot Diamonds in the near future.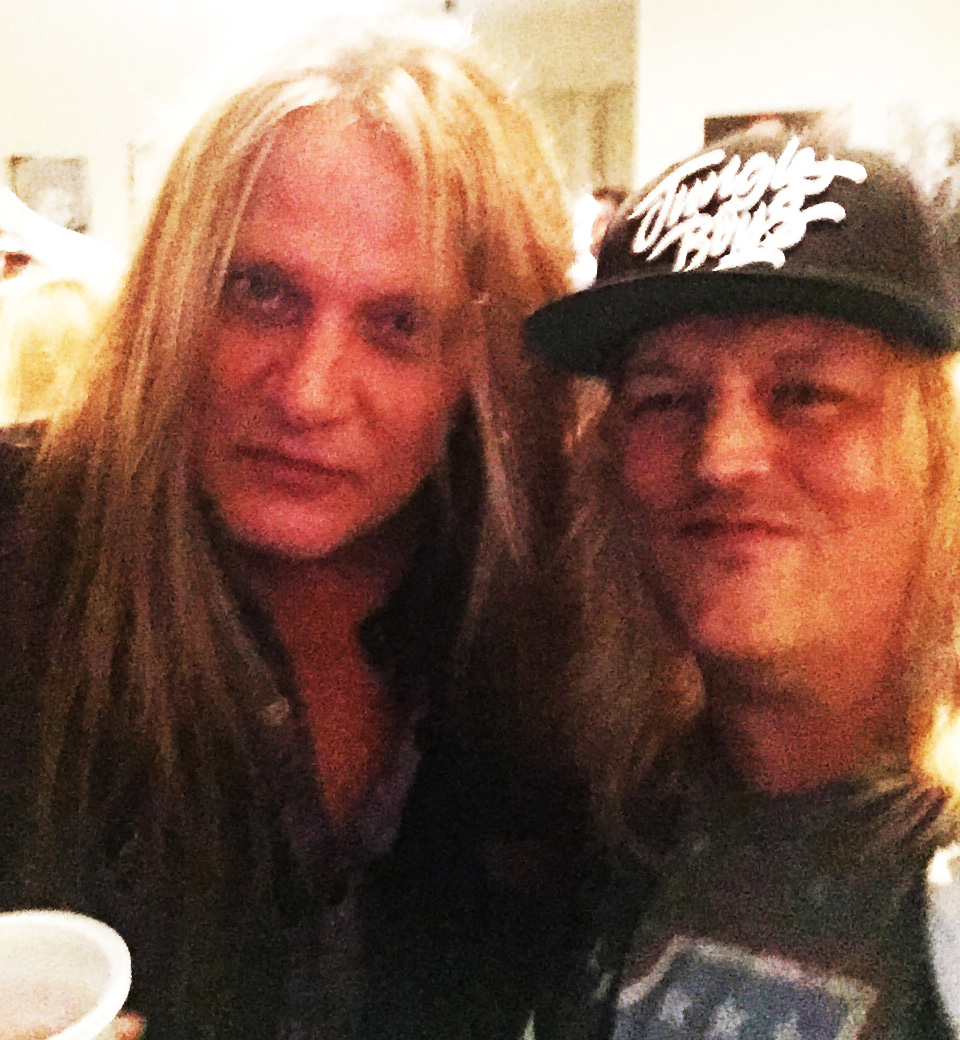 MS: Tell us about your liquor endorsement? Also, isn't drinking bad for you???
CC: Yeah, we also got the deal with Barenjager Honey Liqueur. That was huge for us.Well I was looking for a sponsor for extra advertising for the new single, "Honey." I started contacting a bunch of products that have Honey in them. Barenjager was a perfect fit. I actually drank it in my college days so I was familiar with the product. It's tasty, just like the song… Drinking is only bad if you over-do it. Moderation is key.
Chris Crush with Sebastian Bach out in Hollywood (Inset right) 
MS: Why have your videos caught fire on YouTube? What do folks like about you?
CC: I think we are doing it in an old-school way, delivering Rock the way it was delivered in the Glory Days. My influences are the Classic Rockers. It's unavoidable. Some people don't think it's cool, but I do this for the ones who do… I'm consistent. I like to think I rock. (laughs) The people that like Rock are finding me and Permacrush.
MS: What's in your pockets?
CC: Right now, two different kinds of marijuana. Some concentrates (hash). Keys, Cellphone. Wallet. Permacrush Guitar Picks.
MS: Have you signed autographs yet?
CC: Yes. It's still a trip when that happens. Getting used to it.
MS: You're a blonde rock singer on the Sunset Strip. Rate and comment on your predecessors:
David Lee Roth – The ultimate frontman. An inspiration. My hero. The high karate kicks. The split jumps off the drum riser. The swords. The inflatables. The surfboard. The boxing ring. Nobody did it better…10/10
Vince Neil – Huge influence on me. More his style, than his vocals. I like to remember my Vince circa 1985. "Shout at the Devil" Vince. Sad he let himself go. Would like to see him get in shape. 6/10
Bret Michaels – Another one who inspired me. I was a huge Poison fan. I remember rocking girls in the back seats of cars to that band. Ahh memories. Still getting it done. A huge star. 8/10
Jack Russell – Great vocalist. Nice guy. We opened for him at The Whisky. It was great to have a few minutes with him. Love his Zeppelin covers. 8/10
Jani Lane – One of the Sunset Strip All-Stars. I still watch videos of Jani at Gazzarri's and am amazed. Raw talent. Great voice. So much more than "Cherry Pie." Loved him. 10/10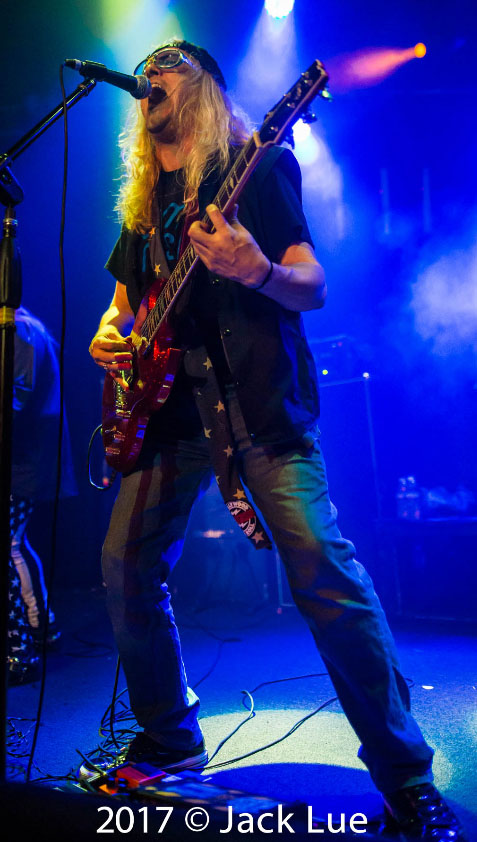 MS: List three reasons music should return to public schools' curriculum
CC: Happiness, Love and Creativity. Music brings all three. It has enriched my life both as a performer and a fan. People need music and to learn how to play instruments. Synthesizers and computers are cool… Tools to help make something. But I still love guitars.
MS: What's a good Pick up line?
CC: "I'm trying to find a way to spend a Million dollars, can you help me?"
MS: What's your motto in life?
CC: Sex, Drugs and Rock and Roll.
MS: Did anyone tell you EDM music is what's hot and not rock and roll?
CC: I hear it almost every day. I'm stubborn. I know what I like and I know what I do well. There is a reason I still have real drums and real guitars on my songs. I'm going to do this until I die. Rock will always be King in my book…
MS: If Permacrush becomes the biggest band in the world, what special items will you demand on your tour rider? Only Green M&M's. and weed. lots of weed… I want to blaze a trail across America when its legalized Nationally.
CC: Would you date Taylor Swift, or is under-30 too young for you? She is a very attractive woman, but I find there is a generation gap. I like my girl to be knowledgeable in the music I like. If you don;t know songs by Van Halen, Motley Crue or Ratt we aren't gonna last.
MS: What were you doing in the following years:
1986 — Wishing I was old enough to be in a real Hollywood Rock Band.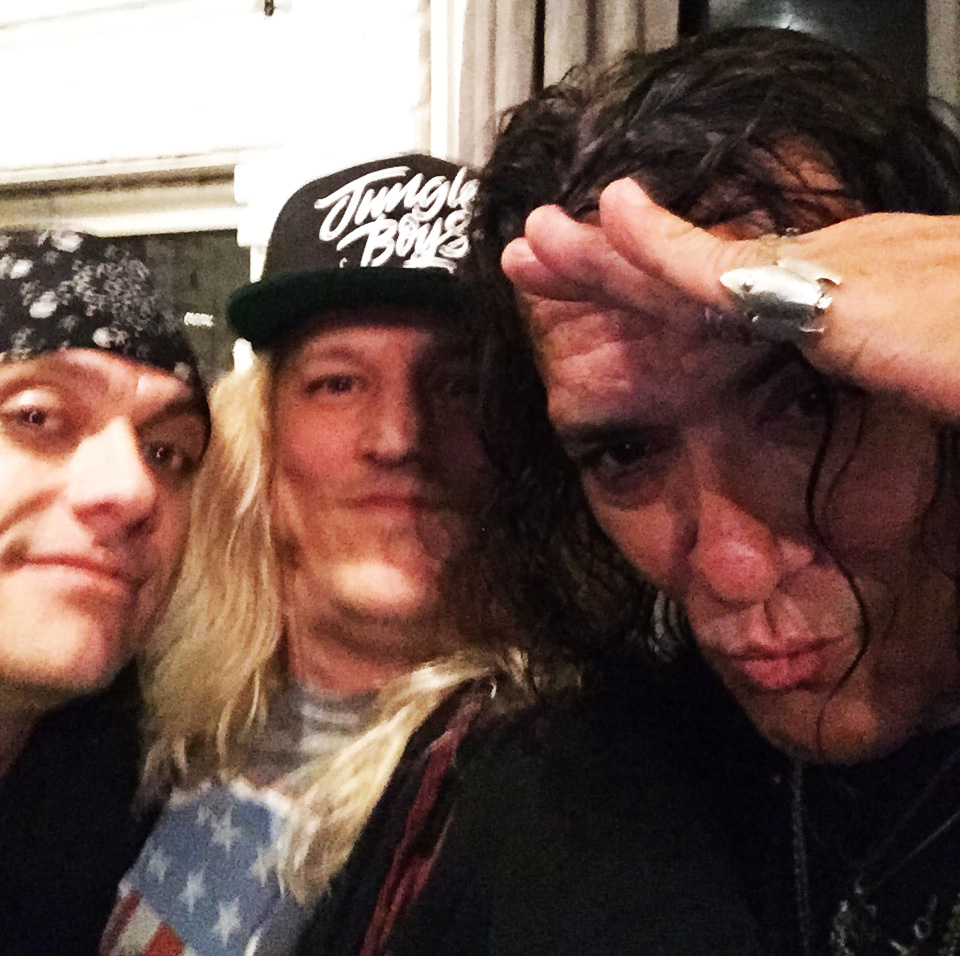 1990 — Wishing I was able to start a real Hollywood Rock Band. (Nirvana nearly killed the dream in 1991)
2000 — Went to grad school in Miami. Got my Masters Degree in Computer Animation.
2006 — Said fuck it and started PERMACRUSH in 2005. I was building it in 2006.
2012 — Moved to California to live out my Rock and Roll dreams.
2016 — Playing in a real Hollywood Rock Band. PERMACRUSH.
Permacrush hanging with Ratt frontman Stephen Pearcy (inset right)
MS: Tell us something bizarre about each of your band members. Not really bizarre, but – Brett Baugh – Related to legendary band leader Cab Calloway. Alex Tuccio – plays in Peruvian Punk Band Metamorphosis. Harley Duggan – was an MMA Fighter and also plays in Hollywood U2 tribute band.
CC: What Beatles song best describes your life? There are too many that hit home. – I am The Walrus. Savoy Truffle. Day Tripper. All You Need Is Love for starters.
MS: Finally, anything to add? 
CC: Subscribe to our Youtube channel for our latest videos and come see us at The Whisky a Go Go this Summer – with Faster Pussycat Friday June 15 and we're also playing The Whisky a Go Go on Friday July 27.
Permacrush @ WebSite – Facebook – Instagram – YouTube – Store – iTunes –
Contact Gerry Gittelson at Gerryg123@hotmail.com