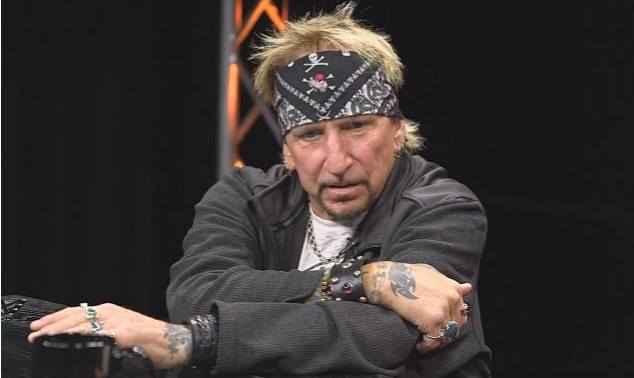 DRUGS ARE BAD
Jack Russell gives advice to those with a drug or alcohol problem: "Get some help"
Blabbermouth — Former GREAT WHITE and current JACK RUSSELL'S GREAT WHITE singer Jack Russell was interviewed on a recent edition of "The Five Count" radio show in Mankato, Minnesota. You can now listen to the chat below.
Speaking about his most cherished memories from the glory days of '80s rock, Russell said: "The memories I should have the most of… You would think all these huge places that you play at, they would really stand out. There's only a number of gigs that I really remember; everything else is kind of blur. 'Cause it's like going to the office every day: do you really remember every single day at the office, or what you did, or who you talked to? You know what I mean? But there are some that are really special and they stand out and I remember. But the most thing I remember about the '80s was just it was non-stop. We'd go and go and go and go and go and come home, and the minute I got home… I used to stay sober on the road. I quit smoking, I quit drinking — anything that messed my voice up I'd stopped doing. But the minute that last show was over, [after] the [final] 'thank you, good night,' as I was walking offstage, my road crew guy would be there with a lit cigarette, a bottle of Jim Beam and an ounce of some other stuff in the dressing room, and the party was on until the next album or the next time I had to sing. So it was just non-stop 'go, go, go' hedonism. It was great. It's been an amazing, amazing life. My life has been the adventure I've always dreamed it would be tenfold. Sure, I made a lot of mistakes and I did a lot of stupid things, all around drugs."
Russell, who in 2010 suffered a perforated bowel — six months after shattering his pelvis in a live performance fall — largely blamed these injuries on his alcohol and painkiller addictions as well as the prednisone drug he was prescribed.
"Alcohol and drugs are the worst things in the world," Jack told "The Five Count". Anybody out there that's got a problem with alcohol, or alcohol and drugs, get some help. You may not be as lucky as me."
Russell continued: "The last time I drank was almost two years ago. I came out of a five-day coma. And I'm in this hospital room. There's all these people in my room — a guy from Chicago that I know, my wife, my band, my doctor. I go, 'Where am I?' And he goes, 'Well, you're in the hospital.' I go, 'I know I'm in the hospital. What am I here for?' My wife goes, 'Jack, I couldn't wake you up. You came home at night. You were out with Don Dokken' — of all people — and I came back home and she got me on the bed and she couldn't wake me up the next morning. So she drove me to the emergency room and I was in a coma with my liver almost shut down. So [the doctor] told me, 'Look, I'll tell you like this. The way you drink, which your wife tells me how you drink, and I don't think you're gonna change if you do…' I said, 'No, I wouldn't.' And he goes, 'Well, if you do that one more time, you're gonna be dead. I'm not saying you might, could, should, would — you're going to die.' So I said, 'Well, that's pretty much it then. It's like somebody putting six bullets in a gun and saying, 'Let's play Russian Roulette.'"

To read the rest of the above article, check out Blabbermouth