GREAT FIGHT
Great White's Mark Kendall still talking about Jack Russell and his struggles to not drink
Blabbermouth c/o Sound Matters — GREAT WHITE guitarist Mark Kendall says that he hopes that Jack Russell is doing well, more than seven years after the singer was fired from the band they formed together.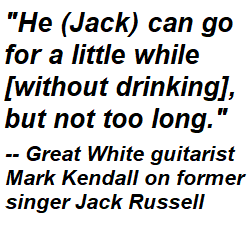 Russell exited GREAT WHITE in December 2011 after he was unable to tour with the group due a series of injuries, including a perforated bowel and a shattered pelvis. Jack largely blamed these injuries on his alcohol and painkiller addictions as well as the prednisone drug he was prescribed.
Speaking about his onetime friend during a recent interview with Tom Leu of Sound Matters Radio, Kendall said: "We had a good run together. He did get in a dark place. He's always struggled. I work with a lot of addicts that somehow have a more difficult time sustaining sobriety, and that's kindof been his struggle. He can go for a little while [without drinking], but not too long.
"I can't really figure it out," he continued. "I have thoughts about all kinds of different people — why — and I try to analyze it, and I really don't know the answer apart from addiction's very powerful. Some people can kind of outrun it one day at a time, and some just… they run into this moment where maybe they're bored, or something triggers the relapses. And that's been his struggle. I really hope he's doing good."
According to Kendall, he harbors no ill will toward Russell, despite the fact that the two haven't spoken in nearly a decade.
"I honestly don't believe we argued more than maybe a couple of times in all those years," he said. "We never got in any fights. We were brothers."
This past January, Russell said that he has been sober three years — ever since he drank himself into a five-day coma in September 2015.
Read the full story at Blabbermouth or listen to the audio at Sound Matters
Listen to "075: Mark Kendall from Great White" on Spreaker.