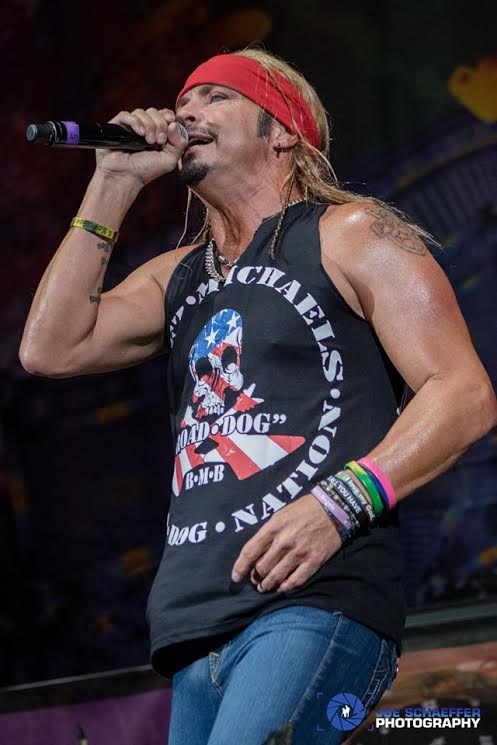 HAIR TODAY, GONE TOMORROW
Vince Neil and Bret Michaels co-headline Hair Nation Fest at soon to be closed Irvine Meadows Amphitheatre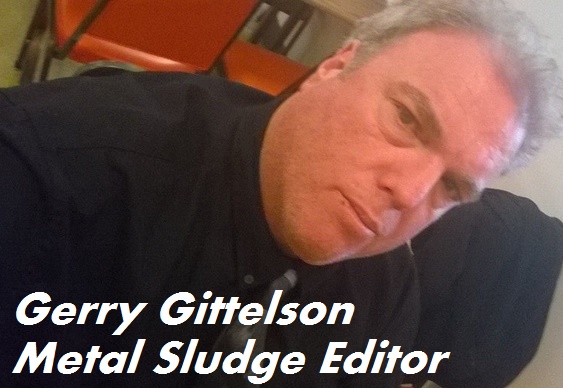 IRVINE,  Calif., USA — One thing about Vince Neil and Bret Michaels, these two hair-rock icons know how to throw a party.
A going away party, actually. Irvine Meadows is closing its doors soon, but in the meantime Neil, Michaels and others rocked the outdoor arena on Saturday, Sept. 17 before a near-capacity crowd of about 12,000 at the Hair Nation Fest.
Both are Sunset Strip grads, Neil from Motley Crue and Michaels from Poison. They were each given an hour to cap the day-long event that started at 2 p.m. and included a separate side stage.
Neil has a reputation for being inconsistent, but on this night he was spot-on, working his way through a mostly-Motley set highlighted by "Home Sweet Home" (no piano), "Same 'Ol Situation" and "Wildside."
His band included Slaughter founder Dana Strum.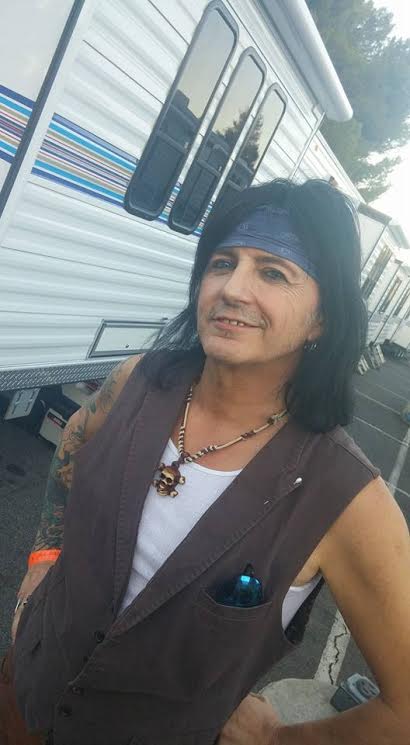 Dressed in loose jeans, a black vest over a t-shirt and lots of bracelets, Neil was in good spirits throughout, and he appeared to be having a grand ol' time.
The challenge was on, too, because Bret Michaels proved a tough act to follow. The crowd went crazy the moment Michaels appeared.
On "Talk Dirty to Me," the ladies were pushing toward the stage. On "Every Rose Has Its Thorn," Michaels was singing with unbridaled passion like he had just written the song that afternoon. On "Sweet Home Alabama," guitartist Pete Evick was nailing that riff with electric chords that cut through the night like a turbo comet.
Michaels had the most recognizable face of the event, thanks not just to Poison's platinum success but his string of successful reality TV shows including winning Donald Trump's
"Celebrity Apprentice" in 2010.
The singer still looks good, too. He wore jeans, a sleeveless Bret Michaels concert shirt (still a great self promoter just like before Poison got signed) and his trademark bandana and cowboy hat.
There were lots of other spectacular performances. Metal Sludge was just arriving as Tuff took the main stage in the afternoon sun. Stevie Rachelle was basking in the glory on "I Hate Kissing You Goodbye." By the time Tuff got around to "American Hairband," a pretty nice crowd had arrived.
Vain was a nice surprise. The veteran San Francisco glam band does not play in L.A. as often as many of the others on the bill, and wow did this underrated ensemble have some killer hooks.
Davy Vain, the singer, was his trademark barefooted self, but after feeling the heat, he eventually put on shoes!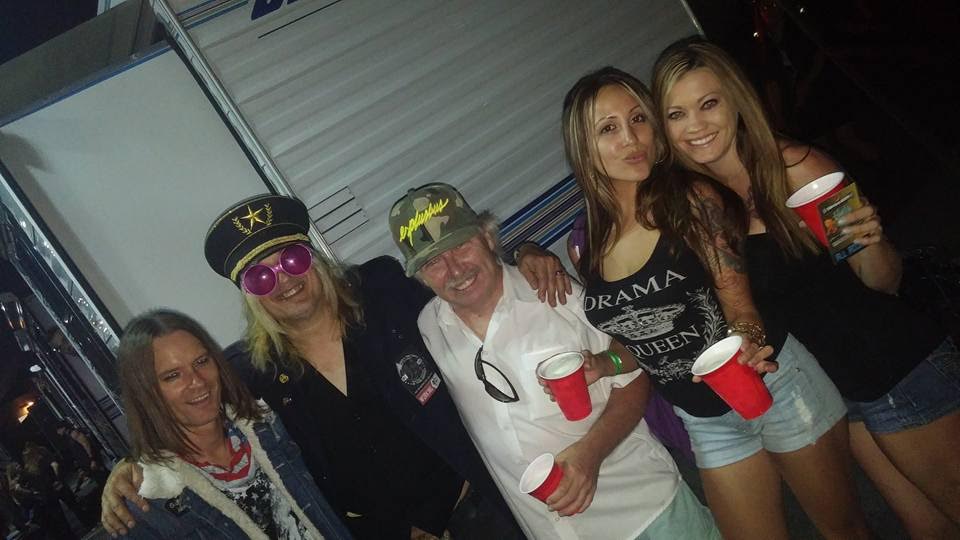 Enuff Z'nuff founder Chip Z'nuff holding court back stage
A big afternoon standout was Enuff Z'Nuff. Leader Chip Z'Nuff has taken over singing duties, and the tall Chicago native proved in fine voice.
He sounded just like Donnie on "In The Groove," and soon Chip had full control of the venue on "High On a New Thing" and "Fly High Michelle."
Big thumbs up, Enuff. This band is back.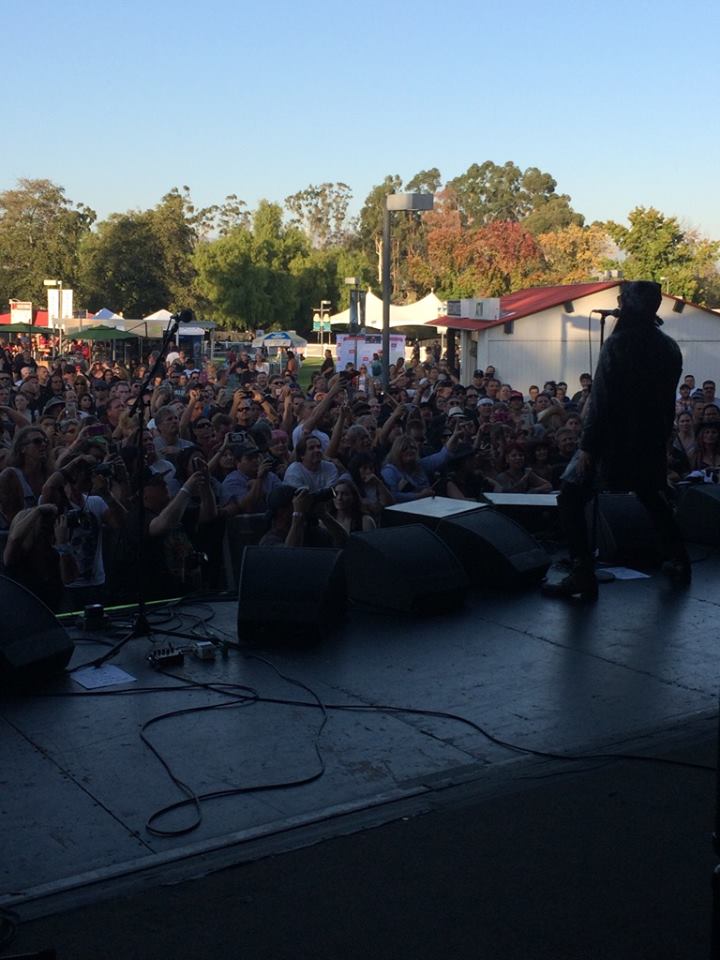 Vixen and Lita Ford turned in strong performances, too.
It's hard not to like Vixen because they have killer songs and they're all girls. "Edge of a Broken Heart" tinged good memories.
Ford looked hot in a tight leather outfit, and she sounded good, too. She even played "Cherry Bomb" back from her days with the Runaways. Host Eddie Trunk surprised her by singing "Happy Birthday" and presenting  a cake.
The side stage had some rockin' action, too, including the merged return of L.A. Guns with both singer Phil Lewis and guitarist Tracii Guns.
Some of the other notable performances on the main stage came from Kix, Yngwie Malmsteen, Slaughter, Faster Pussycat, Junkyard, Britny Fox, BulletBoys and local act The Aviators.
On the side stage, there was Bang Tango, Circus of Power, Odin, Bang Tango, Gabbie Rae and locals Electric Hounds.
Gerry Gittelson can be contacted at gerryg123@hotmail.com.