HAVE YOUR CAKE AND KILL IT TOO
Slash's ex-wife Perla throws Divorce Party, burries Slash in the cake
Daily Mail TV — There was a lot of sadness when Slash split from Guns N' Roses.
But the end of Slash's marriage however appeared to be a time of great celebration, as his ex Perla Hudson threw a huge divorce party on Saturday night.
The 43-year-old hosted the costume shindig at her LA home, where she invited guests to come dressed as their favorite divorcee.
Perla herself went as nine-time divorcee Zsa Zsa Gabor, rocking a long pink fur-trimmed satin robe, her impressive cleavage out on display in matching pink negligee.
The former couple's 16-year-old son London meanwhile — whose band played at the party — went dressed as a shirtless Tommy Lee, complete with telltale belly tattoo.
Also spotted was a Gwen Stefani, a Sonny And Cher, a Baywatch-style Pamela Anderson with another Tommy Lee.
One couple even came as John and Lorena Bobbitt, both covered in blood, her carrying a machete and him his severed penis in an evidence bag.
Perla even had a special cake baked for the occasion which read 'happy new beginnings in frosting, featuring a solo bride blowing a kiss on top, while a guitar-wielding Slash figurine lay crushed between the layers.
This is actually the second time the former couple have been through divorce proceedings.
They married in October of 2001 but filed for divorce in August of 2010, before reconciling two months later; Slash then filed a second time in December of 2014.
Read the full story at Dail Mail UK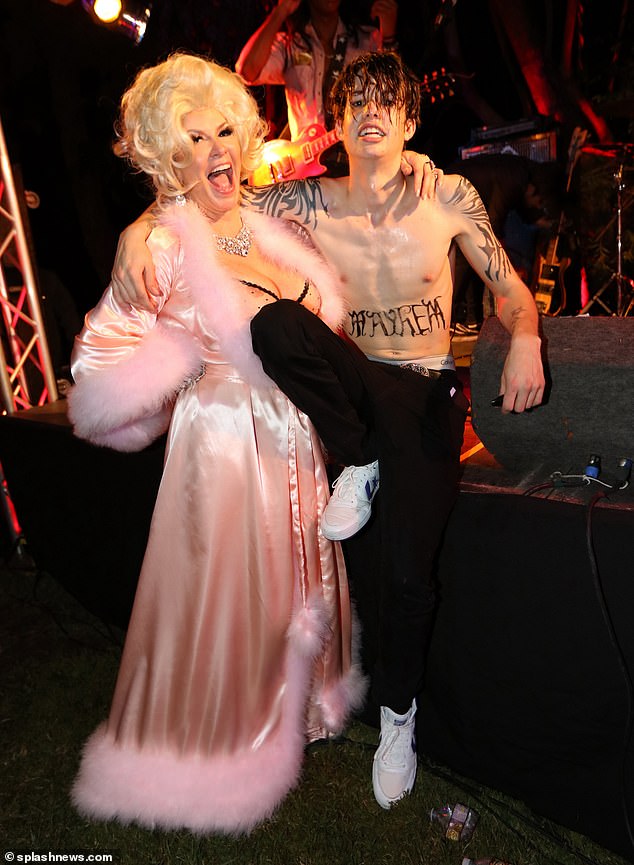 Slash's ex: Perla Hudson threw a huge divorce party on Saturday night, along with their 16-year-old son London