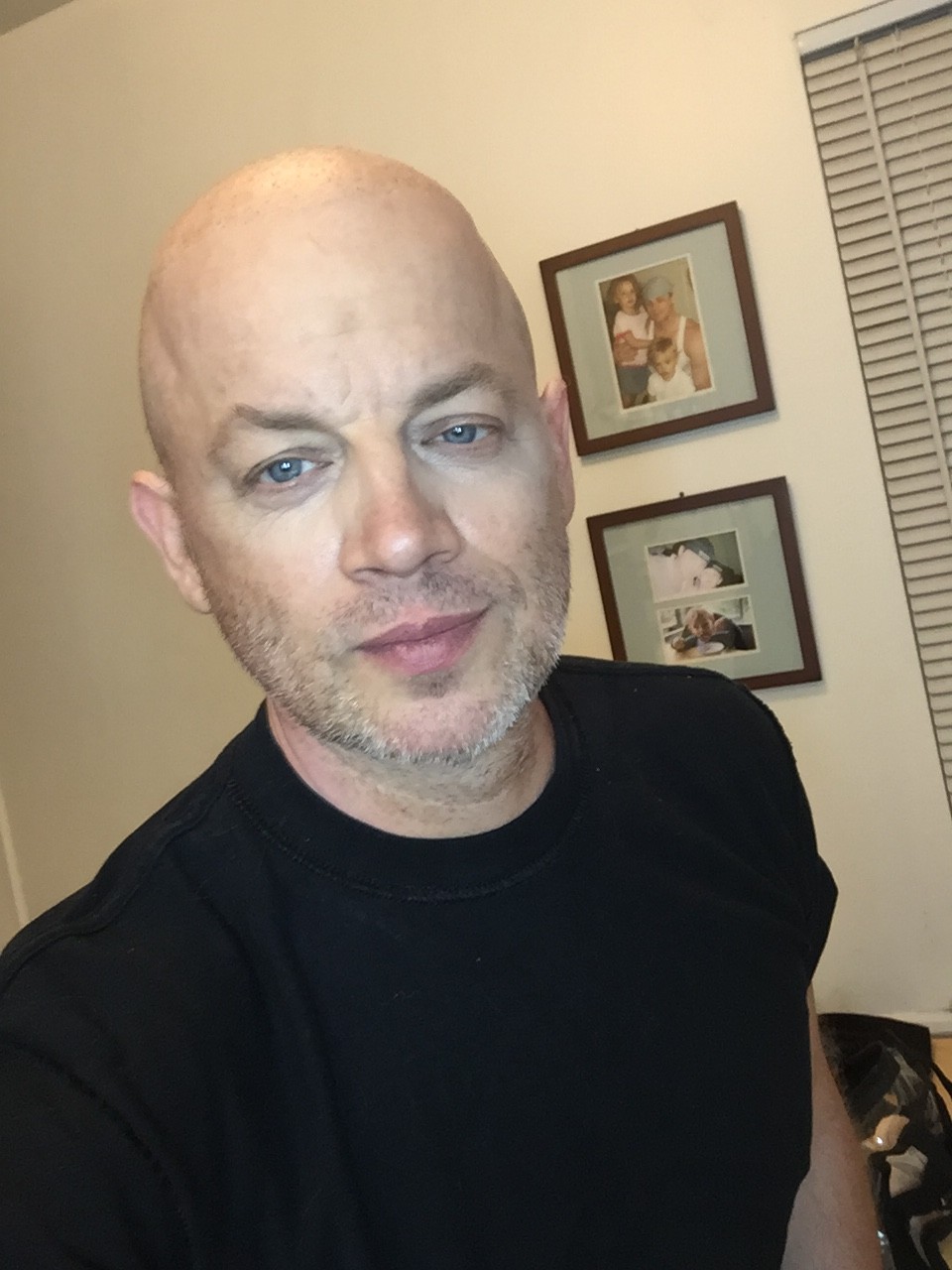 KOJAK 
Stevie Rachelle of Tuff shows off shaved head
LOS ANGELES, California — There's a new Kojak in town and his name is Stevie Rachelle.
From bad boy to bald boy and just in time for a fall run of shows, Tuff frontman Stevie Rachelle has posted an image online sporting a freshly shaved head.
The California based singer has also posted a short video of the clippers starting to clear what hair he had left.
He's also posted a subsequent video of him appearing to be going full Britney Spears.
Has he lost his mind, or just what's left of the stringy left overs from 1989?
See the screen captures, videos and statement below.
—————————————-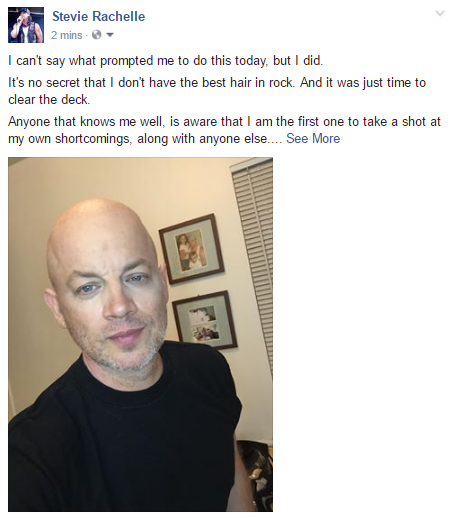 I can't say what prompted me to do this today, but I did.
It's no secret that I don't have the best hair in rock. And it was just time to clear the deck.
Anyone that knows me well, is aware that I am the first one to take a shot at my own shortcomings, along with anyone else.
If you're a fat slob, then you get the fat jokes. If you're short, then you get the midget jokes.
Or if you've been dealt the never-ending forehead – then you get called baldy, chrome dome and so on.
I love to dish it out, but I can also take it.
I still love my hats and headbands, but what hair was left is now in a zip lock bag.
Maybe I should eBay it?
So in a tribute to one of my childhood favorite TV shows, let me say Kojak is back.
Call me Kojak.
I can't wait to play shows this fall and we start this week at "80's in the Park" with Quiet Riot, see everyone Friday night in Florida.
—————————————

TUFF Tour Dates
Friday August 26th "80's In The Park" Melbourne, FL w/ Quiet Riot, Tuff, Nova Rex & Angels of Babylon
TIX & INFO
Saturday August 27th "80's In The Park" Melbourne, FL w/ Stryper, Great White, Kip Winger, Ted Poley (the voice of Danger Danger) & Every Mother's Nightmare
TIX & INFO
Saturday September 17th "Hair Nation Live" @ "Irvine Meadows" Irvine, CA w/ Vince Neil, Bret Michaels, Kix, Slaughter, Yngwie Malmsteen, Faster Pussycat, L.A. Guns, Loudness, Vixen, BulletBoys, Junkyard, Britny Fix, Bang Tango, Vain, Tuff, Circus of Power, Odin & Gabbie Rae.
TIX & INFO
Friday September 23rd "TBA" Wisconsin
Saturday September 24th "Farm Rock Chicagoland" Schaumburg, IL w/ Warrant, Lita Ford, Lynch Mob, Danger Danger, Mike Tramp (the voice of White Lion), Black N' Blue, Doro, Enuff Z'Nuff, Tuff, Killer Dwarfs, Madame X and many more
TIX & INFO
Saturday October 1st thru October 5th "Monsters Of Rock Cruise" West Coast, California w/ 30+ Bands on the debut Monsterwood cruise.
LIMITED TIX & INFO & TWITTER
Thursday October 27th "TBA" Ohio
Friday October 28th "Hooley House" Westlake, OH w/ Billy Morris' Sunset Strip
INFO
Saturday October 29th "Rock N' Skull" @ "The Tree" Joliet, IL w/ Brian Howe (Bad Company), Danger Danger, Jack Russell's Great White, Tuff & many more.
TIX & INFO

Friday December 2nd "TBA" Ohio
Saturday December 3rd "Kenny OzzFest 9″ @ "MVP's" Cincinnati, OH
TIX & INFO
Friday December 9th "TBA"
Saturday December 10th "Hair Metal Holiday" @ "Bomb Factory" Dallas, TX w/ Slaughter, Kix, Kings X, Lynch Mob, BulletBoys & Lillian Axe.
TIX & INFO