LAME IN LIMA
Loud-N-Lima rock festival, 'a massive mud pit' and 'dreary attendance' say online reviews
LIMA, Ohio — We couldn't help but notice the countless online reviews of this weekend's Loud-N-Lima music festival.
Loud-N-Lima was held in Lima Ohio at the local Allen County Fairgrounds.
The 3-day event was July 21st, 22nd and 23rd 2017.
The lineup is (was) a who's who of 80's hairband heroes, including Vince Neil, Bret Michaels, Warrant, Steel Panther, Firehouse, Geoff Tate, Lita Ford, Don Dokken, BulletBoys and for some odd reason 90's band 3 Doors Down was thrown in for good measure.
It appears there were a few stages, but it seemed none of those in attendance could escape the mud.
The event was advertised to be drawing upwards of 40,000 spectators but fans who attended have said everything from 1,000 to 3,000 was closer to realistic numbers who showed up daily.
One online blogger wrote: "The folks who bought VIP and meet & greets are pissed at how those have been handled. Apparently GA ticket holders are able to get into the VIP tent."
Facebook is full of dozens of comments stating everything from 'it was a massive mud pit' to 'the attendance was as dreary as the weather was' and worse.
It appears the Loud-N-Lima event in general was unorganized and fans are getting more gun shy on festival shows.
One reviewer estimates 3,000 people tops at the weekend's high point during Bret Michaels set.
Today Vince Neil headlines and we'll add some updates as they come in.
Below are a few reviews of the event from fans who attended over the weekend.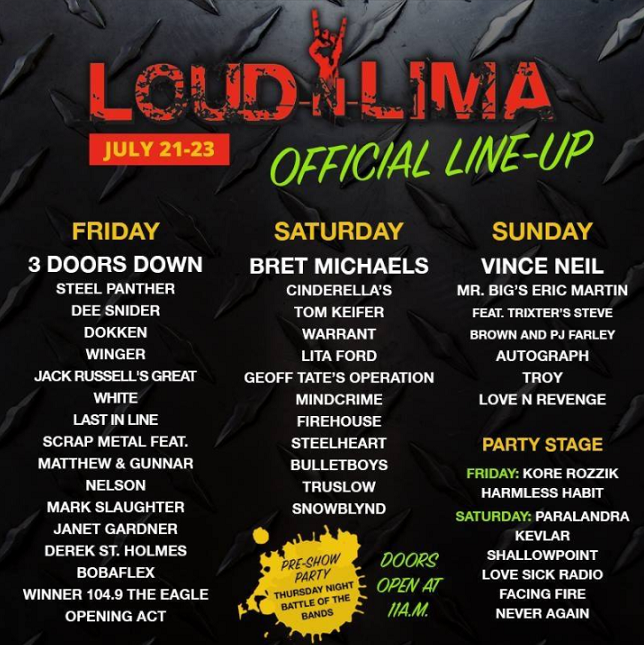 ——————————————————————-
Review #1 by: AndyWolfe1982
I would say that this was a mess.
I doubt there were even a 1000 people there today for Vince Neil. I would say at the most there might have been around 3000 people yesterday for Bret Michaels.

Friday people pretty much could have done whatever they wanted. I believe all weekend you could have walked in and sat in the grandstand without anyone noticing because no one was checking if you had an arm band on. I believe at the most there was still only 50 people in the grandstand. It was also easy Friday to walk backstage or pretty much do whatever you want. I would say there might have been around 2000 people at the most on Friday. The place was so empty.
When the bands were dumb enough to try to let the crowd sing you could hear a pin drop it was so silent. This day was also a mess because the times were all messed up. They cut Great White off for example before they did Once Bitten Twice Shy. Dokken had to stop in the middle of their set to figure out what songs they still actually wanted to do.
Winger apologized about how they sounded because they did not do a soundcheck. I left after Steel Panther who left the stage at 1045. They got fined heavily for going on past 11 pm.
Eddie Truck also got stuck on a plane and did not show up until after Dee Snider was on. Dee Snider actually was cool enough to sign autographs and meet the fans for free.
People bitched about the fact people were allowed to go wherever they wanted Friday so they actually had security do their job Friday. It was still odd how they handled it because half the food venues were on the field and people in the grandstands were not allowed on the field even to get food. I would say at the most there were around 3000 people here that day. The bands were able to get on track better because of Keifer not showing up.
Sunday I was only there for Eric Martin and Vince Neil but like I mentioned above I would say less than 1000 people were there. I believe the only security guard was posted at the VIP tent so you could have walked onto the field and got really close to the stage without paying. Geoff Tate was cool enough to hang out in the VIP tent and watched Lita Ford in the crowd.
They do claim that they are going to try again next year. The sound quality on Friday was a mess up into Dokken. I think it ruined Last in Line for me. The quality did get a lot better for Saturday which would have been a great day if it was not so muddy.
I cannot complain myself but I only had to drive two miles away. I believe many people complaining on the Facebook have never been to an event like this. I was shocked at the size of the crowd because I figure there would be at least around 5000 people here but many people in this area I guess cannot afford 80 dollars to a 3-day event. I would say it would appear there were more people in the VIP area than anywhere else.
I personally just bought two General Admission tickets but ended up winning party pit passes. I ended up selling my General Admission tickets and upgrading to VIP so I do not know how happy I would have been if I was stuck in the grandstand since you could hardly hear the bands.
I do think if they learn from their mistakes next year could be better. The location really is not bad and within 2 minutes of interstate 75. I am not sure if Lima can support a thing like this annual but I believe if they can get people from the bigger cities to come it could work.
—————————————————————————————–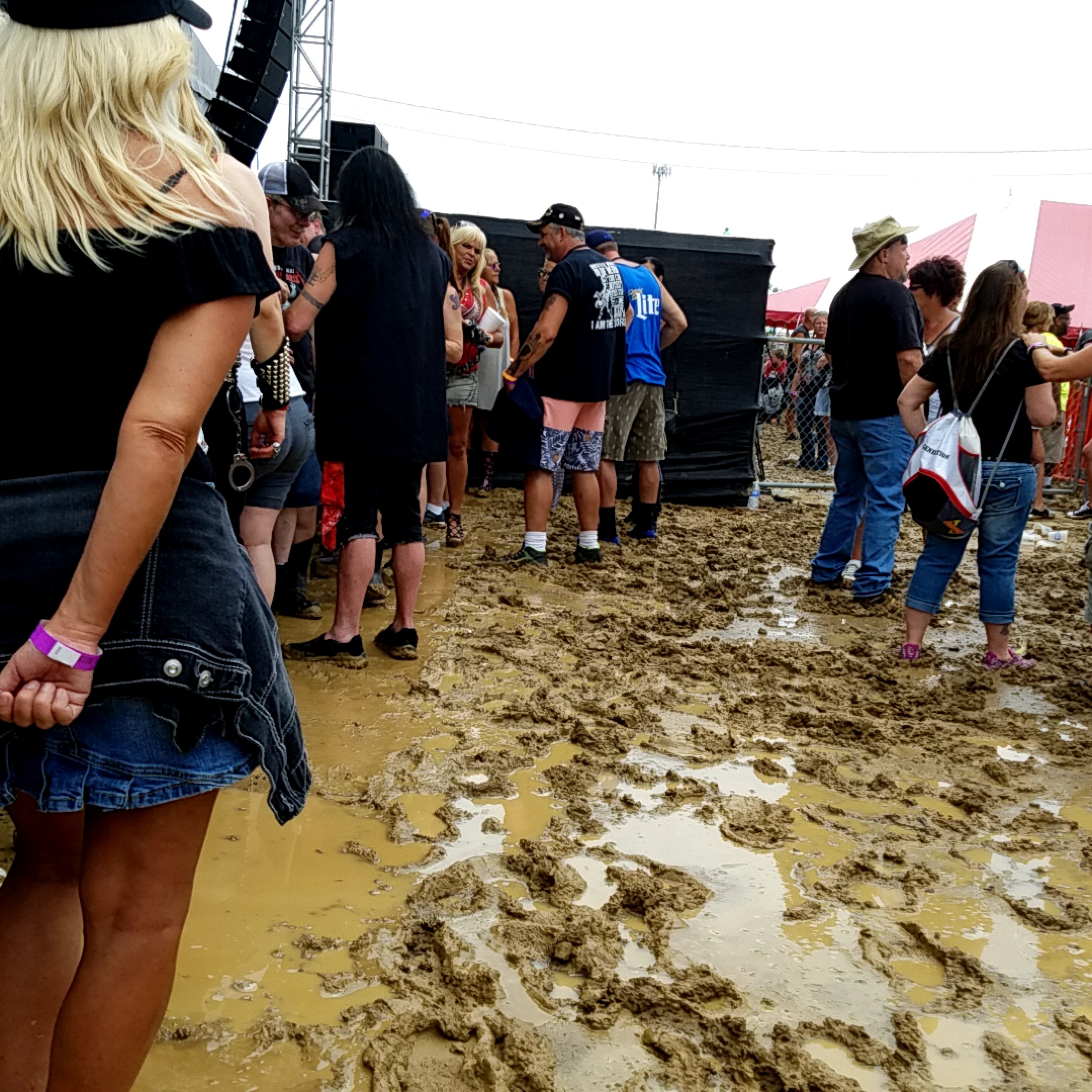 Fans standing in ankle deep mud in front of the Loud-N-Lima main stage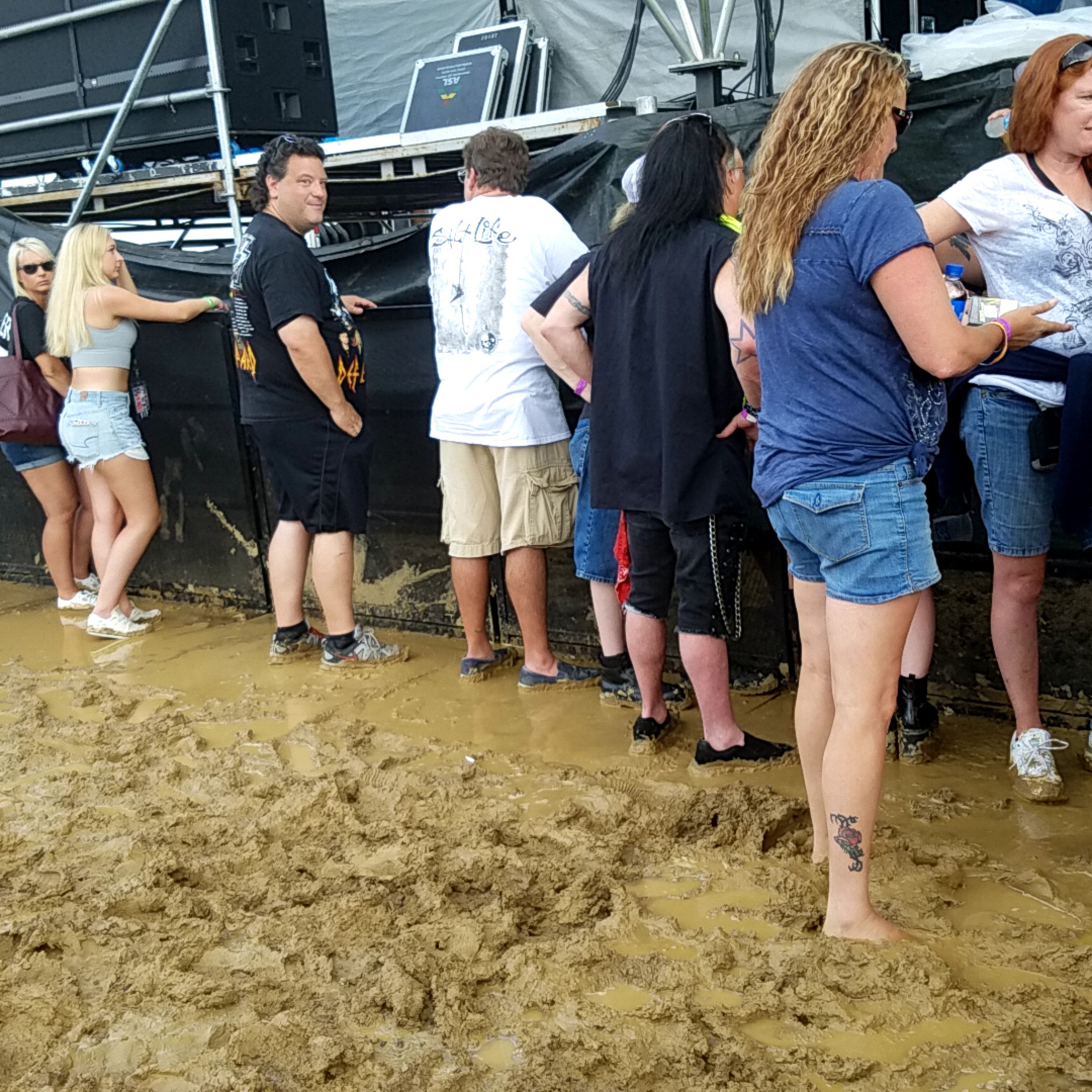 Fans enjoying their front row space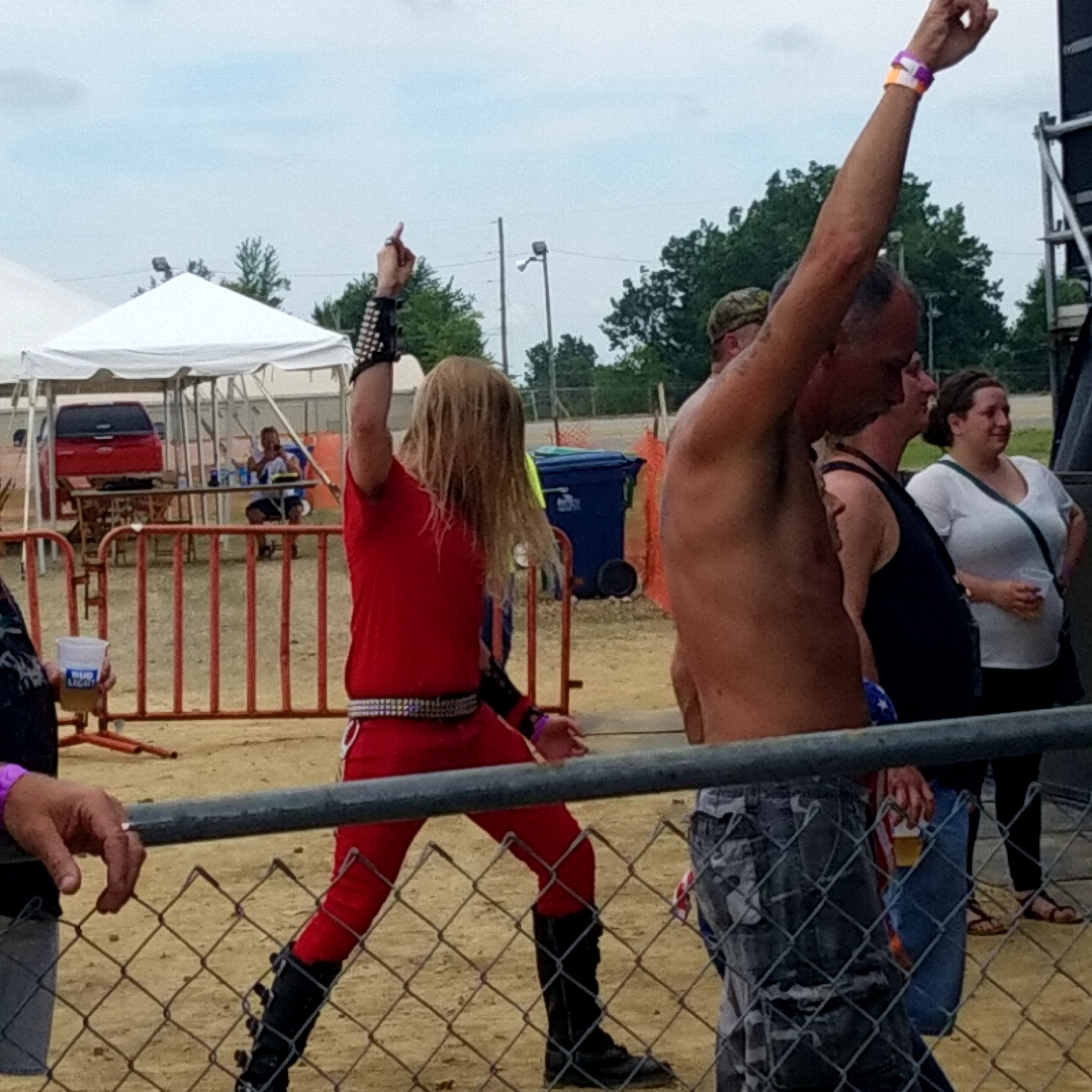 Dudes rock out and throw the horns … likely yelling "Metal Dude"
Review #2 by: GeddyCriss3
Here is a quick review. I'm tired and positive there are some words used out of context, punctuation mistakes etc. If you have a problem with that don't read my thoughts below.
I went to show in Lima. I'm from Columbus and made the hour and half trip both Friday and Saturday. I had enough so I passed on Eric Martian and Vince Meal today.
The show was held at the Lima County Fairgrounds in the middle of BFE…why anyone would decide to put on a show in the God forsaken place is beyond me. I paid for the weekend VIP so we had our own parking lot close to the stage. It was great because security was so lax that we could buy some food and go out and drink our own beer and then just come back in. It was nice.
The show was advertised that they were expecting 40,000 people and I would put the number at maybe 5,000 total. Here is a pic when the show started Friday: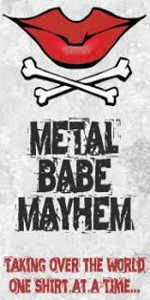 Quickly going through the bands:
Friday July 21st 2017
Scrap Metal – Fun. How the brothers could afford to bring Janet Gardner / Derek St. Holmes in is beyond me. Mark Slaughter sang Up All Night and that was it. He looked ridiculous in a tank top with is gut and farmers tan.
Last In Line – Great. Why Leppard won't let Campbell play is odd. The guy was tearing it up the whole set. Appice was solid as normal and Freeman did a great job on vocals. A guy behind was perplexed why the band were just doing Dio songs?!
Jack Russell – I was worried about this one as the last time I saw Russell he was sitting on a stool in which he fell off. The guy was running around and have a great time. He sounded the best I've heard him in a while.
Winger – Under rated. Damn they were solid. Tech problems abound. Paul was there and looked like a clown as sections of his hair were missing in a big way. Going bald can be bitch. Kip broke a string and all they had was a Fender – it looked award.
Dokken – Were to start. The band was done sound checking and Mick was asking where the band was (over the PA) because the set times were so short and they were cutting sound. Don was playing rock star. They sound okay. Don is learning how to sing in his current range it seems. Funniest part of the whole show was when Don went to get his guitar for "Breaking" and it was not there. He then proceeded to stalk the wings of stage looking for the guitar, it was fucking hilarious. You could tell by the look on his face that he was getting so pissed. This went on for several songs and announcing "somebody better find my fucking guitar." Finally, one of their Latino roadies found the said guitar and got it plugged in. The amp wouldn't work once he did decide he wanted to play, LMAO.
Dee Snider – I just don't get it. He did look like he was having fun playing NIN's Head Like A Hole. He said he could play the song now because his band would not do it because of the synthesizers.
Steel Panther – Solid but if you have seen them once you have seen them a million times. The country folk like them.
3 Doors Down – I left.
A worker tries to push mud away from the general admission area as BulletBoys ready for their set
Saturday July 22nd 2017
Bullet Boys – Marq still has a solid voice and the band was good. He did what he could with 30 minutes. Marq's facial expressions are not from this earth. He had some young piece of ass come up and sing Smooth Up with them, hmm. His roadie most be the most dedicated SOB in rock. He looked like a lap dog at Marq's beckon call. Great way to start the day.
Steelheart – Matijevic still has his voice. The band brought it. I want to see them on their own again.
Firehouse – Went outside and had a beer.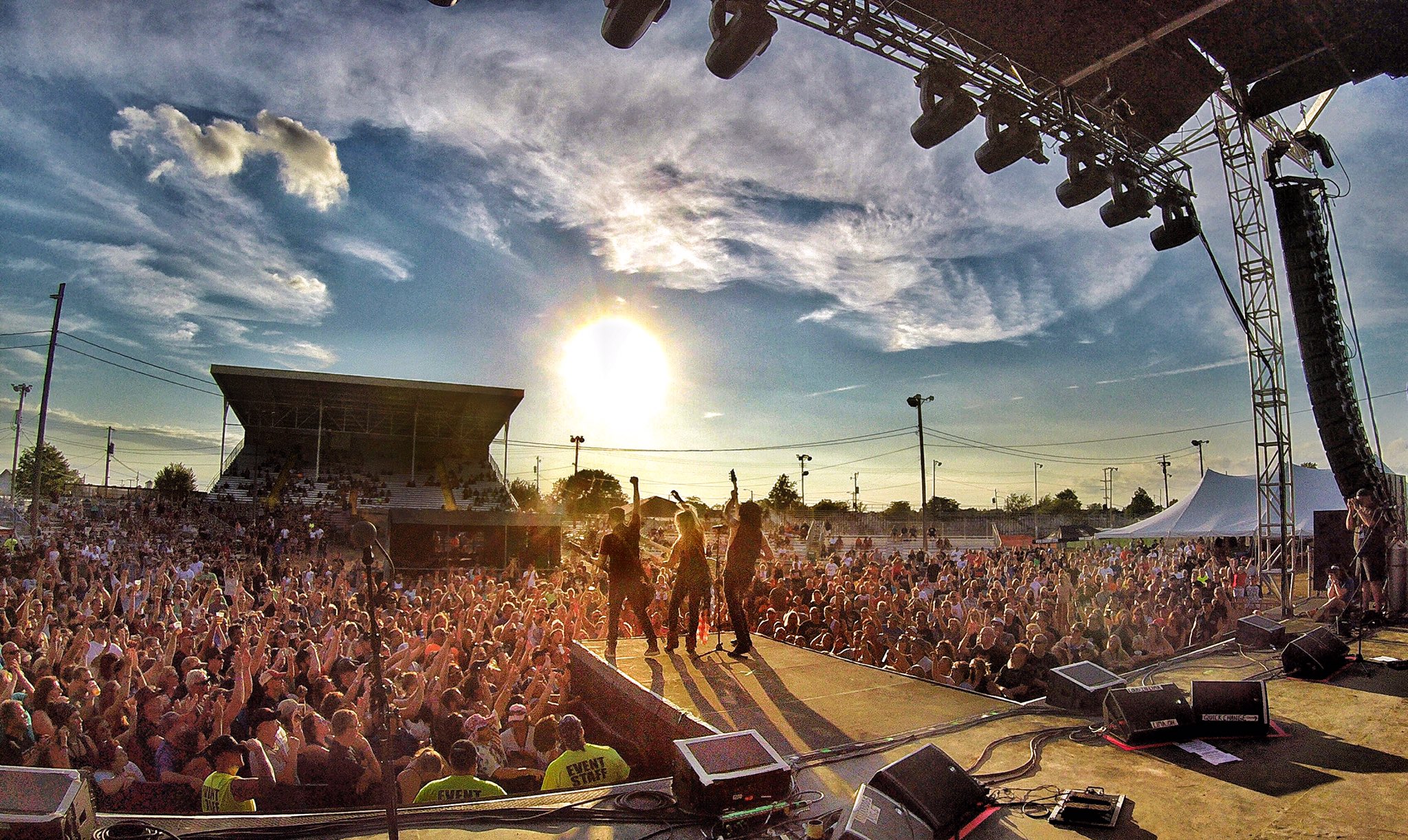 Geoff Tate – The man looks so old and the vest does not fit. I thought he sounded good and pulling "Damaged" out was I highlight. What I found odd was during Steelheart this douche looking manger guy (dressed to the hilt) was walking the stage and barking out orders. I thought it had to be the Brett's manager but I was wrong, it was Geoff's. What I found so funny was during Geoff's set I see the guy standing on the side of the stage grooving away wearing a vest with no shirt. No shit. You just can't make this shit up.
Lita Ford – Dinner time. I did see three songs, they were okay. I was already dirty from all the mud but felt even dirtier (not in a good way) after seeing Lita.
Photo inset right is of Lita Ford who appears to have snagged the best image of the weekend as shown on her Twitter
Warrant – It's been a long time since I have seen them and they delivered. They could not have a better singer at this point that Robert Mason. Strong vocals. Turner seemed to be going through the motions as he did not want to knock his top hat off his head. I really enjoyed this set.
Bret Michaels – Went home.
Lima received 4 inches of rain overnight….not much a promoter can do other than picking a better place to hold the show. What a fucking mud pit. It's only rock n roll!
————————————————————————————————-