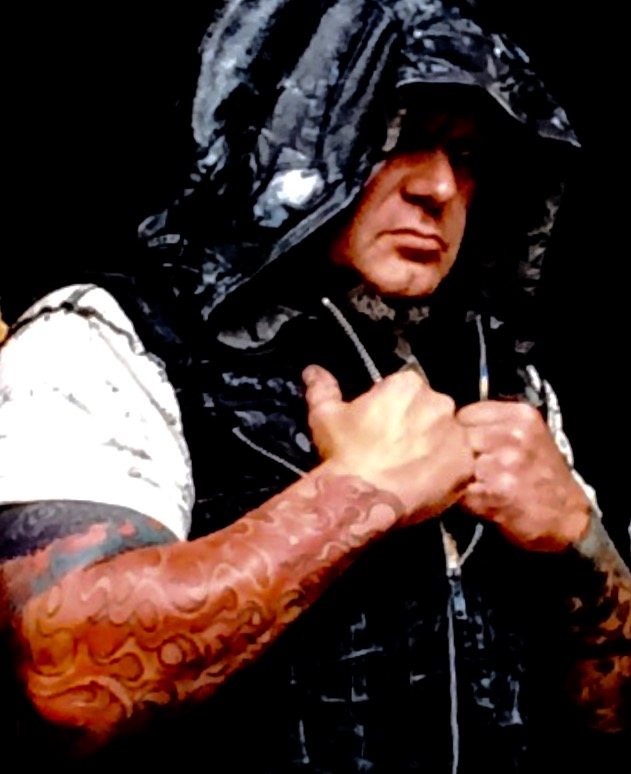 METAL SLUDGE 20 QUESTIONS with NITRO singer and Jiu-Jitsu world champion JIM GILLETTE
METAL SLUDGE — Just when you thought it was safe to turn on your spotify we must warn you….. prepare to cover your ears. As it may get louder and heavier sounding than it has in a while.
You may have heard or maybe not, but NITRO is back, and they are making a new record. 
Not only are founding members Jim Gillette (vocals) and the world's fastest guitarist of all-time Michael Angelo Batio back together, but the duo have added world class skin basher Chris Adler to the team. 
As if that wasn't enough to keep track of with guitar riffs, drum fills, and dare we assume … King Diamond like siren pitch vocals … (without the spooky malke-up, we hope) …. but Grammy Award winning bass maestro Victor Wooten is also on board the freight train. 
Yes… NITRO are back, and in a very big way. 
And like usual, Gillette always goes big. Be it his hair and screams in the 80's, his real-estate moves in the 90's or his MMA and Jiu-Jitsu work with the Gracie family. 
So with no furher warnings, here is the latest from Jim Gillette.
Enjoy….
—————————————————————————————————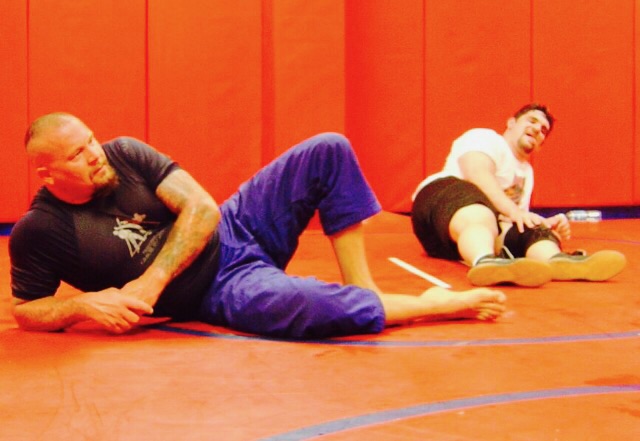 Jim Gillette at a MMA training facility
Metal Sludge: It's official, Nitro is making a new record. Why is 2017 the right time for this?
Jim Gillette: Right time, wrong time… Who knows? Mike reached out to me and I eagerly jumped back in. It was the right time for Mike and me. We never made an album that was anywhere near what was in our hearts. This time is different. We're doing it our way and on our terms.
Your new short film on IndieGoGo has people talking, and laughing. Who came up with this idea?
It was a group effort. I'm happy to get a laugh out of people – even at my expense. I see a lot of bands from the past pretending… Desperately denying that they were a "Hair Band". Don't they realize a quick Google search proves them wrong? We're musicians  not world leaders – relax!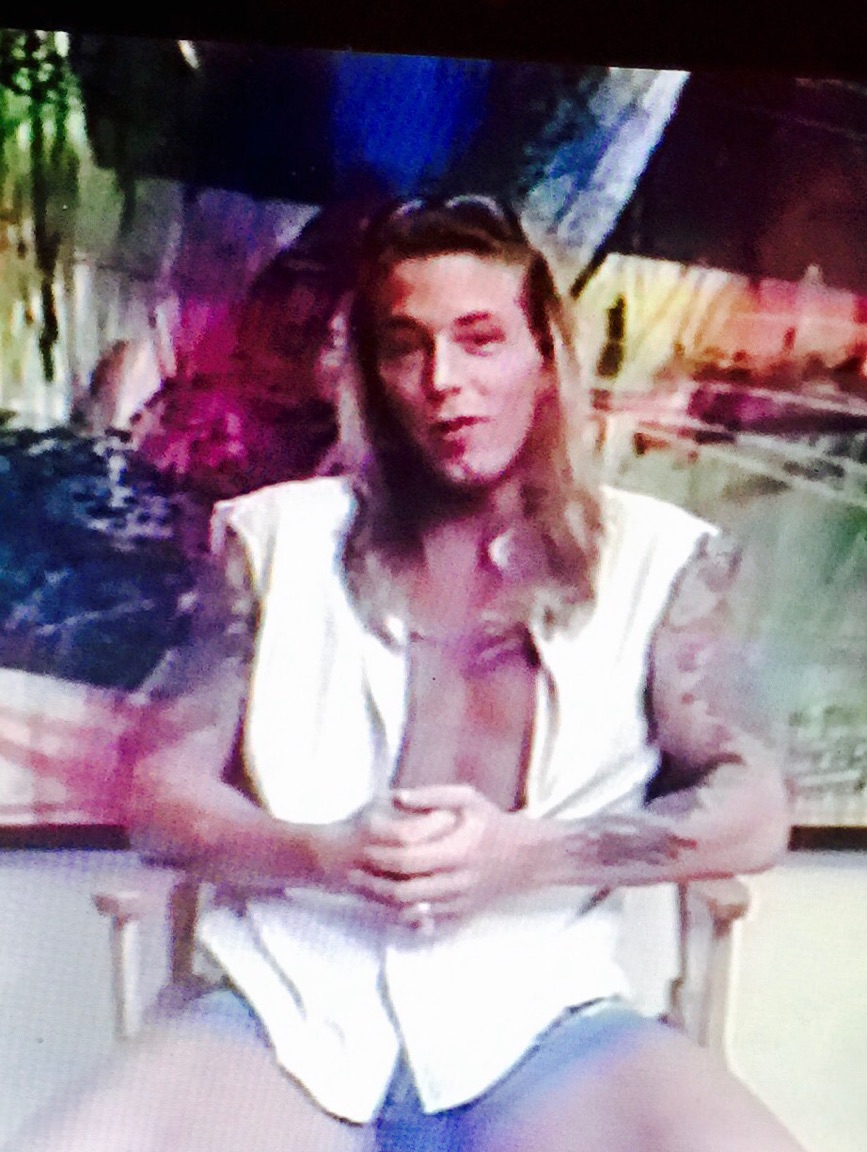 The last record (H.W.D.W.S.) had a horrible cover of "Cat Scratch Fever" on it. Will there be a cover song on the new release?
Thanks for the vote of confidence. We're writing and demoing out songs now. We'd love to do another cover if it makes sense. Our Producer and songwriting partner (Mr Kane Churko) will have a lot to do with the decision of if and what song we do.
Jim Gillette pictured inset left circa 1992
Will Nitro play live and what can we expect from the catalog? 
Rolling Stone India just announced our first tour of both India and Napal since reforming. Within 48 hours of the announcement the 5 shows were selling out so quickly that the promoter added 3 more and it looks like another is coming. Song wise, a few old Nitro songs, a new one or two, some Lamb of God cuts, and a few surprise covers.
We're gonna go old skool a bit here. On a scale of 1-10, how do you rate these MMA fighters in their prime, and throw in a comment or two for each.
Jon "Bones" Jones = 10 Such a waste though. Hope he gets his shit together.
Chael Sonnen = 9.5 Great thrash talker. Almost beat The Spider when he was seemingly invincible.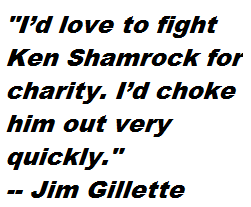 Royce Gracie  = 10+ The Godfather of MMA.
Rhonda Rousy = 10 Did a lot of great things for our sport.
Tito Ortiz = 9 Was a lot of fun back in the day.
Ken Shamrock = 3 –  I'd love to fight Ken for charity. I'd choke him out very quickly.
Cris Cyborg = 7 Not much to say about her.
Chuck Liddell = 10 The Iceman is a beast! My old boxing coach (Howard Davis Jr) worked with him and said he was a great guy.
Tank Abbott = 7 Got to love Tank. Not a good fighter but fun to watch.
Conor McGregor = 10 Taking MMA to new heights. A modern day Mohamed Ali!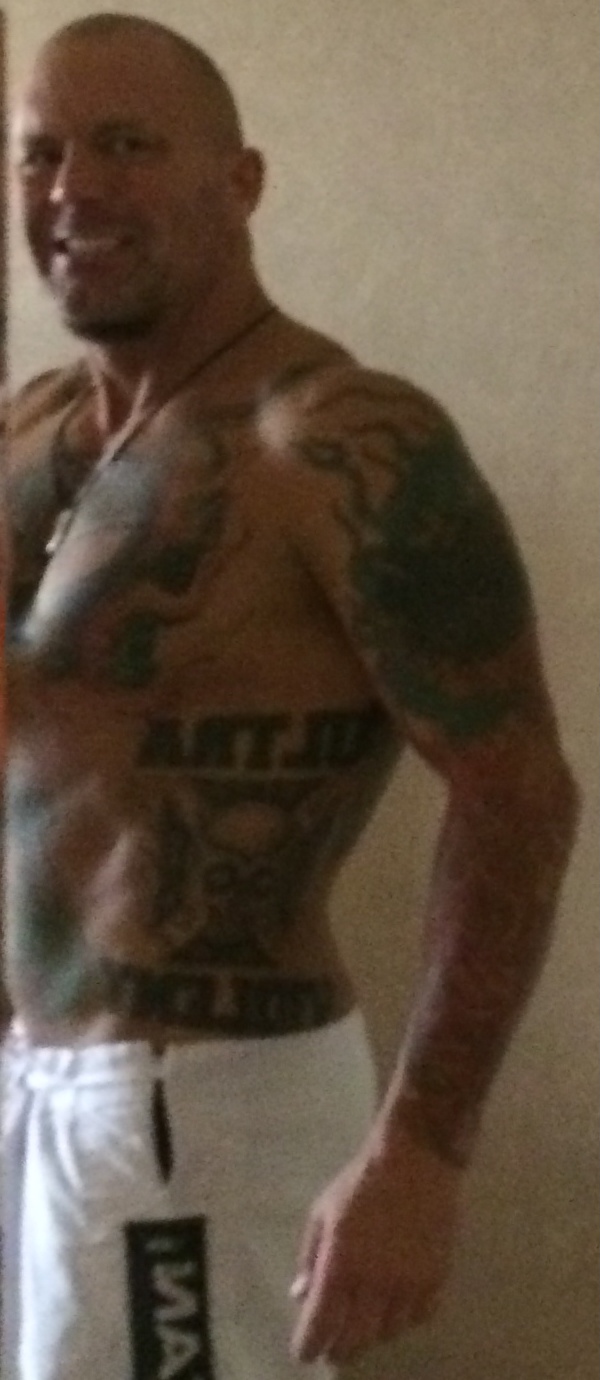 Clearly you are an old man now, but how would you have faired against the world-class Super Heavy Weight fighters of yesteryear or even today?
As a Jiu Jitsu practitioner for 15 years, I'd do well. I learned directly from Grand Master Helio Gracie, Grand Master Pedro Valente Sr, Pedro Valente, Gui Valente, Joaquin Valente. Royce Gracie, etc. My style of fighting is not for points, it's to finish it.
Add-on to that last question: What were (are) your strengths and weakness' as a MMA fighter, add in your height and weight, (maybe highest weight at peak point, or lowest for recent events)
My strength is obviously Jiu Jitsu. Old school, real deal, fight till the death, Gracie Jiu Jitsu. My defense is exceptionally good and I'm very comfortable fighting from my back. Actually, I can fight on my back for hours without a break. Weakness would be kicks. I don't kick at all. I'd much rather just choke you unconscious while inflicting as little physical damage as possible. I come in peace – I mean you no harm.
6'1" I bounce between 220 and 260. I've won World Titles at Super Heavyweight (Under 222 pounds), Ultra Heavyweight (Everything heavier than 222 pounds), and Absolute which includes the winners from all weight classes.

Speaking of fighting, what is the latest with you on your training and Jiu-Jit-Su competitions.  
I'm getting ready to fight for 2 more World Titles this fall. I can still hang with the young bucks but the next day I feel like I've been ran over by a truck. Getting old sucks – but it sure beats the alternative!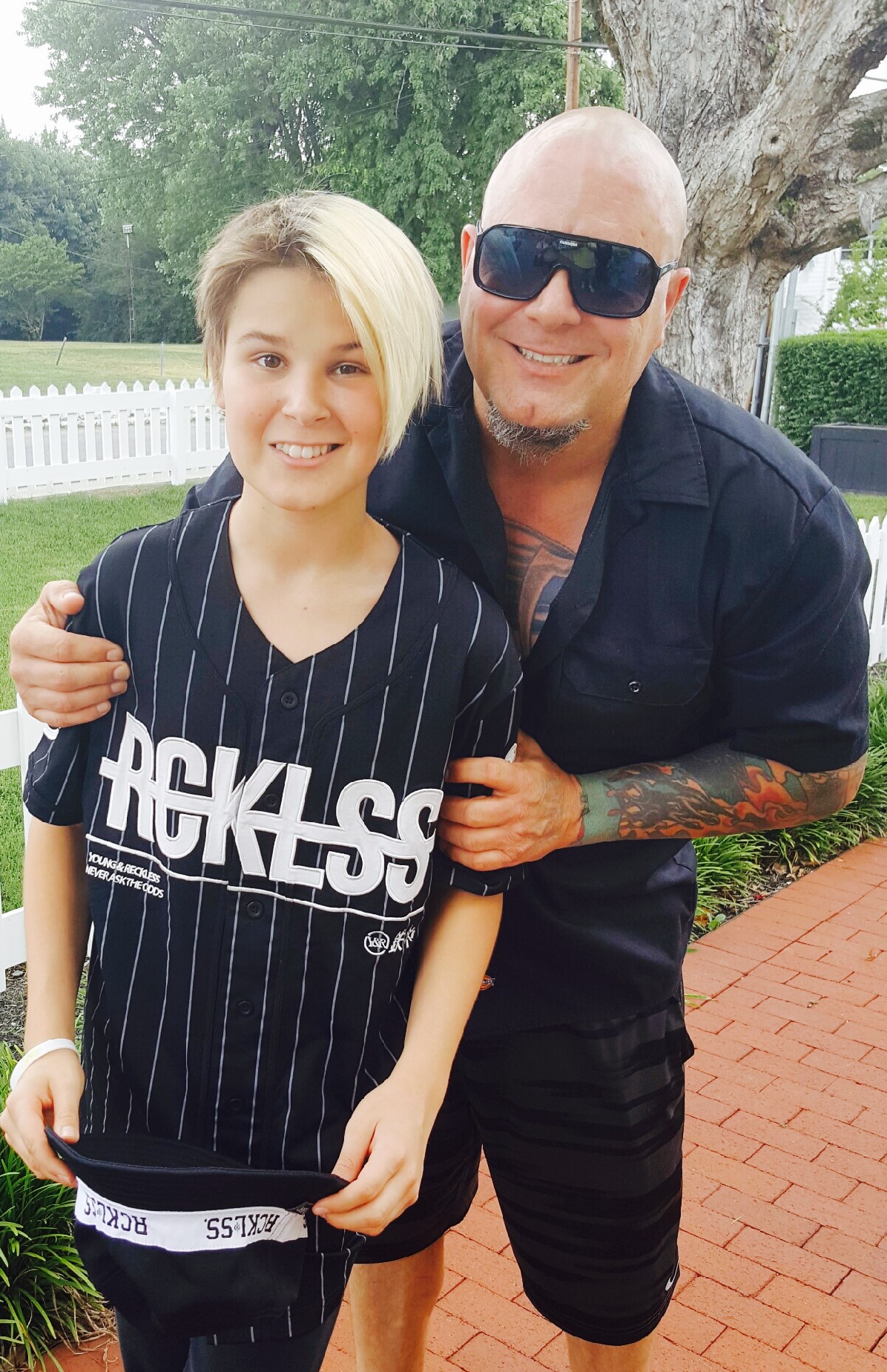 With all that's been said about yourself in regards to your ex-wife Lita Ford, what message do you wish to convey to the readers? 
Don't judge a book by it's cover.
Your history with Lita has been hashed out on the internet for several years now. If you had to tell her 3 things, what would they be?
1 Accept responsibility and beg for our children's forgiveness.
2 Insanity is repeating the same mistakes and expecting different results.
3 Being bipolar is nothing to be ashamed of. There are many treatment options available.
How are your sons James and Rocco? 
They're amazing. James is 20 now and Rocco's 16. They're both fantastic young men and I couldn't be more proud. I love them both with all my heart.
Rocco Gillette inset right with Dad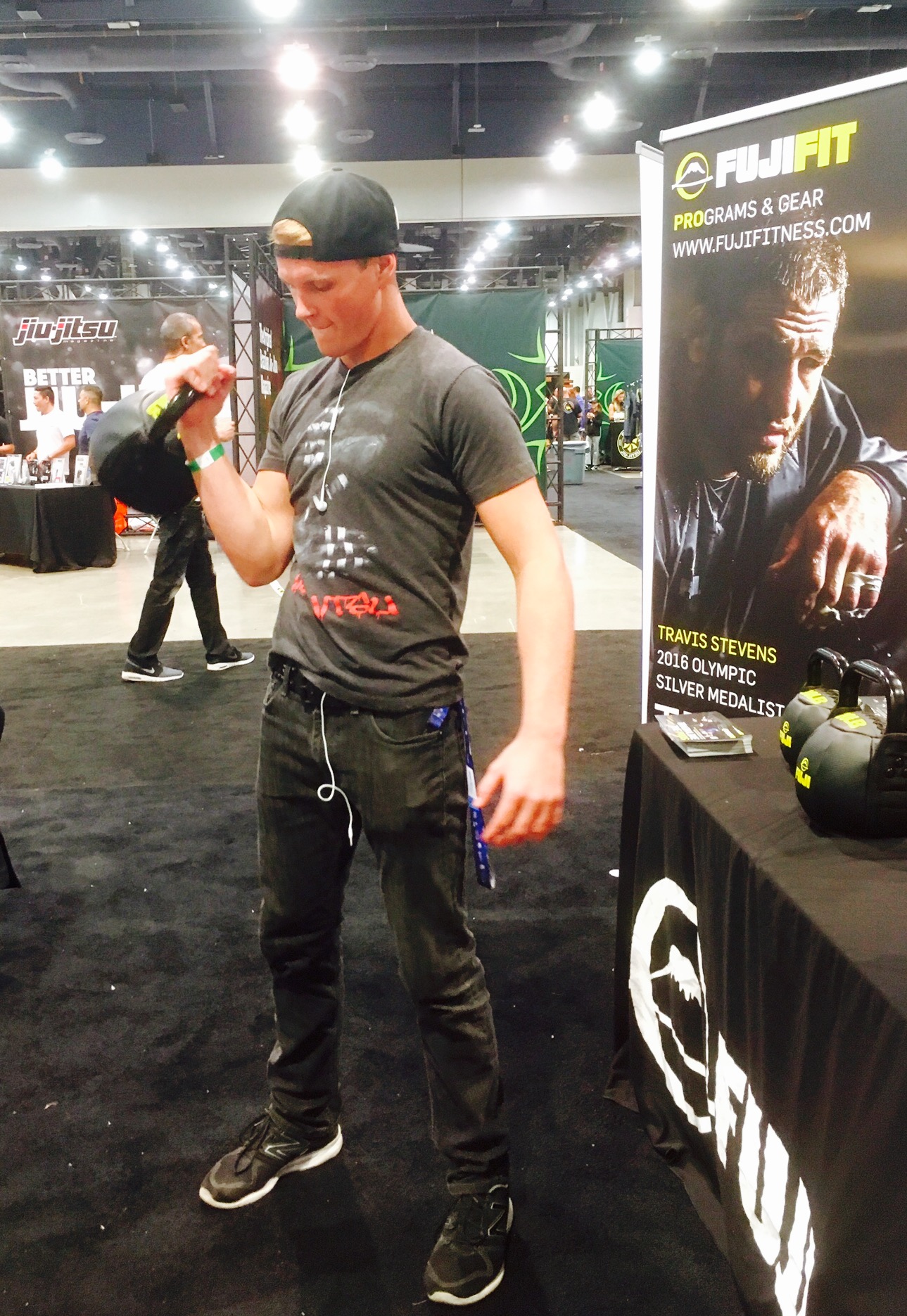 Last one on the family. Do you hope at some point they could have any relationship with their Mother?
Of course I do.
James Gillette pictured left inset
Let's talk fast fingers. Michael Angelo Batio is a world-class shedder with countless awards. What makes him unique besides the speedy licks?
He is light years beyond anyone out there. He can literally play anything on the guitar – and most things left or right handed. His musical knowledge is second to none. He has a degree in Music Theory. I could go on and on but suffice to say, he's the real deal. There is no-one that has mastered the instrument the way he has. He can play anything anyone else can play and no-one can play what he plays. If they think they can – ask them to try it left handed. No contest. TKO. Mike wins hands down.
What ever became of TJ Racer or Drummer KC from the early version of Nitro?
No idea. I hope they're doing well.
Chris Adler also a world-class talent. Aside from drum skills tell us about what you've learned about Chris since working with him?
Well it goes without saying that his skills on the throne are incredible. He's my favorite drummer by far. Chris is also a real, genuine, humble, and exceptional human being. He quickly became someone I let into my inner circle – which is very small. I can't say enough good things about Chris. I respect him as a musician, person, and father.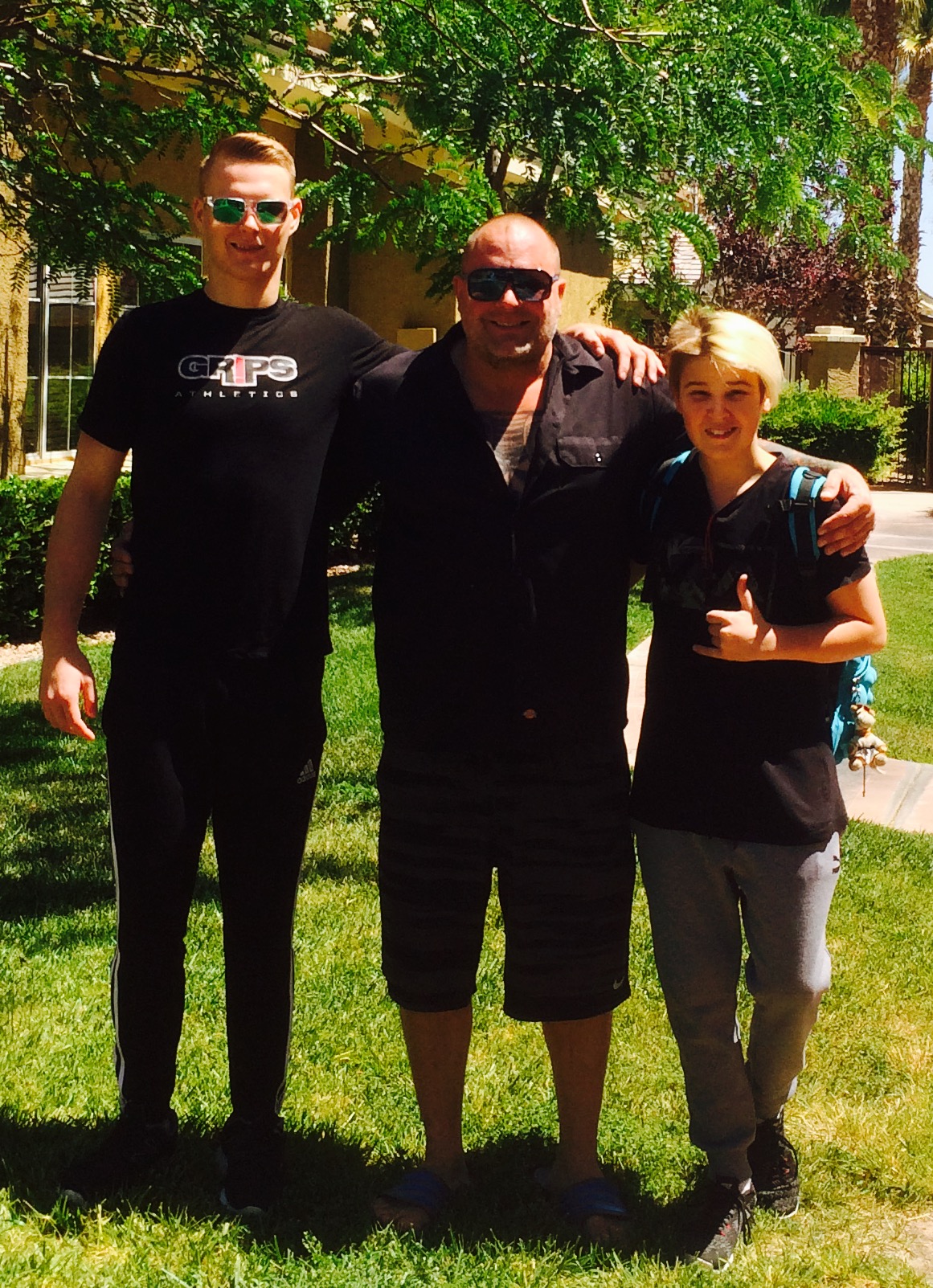 Memory Lane with Jim Gillette.
1978 = Fishing the big Blue river in Nebraska.
1982 = Boxing and wrestling.
1986 = Starving and loving it. I was living the dream.
1990 = Touring.
1994 = Real Estate
1999 = Being a Dad
2005 = Caribbean Chaos
2009 = Witnessing the self destruction of someone I cared about.
2013 = James teaching Jiu Jitsu at UFC Legend – Wanderlei Silva's gym in Las Vegas.
2016 = Nitro is reborn!
Jim Gillette inset right with sons James and Rocco 
What do you eat? Give us your basic and general food intake while training, or perhaps preparing for some tour dates.
12 Egg Whites a day, Lots of Bullet Proof Coffee, MCT Oil, Chicken, Turkey, Lettuce, Kale, Wheatgrass Juice… Damn near zero carbs per day and lots of unprocessed food.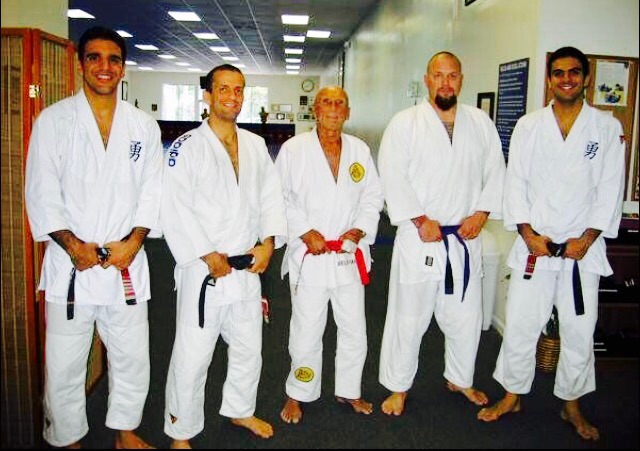 Metal Sludge's Word association…
Donald Trump = Billionaire
Steel Panther = Hilarious
The Kardashians = Ugh
Guns N' Roses = Awesome
Helio Gracie = THE Grand Master
Training in Miami Florida pictured left to right with Pedro Valente, Jimmy Robertson, Helio Gracie, Jim Gillette and Gui Valente
If you could go back in time, what would you change from your past?
Difficult to do that because any one change will change the rest of your life but… Pretending that weren't the case… I would have found my lady when I was 25 and never looked back. I'm incredibly blessed with an amazing woman by my side. It doesn't get any better.
Gilligan's Island or Turks & Caicos = Turks and Caicos!
Justin Bieber or Kanye West = Neither
Pizza or Hamburger & Fries = Burger and fries
Bruce Jenner or Caitlyn Jenner = Whatever makes Caitlyn happy!
UFC or Bellator = Both
Jim Gillette pictured with his trainer and vocal teacher
The industry has experienced great loss and tragedy in recent years…Prince, Bowie, and recent suicides by Chris Cornell (Soundgarden) and Chester Bennington (Linkin Park). Any thoughts on these or others we have lost in recent years?
It's absolutely horrible. As someone who's witnessed the destruction caused by untreated mental illness and drug abuse, I can see how these tragedies happened. I hate that such amazing human beings weren't able to find or weren't able to accept help. It's a reminder that things aren't always as they seem. These brother's seemingly had it all. The adoration of millions, amazing talent, lavish lifestyles… They were outwardly living the dream but in reality they were suffering. I pray for their families and loved ones.
Nitro @ WebSite – Facebook – Twitter – Instagram – iTunes – IndieGoGo – Amazon – Wikipedia – 
Jim Gillette @ Twitter – Facebook – Instagram – iTunes – eBay – Amazon – YouTube –