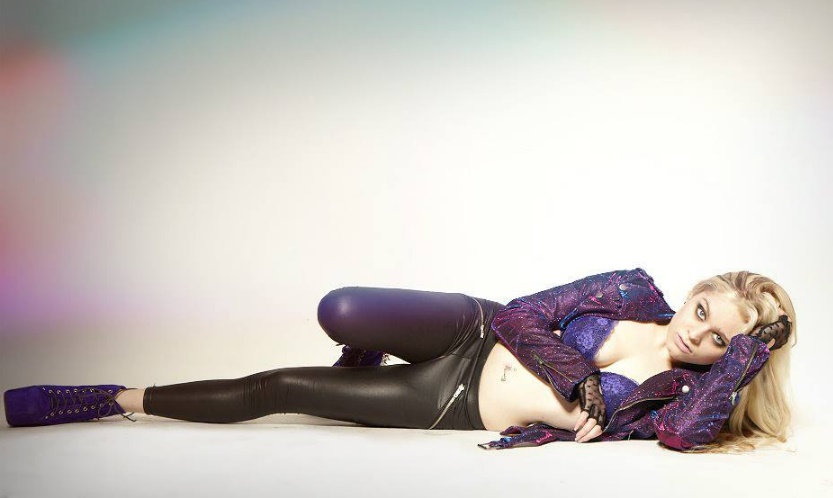 METAL SLUDGE EXCLUSIVE: COREY FELDMAN GIRL GUITARIST FIRST INTERVIEW
Brittany Paige speaks out after Feldman's maligned TV performance and ensuing comments go viral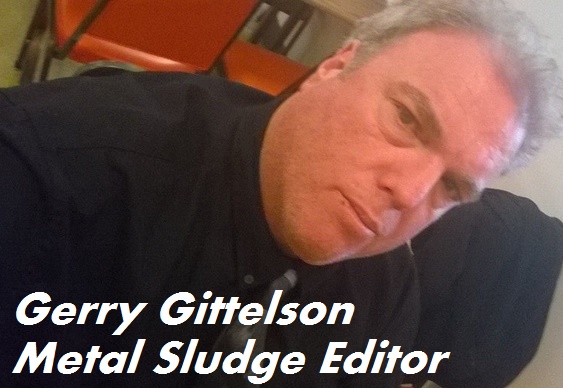 LOS ANGELES — Corey Feldman is all over the news after performing on TV last week with his new all-girl backing band Corey's Angels.
Good, right? Well, that depends. The movie star-turned-pop singer sang his new song on the Today Show called "Go 4 It" with some wacky dance moves thrown in, and Feldman then got crucified online in a wave of backlash.
Then Feldman went live on Facebook (since deleted) to express his feelings about being cyber-bullied, and that blew up the situation even more — while also blowing up the profile of Feldman's new music project, the cd "Angelic 2 the Core."
Which brings us to Brittany Paige, a young Hollywood guitarist plucked from obscurity to join the band.
Ms. Paige gives Metal Sludge her take in this exclusive interview.
———————————————————-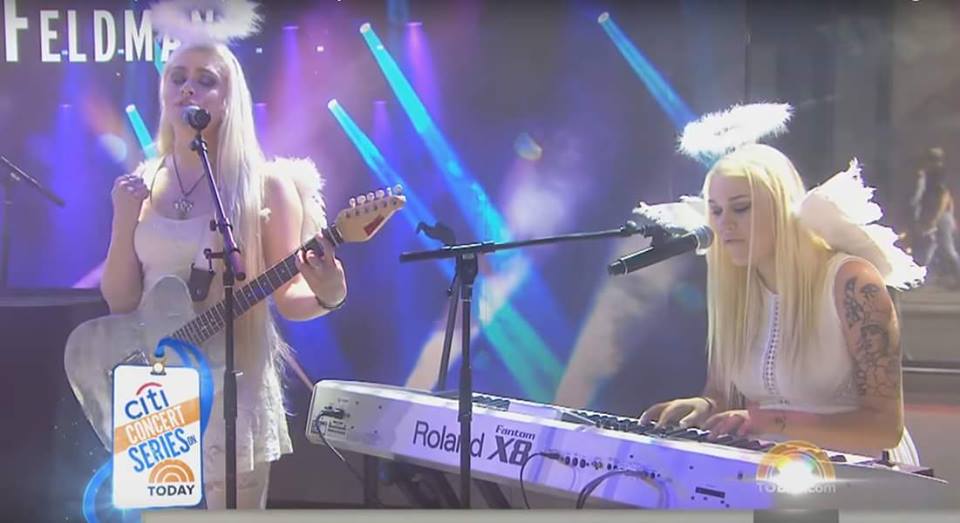 METAL SLUDGE: You got this gig as Corey Feldman's guitarist, and since the video from the Today Show has gone viral, you went overnight from being someone who no one really knew who you were, to like 2 million hits on youTube.
BRITTANY PAIGE: I know. It's crazy.
How did you meet Corey Feldman?
PAIGE:  I had first met him at a club in Hollywood called Dragonfly at a birthday party for Daisy De La Hoya. We stayed in touch, along with his girlfriend, and eventually he said he was looking for a guitar player, so I sent some pictures and kept corresponding.
I know he got a bunch of mixed reviews with the TV appearance, a lot of negative reviews, but I like the song. What has made it an even bigger story is that he sort of talked online about his feelings and stuff, the backlash, and every news outlet picked it up. Corey Feldman has been headline news in American culture for like a whole week.
PAIGE: Yes, he has.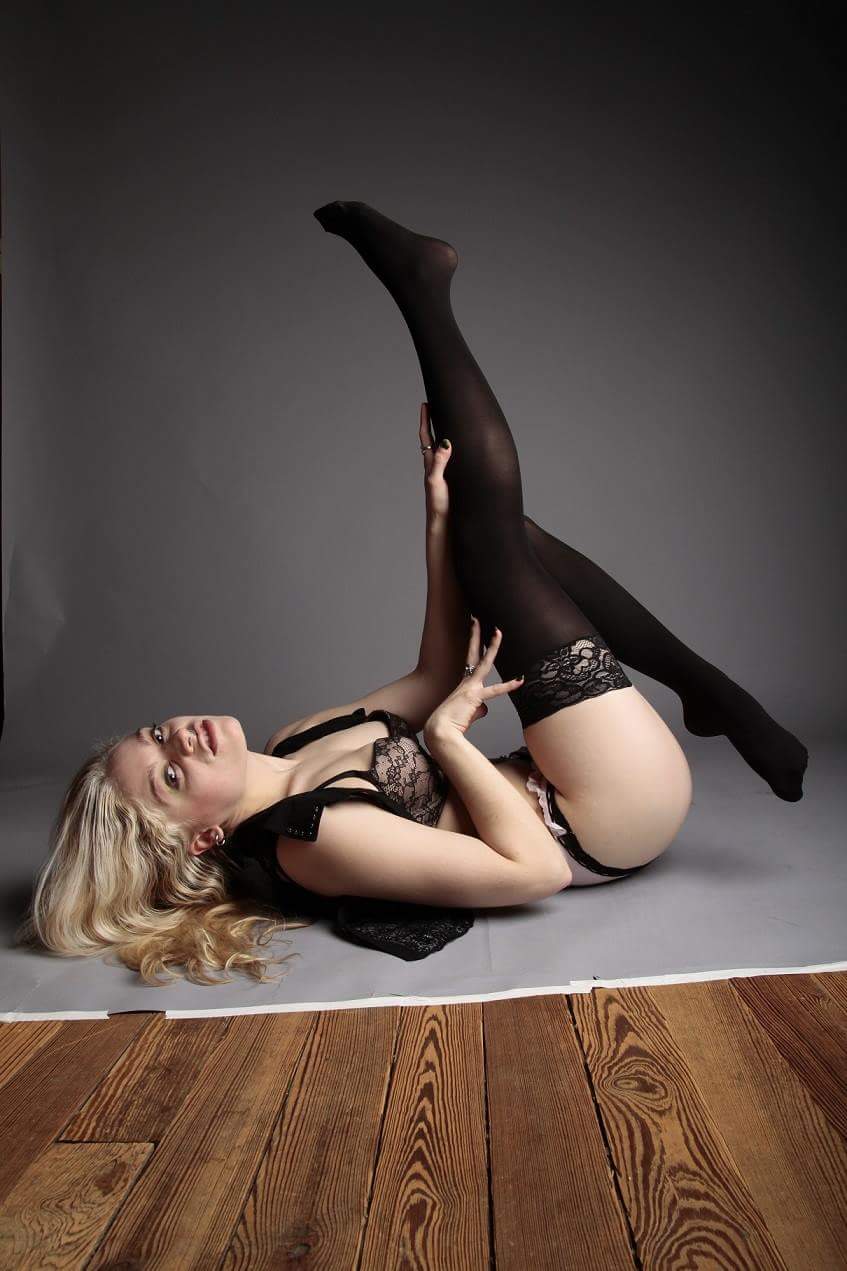 Mainly because of his "feelings."
PAIGE: Completely right. He's been the top one, the top number, the top name whenever you go to the search bar, looking at Twitter, Facebook. Corey Feldman is the name that keeps popping up, and I am like, oh my god. All from that performance. People are watching him. and we're in it with him, basically. It's so exciting cause it's like crazy to me.
He is capable of selling thousands of CDs and concert tickets if he wants to, do you know what I mean?
PAIGE: We've all been talking about it. We're still working on a couple of members. The bass player we hired on just for New York. We're rehearsing again tomorrow.
How is he feeling right now about everything? How is he feeling?
PAIGE: He's doing pretty good, you know. Excited. We're all excited. We're basically working hard, rehearsing for the next Today Show appearance because we got invited back to do the show again. We got invite d, we're going to figure out the date, but I think it's going to be the second week in October. I'm excited.
How do you feel about getting this break.  You've been served a big break.
PAIGE: Thank you. You're right, Gerry. I am really happy and proud. The band has had a few members revolving in and out, but the record came out in June, so basically it is brand spanking new. It's exciting. For me, it feels good to finally see something like this, to see Corey go and get good responses. It feels good. It feels good to work with someone who believes in you, and Corey believes in me and wants to "put me out there." I really appreciate him doing that cause it's a very interesting band, and I'm glad to be a part of it.
God, you must have heard from a lot of old friends and stuff when the video broke.
PAIGE: I definitely heard from a few people, a lot of friends It's been crazy, the amount of people who have seen it. It's been awesome.
Yeah, millions or people literally overnight.
PAIGE: It is amazing the amount it jumped in one day. It was at 55 thousand at the end of the day Friday, went up to like 80 thousand an hour later, and by the end of the next day, it was over a million — almost hard to believe your eyes. It's just amazing. I'm happy, you know.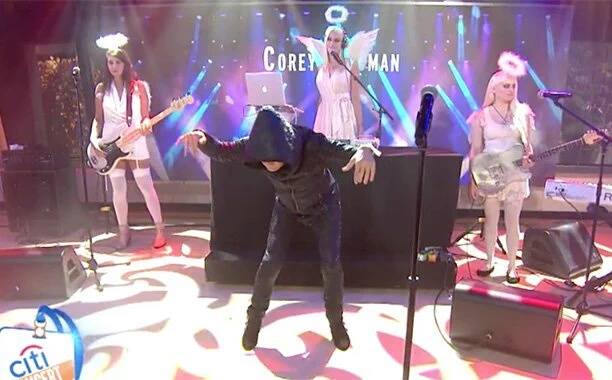 Corey Feldman and Corey's Angels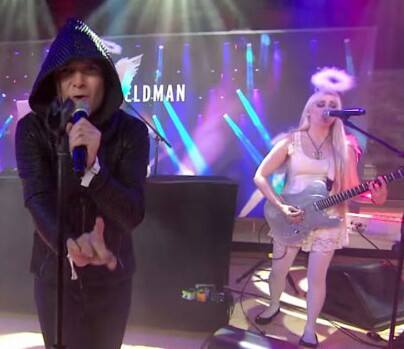 The TV performance was kind of avant garde. Did you expect you guys might get your share of criticism and bad reviews, 'cause that's what kind of started this whole train.
PAIGE: I had a feeling it was going to get a lot of attention just because of Corey being an actor and people just loving him in their hearts forever since their childhoods. It's just like, damn, the amount of people that responded so well, and yeah, there was some bad, too, but that's kind of the way it is with anything. I think it's cool, too, because it has inspired people to feel free and do something you want to do rather than hold back, you know. i think a lot of us, we all hold back and kind of over-think things rather than just letting ourselves do it, you know?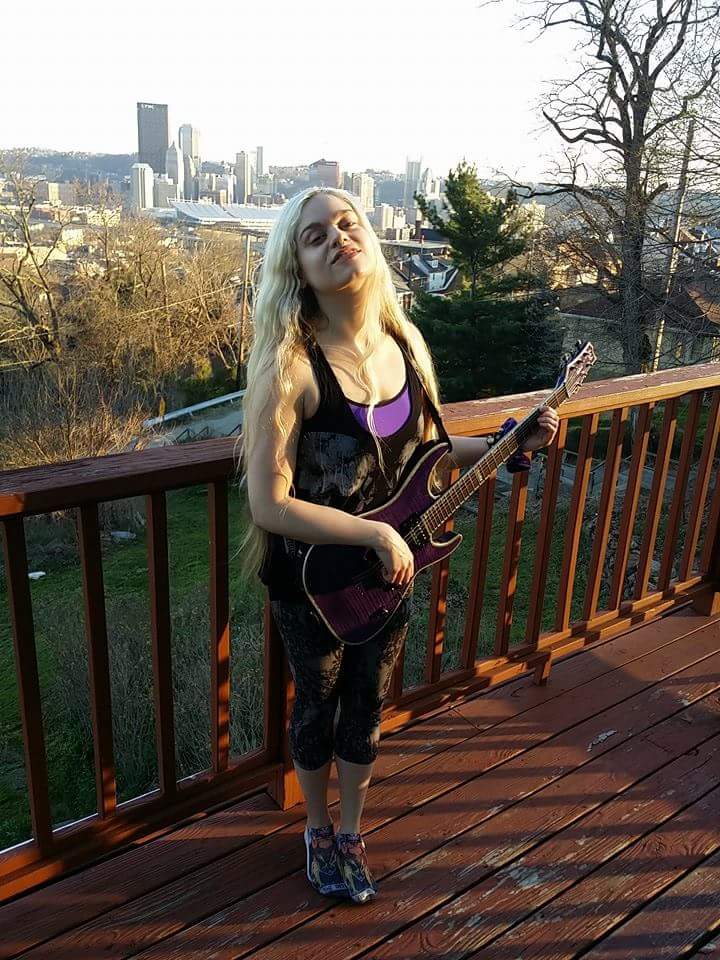 I notice you wear a halo over your head on stage. Are you an angel in real life, also?
PAIGE: (laughs) Angel or demon? I'm just kidding. No, I think it's very cool. I like it. It's different. It's nice being angelic for once. I'm just kidding.
Is your mom glad you have a real job?
PAIGE: My mom is happy. Yes, she is.
Have you got paid?
PAIGE: Yeah!
I bet you have, huh?
PAIGE: Yeah. People should keep their eyes peeled for me, but the attention is on Corey. That's the way it should be.
Does he want to tour?
PAIGE: He wants to, yes, He spent a lot of time on the album and what's he's doing, and he wants to see it go and feel that love back from the world. It's pretty amazing to watch it happen.
How good a singer do you think he is?
PAIGE: Honestly, I really like his voice. It's a cool low voice.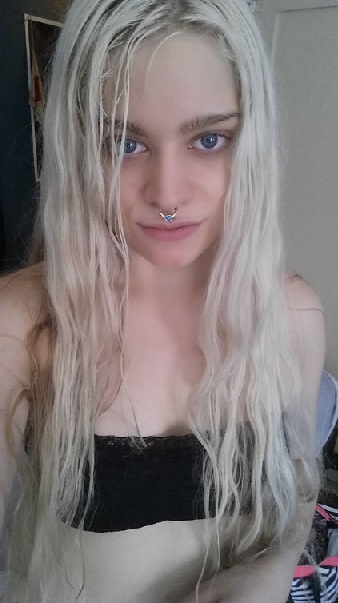 Brittany Paige @ WebSite – Facebook – Twitter – Instagram – Tumblr
Gerry Gittelson can be reached at gerryg123@hotmail.com