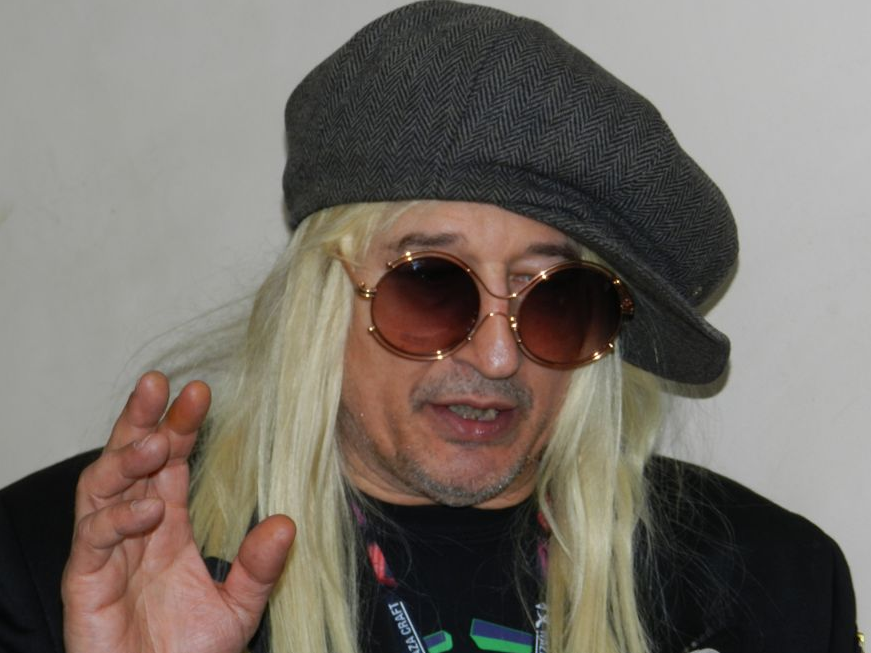 MTVie
"If it wasn't for Donnie Vie, no one would even know who I am" Chip Z'Nuff
By: Keith Valcourt
Washington Times — In the era of glam hair metal, the band Enuff Z'nuff seemed to fit right in. On the surface Donnie Vie and Chip Z'Nuffand the group looked like Sunset Strip regulars Poison and Warrant. But underneath the neon clothes and excessive use of makeup, lipstick and Aqua Net-inflated hair beat the heart of a perfect power pop combo.
More Cheap Trick than Bullet Boys for sure, the Chicago four-piece broke through in 1989 with a pair of MTV friendly hits, "New Thing" and "Fly High Michelle." Lineup changes brought on by death, drugs and deception couldn't stop Chip and Donnie, who kept releasing solid album after album, including 2016's "Clowns Lounge." Seriously, check it out.
After that release, singer Donnie Vie decided that touring was something he would rather not do, leaving Chip, the band's sole original member, to take over lead vocals for a tour that saw Enuff Z'Nuff opening for Ace Frehley. The results were pretty solid.
Chip Z'Nuff discussed his legacy at Rock and Roll Fantasy Camp.
Answer: It is an honor to be playing with these rock stars. Collectively these bands and artists have sold 100 million records-plus. I did my first camp with Cheap Trick, then [with] Blue Oyster Cult followed by Paul Stanley and Don Felder. It has always worked out really well.
When they called and asked if I wanted to play with Nancy Wilson of Heart and Steven Adler from Guns N' Roses, I said, "Let's do it!"  I've worked with Steven for years with Adler's Appetite.
Q: What is the best part of doing this?
A: It's wonderful because you get to play with these students. People who are doctors and lawyers. Guys doing different jobs around the country who have lived vicariously through guys like me. It's only fitting I get to work with them and give back.
Q: A lot of the campers wanted to be rockers but ended up doing other things. If you hadn't become Chip Z'Nuff, what would you have done?
A: I never think about that. I've been playing music since I was a kid, making record since I was 21 years old.  I have put out 20 albums so far with my band Enuff Z'Nuff. Not to sound immodest, but I'm proud of my illustrious career.
But if I had to go back in time? I'd probably have been a pitcher maybe? I used to play baseball. I tried out for the Milwaukee Brewers, Cincinnati Reds, Kansas City Royals. Chicago White Sox of course. I always loved pitching. But I had more to say writing a song than throwing a curve ball or a slider. That's why I'm here right now.
Q: What advice do you give the campers?
A: I say, "Who cares who drives the bus. Let's get to the picnic!" You put a band together. Give it the best you can. Let's make it great.
Q: Speaking of driving the bus, you are now the sole original member of Enuff Z'Nuff. What motivates you to keep going?
A: I love writing songs. I love performing live. We just got off the road. We were out with Ace Frehley. What keeps me going? I just love creating, playing and performing. It's in my blood. Rick Nielsen from Cheap Trick says it best. He said, "Chip, we're not all built to do this. But the ones who are should go [expletive] do it."
Q: Why did Donnie Vie give up touring?
A: If it wasn't for Donnie Vie, no one would even know who I am. He doesn't owe it to anybody anymore. He's dedicated his whole life to making music and playing records. Sometimes it gets tiring. He needed a little bit of a break.
Right now he is in the studio doing a solo record. I'm out there carrying the name on, which will help him as well.Donnie has done wonderful things for my career, and I hope I've done the same thing for him. I love him. He's my brother. And if he ever wants to come back, I'm just keeping the seat warm.
Read the full interview at Washington Times
ADs