PURPLE LAME
Michael Grant and L.A. Guns part ways, some fans felt the Prince thing was a bit much
Facebook —  In the blink of an eye, one can go from Hired Gun to Fired Gun.
Such was the case with L.A. Guns' latest casualty Michael Grant.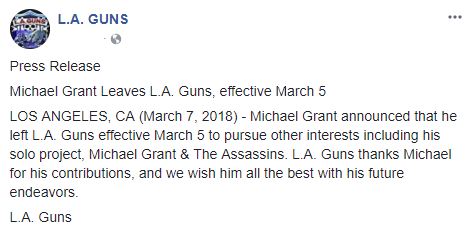 Metal Sludge broke the story that L.A. Guns had fired the guitarist, but the management stood firm and denied our story.
Now today Grant's official Facebook page has been updated that he has 'Left L.A. Guns' and his profile also shows him as a 'Former member of L.A. Guns'.
After our initial story and follow up buzz on the internet, L.A. Guns have now made an announcement today via their official Facebook.
The band's message reads as follows (see screen capture): "Michael Grant announced that he left L.A. Guns effective March 5 to pursue other interests including his solo project, Michael Grant & The Assassins. L.A. Guns thanks Michael for his contributions, and we wish him all the best with his future endeavors."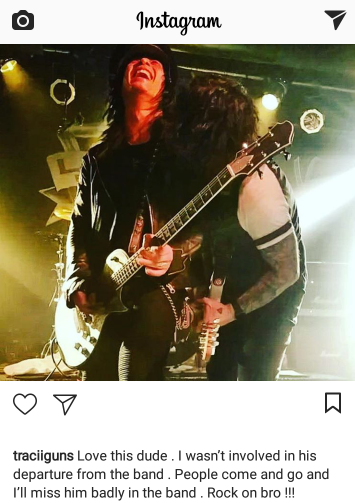 Tracii Guns has made a public statement as well today writing on his official Instagram: "Love this dude . I wasn't involved in his departure from the band . People come and go and I'll miss him badly in the band . Rock on bro !!!"
Fans opinions online seem to be mixed of the guitarist's abrupt dismissal.
Some fans are upset and will miss Grant calling him "the youthful energy" the aging band needed.
While others have added that Grant's tribute to Prince was a bit over-the-top, unnecessary and took away from the L.A Guns show.
Since the musical icon's death in early 2016 the band have been allowing Grant to do "Purple Rain" mid-set.
Which on most nights leaves the hired gun front and center, singing lead and playing lead guittar.
The band's current drummer (Shane Fitzgibbon) and bassist (Johnny Martin) play with Grant, but the 2 stars of the band, Phil Lewis (lead vocals) and Tracii Guns (lead guitar) leave the stage for what amounts to a bathroom break.
One fan on Facebook writes: "I bet its over money. Money splits better 4 ways instead of 5. They'll just go out as a 4-piece or they'll replace him with someone cheaper. Its almost always over money."
Another adds: "Same thing happened with Scotty. He was too flamboyant and took the attention away from everyone else."
Fans are all across the board with their good, bad and other comments via social media. (See screen captures below)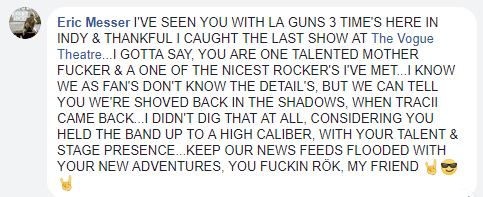 According to wikipedia and some other internet searches, it appears that Grant was the 46th member to be in L.A. Guns.
Which means soon there will be a lucky 47, or the band will continue on as a 4-piece.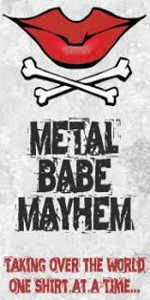 One source close to the group has already revelaed to Metal Sludge: "They'll be adding a new guitarist. L.A. Guns in a 5-piece." 
According to tour info found online, L.A. Guns finished their recent run of dates on Wednesday February 28th in Indiana.
A source close to Metal Sludge alleges Grant was fired just days later.
This may sound familiar, as back in 2014, Scotty Griffin (bass) was a member of L.A. Guns when he was let go soon after a show at the famous "Whisky-A-Go-Go" on the Sunset Strip.
Griffin a 2-time member of the band (2007-2009 & 2011-2014) wrote on his Facebook in September 2014 after being let go: "Let me clarify one more time, I DID NOT QUIT L.A. GUNS. I was basically unceremoniously sacked. Sounds harsh, but that's the reality. That's business. And this is the music business. I just want the truth to be known."
Griffin ranted extensively on his Facebook and added: "We played a packed show Saturday night at the Whisky. I gave the show 1000%. We all did. The next day, I got the call that I was out of the band. THAT is what went down. There was no two-week notice. Just 'you're out.'"
L.A. Guns have some stateside tour dates starting in April and in May the band will head to Australia for shows.
Grant has not made an official statement yet, but it seems that it's a done deal, and he is no longer on board.
Hey kid, keep your chin up, maybe if you don't join a band anytime soon, you can join the Police Academy instead. You're already set on the clothes. Good luck.