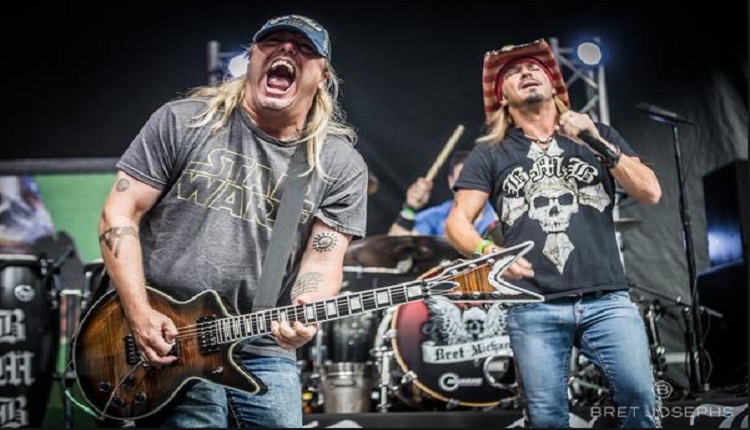 "'ROCK OF LOVE' IS ONLY THE STUFF THEY CAN SHOW ON TV" 
Pete Evick provides a glimpse of what it's like to play guitar for legendary Glam God Bret Michaels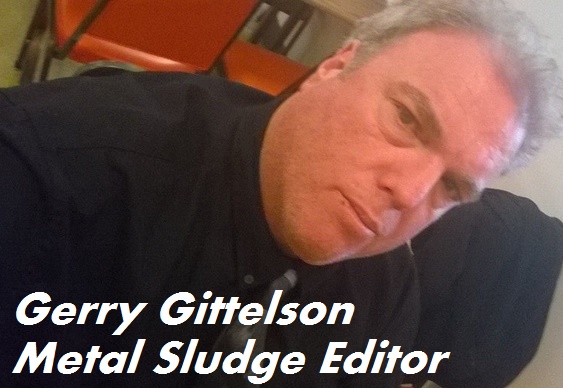 LOS ANGELES — They say road stories are better left on the road, but you gotta ask.
Pete Evick is calling in, and he is the longtime guitar player for Bret Michaels, the Poison singer who is equally as famous as a solo act and even more so as a TV reality star as a the winner of Donald Trump's "The Apprentice" in addition to being the star of his own reality TV hit "Rock of Love."
Evick has a solo record and a new book,  but like we said, it's hard to keep the conversation from swaying about Mr. Michaels — and more specifically, what really goes on in the afterhours once the stage lights have cooled.
Check it out.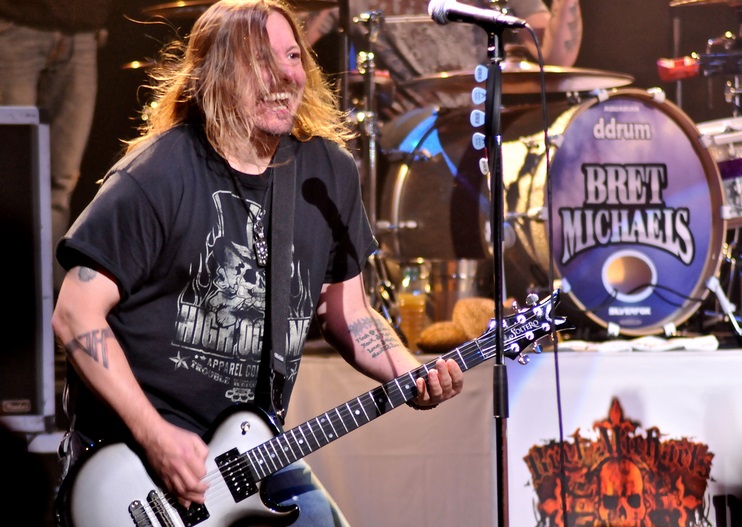 METAL SLUDGE: Hey Pete Evick, you have the awesome distinction of playing guitar for Bret Michaels. Do the girls still love him?
PETE EVICK: Oh yeah, as much as ever. It doesn't stop.
What would you say the attraction is? Can you pinpoint it?
EVICK: Well, I don't have the answer for that because I'm not a girl. I guess the blue eyes and the long blond hair and abs. He does OK.
You play a bunch of Poison songs, of course, and you play for big crowds. It must be fun.
EVICK: These songs have become legendary and iconic, and you know what? It's just as fun as ever, and I've been playing with Bret for 10 years. It's just as fun as the first time we ever played together. In high school, I would do talent shows, and I would always play "Cry Tough." Those were good times. So, at my age, to be able to play these songs next to the guy who wrote them, it's a complete honor, and it never gets old.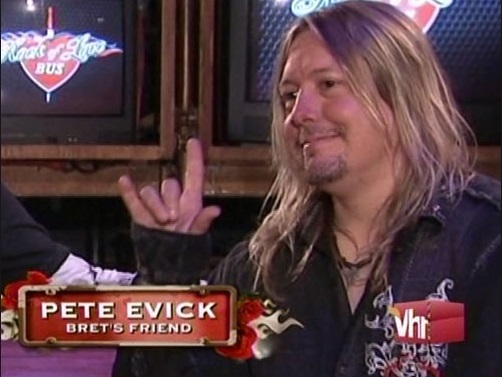 And what's going on with you guys right now?
EVICK: We're on tour. We've basically been out for three solid years.
I guess there is some backlash because as long as Bret is doing this, there's no Poison. Is he ever going to be back in Poison?
EVICK: He never left. They're still together, and they always will be. Just right now, there's no new album, but next year is the 30-year anniversary. I imagine they'll go out and do sheds. I guess. I mean, I'm just assuming. But he mentions 'em every night on stage.
I guess Poison is working with a new singer, Brandon Gibbs, doing a few things.
EVICK: You know what? Again, I am a fan, and I think C.C. Deville is wonderful, and Brandon, I've known him for 10 years. He used to open for us. He was in a band with the Cinderella guys. He's a friend of mine. He's great. Like me, he's a Poison fan for as long as I've known him, and he believes in the music.
I guess Bret Michaels won "The Apprentice," so he must back Donald Trump, right?
EVICK: You know, a couple of years ago when Trump first started talking about running for president, everyone was really excited, and Bret even wore a "Trump For President" shirt. Bret considers him a friend.
Would you say Bret was a long shot to win "The Apprentice"?
EVICK: You know, I would say a lot of people didn't expect what they saw from him, but anyone who knows the music business, they know that to stay in it and be successful for 30 years, you've got to be pretty smart. You've got to be pretty smart to keep your name on the marquee, you know what I mean? You've got to assume that someone who can pull that off, they've got to be a pretty good businessperson no matter what they do.
And you've got your own project going, right?
EVICK: Yeah, an instrumental album called "Awakened." The single is called "Awakened" too.
An instrumental? Is it a good song?
EVICK: Of course I think it's a good song. I was a huge Van Halen fan, Steve Vai, Joe Satriani.
Instrumental albums are usually kind of trippy. Do you smoke pot?
EVICK: You know what? I don't do that, but I don't disagree that instrumental albums can come on as a trippy.
Or for guitar players, I guess it's like masterbation.
EVICK: You know, no comment on that! But yeah, it absolutely is. It's just getting it out of my system.
So with Bret Michaels, does he pay well? Do you make a lot of money?
EVICK: I would certainly not complain. I'm happy to be in this situation, I really am. I have everything I need and everything I want.
Riding around the country in a tour bus, I guess that's not so bad.
EVICK: A tour bus or a private plane. Most of the time, we go in his private plane, about 80 percent of the time.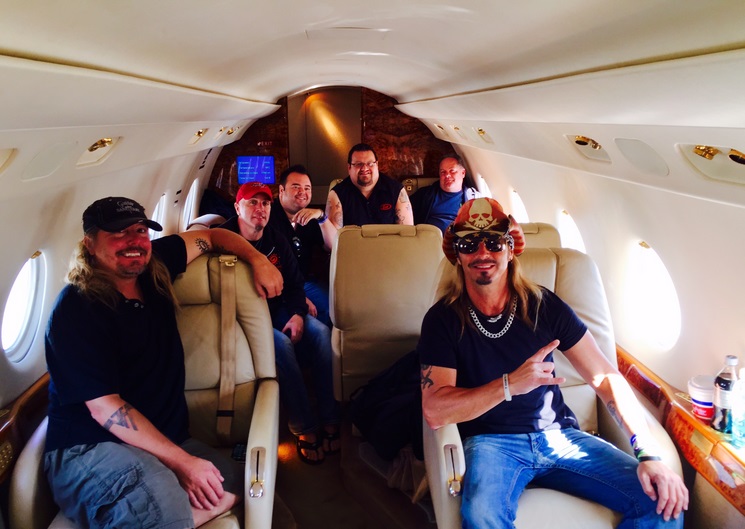 Really? How many people does the plane hold?
EVICK: It holds 12 people.
Is it a blast?
EVICK: Actually, most of the time, we're so exhausted.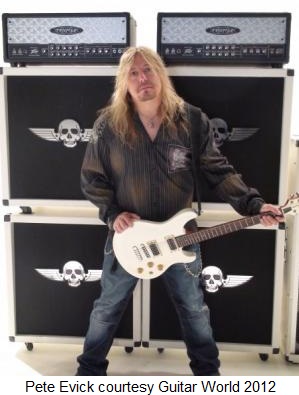 Well, let me put it another way: What does a beautiful groupie have to do to make her way onto the plane?
EVICK: You'd have to ask Bret about that. It's his plane.
Well, is he single right now?
EVICK: You know what? I'm sorry. I can't comment directly on something like that. All I can say is, he's an incredible dad, and he makes sure the mother is taken care of.
His two daughters, are they musically gifted?
EVICK: Actually, yes. Both of them are.
So what are some of the very biggest shows you've played with Bret, the best moments?
EVICK: We've done some great shows in St. Louis. We did a Fourth of July show two years ago there for 125,000 people. I still think about that show every day. The people in St. Louis are amazing. We've also done some really big shows in Detroit and Boston. Those three cities, they're all incredible diehards.
To have 125,000 cheering for you. What does that feel like?
EVICK: It's pretty amazing. It's a loud roar. But I don't know. They're cheering for Bret, and they're cheering for the music. We've done three or four shows for 100,000, and there's nothing like it. But if there is 10,000 or 100,000, as long as they're excited, it's magic. I can't even describe it.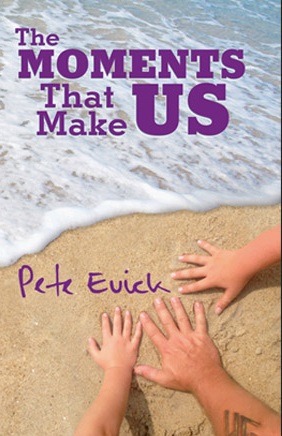 What about you? Are you single?
EVICK: I have two kids, 13 and 9, and I was married for 10 years, but "Rock of Love" caused that to come to and end. Three years we did that show, all of us in the band, and we were on the road for nine or 10 months a year, going everywhere that Bret went with cameras around all the time. It was a wonderful and exciting time, but it stressed our personal lives. I just wrote a book actually that talks about dealing with the family split and the moments in life that help us get through it. It's called "The Moments That Make Us," and it's on amazon, and you can get it on itunes, a digital copy.
Is it a good read?
EVICK: Well, all the reviews so far, yeah. It got five stars on amazon. Everyone who has read it has said amazing things, that I did my job. But it's not just about being in a rock and roll band. The book starts with my marriage breakup and goes back to my childhood, the things I learned as a child that make me the man I am today, to accomplish my dreams. But no, it's NOT a lot of rock and roll debauchery.
Well, Metal Sludge IS. Let's finish up with some wild shit. Let me hear some wild stuff. You're in Bret Michaels' fuckin' band, dude.
EVICK: Well, if you saw "Rock of Love," it's all right there, and that was only the stuff they can show you on TV.  Let's put it this way: You're with one of the greatest frontmen of all time, maybe the greatest frontman of all time for the biggest party band of all time, so you can use your imagination about the debauchery. Let's just say that every part of the rock and roll dream is alive and well — and I've certainly seen it.
Gerry Gittelson can be reached at gspot@metalsludge.tv