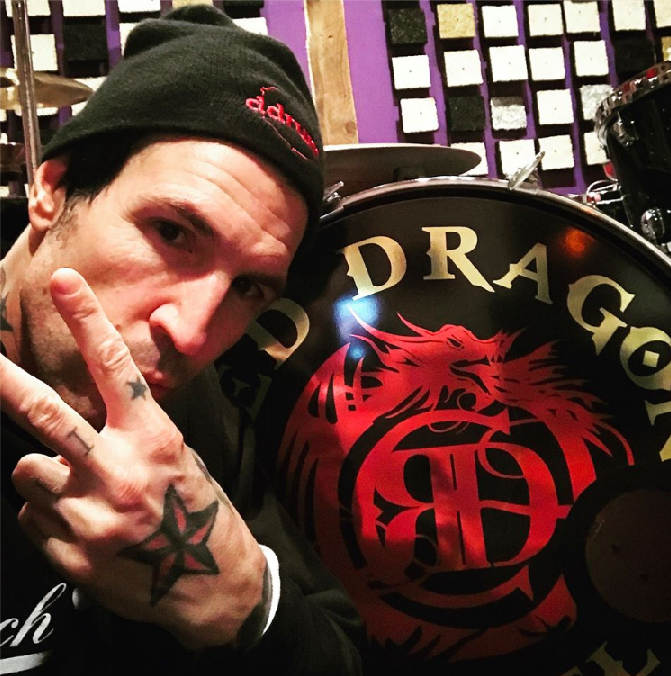 SAIGON DRAGON
Red Dragon Cartel welcomes ex-Saigon Kick drummer Phil Varone
Facebook – According to everyone's favorite social network (Facebook) the band Red Dragon Cartel have added a new member to the group.
The addition is former Saigon Kick and one-time Skid Row drummer Phil Varone.
Jake E. Lee and his Red Dragon Cartel wrote about adding Varone to the lineup; "He's with us now in the studio working on our next album. It's gonna be  awesome."
Varone himself posted on his own Facebook wall: "I want to thank each and everyone one of you from the bottom of my heart for all the kind words and well wishes on my new drumming gig with Red Dragon Cartel."
Varone added, "I'm overwhelmed by all the love and support from my amazing friends and fans and look forward to seeing and thanking each and everyone of you personally when we hit the road. I'm truly grateful and I love you all."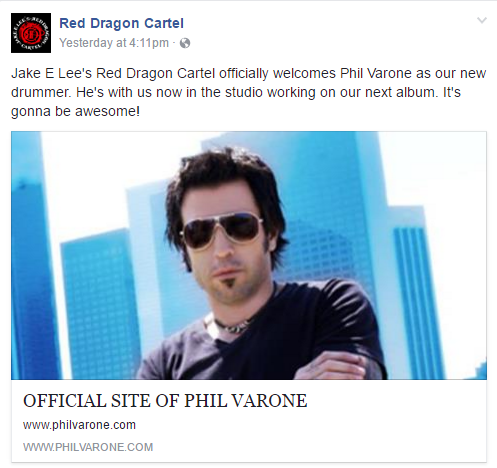 Aside from Varone's time in both Saigon Kick and a Sebastian Bach'less Skid Row, he also bashed skins for Motley Crue vocalist Vince Neil on his 2003 solo tour.
"Thank you again Ddrum USA Dream Cymbals Rich Sticks Humes & Berg Mfg Co Inc Evans Drumheads" wrapped up Varone's weekend post. It also explains his recent plethora of posts showing off deliveries of all kinds of brand new gear.
In April 2009, Varone participated in Sex Rehab with Dr. Drew, a VH1 spinoff of Celebrity Rehab with Dr. Drew that features celebrities being rehabilitated for sex addiction. In the first episode, Varone revealed that his sex addiction worsened after his mother died from a cerebral aneurysm in 1998. Another pivotal moment occurred when his maternal grandmother Josephine died during the taping of the show. Varone also spoke about this sex addiction in episodes of Oprah, The Tyra Banks Show and the Today Show. source Wikipedia
Red Dragon Cartel are currently in studio with the following lineup: Jake E. Lee (guitars), Darren James Smith (vocals), Anthony Esposito (bass) and Phil Varone (drums).
Red Dragon Cartel @ WebSite – Facebook – Twitter – iTunes –
Phil Varone @ WebSite – Facebook – Twitter – Instagram –