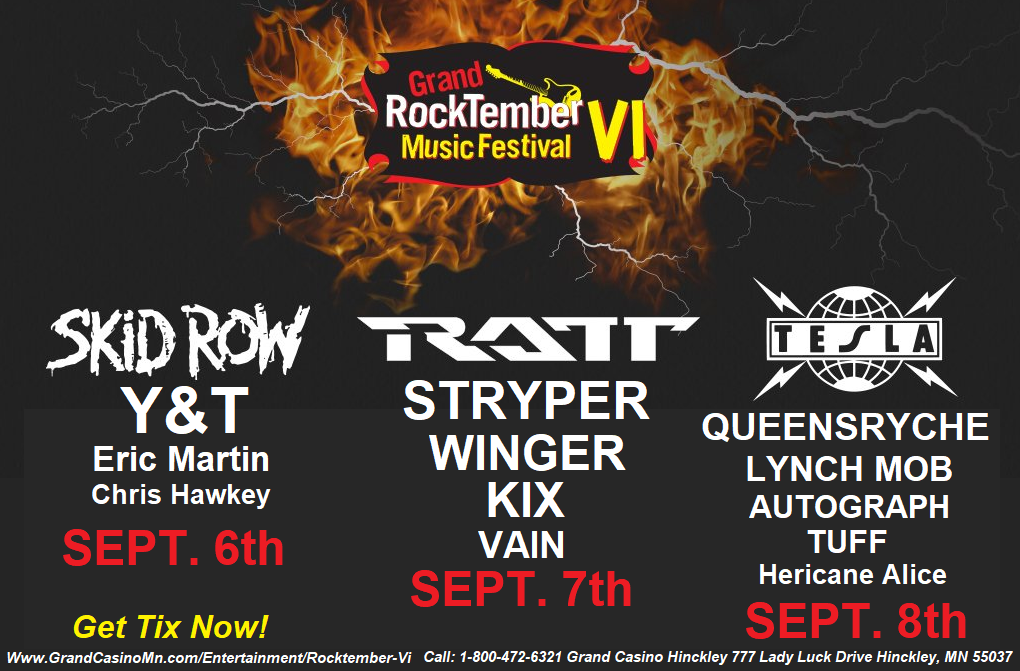 RATT – TESLA – SKID ROW
RockTember VI announces Queensryche, Stryper, Y&T, Winger, Kix, Lynch Mob, Vain and Tuff
Updated: March 16th 2018 (8:00AM EST) 
RockTember Vi announce their 3-day festival headliners as Skid Row, Ratt and Tesla.
The event's official tweet early today reads as follows: "Drumroll please… The Grand RockTember VI HEADLINERS are @OfficialSkidRow, @theRATTpack, and @TeslaBand! Mark your calendars for September 6-8. Tickets go on sale Saturday, March 24 at 10 a.m."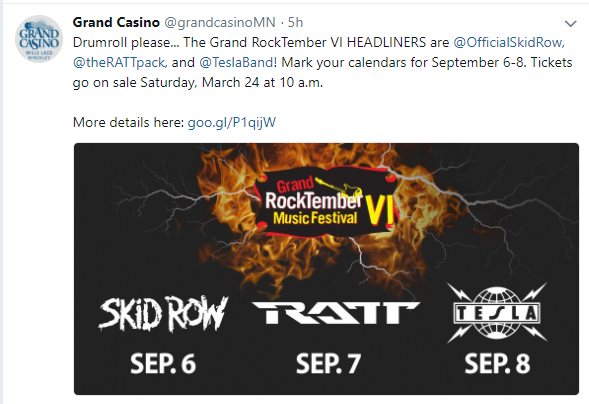 HINCKLEY, Minnesota — RockTember VI has announced their annual fall music festival for September 6th, 7th and 8th 2018.
The event in its sixth year, is held each fall at the Grand Casino in Hinckley Minnesota.
The festival has previously been 2 days but they've expanded it to a full 3 days and have announced a dozen bands so far.
Marquee names listed for the 2018 festival so far are Queensryche, Winger, Stryper, Y&T, Lynch Mob and Kix.
Other notable artists included are Autograph and Eric Martin of Mr. Big.
There are also a handful of smaller name bands who the 80's diehards will be happy to see kick off each day. A rare appearance by Minnesota's very own Herricane Alice, San Francisco's Vain and Hollywood's Tuff will also appear.
Grand Casino tweeted the following today: "JUST ANNOUNCED: Check out the 3-Day lineup for Grand RockTember VI at Grand Casino Hinckley September 6 – 8! All three headliners are still a MYSTERY – tune in next FRIDAY for another big announcement."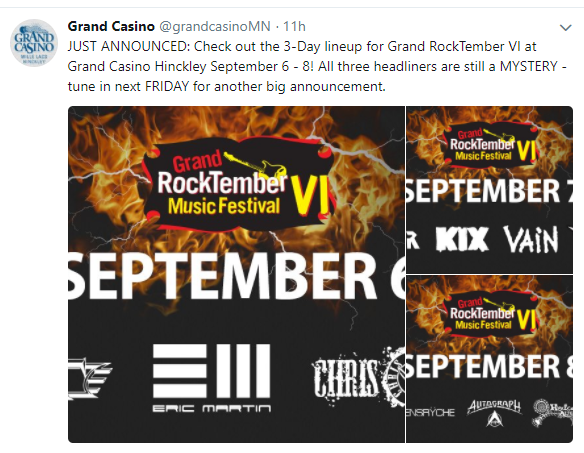 Past events have featured the likes of Cinderella's Tom Keifer, Dokken, Night Ranger, Loverboy Extreme, Slaughter, Jackyl and Firehouse.
Stay tuned to the event's social media as noted below for news, updates, headliners and ticket info.
———————————————————-
NOW BIGGER & BETTER THAN EVER!
September 6th 7th & 8th 2018
There was no way we could fit our massive line up of headline acts into just two days of Minnesota's greatest music festival. So we're not even going to try. Rocktember VI will be THREE days of heavy duty rock!
CHRIS HAWKEY
ERIC MARTIN FROM MR. BIG
Y&T
SKID ROW
VAIN
KIX
WINGER
STRYPER
RATT
HERICANE ALICE
TUFF
AUTOGRAPH
LYNCH MOB
QUEENSRYCHE
TESLA
On sale details coming soon!
RockTember @ WebSite – YouTube – Twitter – Instagram – Facebook –  Tickets –