SOMEBODY GET HIM A DOCTOR
Ex-David Lee Roth guitarist Bart Walsh barricaded in apartment threatens suicide, S.W.A.T. takes him into custody for evaluation
Winston-Salem, N.C. — According to WFMY 2 News former David Lee Roth guitarist Bart Walsh was barricaded in his apartment and threatened to shoot himself upon police making contact with him.
Local police are saying Walsh called his ex-wife in Tennessee and made both suicidal and homicidal threats towards her.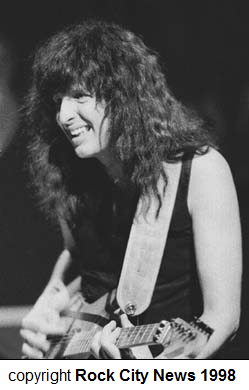 A source close to the couple are claiming the events of last night were Walsh "losing it" over his wife leaving him.
The source also notes the divorce is on-going but is alleging Walsh is fighting it every step of the way.
Walsh's ex-wife has also filed a restraining order according to the source.
The Winston-Salem police also note that a Involuntary Commitment Order was issued for Walsh.
Walsh has posted several messages on his official facebook wall in the past week that are cryptic, but definitely appear to be leading up to yesterday's unfortunate events.
On Decemeber 31st Walsh wrote: "I think now my wife was poisoning me and I have some evidence."
Additionally, on December 29th Walsh wrote; "My crazy wife,her boyfriend and her crazy dad and her super psycho mother have all threatened to kill me to the point where my famoly was so scared I had get armed security for them .I am not staying silent longer as my wife has played this shit out on facebook from day one and in public. It started one year ago on christmas day when the crazy bitch posted that we she was single on facebook and we hadnt even had a fight and I was sick in bed at home. Its how it started. i just want a divorce."
Aside from Walsh's stint playing guitar for the legendary Van Halen vocalist David Lee Roth's solo band (1999-2001) he was also a part of the original lineup of Atomic Punks. It is rumored that Roth 'farmed' more than one guitarist from the tribute. Following Walsh, another Atomic Punks guitarist Brian Young performed with Roth 2002-2003.
The Van Halen tribute band is based out of Los Angeles and is still in business today.
Previously Walsh played locally on the Sunset Strip in the band Lancia.
——————————————————————-
WINSTON-SALEM, N.C. – Police spent part of Monday evening investigating at an apartment complex in Winston-Salem.
The apartments on Creekshire Way near Hanes Mall Boulevard were surrounded by police. Apartments were closed off from allowing people to enter or leave.
Police say Bart Walsh called his ex-wife in Tennessee and made suicidal and homicidal threats toward her.  When police tried to make contact with him at his apartment, he threatened to shoot himself and Winston-Salem Police officers. They say he then barricaded himself inside his apartment.
Officers obtained an Involuntary Commitment Order for Walsh and S.W.A.T. members forced entry into Walsh's apartment.  He was taken into custody without incident and transported to Forsyth Memorial Hospital. Neither Walsh nor any WSPD Officers on the scene were injured.