SORRY TO THE GRIND
Sebastian Bach to Skid Row "I would like to aplogize for shooting my mouth off"

Twitter — Who knows what the reasons are, but a few recent events may have sparked another possible reunion. A Skid Row reunion that is.
Sebastian Bach has taken to his official twitter to apologize to his former bandmates in Skid Row.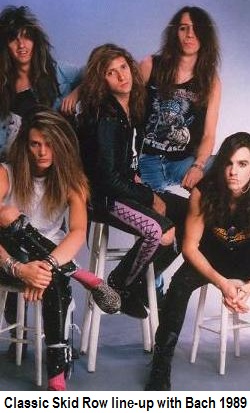 Bach a Canadian was the classic voice that launched the New Jersey rockers into the platinum stratosphere. But that was 1989 and since late 1996 the group has went about their business Bach'less.
Today on his twitter he tweeted: "To be honest, I have said some super shitty things 2 them. & about them. I would like to apologize for shooting my mouth off."
In another tweet Bach added: "Only way a Skid Row Reunion could happen is if we somehow tried2 bury a 20 year hatchet between us. Would love the chance to do so #SitDown"
Bach has since released 3 studio records as a solo artist since being fired from Skid Row. In addition the singer has appeared on Broadway and in numerous Tv shows.
Skid Row have recently been snake bit with the sudden depature of their 4th singer. Tony Harnell was hired to front the band in the spring of 2015 on the heels of the band letting go Johnny Solinger. Soliger had fronted the band since 1999. Previous to the band's success in the late 80's they were fronted by original singer Matt Falon.
Now in recent weeks the reunion of Guns N' Roses has made international headlines. Axl Rose has seemed to have patched up the differences he once had with lead guitarist Slash. Earlier this week the band's official press statement has confirmed the band are back together.
Even Axl tweeted; "Ok, ok, it's "confirmed" Guns N' Roses is headling Coachella. See everyone there."
At press time, Axl, Slash and bassist Duff McKagan are noted to appear with the group when they headline Coachella on April 16th and 23rd 2016.
No further news on Skid Row's next singer, or who will round out the Guns N' Roses group.
One could only think that the recent Guns N' Roses news and Skid Row being singerless has sparked Bach to reach out publicly. See his recent tweets screen captured below.
If Axl can forgive Slash, then maybe it's not too far fetched that Skid Row could forgive Sebastian Bach?
Stay tuned…..