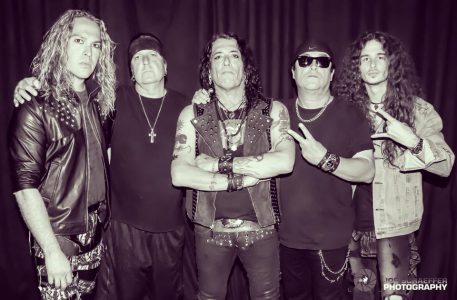 RATT 
Stephen Pearcy: "Regardless of whether it's Warren (DeMartini) or somebody else, they can take a hike."
Metal Sludge — We're sticking to our original story as published on March 21st 2018.
The story is, that Warren DeMartini was in fact fired from Ratt.
In a recent posting on Blabbermouth (also shared by Sleazeroxx) Pearcy says: "I can't speak for the guy [Warren DeMartini]… The guy didn't wanna go out there. I wouldn't even call it work. We're privileged enough, 35 years later, to be able to go out and do what we do. And there's still a lot of great fans out there who'd love to hear the music. That's all that concerns me. So if somebody else doesn't wanna do it in the band, regardless [of whether it's Warren] or somebody else, [they can] take a hike."
But at the same time, last week Pearcy was on the Trunk Nation radio show, and was quoted in a Blabbermouth article saying, "Warren was not fired — he wasn't fired at all. He just took it upon himself to not be involved, but I'm not gonna dwell on that subject anymore either; it's not worth it,""
Seems like these two statements contradict themselves?
Metal Sludge has been told more than once, by related sources, "Warren did not quit Ratt."
Either way, Ratt now moves forward with Pearcy, Croucier and as first reported on July 5th by Metal Sludge, the new line-up.
The new breed line-up includes, veteran drummer Pete Holmes (Black N' Blue) along with Jordan Ziff (Razer) on lead guitars and Chris Saunders (Knight Fury, Britny Fox) on guitars.
Stay tuned for more from Ratt.

Above photo by Joe Schaeffer Photography
—————————————
Metal Sludge has posted a poll on Twitter,  you will be shocked to see the results thus far.  Vote, Share, Sludge.
Do you think #Pearcy & #Croucier are giving payback for years they were controlled by #DeMartini & #Blotzer? Think about it. D&B toured for 6+ years w/out P&C. C was out 20 years in total. D&B were 100% in control of @theRATTpack for years. Now that has ended. Is this payback?

— Metal Sludge (@MetalSludge) July 15, 2018