SWEET 16
METAL SLUDGE EXCLUSIVE: Teen girl guitar phenom Lexii Lynn Frazier speaks out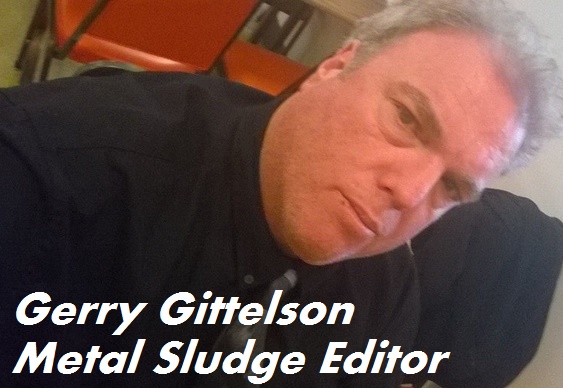 LOS ANGELES — Lexii Lynn Frazier is not your average high school girl.
She is just 16, but the young guitarist is already making an impact on the rock scene including an appearance on the lauded Monsters of Rock Cruise.
Imagine if the late Randy Rhoads and Joan Jett had a daughter — if anyone could persuade Jett to switch teams, it would be Randy, right? — then Lexii Lynn Frazier is what you would have. She's got feel and dexterity like Eddie Van Halen, she's got a gifted tutor in mentor Brent Woods, and she's got a cool rock image like a young Lita Ford.
Frazier is a talent on the rise. Metal Sludge first met up with her over New Years weekend when she came through with a spirited guest performance with Led Zeppelin tribute act Moby Dicks. Frazier was soon back in the spotlight with another impressive guest spot at the NAMM convention in California, then the Monsters of Rock Cruise to the Bahamas, and now the epitome: a feature interview with Metal Sludge.
————————————–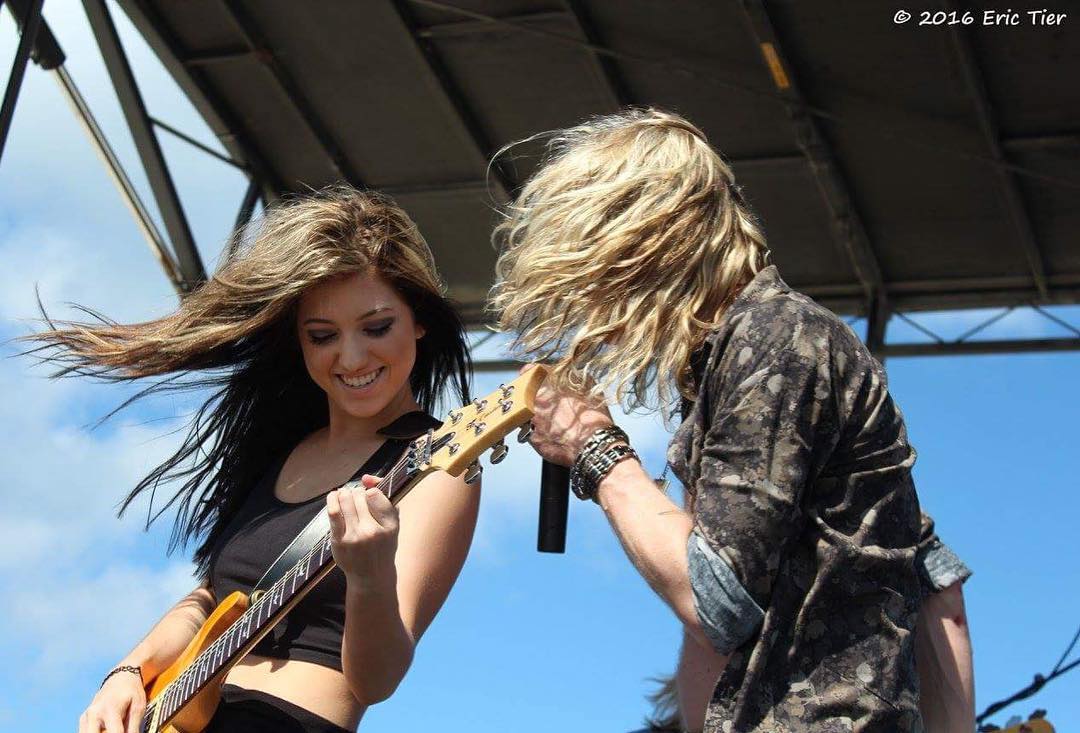 Lexii on the Monsters of Rock Cruise rocking with Chaz West and the Led Zepplin tribute Moby Dicks

METAL SLUDGE: Lexii Lynn Frazier, you're only 16 years old — technically too young to access our site! — but are you nevertheless a fan of Metal Sludge?
LEXII LYNN FRAZIER: Oh yeah.  I love reading you guys and what you have to say and keeping up with the rock-metal stuff.

And you're on the rise, Lexii. You just did the Monsters of Rock Cruise. How was it?
FRAZIER: That was so fun!
Did you have a chaperone?
FRAZIER: Yeah. My parents had to go with me 'cause I'm not 18 yet.
Really? Who had a better time — you or your parents?
FRAZIER: I don't know. I would say my parents because they got to meet all these people in person like Nuno from Extreme, Sebastian Bach, Y & T. It was a lot of fun, the music and playing. It was everything you can imagine — a once in a lifetime experience.
So are you an official member of (Led Zep tribute band) Moby Dicks now with Chas West?
FRAZIER: Oh no. I wish. I just go and play every once in a while. When I get there, I play a couple of songs, and it's really fun. I love playing with those guys.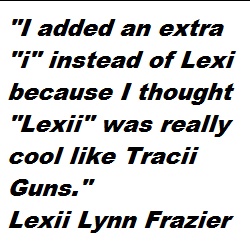 I remember seeing you at the NAMM convention. You were playing with the Randy Rhoads tribute. As soon as you got out there, and there were like 3,000 people, do you remember Rudy Sarzo asks you, "Have you ever been on stage before?"
FRAZIER: (laughs). Yeah, I was like, "a couple of times, yeah!"
You have actually been doing this for a while. You started young, eh?
FRAZIER: I think I was actually only six months old when I was on the stage for the first time. By the time I was 12, I had already been performing in school plays before I started playing guitar.
So you're in high school now?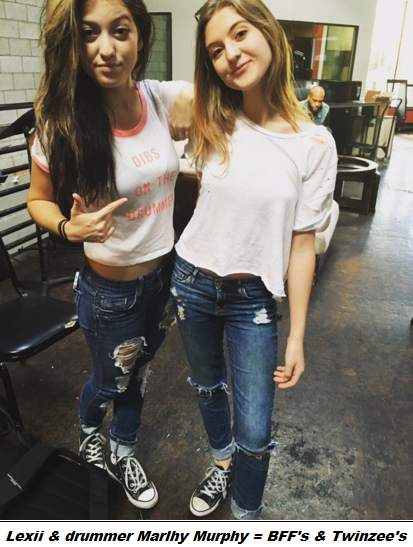 FRAZIER: Yeah, I'm a junior. I used to go to Redlands High (east of Los Angeles). Now I'm home-schooled because I play out so much. It's a good transition. I'm a really good student with a 4.0 grade-point average. It's tough, but now I really want to be a great musician. I'm putting everything into music without my grades dropping, and that's been a huge point. I want to get to do what I want to do for as long as I can. It's really important to me.
You want to be a rock star.
FRAZIER: Yeah, I want to play music. If it doesn't work out, being right up front on stage, then I will help with recording and supporting them. I don't want to do anything but music.
Do you sing?
FRAZIER: Yeah, but mostly I just play guitar. I do both. I do background vocals.
We've got spring break coming up. What do you have going on?
FRAZIER: I'm doing some solo shows. I'll go out with any band that asks me. I'm also working with (Sebastian Bach guitarist) Brent Woods, writing and recording. He's pretty much a mentor to me, not just for guitar but for the whole business.
That's awesome. That's so cool.
FRAZIER: Yeah.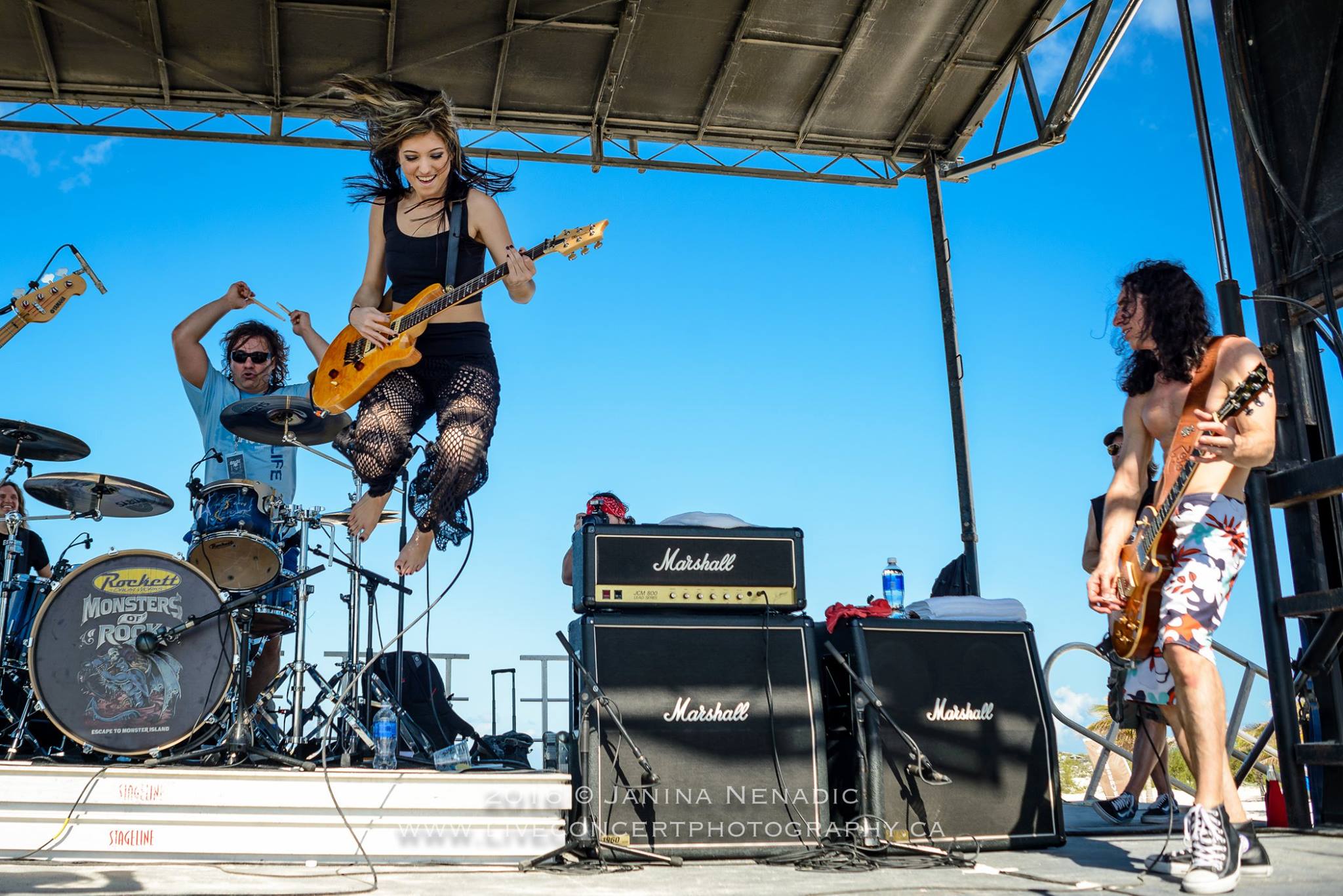 Lexii rocking the MORC with her mentor Brent Woods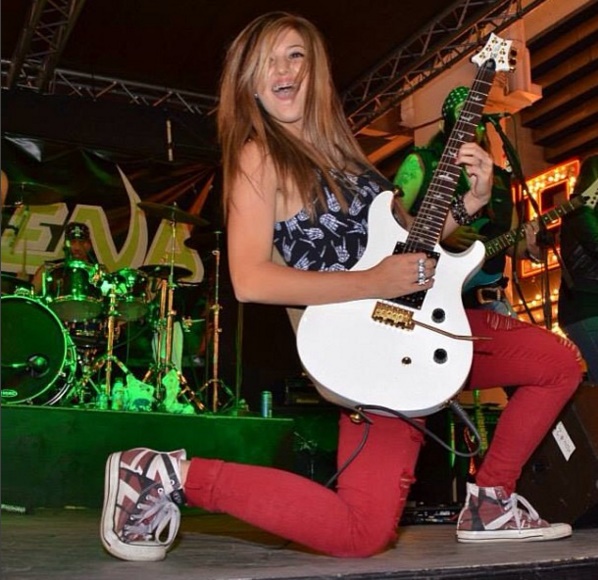 Lexii sporting braces and her Eddie Van Halen boots
What have been some of your career highlights?
FRAZIER: Well, I first started, I remember I was 13 and went to Las Vegas for a soccer tournament, because I played soccer, and we were on Fremont Street and saw this tribute band, and I had been playing guitar for like a year and half at this point, and they asked me to come up and play guitar, and I ended up playing with this band a lot.
Who was this band?
FRAZIER: They were called Arena Tribute
FRAZIER: After that, I did some stuff on radio stations in Southern California. I did the national anthem like Jimi Hendrix for this KCAL radio event when I was 14, and some interviews after that. It was totally cool. I played with Fan Halen, the Van Halen tribute band. I've been playing with Moby Dicks. I did Monsters of Rock.
You played at NAMM.
FRAZIER: Yeah, the Randy Rhoads tribute. I won a contest through Facebook that was like, "Do you want to play 'Crazy Train'? Send us a video." I uploaded the video. I think it has like 40,000 views. I played with Warrant singer Robert Mason and Rudy Sarzo and Brian Tichy. The Monsters of Rock was so fun for me because not only did I get to play and perform, and I love to play so much, but I also got to hang out with all my old friends, all the bands and everything. It was surreal. I've loved these bands ever since I was little. Hanging out was really cool.
OK, in our Sludge style, we will ask you about some girl guitarists, you tell us what you think, OK? We'll start with (Alice Cooper guitarist) Nita Strauss.
FRAZIER: I think she's a phenomenal technical player. She is a great performer, too. Pretty much all around, she has the it-factor. She's very pretty, too, and that's a super-important factor. She has the it-factor. She's great.
FRAZIER: She's actually my favorite. She's the reason. I met her when I was 12, and by then she had already done so much, playing with Michael Jackson before that. I got to talk to her, and she told me to keep going and that if I didn't give up, I could make things happen — and she was right because now I have an endorsement with Paul Reed Smith, who does tons of guitar players like Neal Schon, Carlos Santana, Myles Kennedy.
Lita Ford.
FRAZIER: Lita Ford is the mother of rock and roll for girls. She paved the way, her and Joan Jett. If you put your mind to it, you can accomplish a lot. They had their heart set on rock and roll, and they made it happen, and that's a huge thing to remember. As long as you're happy and you love it, that's all that matters.
Do you drive a car yet?
FRAZIER: I do. I just got my license in January.
FRAZIER: I don't have a car yet, and I'm upset about that, though. I guess I have to get a job.
You didn't get paid for Monsters of Rock?
FRAZIER: Actually, I've never been paid for playing music!
No big deal, Lexii. Neither has Stevie Rachelle! Oh by the way, hanging out with all these musicians, have you picked up any bad habits?
FRAZIER: I've done so well. I'm super proud of it — I don't drink, don't smoke. I have no interest in any of that, just playing on stage. That's the best feeling I get. It's a scary world, and I always want to be in full control. That's something I would never do. I would never do anything horrible!
No tattoos, either, right? Don't get any tattoos, Lexii.
FRAZIER: Exactly. Nothing weird, nothing like that. I will take your advice on that.
And you're real name is Lexii. Lexii Lynn Frazier?
FRAZIER: Yeah. It was always with on "i", but I added an extra "i" instead of Lexi because I thought "Lexii" was really cool like Tracii Guns.
Lexii Lynn Frazier @ Facebook – Twitter – Instagram – Mycah – Youtube
Gerry Gittelson can be reached at gerryg123@hotmail.com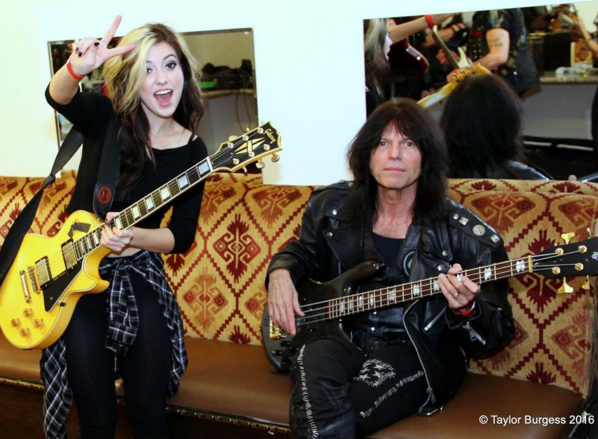 Lexii with bass legend Rudy Sarzo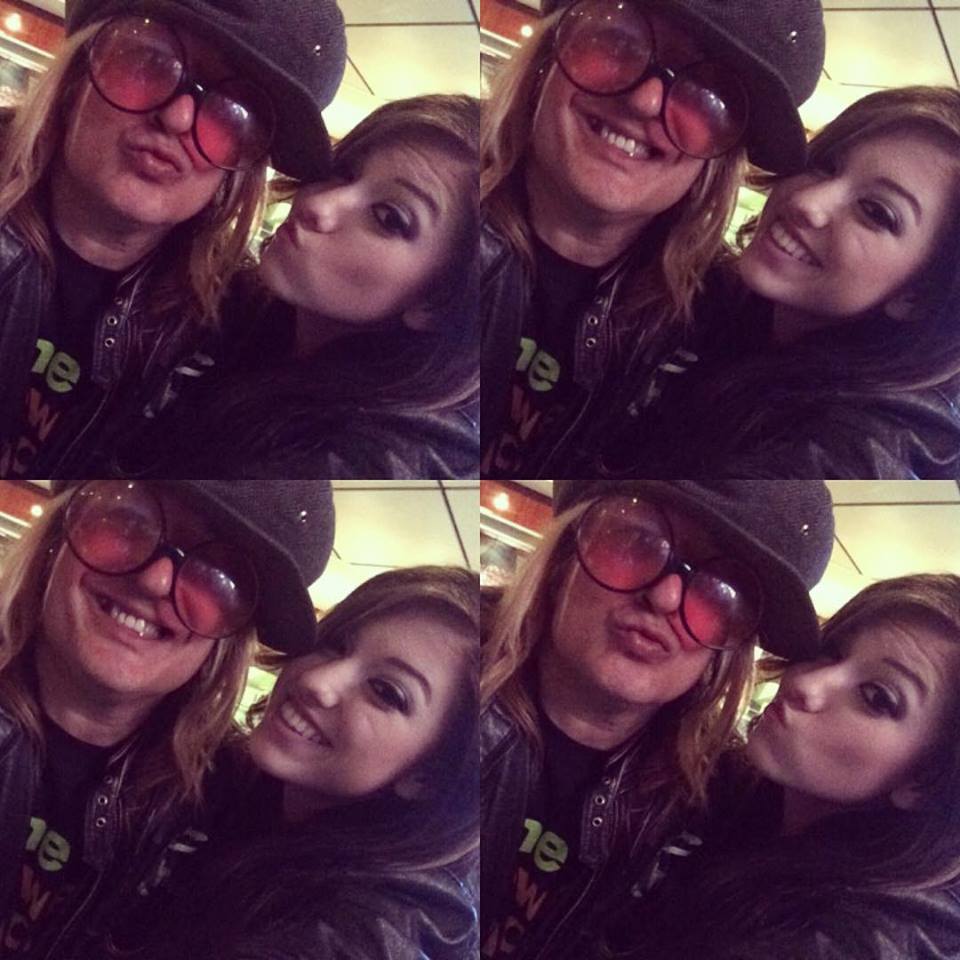 Lexii with another bass legend Chip Z'Nuff


Lexii at Steakhouse Studios with Brent Woods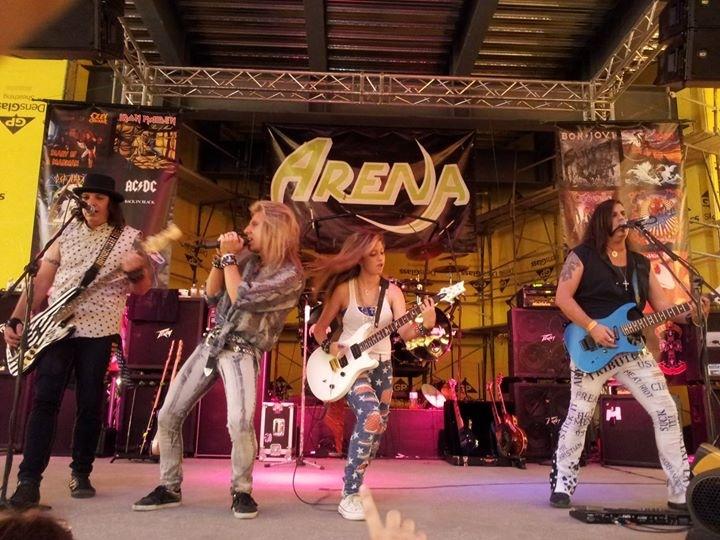 Lexii with Arena on Fremont Street in Las Vegas