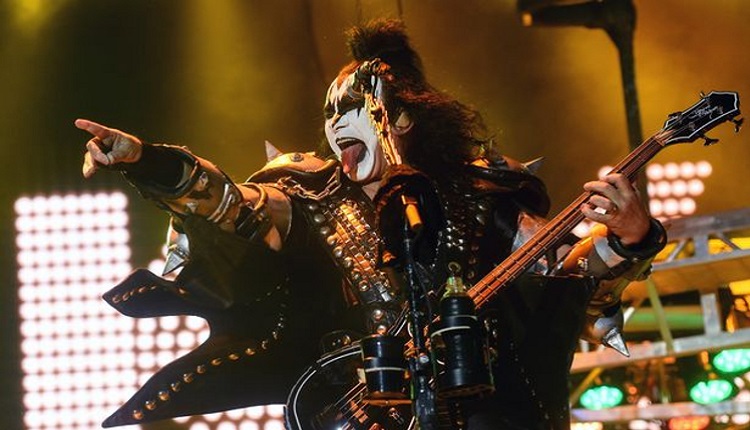 TEARS ARE FALLING
Female staff at Fox News accuse Kiss bassist Gene Simmons of sexual harassment
The Kiss frontman's inappropriate and sexist antics during a Fox office meeting led to his being kicked off the network and out of the building for good.
By: LLOYD GROVE
The Daily Beast —  Kiss frontman Gene Simmons—until this week, a favorite guest on Fox News and Fox Business Network programs, which couldn't get enough of his supposedly outrageous rock-star antics mixed with conservative politics—has been banned for life from the right-leaning cable channels.
Fox finally had enough of Simmons after he crudely insulted female Fox staffers, taunted them and exposed his chest, and otherwise behaved like the "demon" character he plays onstage. Management was not amused, and Simmons's photograph was promptly posted Wednesday at the security entrance of the company's Manhattan headquarters along with a "do-not-admit" advisory.
Simmons's publicist didn't immediately respond to a request for comment.
The trouble started Wednesday morning after the Israeli-born Simmons—birth name: Chaim Witz, who dresses like a preening teenager at age 68—appeared on Fox & Friends and Maria Bartiromo's Fox Business Network show, Mornings with Maria, to promote his new book On Power.
Things seemed to be going well enough when Simmons jumped up from the Fox & Friends couch to help meteorologist Janice Dean do her weather report—a delighted Dean later posted video on her Twitter feed—and then sat on a panel with Bartiromo, who asked his views on the Harvey Weinstein sexual-misconduct scandal.
"The lunatics have taken over the insane asylum when respected business entities such as yourself ask guys that like to stick their tongues out," Simmons answered, "what I think of Harvey Weinstein."
"Okay, I'm a powerful and attractive man, and what I'm about to say is deadly serious," he continued. "Men are jackasses. From the time we're young we have testosterone. I'm not validating it or defending it."
See link below for The Daily Beast updates and read Gene Simmons apology.
Read the full story by LLOYD GROVE at The Daily Beast