THE GOOD, THE GREAT AND THE LIP SYNCERS
80's In The Park proves to be a Florida Beach Blast for the fans
COCOA BEACH, Florida — They came, they saw, they drank and they rocked.
A long 4-day weekend was perfectly timed for an early spring getaway for those from the colder climates to head South and get their rock on.
By some estimates upwards of 1,000 fans enjoyed the weekend watching 2 dozen bands from the 80's.
And it appears that most in attendance had nothing but a good time at the annual 80's In The Park music festival, except for a select few.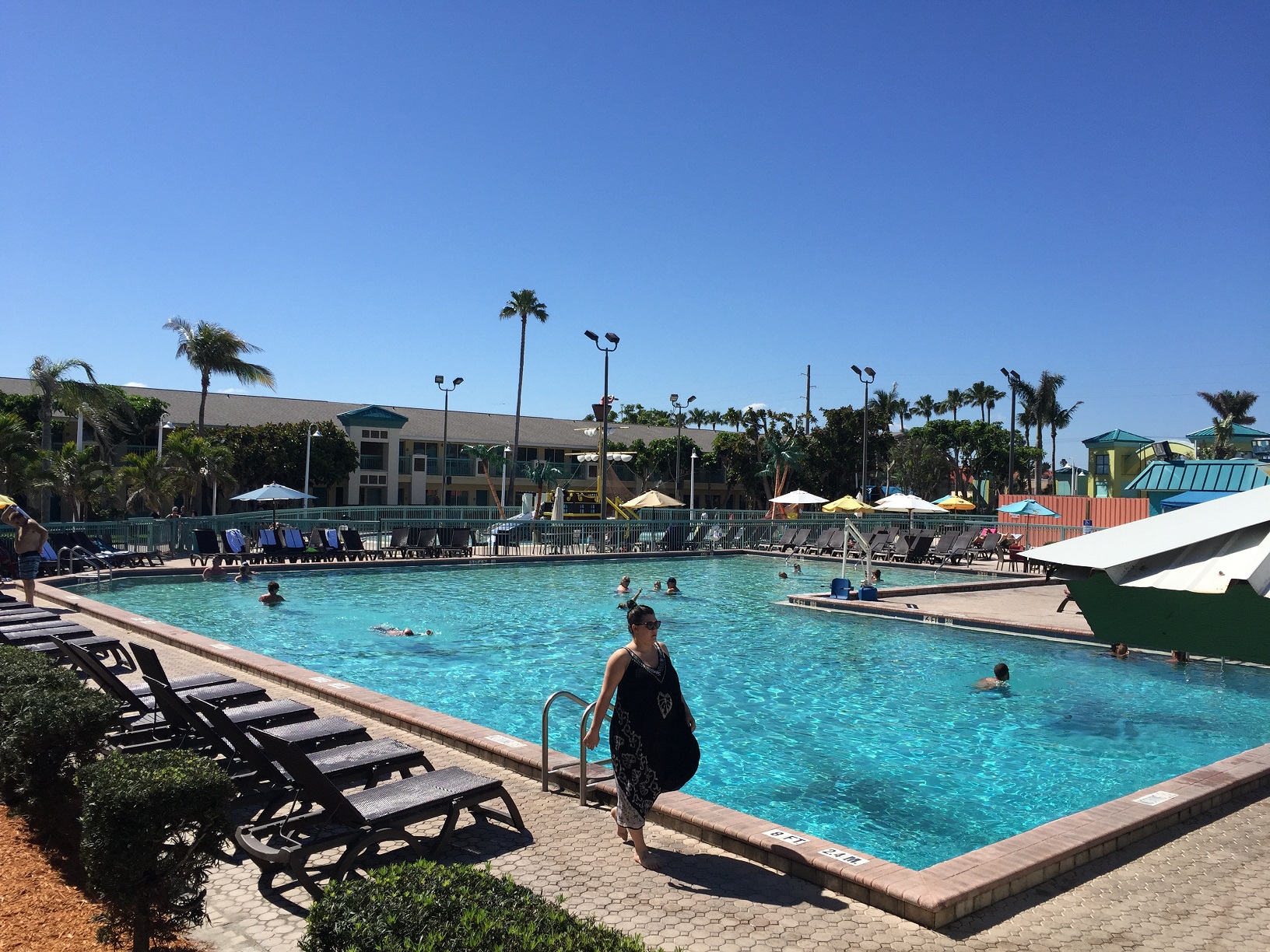 First off this place was great.
Absolutely fantastic!
Anyone bitching on Facebook about this location is full of more sh!t than a port-o-potty at Ozzfest.
The International Palms Resort is located on beautiful Cocoa Beach and has everything one could want at a South Florida resort.
There was a pool, a water park for kids, a restaurant, a volley ball court, basketball court, tennis court, hot tubs and a gift shop incase you needed a bikini, boogie board, suntan lotion or sun glasses.
We're not done yet…add to this a very cool beachside bar (Mambos) with a second level deck to oversee the beach or the concert stage.
And we're still going, throw in a poolside mini-bar, a food tent with all the grub you would expect, multiple outdoor firepits and pathways flanked by tiki torches after sundown.
There were also several conference rooms. One of which served as the location for the Rock Con and another for the after hours VIP party.
The Rock Con location wasn't the greatest as it was near the front of the property, while the stage was on the rear of the property.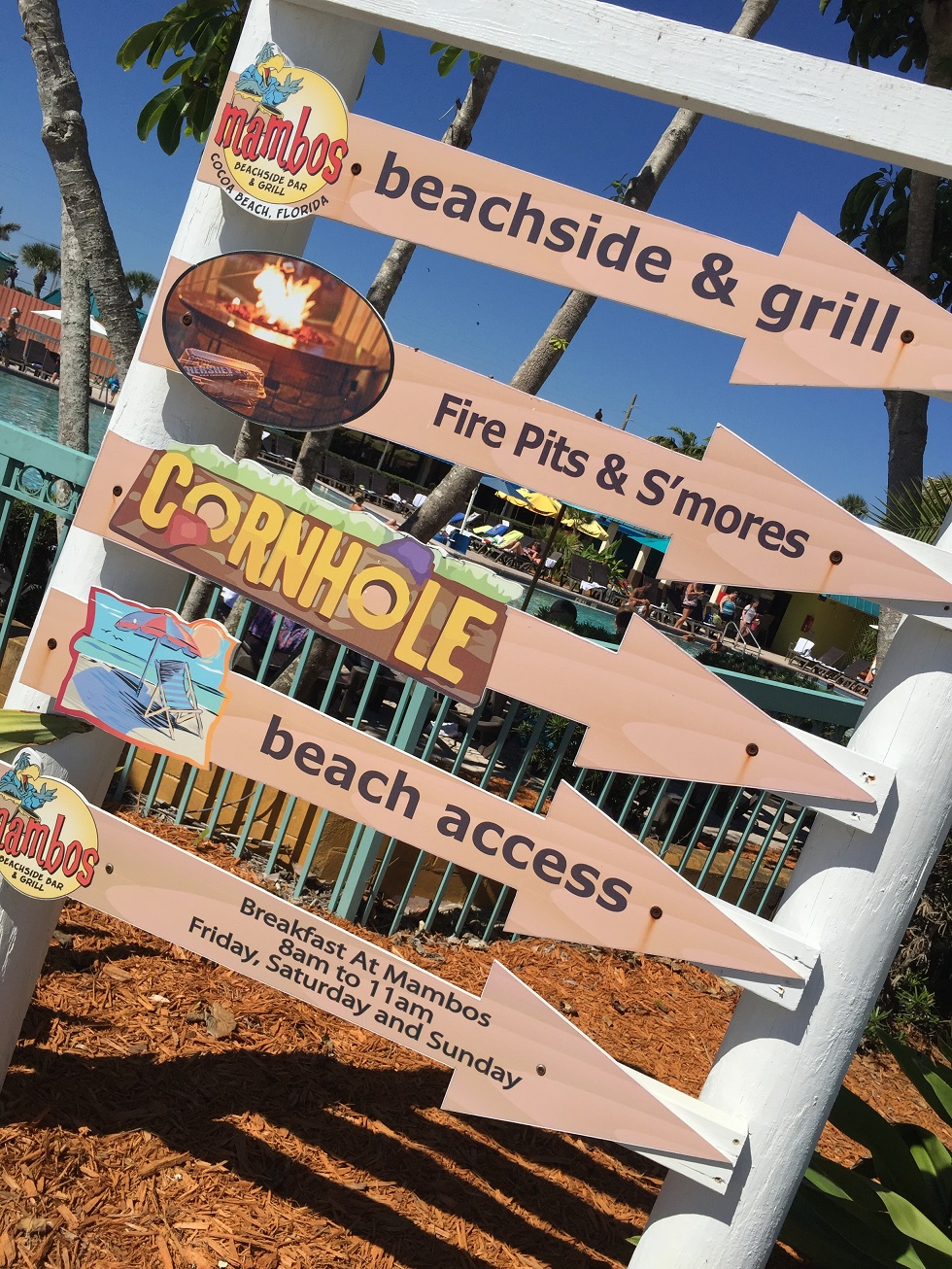 Keep in mind, this is no small resort, as there are 500+ rooms in several buildings from the A1A street entrance to the very edge of the beach itself.
There were also a few signs, similar to what you might see at Disneyland telling you which way the pool, the bar, or the beach is located.
Oh, and lest us not forget a festival size stage 60 foot wide, by 30 foot deep complete with trussing, lighting and a P.A. system that kicked ass.
No it wasn't stadium size, but more than enough to accomodate the weekend's performances of the C and D list lineup of hairband heros of yesteryear.
Someone online complained "The stage is in a parking lot"… lol.
Really?
Where were they expecting to set up a stage this size, in the lobby?
The system sounded great, and at some point it was SO good, one could assume the band was actually lip syncing and playing to tape.
But who would do that.
Is there a Milli Vanilli in the lineup?
Okay, onto the event.
Thursday nite there was a pre-party which the word was it was sparsely attended.
This can be expected as not everyone can make a 3-day weekend into 4 and many of those who planned to attend were still on the Monsters of Rock cruise anyway.
If you recall, this event was originally scheduled for last September 22nd-24th, but Hurricane Irma hit Florida a week earlier with Category 3 winds so the whole event was postponed.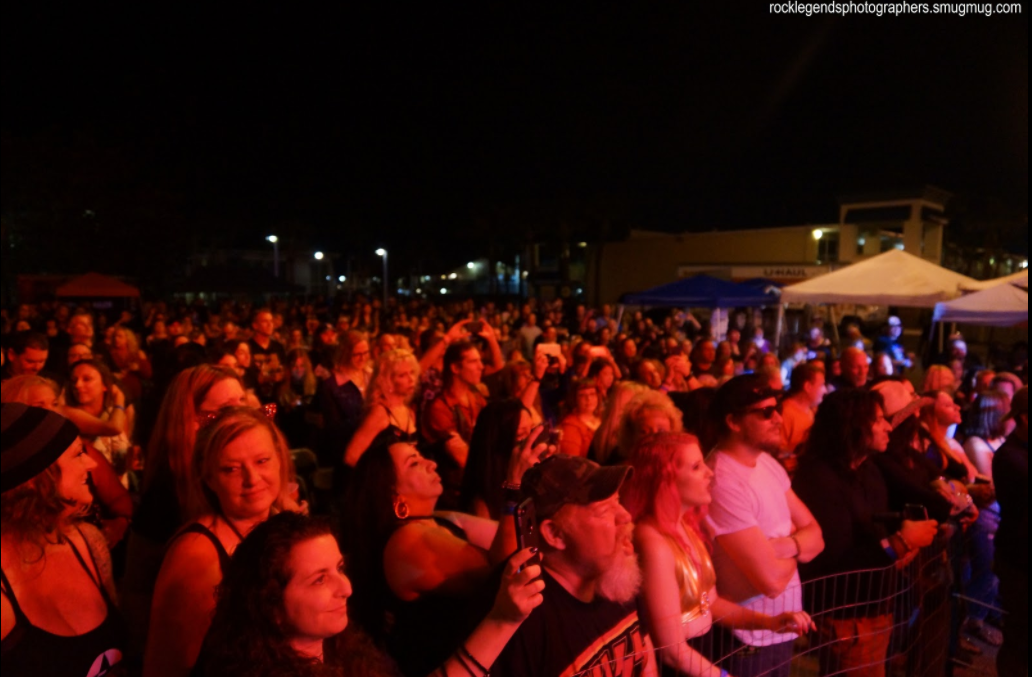 A packed crowd of spectators at 80's In The Park
Friday was off and running early and the biggest issue on Day 1, seemed to be rooms.
There were a few incidents involving band rooms, but in the end, it appears everyone found a bed and no one was left out.
Let's talk about the bands.
Friday saw Junkyard rip it up, Winger rocked their hits (see below) and L.A. Guns were the opening night's headliner.
Tracii Guns and Phil Lewis back together has had fans excited and in a frenzy with their long awaited reunion and subsequent release of their latest "The Missing Peace" on Frontiers Records.
Afterall, that is what most fans want right? The lead singer and the lead guitar player together and hearing all their hits.
Friday night was rocking until the Gunners set was cut short.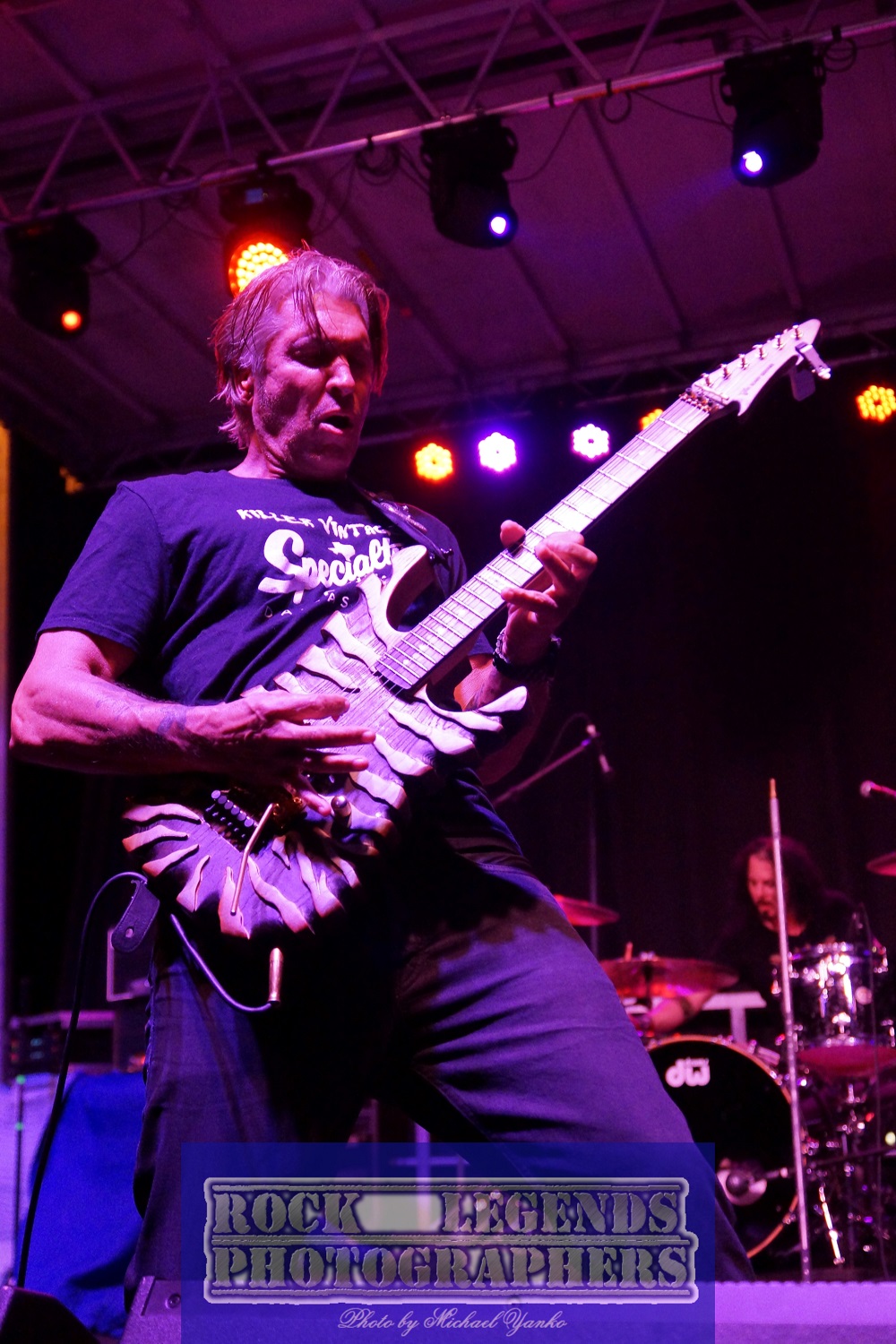 For anyone who recalls the past, L.A. Guns played 80's In The Park in 2015 and their set was cut short due to noise ordinance issues as well.
One rumor circulating was that it was '$1,000.00 per minute if they went over' which could get costly and quick, so an hour into their set – poof – the set ended and the band walked off stage.
Some fans did complain when the 2 stars of the band (Phil and Tracii) left the stage for a 10 minute break midset.
This so their rythym guitarist Michael Grant could do an extended audience sing-a-long version of Prince's "Purple Rain."
We're gonna go out on a limb and say that most of those who attended the show would have rather heard "Rip & Tear" and "Ballad Of Jayne" with Guns and Lewis than watch the 46th member of the band play a 8+ minute extended cover song/guitar solo, but oh well what do we know.
In a nutshell, Friday night rocked, and it appeared to be roughly 600-700 people watching the show.
Saturday started early at 10:00am with the Rock Con where a dozen vendors sold random 80's stuff.
Shout out to Metal Babe Mayhem, Kivel Records, and We Rock For Autism a few of the vendors in attendance.
We Rock for Autism is a 501(c)3 non-profit that provides music therapy services to children with autism.
The charity is currently auctioning off a signed guitar from the weekend via eBay.
The guitar (pictured below) was signed by George Lynch, Stevie Blaze (Lillian Axe), David Roach (Junkyard), Don Jamieson (That Metal Show), along with several other stars from the weekend.  See the link for more info.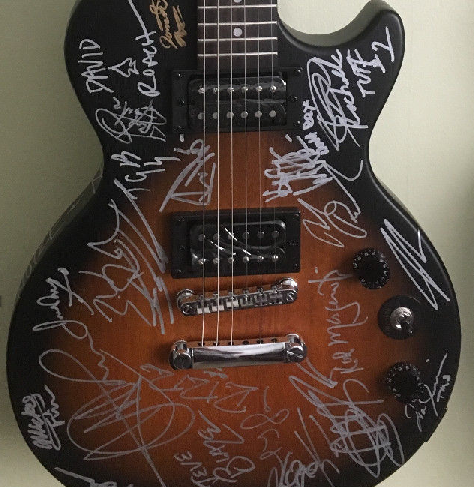 The weather was high 70's, sunny and there was no mud to speak of – only sand, surf and suds a plenty.
Everymother's Nightmare rocked the mainstage and were hanging at their busy merch booth pushing their latest release "Grind" (High Vol Music).
Saturday night's headliners were Lynch Mob featuring George Lynch (Dokken). The band recently went through another lineup change adding Robert Mason (vocals) and Scott Coogan (drums) with Sean McNaab on bass.
Other day 2 performers were Romeo Riot and Tango Down both on Kivel Records, Gene Loves Jezabel, Kenny McGhee of Juliet, JetBoy and Florida locals Nova Rex.
Some drama started online when JetBoy bassist Eric Stacy (Ex-Faster Pussycat) told the promoter to "suck his dick" via Facebook over their room and set issues.
Oddly the band was never kicked out, and played a set that many found to be one of the day's highlights.
Stacy's rant was posted online at 12:10PM on Saturday but all was resolved, the band had a place to stay and they did perform as well.
Someone close to the band said: "Eric still thinks he's in Faster Pussycat on tour with Motley Crue" adding, "Cooler heads will prevail" which turned out to be the case when the OG members of the band smoothed things out.
JetBoy features 3 original members, possibly more than any other band on the weekend bill.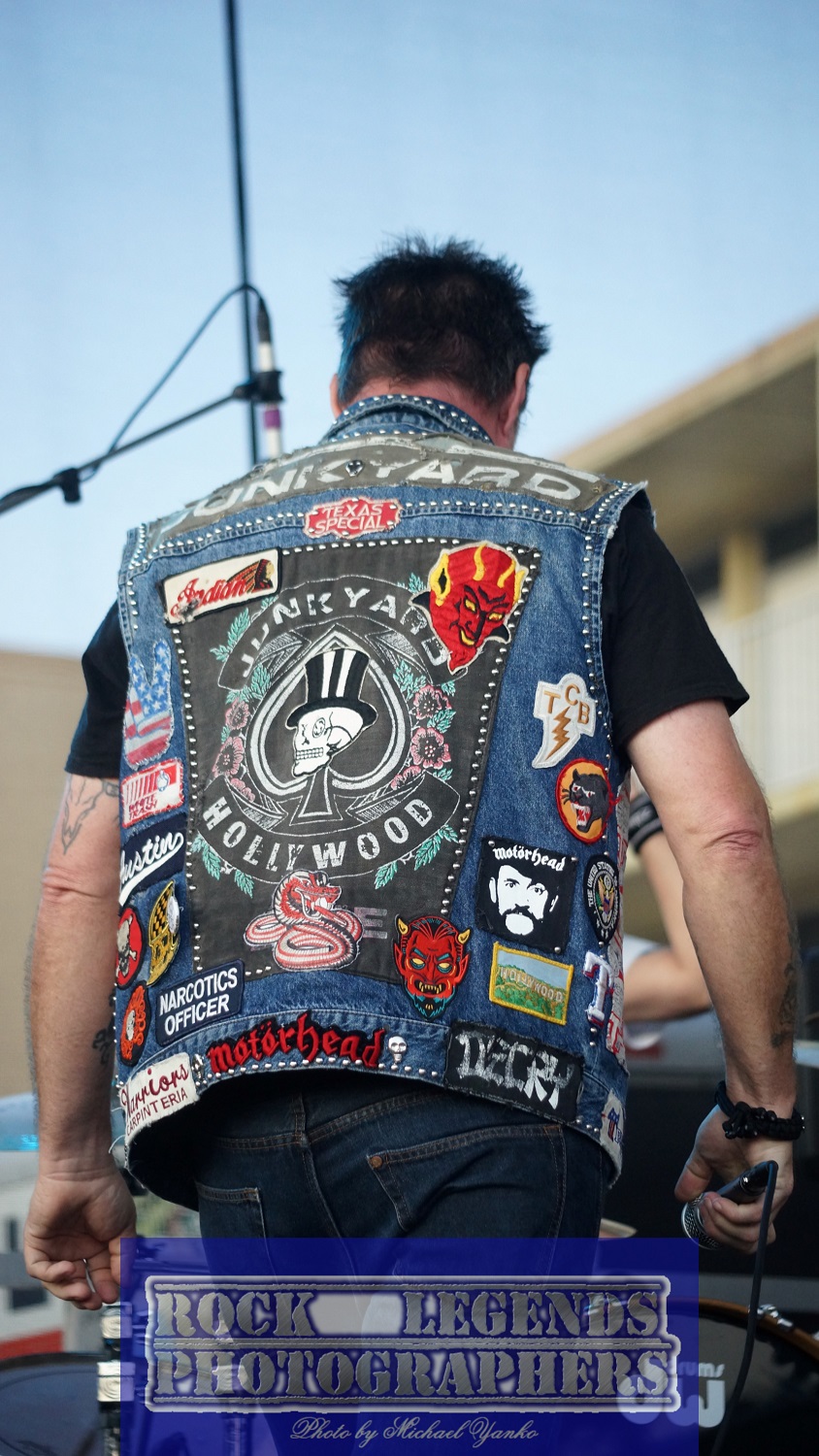 Mickey Finn (vocals), Billy Rowe (Guitars) and Fernie Rod (Guitars) along with Al Sarrato (Drums) and Stacy had the crowd singing "Feel The Shake" with hands in the air.
Did that last line sound cliche' and stupid?
Perfect, that's what we wanted you to think.
While we're in the drama phase of this review, we're not sure what to make of what happened with Ted Poley (Danger Danger), but in short, he was cancelled from the bill.
There are countless sides of this story all over social media, including Ted's Facebook rant at 11:30AM on Sat. the 17th.
Some fans were bummed not to see Poley as he's always a fan favorite.
We're sure Captain Ted will be rocking stages and faces sooner than later at a concert near you in 2018.
Sunday started with a church service where all the bands gathered with fans in a conference room. The sermon was led by Don Jamieson from That Metal Show who read passages from the bible while everyone prayed and sang "Kumbaya".
Wait…that last paragraph was a typo, Jamieson more than likely worships the devil and does hookers and blow.
Come to think about it, he was just on tour with those hooligans.
But for real, Jamieson was totally accessible day and night and seemed to be a genuine fan of the music and he of course cracked some stand-up as he introduced the bands.
The main stage rocked the holy day from afternoon sunshine to the night with Florida locals Dead Serios, the mighty Lillian Axe, Enuff Z'Nuff and headliners House Of Lords.
Speaking of Dead Serios, read another review from band leader, and published writer Christopher Long.
Also, check out a ton of photos from the weekend courtesy of Rock Legends Photographers.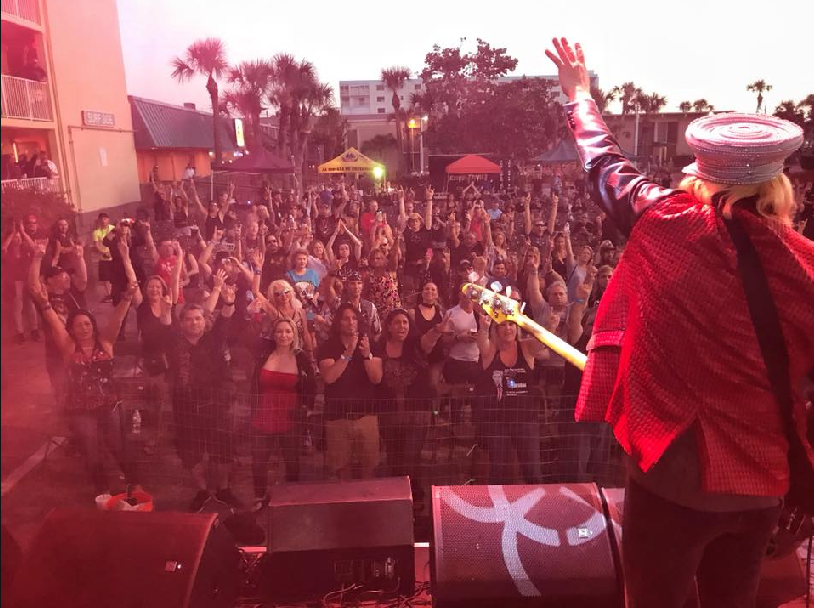 Chip Z'Nuff and Enuff Z'Nuff on Sunday afternoon just before Sunset hailing the fans.
Chip Z'Nuff, you either like him or love him, as there is no NOT liking this guy – he is legend.
Super rich? No. Super famous? Not really. Super talented? Yes. Super human? Probably.
There are not many who can rock, dress, walk or talk like Chip Z'Nuff. And if you've ever met him, band member or fan, you know that Chip is the real deal from his eye balls to his high heels.
We all hail you brother.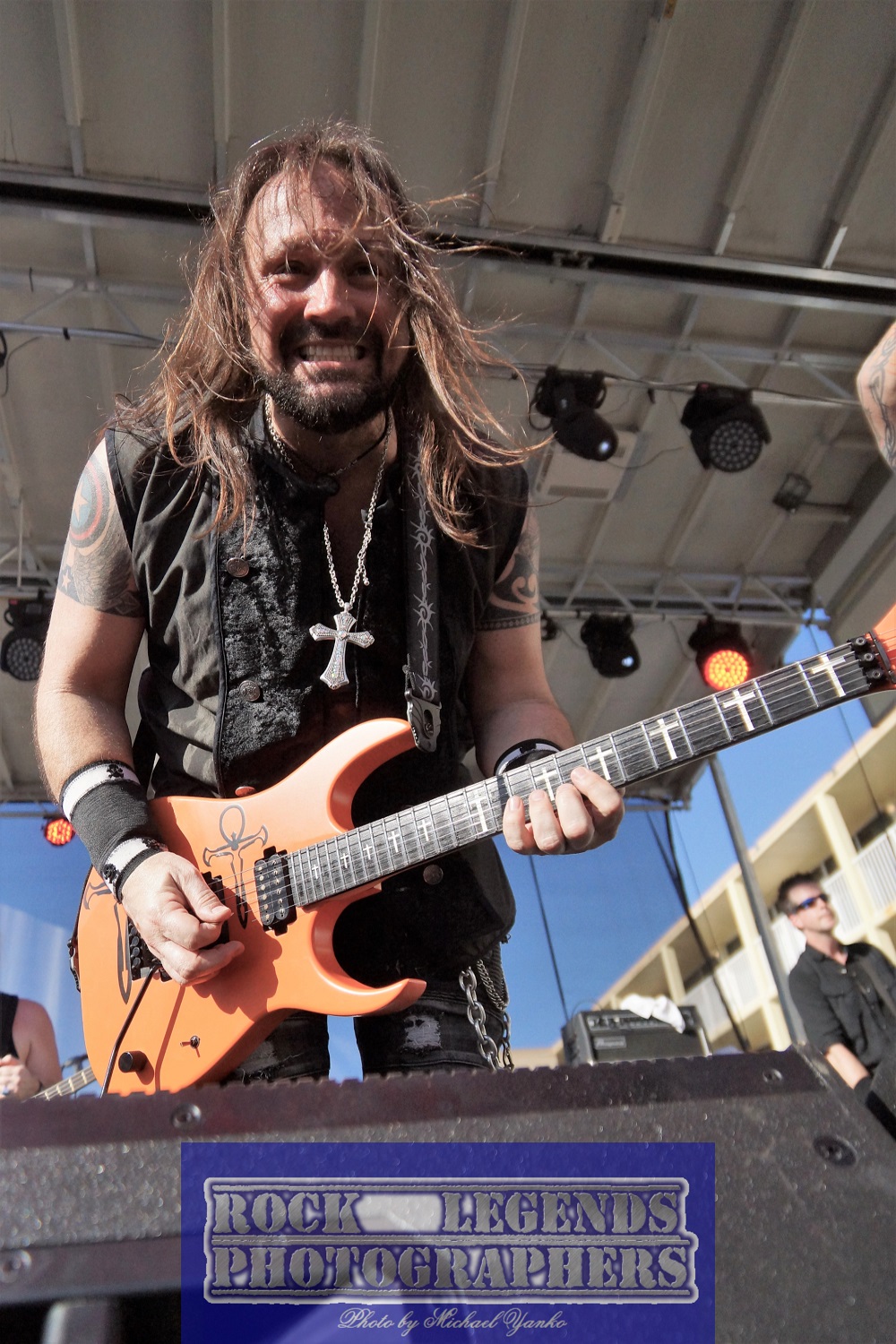 Stevie Blaze is another real deal Holyfield type in the business.
Blaze and his band Lillian Axe are screaming towards their 35th year together and aside from guitar licks and good hair locks (all still his), Blaze is to be respected for his persona more than anything.
And it don't hurt that his band rips with a deep catalog of music.
Great sets by all bands, and without sounding fan too boy-ish, the sound system really did sound great.
A quick search determined that Donny Young Entertainment was the company responsible for the sound, stage and lighting.
Anyone who complained about stage or sound is an amateur and don't know their ass from the firepit.
House Of Lords took the stage as the final main stage act of the weekend and wow did they sound amazing.
So good, one would think they were playing to a tape.
Which sadly appeared to be the case according to some fans in the crowd.
We're not going to say they we think they were lip syncing, but rather tell you straight away, they were lip syncing.
Not just because it sounded like such, it's because their soundman admitted it.
Editors Note: I walked up to the soundman and told (asked) him straight away: "Hey man, the singer is singing to a tape isn't he?"
Soundman: "Umm, (stutters) ahhh…."
At this point the guy seems stunned that I am in his face – politely I might add – and telling him my thoughts. Lol.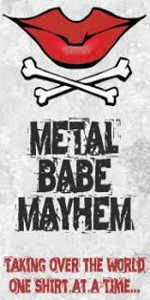 Me: "Dude, I'm telling you, he is singing to a track. I am a vocalist and I know he's not 100% live, you are running a lead vocal track."
Soundman nervously replies: "Well it is piped in, but he's live too" with a dumbfounded look on his face.
He could have told ne to fuck off and I would have walked away, but his face was priceless that I called him on it as he was mixing their "live" tape to live drums and amps.
Plenty of bands use background vocals, or some keys to avoid that extra cost of the 5th member, extra room, etc., but the lead vocals?
One word comes to mind, LAME!
Check out live videos from all bands below, via youtube, by the same videographer.
Watch great live vocals by: Robert Mason (Lynch Mob), Brian Jones (Lillian Axe), Chaz West (Tango Down) and Mark Giovi (Romeo Riot).
There are certain things that happen when a singer sings live including; breathing, wind, mic movement and more.
Then watch James Christian of House Of Lords and make up your own mind.
This is not a new subject either as Christian has been called out before by fans online in forums including this one on MelodicRock.Com
In the end, a great time was had by all at 80's In The Park and it has already been announced there will be a sixth event in September of 2018.
Shout out to all who attended, who played and even those who pretended to play too.
Your thoughts on a band playing to a tape and the singer lip syncing live?#HouseOfLords = playing to a tape with lead vocals on tape. #Sad https://t.co/PWC3F3zjFV

— Metal Sludge (@MetalSludge) February 22, 2018
Who was your favorite band from Friday night at @80sinthepark?@JunkyardBlooze @wingertheband or @laguns

— Metal Sludge (@MetalSludge) February 22, 2018
Choose who you enjoyed the most at @80sinthepark on Saturday?@EMNBand @geneluvsjezebel @LynchMobRocks @jetboyrocks

— Metal Sludge (@MetalSludge) February 22, 2018
Last day of @80sinthepark who was your Sunday favorite?@EnuffZnuff @HouseOfLordsB #Juliet singer @KennyMcgee or @LILLIANAXEROCKS

— Metal Sludge (@MetalSludge) February 22, 2018
80's in the park @ WebSite – Facebook – Twitter