THOSE WERE THE DAYS
Sweet Savage singer Joey C. Jones takes us on a trip down memory lane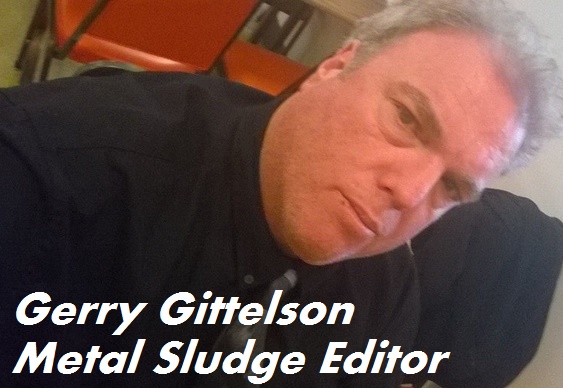 LOS ANGELES — If you're getting old, perhaps you've heard of Sweet Savage, the infamous Hollywood glam band that courted a lot of attention during the early pre-Poison era but never quite won the hearts of millions.
The ol' "one break from stardom" syndrome. Murphy's Law. Whatever you want to call it. But give Sweet Savage credit for staying with it, particularly singer Joey C. Jones, who later joined with C.C. DeVille — and even lived with the great Poison guitarist in his mansion for a stretch.
Well, Jones, now based in Texas, is still at with a new Demon Doll deal, and Metal Sludge caught up with him.
————————————–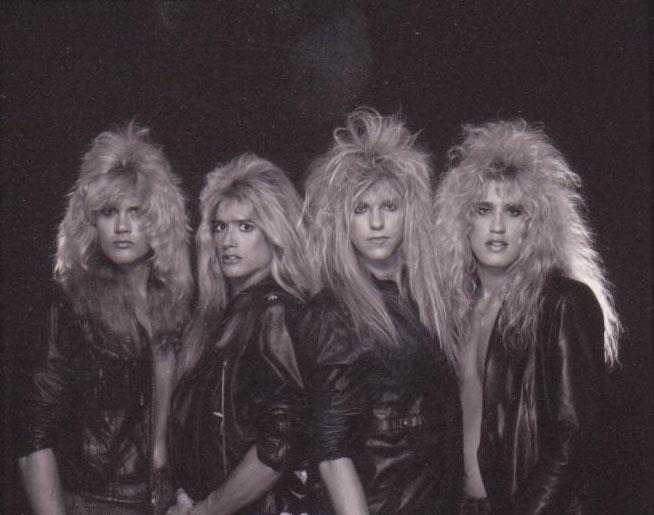 Sweet Savage classic lineup – Randy, Chris, Joey & Laine
What are you currently up to? This is your one big chance to plug your shit.
JCJ: I am proud to say that I am now on the roster of Demon Doll Records. They just reissued the 5-song EP, and a live CD. I am currently negotiating with the company to release the 10 songs that I recorded with Shock Tu that was produced by Rick Nielsen and Robin Zander. These tracks with Nielsen and Zander are fantastic. Robin sang and Rick played some guitar tracks. And back to the Savage thing – I was recently informed that we are moving units. I want to thank everyone that has purchased this CD and I hope that my entire catalogue is soon available on Demon Doll Records.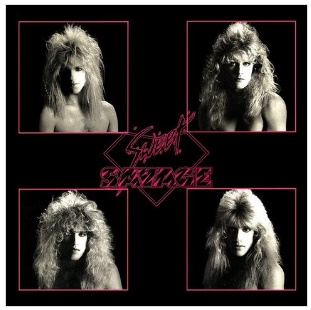 I am currently doing shows with the JCJ band. Shock Tu just did our first show in over 20 years in March. 2,700 people, and we set the damn roof on fire. The JCJ band is headlining rooms in the Southwest, and I am opening up for some bigger acts. I have also recently done a few shows with my talented buddy Dave Crow and our little project called Orange Helicopter. Orange Helicopter was voted Texas pop CD of the year in 2002. It's a great album. The crowds have been very consistent, and summer 2016 looks like I will be stylin' and profilin' in 5 or 6 states.
List three great memories from Sweet Savage
JCJ: Sweet Savage founders Chris and Laine Sheridan and I grew up in a little hick town where Ohio and West Virginia meet,. Laine and I did our first show together at our high school when we were seniors, and we were way glam before we even hit the Strip. I've got 5 memories for you.
ONE: Seeing huge crowds in over 30 states, standing next to my friends I've known since elementary school.
TWO: Seeing our EP go to #1 on the import charts – thank you, Kelv Hellrazer.
THREE: Hearing my vocals during the vocal sessions, before Dana Strum varispeeded the 2-inch and my voice went from sounding good for an inexperienced 23 year old, to sounding like Alvin and the Chipmunks with their nuts in a vice.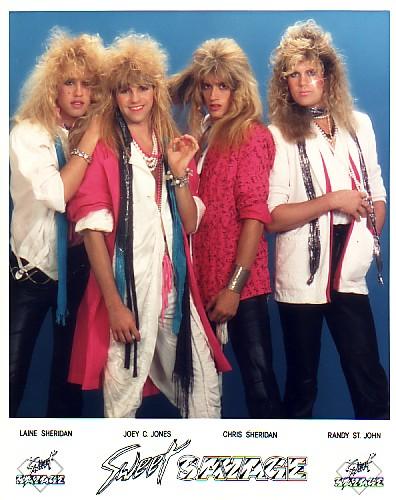 FOUR: We were playing Rockers in Phoenix on Indian School Road. We played that room regularly. One night, Rob Halford was in town. He heard about Sweet Savage, and he showed up at our show. I went out front and took him back to the dressing room, and asked him to please do a song with us. He said that we could do "Livin' After Midnight." When Rob left the room, I told the band that right after "Livin' After Midnight," immediately kick into "Breakin' the Law" and segue that into "Head Out to the Highway." So I stood next to the Metal God for 3 songs. I don't freak out when I meet legends, but anybody would love to be standing next to Rob Halford onstage.
FIVE: In 1986, Sweet Savage was invited to Dio bassist Jimmy Bain's housewarming party. 6 years later, I was in a band with Jimmy Bain, but we'll get to that later. My bandmates and I were sitting poolside – there were only about 20 people at this party. Ronnie Dio walks up and introduces himself. Anyone who knew Ronnie knew that he loved to get high. After I shook his hand, I pulled out a bag of Humboldt County – it was almost a quarter bag. I started rolling these giant joints, and Dio sat at the table with us for over an hour until all the weed was gone. People were coming up to him, and was saying, "I'm talking to Sweet Savage – I'll gladly speak with you in a few minutes. Thank you." He was always very polite. When all the weed was gone, he stood up, gave each of us a hug, and wished us the best of luck. I saw him a few times after that, and we always had a good laugh about it, because we were higher than a giraffe's ass.
Do you remember the Rock City News cover with you, Bret Michaels and Jani Lane?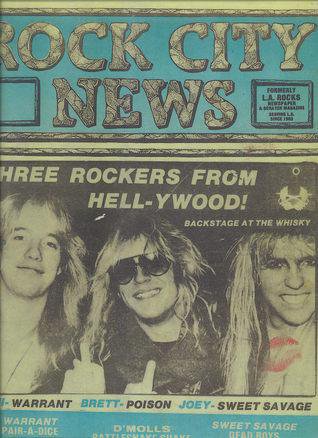 JCJ: Yes, I remember that well. Sweet Savage had just sold out the Whisky. For the encore, Bret and Jani joined us onstage. We did "Fox on the Run" and Zeppelin's "Rock 'n' Roll." I still have a cassette recording of that. We were some drunk, off-key singin', whiskey drinkin' crazy bastards, but it was fun.
What are your thoughts when you see it again?
JCJ: I miss Jani so much. We are both from Ohio. We instantly hit it off, and I will tell you this straight up: Jani was an excellent drummer, guitarist, piano player, singer, bassist, and the hardest fucking working frontman there was. It makes me very sad that his best work was not heard. He used to spend several nights in a row at my Pal Joey house in Laurel Canyon. We'd just play acoustics and fuck around all drunk and high, but everything coming out of him was magic. It didn't sound like Warrant. Nothing against Warrant, I love all those guys, but Jani's best work was never heard. After Warrant, Jani and No Doubt/Gloryhounds producer Dito Godwin, recorded some demos. I heard a few of them the last time I saw Jani. It was fantastic work. I hope this gets released – I believe Dito is in posession of the recordings.
Do you resent that they got to be big rock stars and you did not?
JCJ: I don't resent anything. I am very happy for Poison and Warrant's success. I saw how hard those guys worked, passing out flyers, not having any money, and struggling. Sweet Savage never passed out flyers. We never promoted on the Strip, and we all had money. So maybe they got it by out-working me. But it doesn't matter to me, because I am still working in this business, I'm still selling out buildings, and I have over 200 songs. I hope to have all of them available soon. My catalogue and my videos tell the story.
Chris Sheridan, your great guitar player, was paralyzed at a young age. Can you comment on how devastating this was to HIM and to YOU?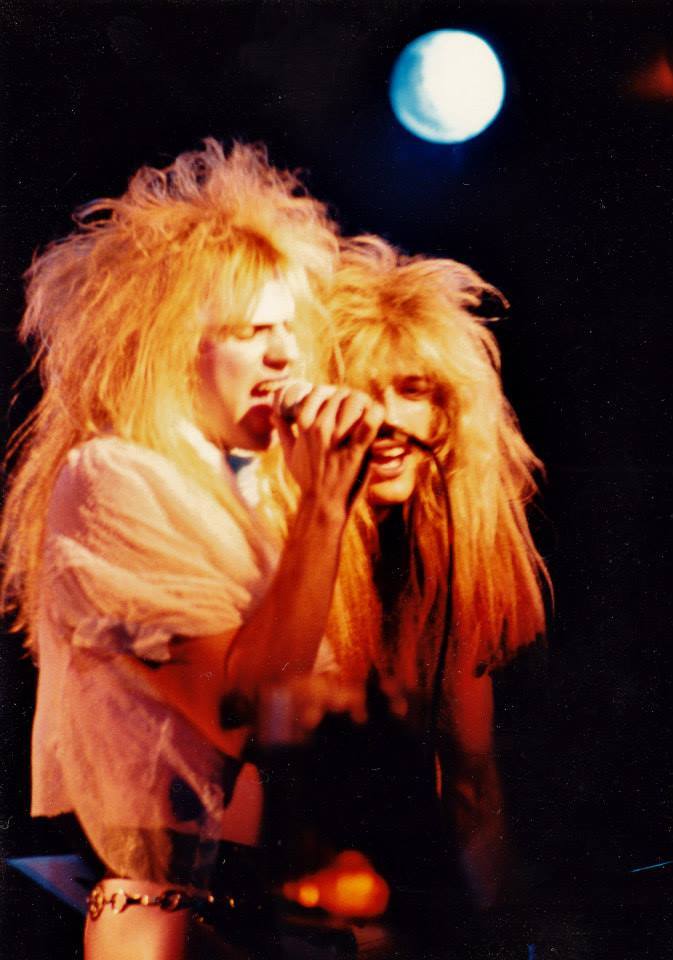 JCJ: I got the phone call, and it was the closest I have ever come to wanting to die. Chris and I were skateboard buddies back in Athens, Ohio. We went to concerts together, we were rippin' vertical ramps when backyard ramps were the thing, we were spray painting skateboard lingo all over our quiet little town. And yes, Chris was incredibly beautiful, even when he was 10-11 years old. Chris and I have done some shows together – in the last 5 or 6 years, I think we've done 5 shows together. Seeing Chris onstage in 2014, our last show together, is the same as seeing him in 1988. He's still the coolest, best-looking, best hair, and best guitar tone going. He is happy, and he is still in the only business he's ever known, so Chris is kicking ass.
Sweet Savage was together a long time and never quite made it big. What happened?
JCJ: We were offered a deal with Enigma Records. They were a new label. They wanted us really bad. We decided not to take the deal – we were looking for something more front-loaded. Chris Sheridan still has a copy of the deal Enigma signed but we didn't. After we passed on the deal, they offered it to Poison, Poison took it, and things worked out well. It wasn't a great deal in the beginning – none of them were back in those days. But I'm glad things worked out well for my friends in Poison.
A few months later, we were playing the Whisky, and Jason Flom from Atlantic Records was there with the intentions of talking about a deal on Atlantic. Sweet Savage had our 5-man road crew with us, that was with us in every state we played – they moved to LA with us. Our crew and security guys were always instructed that no one could come into the dressing room until 20 minutes after our show – we were changing clothes, doin' blow, and getting the aftershow look ready. Jason Flom was super pissed off, because everyone always kissed his ass. One of the opening acts that night was Femme Fatale. They ended up getting signed to Atlantic that night.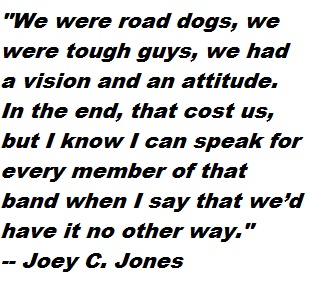 Sweet Savage had a reputation as a band that was hard to work with. We lived in LA for over a year, but from the very beginning of our band until it ended, we'd go out and play several states. We had an incredible agent named John Blomstrom, and when we'd get tired of sitting around LA and not working because you could only play once a month those days, we'd bust out and do Detroit, Columbus, Cincinnati, Louisville, Texas, Phoenix, and head back to LA. We learned a lot. We were road dogs, we were tough guys, we had a vision and an attitude. In the end, that cost us, but I know I can speak for every member of that band when I say that we'd have it no other way. That's why we put the EP out before we even moved to LA – we wanted to do things ourselves. Our bassist, Lane Sheridan, was a super intelligent guy, and we had a brain trust around us who were also our investors. So we weren't going to make an exception to let some fucker into the dressing room when we were toweling off and getting ready for face time. So no regrets!
Later, you hooked up with C.C. DeVille at his most wild post Poison period. Give us three memories from those times.
JCJ: After the MTV Video Awards I 1991, when Poison trainwrecked a song live, they had a big fight afterwards. CC and I were already friends. I'd already visited him, and we talked about working together. That night, he told me he wanted to come to LA – he was probably going to leave Poison or something like that. When I arrived, I was thrilled to see that CC already had Carmine Appice on drums, and I remembered Carmine when I was 8-9 years old, because I was a big Rod Stewart fan since I knew who he was.
The bassist in CC's band when I arrived was Jimmy Bain. At first, we just needed songs to jam on. So CC, Carmine, and Jimmy learned 5-6 of my songs. Carmine and Jimmy are mega talents, and CC sounded really good on those songs. Because of money issues or something, that lineup only lasted a month or so. Then, we brought in Adam Hamilton and Chris Torok. Those guys did a great job, and still are.
Memory 1 – Jamming with Carmine.
Memory 2 – CC and Sam Kinison were close friends. I'd met Sam a few years earlier. Sam and his wife were going through a divorce at the time, and smacking each other around. To avoid the law, Sam stayed at CC's for about a month. He was always in character, except for the nights when he was the last one up. Some of those nights, I was the last one up with him, and he cried on my shoulder about his brother. On a lighter note, I'd just pick up the phone and call my friends all over the country, and put Sam on the phone with them. I'd give him just a little bit of information on this person, and he'd shred them to pieces. My friends still claim that was the greatest time of their life, even though they were verbally destroyed. Sam was the most rock and roll fucker ever.
Memory 3 – we were preparing to showcase for Capitol Records, and one of our band members had pulled a 3-day bender. We were unable to do the showcase. That's not a good memory, but it's not a horrible memory- it was just someone being who they were, at the time. It was a tough time for him. Nothing but love comin' from here.
After the CC project, Adam Hamilton, Chris Torok and I formed Joey C Jones and the Gloryhouds. At the height of grunge, 1994, we were heavy rotation in over 40 states, and our video made it to MTV and the band sold enough units to stay on the road for almost 3 years. We did it with a song I'd originally recorded with Nielsen and Zander. So the CC thing worked out really well for me.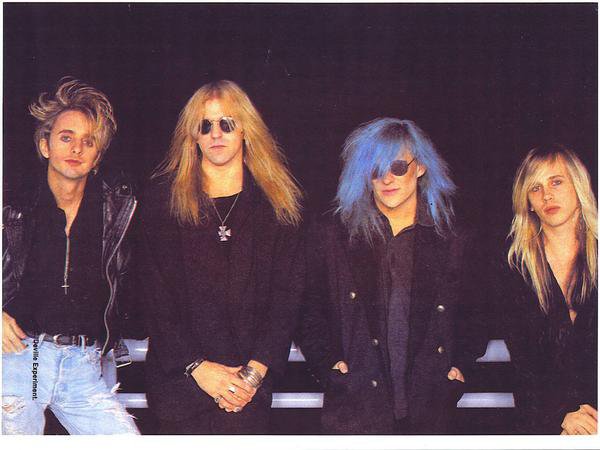 Adam Hamilton, Joey C. Jones, CC DeVille & Chris Torok
The songs you did were good. What happened to that project that was going to be called (maybe) Needle Park?
JCJ: We couldn't think of a name for the CC band, but one of the names CC considered was Needle Park. So after myself, Adam, and Chris left CC's band, we did the Gloryhounds. After the Glortyhounds, Adam and Chris did a project that included Donnie Vie of Enuff Z'Nuff. They called it Needle Park. So that's where the name was used.
How come C.C. had no furniture in his house?
JCJ: The downstairs had 5 bedrooms, and I just had a mattress in my room, which was all I needed. I'm glad there wasn't furniture there, because there were always people there, and there would've been puke, piss, and who knows what all over the furniture. There were a lot of people that would crash out there for a few days, including some famous people. They'd wake up with a sore neck, back, and ass from sleeping on the marble floor, because I wasn't giving up my mattress.
You love Texas, right?
JCJ: I'm not from here, but I've been here a long time. Dallas is a great city. I think, for local bands trying to get over, Dallas is the best city going. There are lots of rooms. This is a good music city. And why not Dallas?
Joey C. Jones Band at "Gas Monkey Live" Dallas Texas
There is a motto — "Don't mess with Texas." Why not?
JCJ: I'm not from Texas – I've lived in other states. I still travel some. So I don't know what "don't mess with Texas" means, but I know if the Alamo had a back door, Texas would be in Mexico.
Did you ever consider peeing on the Alamo?
JCJ: No. Like every man, I've pissed in public, but I wouldn't want to piss off someone who was a native of that state. I don't like people seeing me piss – I'm really not into water sports.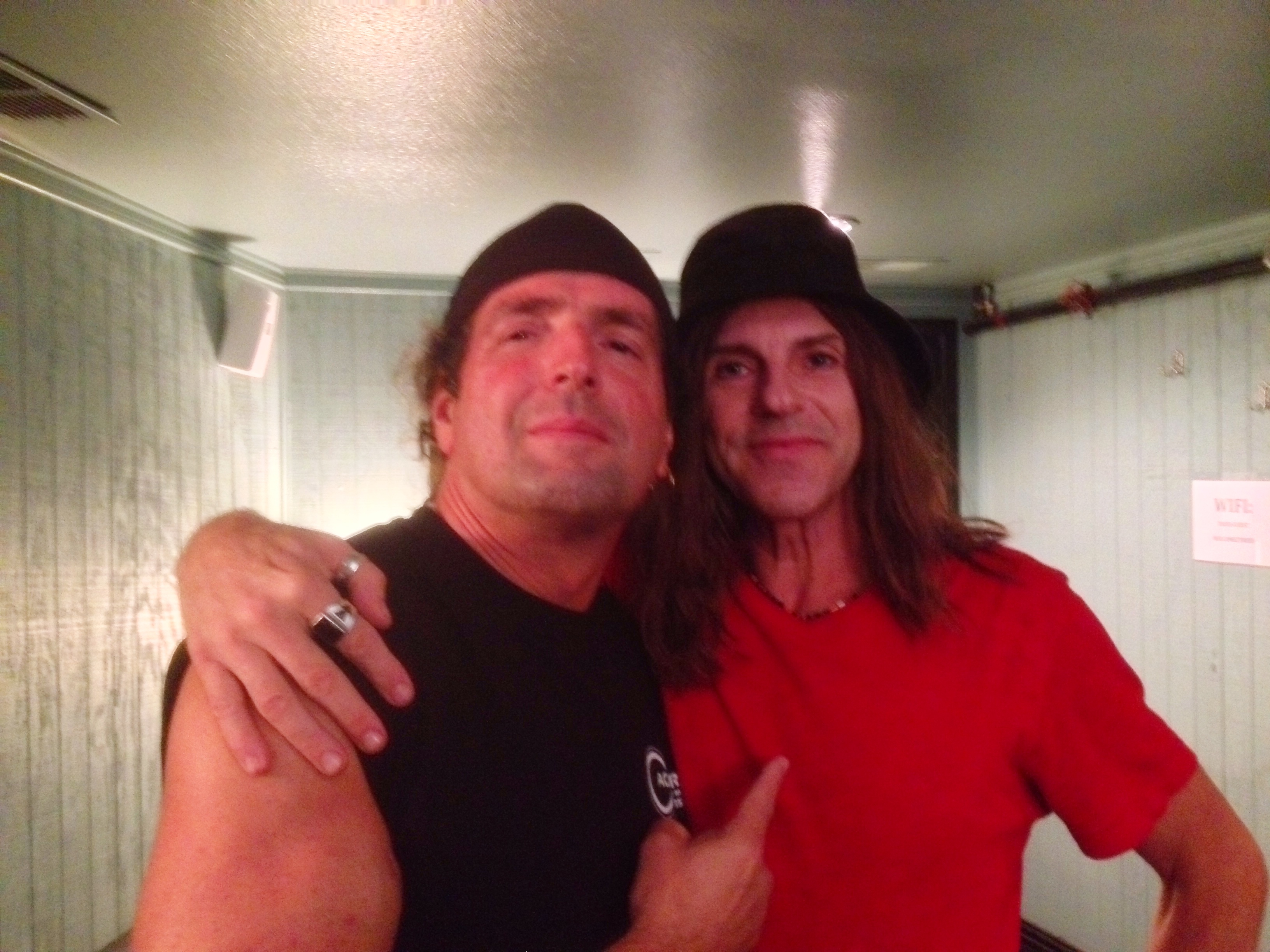 Bobby Rock & Joey C. Jones, backstage Dallas 2016
Even though you did not have a major record deal, did you still manage to steal the attention of rock groupies?
JCJ: Every band did. Whether you were in LA or Wisconsin, a lot of girls liked guys who had long hair and got onstage. But I never used a girl for money, because I didn't have to. I was certainly a pipelayer in those days, but I've always had a conscience. I'd tell the girl, there's a chance this isn't leading to marriage – if you're still in, let's go.
Who is your celebrity crush?
JCJ: Laurie Partridge – Susan Dey. When I was 6 years old, I had a David Cassidy haircut, and I always tried to wear bell bottoms, bell sleeve shirts, and necklaces to school, even at that age. I was into the look, and she had the look. She's 63, and she's still pretty.
Who is the biggest rock star who was rude to you, and what did he do? (Or she, if it was Lita, lol)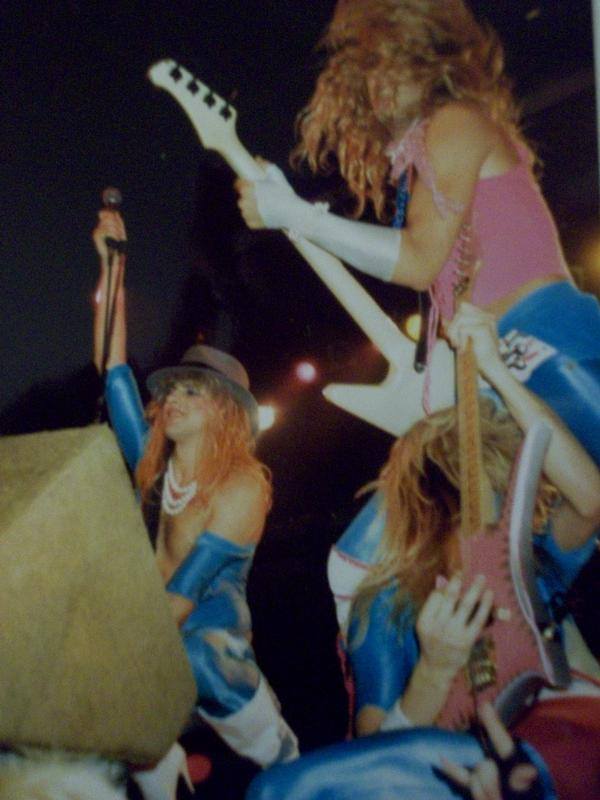 JCJ: The first time Sweet Savage played in LA, there were a lot of A-list rockers there. They were all very kind to us. Gene Simmons had quotes in magazines about us. After the show, Scorpions drummer Herman Rarebell and bassist Matthias Jabs invited us back to Herman's house. There were pretty girls, great hospitality, and some other stars that were there were very kind and said nice things. I walked up to the bar, and Nugent was sitting there. He wasn't drinking, because he was so high on himself – that's why he's never done drugs or drank. I told him I was from Ohio, and usually, fans of Ohio State football don't get along with Michigan fans. So I told him I was sorry I wasn't wearing my Ohio State hat, and I thanked him for coming out to see my band. He said, "I didn't come here to see your band. I always come here when I'm in town. And your band, and all this glam shit, sucks." I smiled at him and said, "I hope you learn how to sing, Ted." And he flipped me off, and I laughed and walked away. Fuck Nugent anyways.
Do you like Trump or Clinton and why?
JCJ: I am obviously not much into politics. I remember when the Republican party all loved each other. They loved each other. They were friends. Whatever happened to the time when the only people the Republicans didn't like were poor people and immigrants?
RATE the following fast-food restaurants in order from best to worst with a little comment about each: (McDonalds, Burger King, Taco Bell, Panda Express, Tommy's)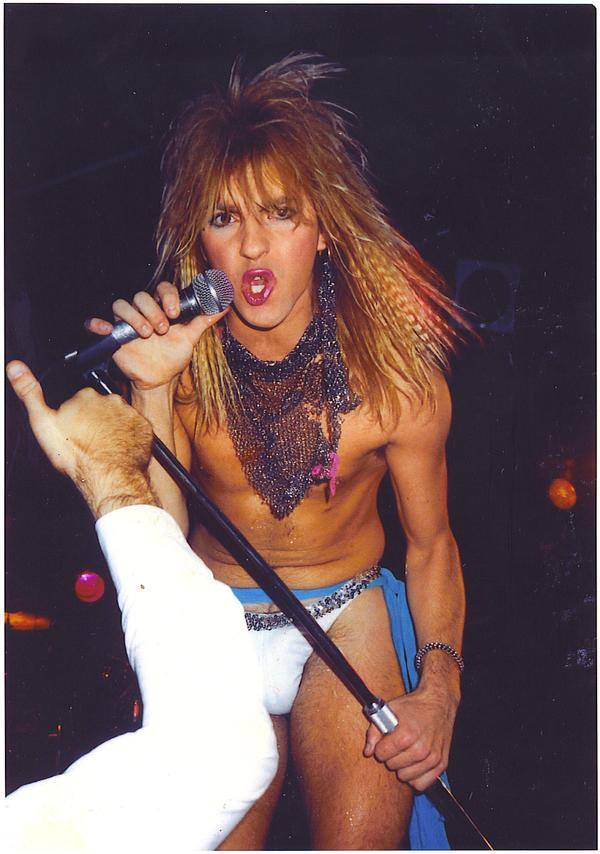 JCJ: I am 148 lbs with a 29 inch waist and I'm ripped. I try to avoid the
following places, but no one can totally avoid them.
McDonalds
Panda Express
Burger Thing
Tommy's
Ring the bell for the gut rot from hell
Name three people you expect to see at the Rainbow Bar & Grill.
JCJ: Lemmy's ghost, Bill Gazzari's ghost, and Mario. Everybody knows Mario.
What's the funnest thing you've ever done?
JCJ: JCJ and the Gloryhounds played a few festivals in 1994. One of the songs I recorded with Nielsen & Zander was getting a lot of airplay at the time. Looking out, seeing 40,000 people, half of whom are singing along with your song, is better than money, sex, or drugs.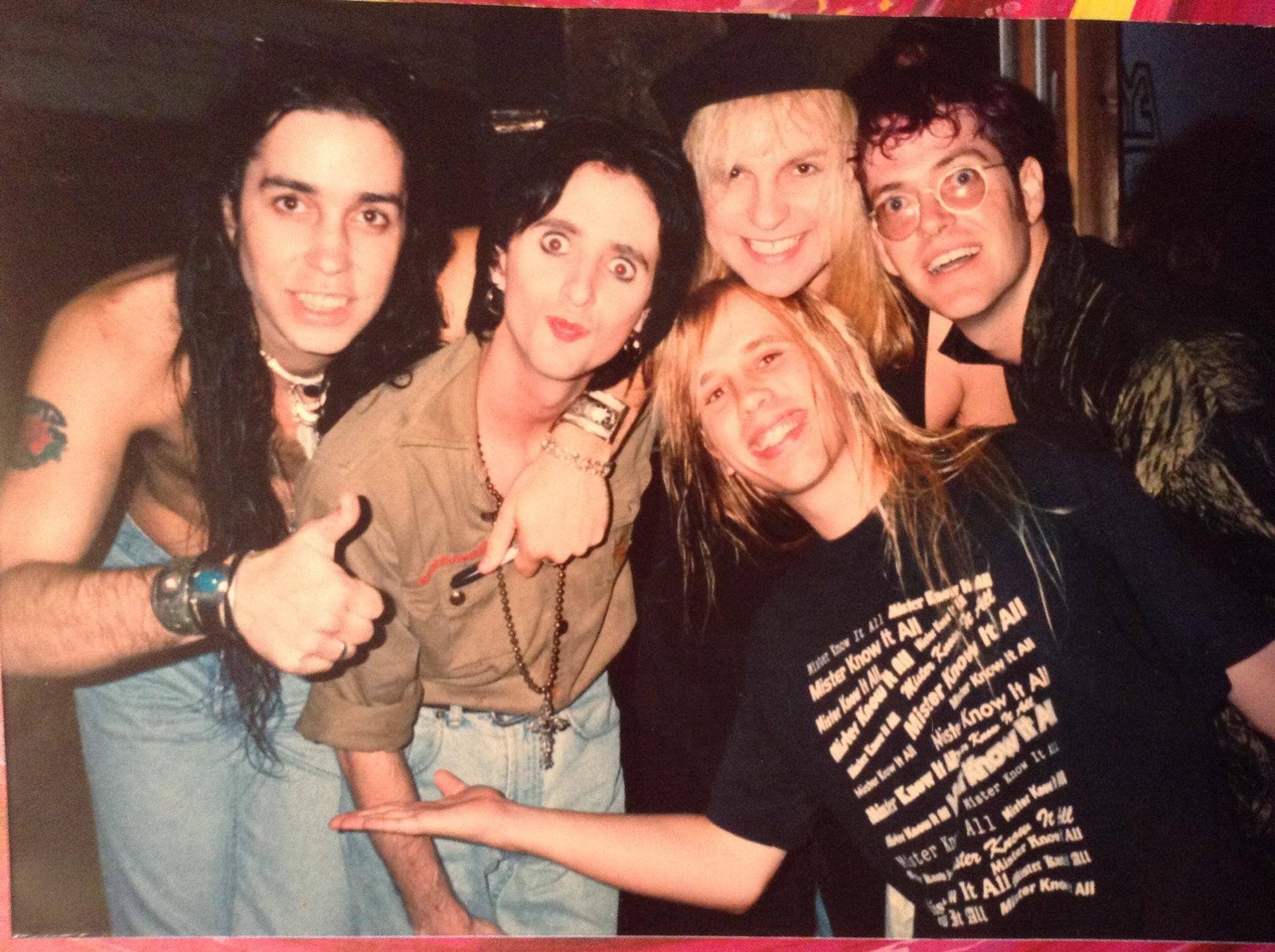 Joey C. Jones and The Glory Hounds – Craig Bradford, Adam Hamilton, Chris Torok, Joey C. Jones & Les Farrington



What's the most money you ever made that's music related, and what did you do with the money?
JCJ: Before I moved to Hollywood, I had a couple Dallas high rollers who kept six digits in my account. I was able to buy a house from the money I made in Sweet Savage and Shock Tu. Myself and Orange Helicopter bandmate Dave Crow have a song that has been used in the winter X-games for over a decade. Made some cash from that.
What is the most surprising thing we might find in your pockets?
JCJ: Like the Mafia, I don't carry a wallet. Just cash and cards. If it's something illegal, I'll have someone with me who's holding it.
What's your go-to candy at the movie theatre?
JCJ: I think the last time I was at the movies, I had a flask. But I'm not an alcoholic. I didn't really want to go. I just had a friend who really wanted to go. Again, I'm not an alcoholic.
What is your basic philosophy in life?
JCJ: Show as much kindness as possible to anyone you meet, and even if you're only around a person for five minutes, they will remember you. And it pays to always look your best.
Thank you so much to everyone at Metal Sludge for keeping a great era alive.
Joey C. Jones @ Facebook  – Facebook 2 – YouTube