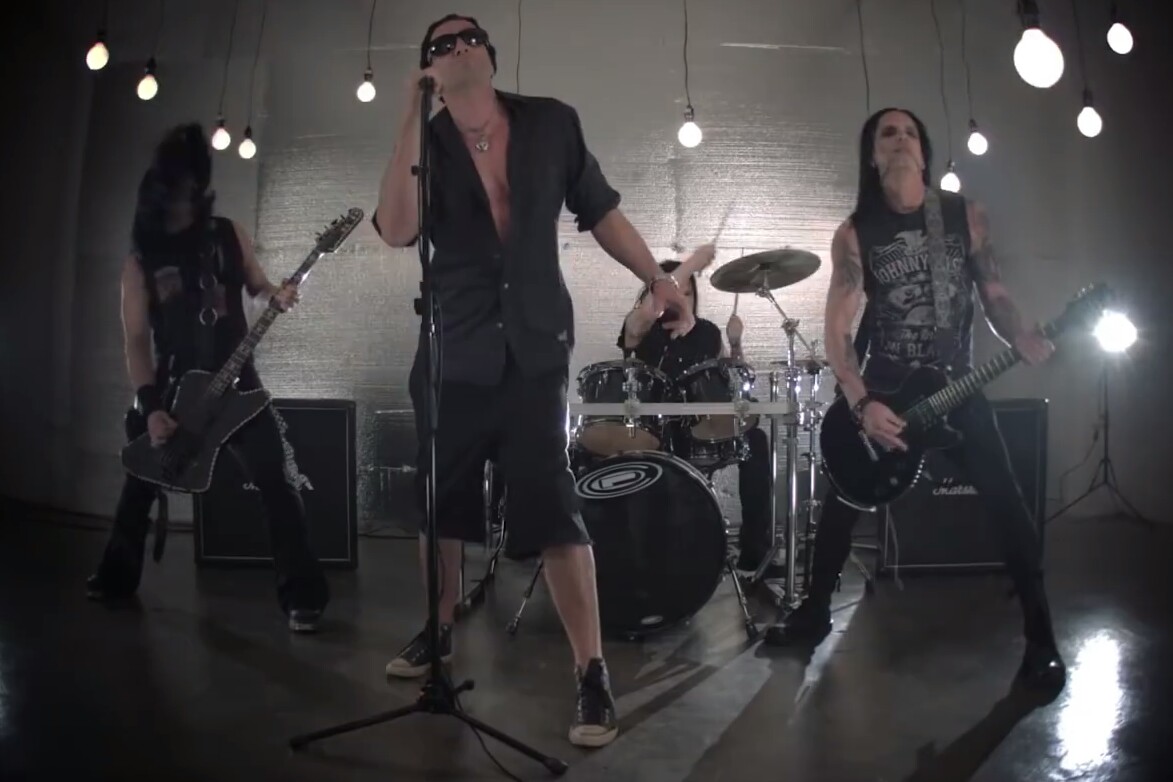 TRYX WERE FOR KIDS
Sunset Strip glam faves Tryx fizzled out in '90s, but founding guitarist Brian DeVeau forges comeback with The Image Nation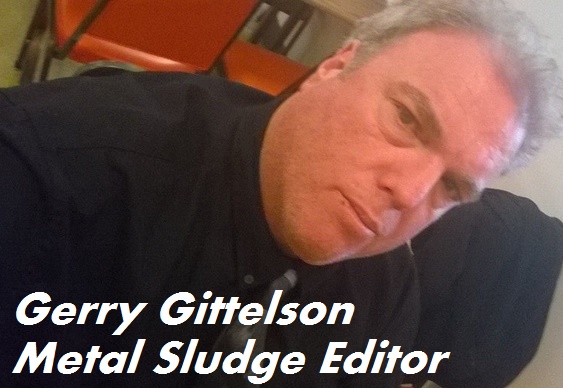 LOS ANGELES — With a colorful candy-glam image, excellent musicianship and unbelievably catchy songs like "Only For The Summer" and "You've Got a Lot to Learn About Love," Tryx was like a shooting star on the Sunset Strip in Hollywood back during the post-Poison explosion.
Fans loved Tryx, who headlined clubs such as Gazzarri's and The Whisky but like so many others never signed a major record deal in the wake a changing landscape in rock in the 1990s once Nirvana and Pearl Jam caught on.
There were recent plans for a Tryx reunion when founding guitarist Roxy DeVeaux, now going by his given name of Brian DeVeau, briefly hooked up again with original singer Jesse Star.
It didn't work out, so instead DeVeau, armed with an amazing new song called "Anymore" that simply had to see the light of day, has put together a glam "supergroup" called The Image Nation — though technically there no official superstars — with Chris Penketh from Swingin' Thing, Robbi Black from Alleycat Scratch and James Gould, who briefly played with Blacklist Union.
The band has a very professional new video you can see below, and though The Image Nation obviously is a long shot, Metal Sludge, in our professional opinion, would say they're better than a great percentage of the new bands out there.
We caught up with Mr. DeVeau — he will always be "Roxy" to us — for an update on all things good, plus a fun look back at Tryx's considerable legacy.
———————————————–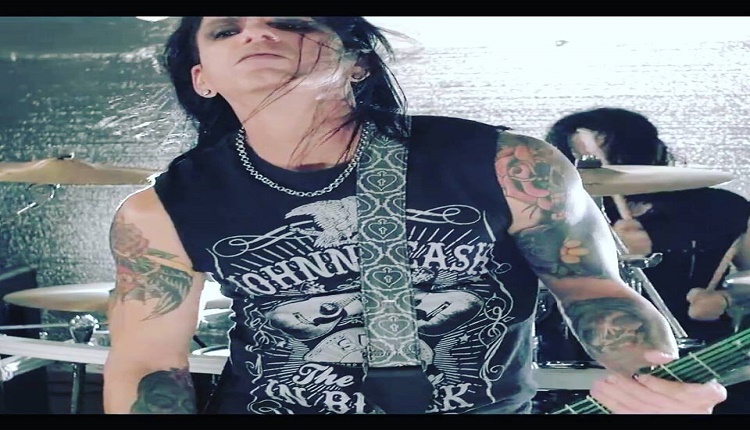 METAL SLUDGE: Hey Brian DeVeau, you've got a really good new song called "Anymore."
BRIAN DEVEAU: Yeah, it has meaning behind it, too, of course, in the chorus — "I don't want to be like this anymore." I have had some demons in the past, and I just woke up one day and decided I didn't want to live like that anymore, so I made a conscious decision to make my life better. It's an important song to me. I mean, if I can change my life around, anyone can, because I was a lost cause!
You've got Chris Penketh from Swingin' Thing on vocals. He's a good singer — not good enough to be the lead singer in Swingin' Thing, that was Paul Bardot, but still a really good singer.
DEVEAU: It's actually a funny story. Originally, what we kind of wanted to do was a Tryx reunion with (Tryx singer) Jesse Star. We recorded the song with him, but he is more of a baritone, and it just didn't work out with his voice over the entire song. Even before we recorded it, he just didn't really want to do the music thing again, anyway.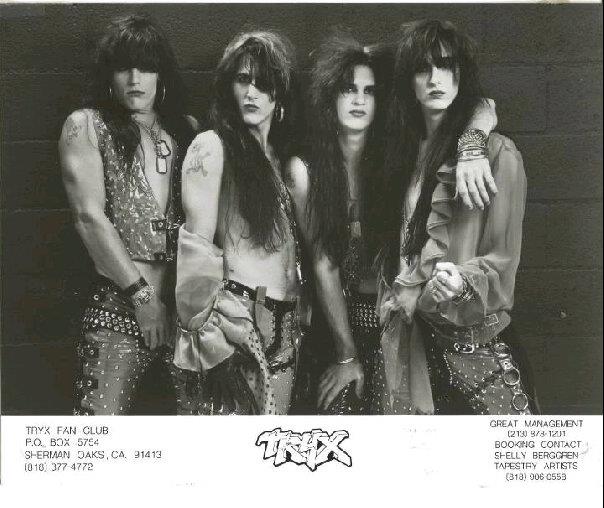 Interesting. How does Jesse look? Does he still look cool?
DEVEAU: Oh, he looks great. He still sounds great, too, just as strong as he ever was. We did this song and a couple of others, but it just wasn't in his range. But we will do something again together down the road.
I actually bumped into Jesse Star like 10 or 15 years ago, maybe more. He was selling cars on La Brea Avenue — a used-car salesman.
DEVEAU: Yeah, I had lost touch. Everyone in Tryx, we all went our separate ways. The grunge thing came in, and —
Dude, I've written this story a million times.
DEVEAU: I know, I know. My plan with Tryx, I was either going to make it or break it with them, and we gave it our best shot. After I went back to Florida, Tracy and Cody came back, too, like a year or two later, maybe three years. Tracy was Tracy Dayne, who played bass, and he was the purple guy, and Cody was Cody Marks, the drummer.
He was good. The drummer was good.
DEVEAU: Oh yeah, both of them. They were really serious musicians, really good musicians. Back in the day, when Tryx was big, Tracy was offered the Cult gig, of all bands, and he turned it down because he thought we were going to be huge.
My god, that must have taken him years in therapy to get over that!
DEVEAU: Yeah, really.
Jesse Star was right there, too. That guy could sing with anybody.
DEVEAU: Yeah. We had come to L.A., and we were all good musicians in our own right. Jesse and I wrote most of the songs, and people would say, "Yeah, you guys are glam, but you can actually play good."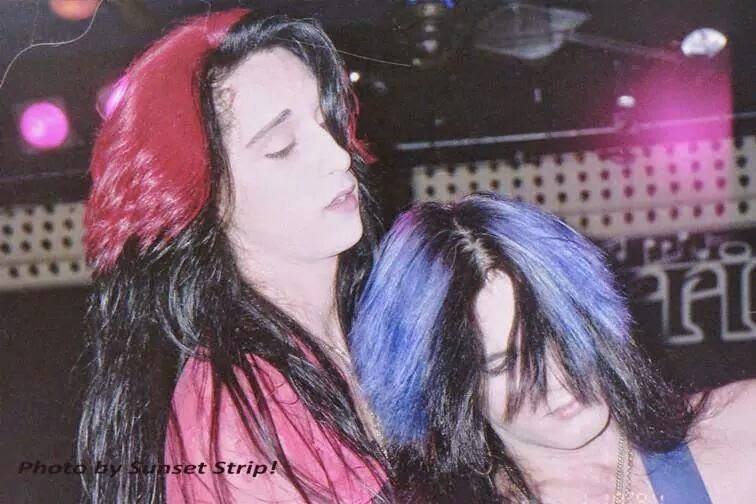 The secret was the songs. Those Tryx songs were so good and just really catchy. Thinking back now, you could have sold two or three to Green Day, and you probably could have made millions of dollars.
DEVEAU: I still hear that today. You know, I believe our image was the thing (that kept us down). We were just so over-the-top. We wanted to have everything — a great look, a great show. We wanted to be as big as KISS. Just as big, just as over the top.
The way I remember it, Tryx might have been the best around in terms of pure songs and execution, but you didn't have the resources of some of the others that were more popular and did more things like selling CDs and touring. You didn't have the hustle or maybe the determination.
DEVEAU: Well none of us lived in Hollywood, either, and it wasn't enough to just to have fans. Everyone knew everyone back then, but I was the only one of the four of us who was going out and actually mingling. I would hang with the Glamour Punks and The Brats and some other band, I can't remember the name, and we had some awesome nights, a lot of fun. We were like a family, so we did everything together.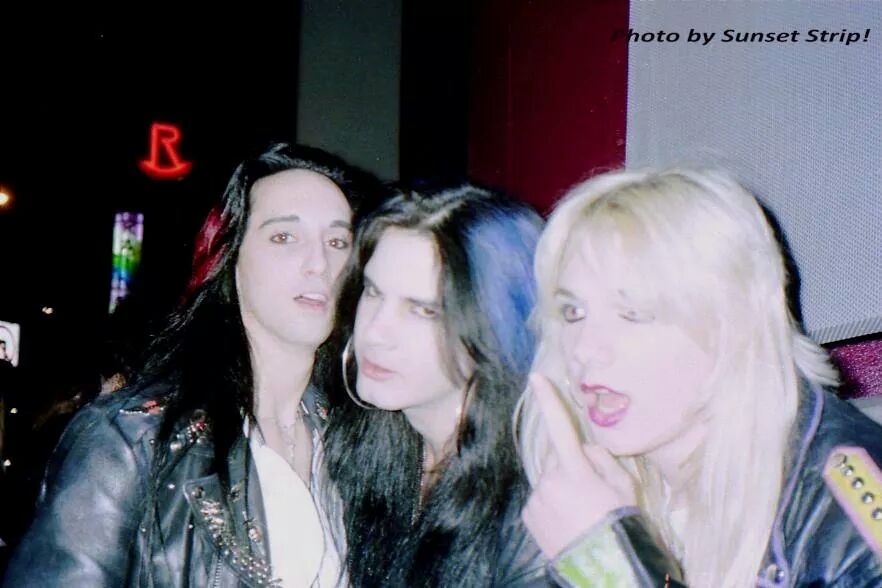 Jesse & Roxy from Tryx with Pepper from Queeny Blast Pop
I remember you fighting in the street one night in front of the Whisky. I thought it was you against the Glamour Punks.
DEVEAU: No, no. I was WITH the Glamour Punks. It was us against some other band.
Oh. Well, the bouncer from the Whisky, he came out and just tossed you onto the cement, like really hard. But you got up.
DEVEAU: Yeah, I remember that. I remember you were there, and you just kind of looked at me, looked at my face, and you had this really weird expression, like "What are you DOING, dude?". It was just another night of some off-the-wall, crazy shit.
Well, since you're kind of an expert on glam bands that never made it, let's run through a list, and you can give me a little comment. We'll start with Big Bang Babies.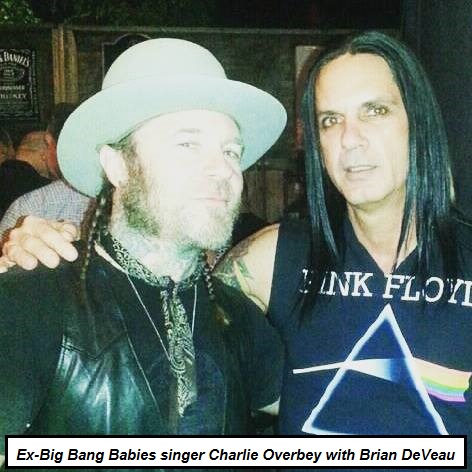 DEVEAU: To be honest, I think they opened for us on one of our shows [actually never — Editor], but Tryx had broke up and I had left before they were really huge. I don't remember all the details, but they were an awesome band. It's a great shame because those songs really had a chance.
The Zeros.
DEVEAU: Oh man, just an incredible group of musicians. They were the closest thing I could compare to Tryx. Really poppy hooks and a great, over-the-top image. One of the best, local or signed.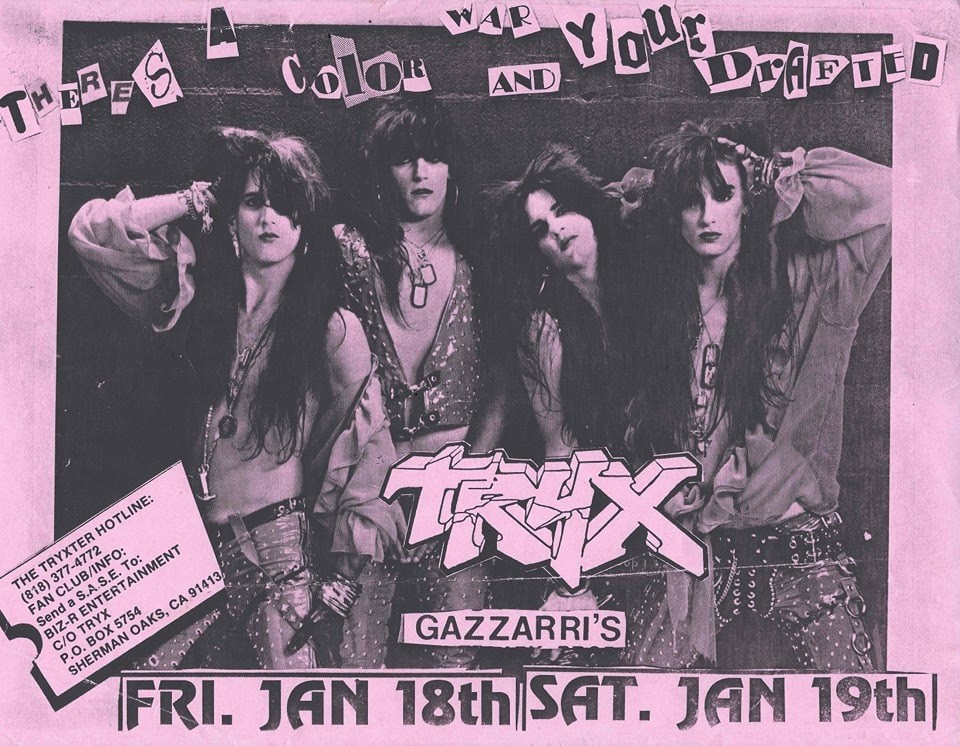 Swingin' Thing.
DEVEAU: I remember a show at Gazzarri's. I heard them for the first time at sound check, and I thought, "Wow, these guys should be huge." If any band was a can't-miss, without a doubt it was them. Nine out of 10 people, at one point, they would say that Swingin' Thing was the biggest band in Hollywood.
I guess Tryx put a series of demo tapes, some really good demos. They were never really for the public, but eventually there were a lot of, like, fifth-generation copies being sold on eBay and stuff.
DEVEAU: Each one was a little better. The last recording we did was with (producer) Kenny Kerner. I forgot what studio, but he was our manager, and we did four songs before there was some kind of disagreement, and the tape was never finished. It never got mixed. We just left it on the table.

I loved the tape with "She's So Fine" and "I Don't Want to Know Your Name."
DEVEAU: That was the first one. We did that on a small 16-track. Whenever we had money, we went in the studio.
Did you read Amy Asbury's book, "Sunset Strip Diaries"? There is a bunch of stuff in there about both me and you, about how she wanted you to be her boyfriend and that I was somehow interested in this and had wanted to write about it.
DEVEAU: It's funny you bring that up. When she wrote that book 20-something years later, I got a call from an ex-girlfriend of mine at (that) time, a girl who was seeing back then, and she was like, "Thanks for cheating on me in L.A." I read the book, and yeah, there's like a whole chapter about me, and I didn't even remember who she was! Amy Asbury? I had no recollection of who the name was. But then Jason from the Glamour Punks and a couple of others, they kind of reminded me who she was, and I remembered. So yeah, I do remember her, but I don't remember hanging out too much. I talked to some people at the (Blackboard Jungle) reunion, and a few of us had all disagreed on what she put in the book. I don't agree, I know that, but I don't have an ill will, no ill feelings.
I remember Amy. She used to hang out with Mandie Murphy (RIP), who was one of the prettiest girls back then.
DEVEAU: Mandie, I barely remember her from back then.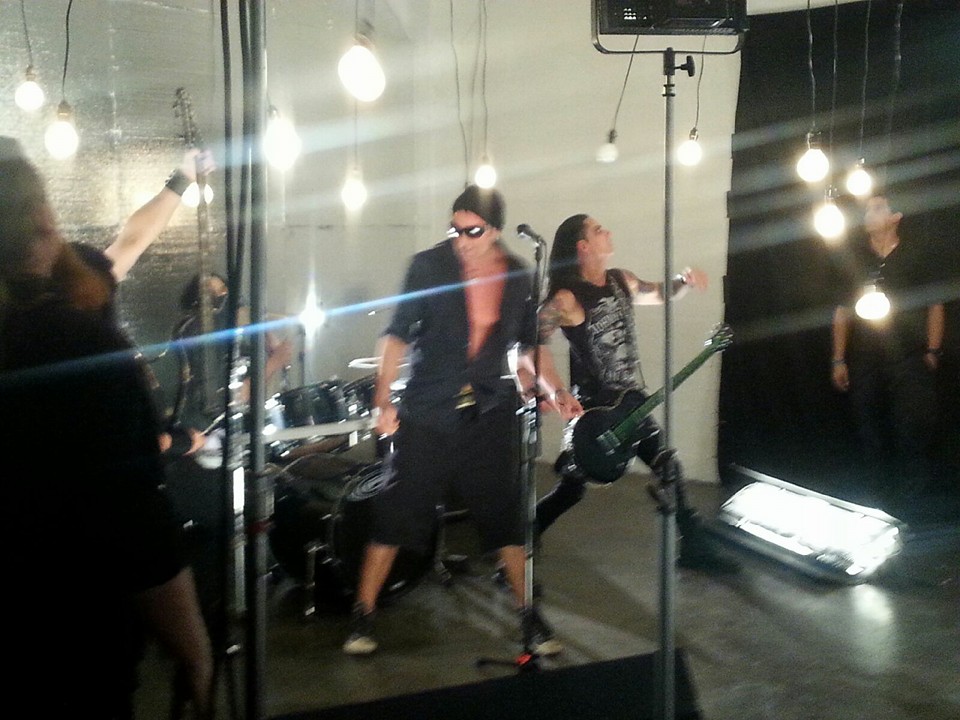 The Image Nation on set of their video "Anymore"
Anyway, with Image Nation, you have a new video on youtube that's actually a pretty rad video. What do you think people will find more alluring, the puddles of blood or Jenna's tits?
DEVEAU: Wow, that's quite a question. I guess I would say it's the combination.
If you pause it at just the right moment, it's like one step past an R rating.
DEVEAU: Yeah, my mom didn't enjoy the video as much as I do, but it's all good. I'm real proud of it.
Now with The Image Nation, what's going on with this band? Are there more songs?
DEVEAU: Yeah, we've got more songs we're going to record. We hope to do a couple of shows, too. I guess you have to just stay tuned.
The Image Nation @ Facebook Brian DeVeau @ Facebook
Gerry Gittelson can be reached at gerryg123@hotmail.com