WHERE DID THEY GO?
Metal Sludge Flashback to 1989 with Sunset Strip hopefuls LYPSWITCH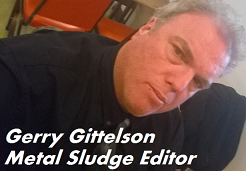 LOS ANGELES, California — Thirty years after coming oh so close to making it big, Sunset Strip hard-rock band Lypswitch is throwing away their walking canes for one last try.
The four originals — singer Danny Whaley, guitarist Kevin "Mick" O'Brien, bassist David Love and drummer Kevin Agosta — just released an anniversary CD featuring all their old demo tracks, some re-recordings and even a batch of new songs.
So what was it like to be almost, almost-famous?
Read on and find out.
——————————————————————–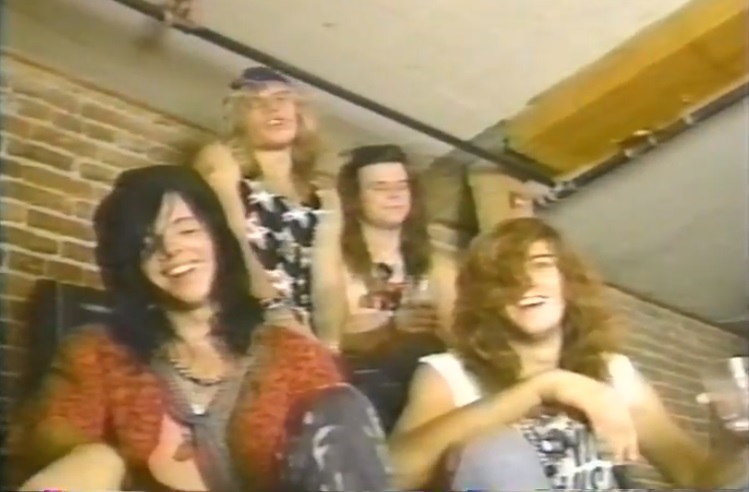 Lypswitch laughing it up on an MTV special about the Sunset Strip 
Last I remember, you had a demo deal with MCA that got screwed up, what happened?
DW: Bottom line we didn't turn in a product that was polished or done well. The demo we turned in did not represent the band. We should have picked Alex Woltman and Elliot Soloman to record and produce the product Bret wanted! Alex and Elliot recorded our Rattlesnake Skin demo right after the demo deal, and it was a much better recording. We missed that opportunity, we were too star struck, young and naive.
MO: We underachieved as a band in the studio.  It was a mixture of lackluster pre-production, song choices and actual performance during the recording sessions. And it showed in the final mixes.  We didn't capture that "live feel" on the recordings.  I don't blame MCA for passing on us.
You had a manager, Paul Schenker, back in day. What happened to him?
KA: Not sure what happened to Paul, haven't seen or heard from him since the early 90's but I hope he is well… Our second manager Curt Lorraine unfortunately passed away earlier this year (Fuck Cancer!). We had stayed in contact and he was helping us in a consultant role as we recorded and planned the 30-year release. He loved to hear the new mixes and we all miss him and wish he could have been here to see this completed…We ended up dedicating this project to Curt and Dave Brandani.
Name everyone in original band, and what are they doing now?
Danny Whaley Vocals – Government Job at Air Reserve Base
Kevin "MICK" O'Brien Guitar – Distribution Manager
David Love  Bass- Computer Graphics, Photography
Kevin "KA" Agosta Drums – Computer programmer and video editor
How much did Joe Leste get paid to contribute new vocals?
DW: I think KA talked him into it, lol. $0.00, did anyone get paid? If so, I need a check……
KA: Joe offered to sing on the record, he lives out here in Phoenix now and we kick it from time to time. He's a cool dude and I think it's great that he still has Bang Tango going all these years later.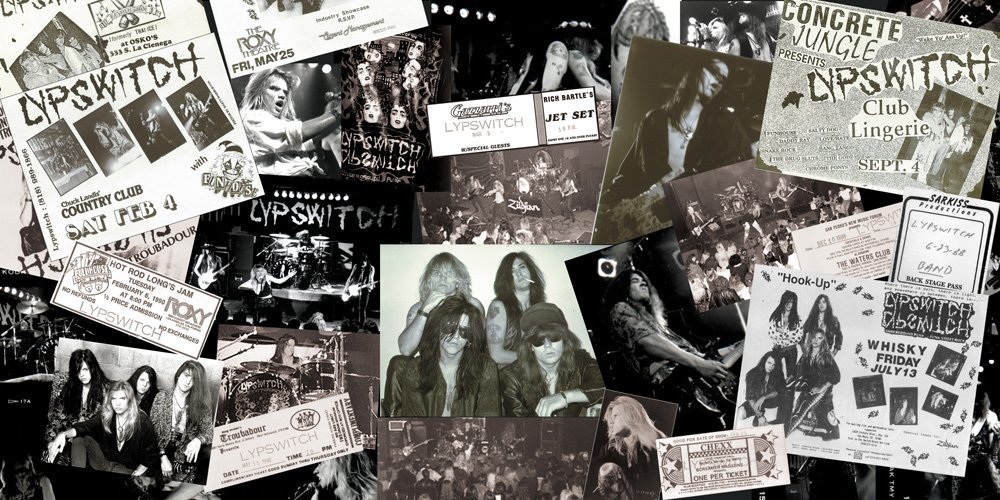 Why didn't Lypswitch make it big?
DW: Missed opportunity with MCA and not patient enough. I didn't give it enough time and we needed to regroup internally and band together with a focused purpose. We missed that opportunity.
MO: Who says we haven't?  The dream is still alive, isn't it?  Making it "big" is an individual perception that everybody has and they're all different.  My perception of making it 'big' may be completely different than…. let's say……a critic or a journalist's perception.  It's not always about the money or fame.  It's about the inner-happiness and self-fulfillment you get from accomplishing something you worked extremely hard on and that you're proud of.  And that you made an imprint, however small or big, on the L.A. music scene.
DW: David Love – He use to do them himself.
Do you have a Guns N' Roses memory?
DW: We rehearsed at Mates studio where Guns rehearsed. It was inspiring to see their nice cars parked outside as they rehearsed a few doors down. My favorite Guns story- The night Dizzy joined the band. We were in the rehearsal room (not Mates- I don't remember the studio) and The Wild were sitting there drinking and talking about Dizzy joining Guns! WHAT???!!!! What a freaking opportunity, I was inspired and amazed.  Dizzy was so cool and chill.  Years later I was at NAMM with my wife, I saw Dizzy and we started talking, however, I didn't introduce my wife to him…I still hear about that to this day!! MY WIFE WAS PISSED (STILL IS)!
MO: Mates Rehearsal Studio: Hanging out with Adler and Duff in the parking lot lighting off fireworks.
KA: The time I was with Jamie from Funhouse and we went to a GNR rehearsal in Redondo Beach (I think). Steven Adler was the only one there and he was fucked up and needed a ride back to his hotel. We gave him a ride and he left a bunch of paper work in my truck. Jamie and I read the expense reports of all the hotels he had trashed on the road. Classic rock star stuff! Then a couple years later practicing next to them at Mates and being so broke I'd take his used drum sticks out of a trash can so I could practice…
Who was hottest chick in Hardly Dangerous?
DW: I dug Tomirae the singer. Athena hung out with the guys and was good friends with Dave Brandani. She was always crazy and it was always a great time when she was around.
MO: Hands down: Beth-Ami
KA: They were all super cool to us and we played some good shows with them. Athena is a great drummer and I got to meet Tommy Lee at a Hardly D. show at the Roxy one time and talk drums with him for a few. That was an awesome moment for me..
Share a memory or comment:
— The Whisky –
DW: HOME! I loved the Whisky- Definitely my favorite place to play. I loved playing and then hanging in the massive crowds outside on the strip. What a magical time in rock. No bozo jams, best Monday night gig!
KA: Definitely my favorite club, we played a ton of shows there.  
MO: The Heroin Bitch ripping out my chords from my pedals during a sold-out show.  She's in rehab now.
— Bang Tango-
DW: Awesome band – we played with them a lot. Loved hanging with them and listening to their tour stories after the first BT record was released.
MO: Hanging out, smoking weed with Kyle-Kyle at an afterparty.
KA: Great band, they helped us out a lot and introduced us to a lot of people in the industry.

— Bret Hartman-
DW: Great guy. I wished we turned in the product we just finished! I think it would have changed our direction. Favorite story- "you guys need to have chorus's like "ACE OF SPADES!"
MO: Great A&R guy back in the day. He gave us the opportunity to sign with MCA.  He really believed in us.
KA: Super cool dude and we are still friends to this day. He helped us out a lot.
— Gazzarris–
DW: First LA show at Gazzarris in 1988 – "can I get a glass of water (from the bar), sure $3, "But I'm in the band" still $3…What the??? If I had $3 I wouldn't order water!! Also, lots of memories of cool people backstage.
MO: Lots of hookers, tramps and thieves!  And I loved playing there! Killer light system and stage. Legendary place. I'm honored to have played there.
KA: Played our first real big show at Gazzarris in August of 1988 with Funhouse, Bang Tango, The Wild and Lightning Gypsy Lover. A great night that led to a lot of other cool gigs.
— FM Station-
DW: Don't remember FM much, but I saw Atomic Punks there!
MO: Slamming beers with KA and Chris Holmes from W.A.S.P. in the parking lot after hours. That dude was a crazy cool cat!
KA: We only played there once in 1989, but went there many times. Was a cool club and sorry to see it was torn down recently.
–Nikki Sixx–
DW: David was very inspired by Nikki, who wasn't; they were the fathers of Sunset to our crew.
MO: Rock legend! He's got WAY more crazy stories than we do.  L.A.'s top 3 all-time rocker!
KA: Bad Ass!
— Lemmy =
DW: ACE OF SPADES! Awesome band
MO: Metal god!  Hung at his VIP table upstairs at The Rainbow one time.  He was surrounded by young blondes.  That was an insane night!
KA: The one and only, love Motörhead.
— Warrant-
DW: Jani was from Florida, just like we were, Altamonte Springs. I met him a few times and we always talked about Florida. He as a very cool guy to me personally. Gone too soon.
MO: Jani Lane was a great singer. Sad that he's gone.
KA: Solid band, sad that Jani is gone but it's awesome that they are still out there playing and keeping the music alive. They killed It on the Monsters of Rock Cruise in 2016!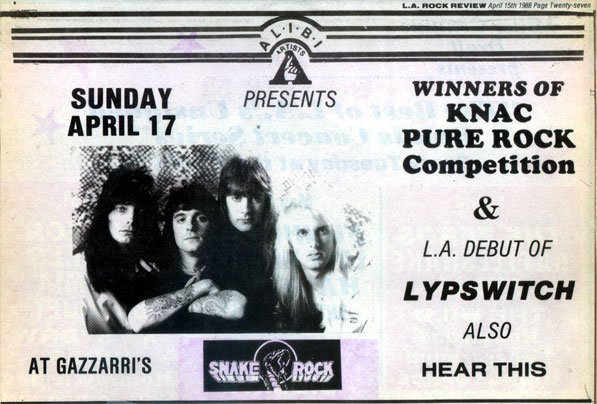 How did you survive in Hollywood with no money?
DW: I worked! I also lived in a garage with a family that took me in and took care of me! Thanks Matta Family! The band hated me for this!
MO: Selling porn…
KA: Shitty telemarketing and delivery jobs.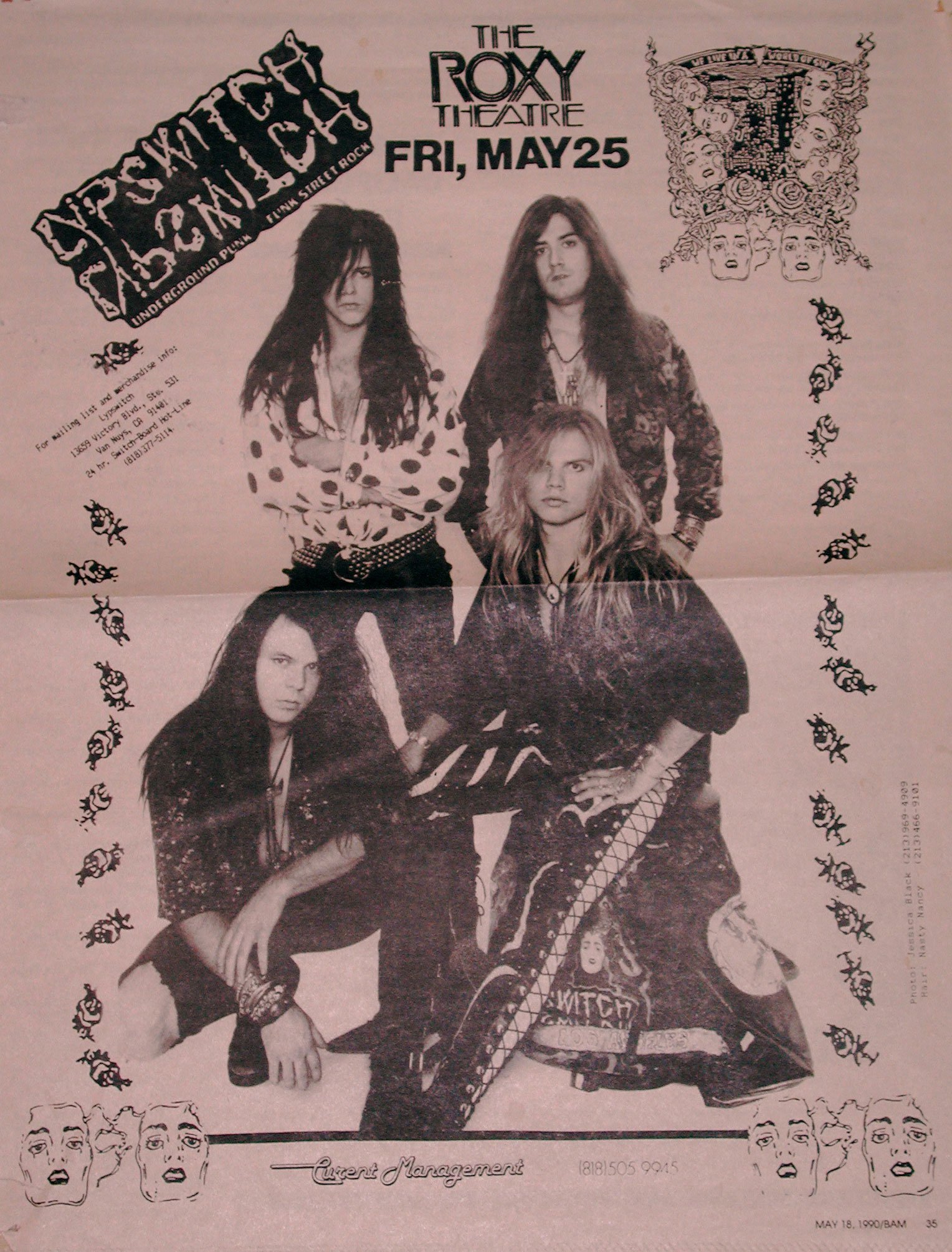 Give 3 reasons why you have No regrets
DW:
We got on MTV (when it was awesome)!
We sold out the strip!
Our fans were the best!
MO:
I got to live the dream of playing in front of thousands of fans during the height of the L.A. Music Scene.
I met my best friend, KA, And we're still tight to this day.
I learned so much about the music business and life.
KA: 
Playing all the historic clubs in Hollywood and chasing a record deal was a childhood dream that I got to make a reality.
I met my future wife way back in 1989 on the LA club scene (At Rich Bartle's Jet set @ Hollywood Live to be exact!)
Being able to go back 30 years later and rerecord and write new songs together and actually release them after all these years has been amazing.
Looking back, would you do anything differently?
DW: I think you see what we would have done differently, we should have re-focused and worked harder as a band.
MO: I wish I would have gotten The Twins' autographs from the TenMasa sushi bar.  They're legends on the strip!
KA: Would have picked Alex and Elliot to record our MCA demos in 1989.
30 years. How fast has the time gone by? Does it feel like forever ago or like yesterday?
DW: 30 years feels like yesterday. I've made a great life for myself and I have an amazing family. This made time really fly.  When KA and I talked in February about it being 30 years, we both said how great it would be to finish what we started. We talked to the guys and we all agreed and wanted to put out the album we could have 30 years ago. I think we did that. I am very proud of what we finished!
MO: Putting out this CD has brought me back in time and it feels like yesterday.  I'm thoroughly enjoying this album release. It rocks!
What 3 requirements did all potential girlfriends need to have?
DW:
1) Must have your own life and be confident in herself.
2) Can't be jealous.
3) Put up with me!
MO: A car, tons of hot friends and money for booze.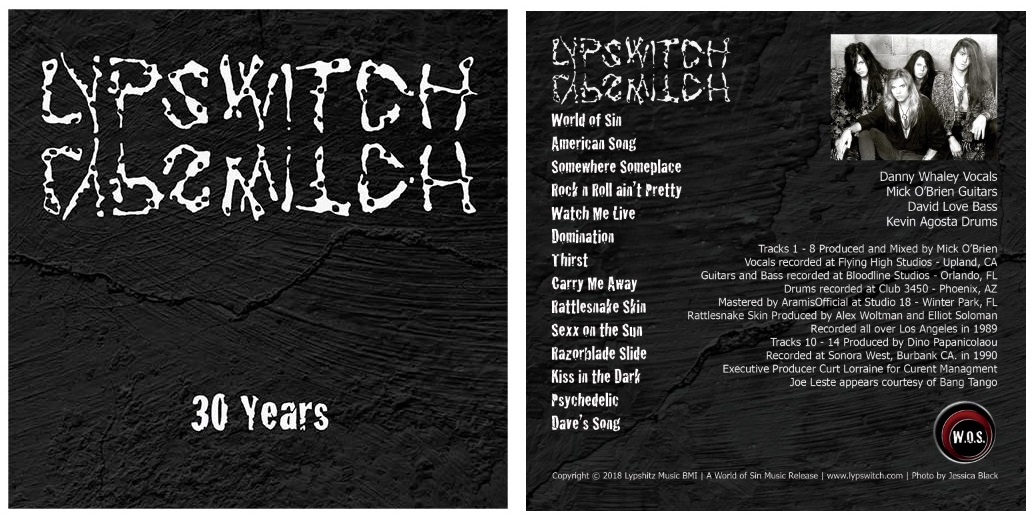 Final word on the new anniversary CD? 
DW: I am very proud of the music. I think the songs apply even today. David is an amazing writer and the bands magic together is inspiring. I love the music we create! It's raw, real, alive and straight up rock! The band has really become close again in this endeavor.
MO: The recording process on the 2018 tracks was a lot of fun!  K.A. recorded his drums in AZ.  Danny recorded his vocals in CA. And the guitars, bass, mixing, and mastering were done in FL.  We did everything through file transfers and recorded our own parts in our own home studios.  It was a challenging and fulfilling process.  I'm very proud of the boys and the final product.
KA: Check it out, please visit www.lypswitch.com for more info!
Lypswitch @  WebSite – Facebook – Twitter – iTunes – Amazon – Instagram  –  CdBaby