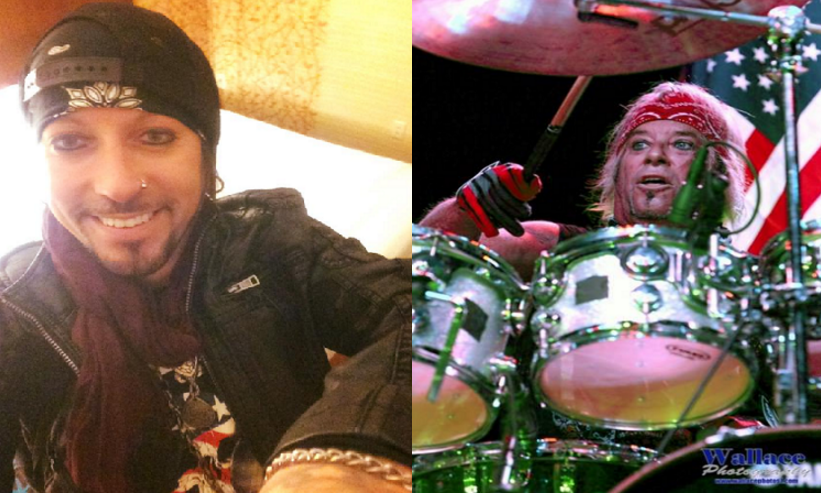 #1 BAD BOY
Devil City Angels singer Brandon Gibbs takes Bobby Blotzer to task on Facebook
Facebook — In a brand new posting on his official Facebook page Devil City Angels singer Brandon Gibbs throws a few daggers at Bobby Blotzer.
The Southern California drummer is currently out playing shows with his version of the band Ratt.  And in a recent video that surfaced on youtube, Blotzer is seen coming from behind the drum kit and talking to the crowd.
Blotzer refers to his communication with the fans as his 'speech' and he uses some colorful language. This included telling members of the crowd, "F!?k You" through a live mic.
The clip is found in a Metal Sludge posting HERE is several minutes long. We've also embeded it below.
Over the course of the 'speech' the crowd seems to jeer and even boo the multi-platinum musician at times.
Then he tells the fans the band will be headed to Florida next. he then informs the Texas locals that he feels the Florida fans will be; "Itching a little more harder than ya'll are" and when some fans boo, again Blotzer spouts off; "F!?k You."
Blotzer than tells the crowd; "I wanna say hi, ya'll remember me. Anybody?" to which some fans yell out, "Yeah."
Blotzer asks of the crowd multiple times and even admits he's fishing when saying; "What's my name? What's my motherfu!?ing name?"

The Bobby Blotzer led version of Ratt performed on October 12th at "Proof Rooftop Lounge" in Houston and the group's leader appears to be egging the crowd on.
Blotzer thanks the crowd but seems to look for them to cheer even louder and adds; "This is a small crowd for Ratt!"

Gibbs doesn't seem to find the video amusing and spoke out about the video.
Gibbs does not mince words when he blasts Blotzer writing; "Just watched the epic Bobby Blotzer speech.. Ugh… Ratt and Roll that shit elsewhere.. "What's my fucking name?" Look at your drivers license!"

Gibbs continues and adds; "I hate HATE when entertainers act like clowns! If I talked to my audience like that I would beg for forgiveness.. Fuck that…"
Fans have jumped on the Gibbs posting and there are already dozens of comments in just the first few hours since he's posted.
Gibbs has since followed up the comments with one of his own which we have screen captured below.

Gibbs is a singer, songwriter and guitarist that is most known for fronting the rock band Devil City Angels.
The DCA band was a side-project formed by Poison drummer Rikki Rockett and L.A. Guns founder/guitarist Tracii Guns.
The group also included a third member (Eric Brittingham of Cinderella) with platinum history.
Rockett and Guns brought Gibbs on board from his previous project Cheap Thrill. That band featured long time Cinderella members Jeff LaBar (guitars) and Eric Brittingham (bass) along with Troy Patrick Farrell (Gilby Clarke, Mike Tramp band) on drums.
Rockett a close friend to Gibbs since first meeting back in 2002 also helped tap the singer to front The Special Guests.
The Special Guests made headlines when they agreed to perform essentially as Poison, without Bret Michaels and Gibbs as their frontman.
Fans and industry alike were shocked that Bobby Dall (bass), CC DeVille (guitar) and Rikki Rockett (drums) stepped outside their assumed comfort zone, as they had never collectively performed live without Michaels. Gibbs fronted the band on a handful of shows during 2015.
Stay tuned for more from Gibbs and his related projects along with the round n' round world of Ratt.