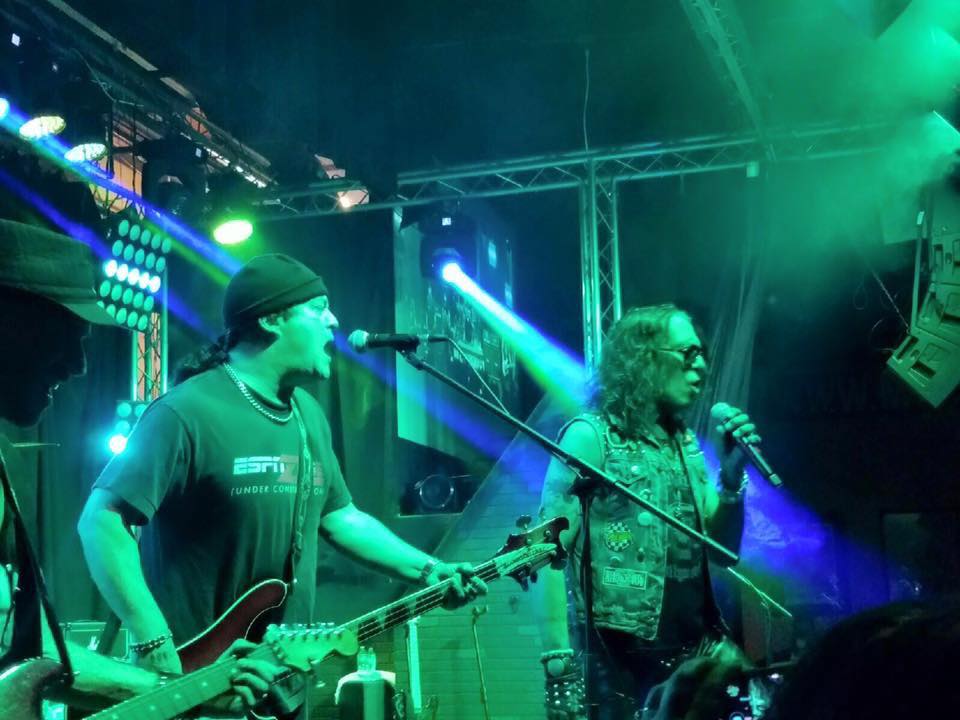 2 RATTS ARE BETTER THAN 1
Stephen Pearcy welcomes Juan Croucier to the stage
Southern California — Over the past few weekends Southern California rodent lovers have gotten their fair share of Ratt N' Roll.
On May 14th Stephen Pearcy played "M15" in Corona and on April 29th Juan Croucier rocked the world famous "Whisky-A-Go-Go" on the Sunset Strip.
Both Pearcy and Croucier have been gigging with their respective solo projects with great support from their die-hard fans. But the more recent of the 2 shows found the former bandmates come together.
Lead rodent (Pearcy) welcomed his classic era bassist (Croucier) to the stage on Saturday night and fans were elated.
Not only were fans excited but they sang their asses off as well.
Croucier looked happy to strut his stuff with a Rickenbaker bass and was distinctive in his delivery of those classic Ratt background vocals.
Croucier played his own set in Hollywood a few weeks prior and received some rave reviews.
Screamer Magazine posted a review of Croucier's show courtresy of Laura De Gaetano who writes; "Everyone was on their feet and feeling the resurgence of true rock n' roll as Croucier exhibited some powerful vocals and endless energy throughout his 16 song set. Croucier's Wanted Man, Lay It Down, Way Cool Junior, Nobody Rides For Freeand Back For More were exactly what the crowd wanted. With some classic guitar solos and took everyone on a journey of a juxtaposition of Body Talk and ending with RATT's mega-hit Round and Round commencing the perfect ending to a great night of rock n' roll."
Pearcy himself has been slinging his solo brand of sleazy rock for several years in between his time served in the mighty Ratt.
A year ago Pearcy issued "I Can't Take It" and the youtube clip definitely has that classic sound so many Ratt fans have come to know and love.
The band that he founded nearly 40 years ago has been in flux for years, but that has not stopped Pearcy from releasing music and touring non-stop.
Saturday night at "M15" was more proof Pearcy still has the swagger that helped catapult the 5 piece to the top in the 80's.
Welcoming Croucier to the stage Pearcy tells the packed house; "The guy who has been covering my ass on vocals for 35 years."
Croucier smiled and appeared to wave off the compliment, but the two definitely have chemistry and seemed to share mutual respect.
The crowd ate it up that Croucier was in the house.
They closed the show with a double shot of Ratt's biggest hits "Back For More" and "Round N' Round."
Stay tuned for more on both of the guys..
Stephen Pearcy @  WebSite – Facebook – Twitter – iTunes 
Stephen Pearcy May 20th @ VAMP'D – LAS VEGAS, NV
Stephen Pearcy May 21st @ Retro Rock Fest – St. George, Utah
Juan Croucier @ WebSite – Facebook –  Store