20 QUESTIONS
Kendra Jade adult film star – June 1st 1999
Welcome to Metal Sludge's first 20 Questions with a Porn Star, and hopefully not the last.  Kendra is by far the greatest porn star who has ever lived!  Who needs Traci Lords or Jenna Jameson when you can interview Kendra Jade! (unless Traci and Jenna wanna do an interivew…in that case, please email us!)
Anyways, Kendra is a Sludgeaholic who emailed us and said she's loves our page and desperately wants to have sex with us.  Okay, we're down with that.  She's hooked up with a ton of "metal stars", so we asked her about that and a bunch of other stupid ass questions.
So take your pants off, grab some Kleenex and prepare for 20 Questions with Kendra Jade.
1. What are you currently up to? (This is your only chance to plug your movies, websites, club gigs, and other shit like that.)
KENDRA: I have just put out a new comic book, we've just released another movie in my series TOO HOT FOR PORN, and i am also about to go back out on my dance tour around the u.s.
check out my website at http://WWW.KENDRAJADELIVE.COM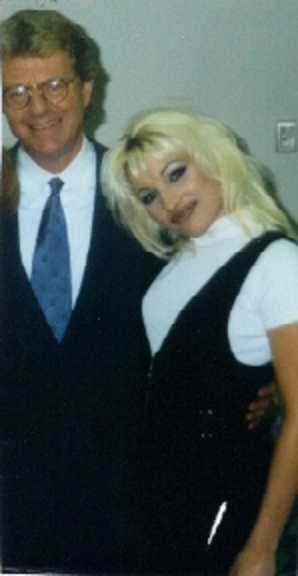 2. Please explain the Jerry Springer situation in case we have any Sludgeaholics who don't have a clue about what happened?
KENDRA: I dated him for about 4 months, and i won't go thru the whole long story, but anyway it ended with a video in a hotel of jerry and i in our own porn movie .
3. You emailed us and said you were a rock & roll groupie. Please list the rock stars you've banged so we can add you to our list of groupies, and what inside gossip do you know?
KENDRA: why dont you ask me which ones i HAVENT banged~it's much easier … 🙂
I LOVE MY ROCKERS! 🙂
4. 2 Part Question: Do you allow yourself to be photographed during your period and do you have sex when you're on the rag?
KENDRA: YES , but only if i'm not bloated…and NO…who wants to fuck in a puddle of blood?
5. Approximately how many guys have you fucked?
KENDRA: Well, considering that I did the world's biggest bang-off, and earned the record for the most anal sex in a day, i would say…more than i can count on both hands.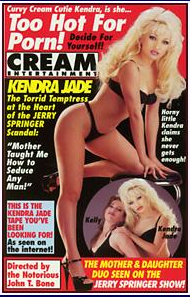 6. When you did work for the WWF, did you bang any of the wrestlers, and if so, who?
KENDRA: I didn't cuz we were real busy..but i would like to bang stone cold.
7. Who would you least like to see naked?
KENDRA: Roseanne Barr-arnold-whatever
8. What girl in porn is the biggest bitch and needs her ego put back in place?
KENDRA: JASMIN ST.CLAIRE is the biggest bitch i have ever had the displeasure of meeting, not just in porn but in my life.
9. Once and for all, what happened between you and Mike Gange from the Howard Stern show?
KENDRA: Mike IS A LIAR, and the biggest piece of shit ever…he saw that i was getting some fame from the springer incident and wanted to jump on the bandwagon. Not to mention that he has a small dick and wasn't even worth the time and effort it took to fuck.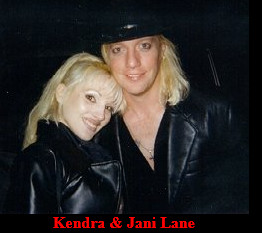 10. Evaluate the following dudes on a scale of 1-10. 1 being a total sled and 10 being someone who'd want to fuck.
KENDRA: (hehehe..do the points still count if i've already fucked 'em?)
Marilyn Manson / 20 ( I love MM)
Bret Micheals / 9 ( i think he is beautiful)
Vince Neil / 2  (nice guy, not my type)
Jani Lane/ 5 (sweet guy)
Howard Stern / 10 (i want howard in the worst way,….what i'd give to be under his console again….)
Jerry Springer / 0 (self explanatory…..would YOU wanna fuck him? 🙂 )
Blas Elias / 1 (maybe when i was younger, but not anymore) 
Tommy Lee / 0 (before this pam thing happened, and him leavin the crue…he was #2 on my "people i wanna fuck "list…but since then, i lost all respect for him.)
Ron Jeremy / 0 (not on my worst day)
Taime Downe / I consider Taime to be amongst my closest friends, so this is a totally biased opinion…TAIME ROCKS!!!! and number one on my "people i wanna fuck" list goes to……SEBASTIAN BACH~ ANY TIME, ANY PLACE ….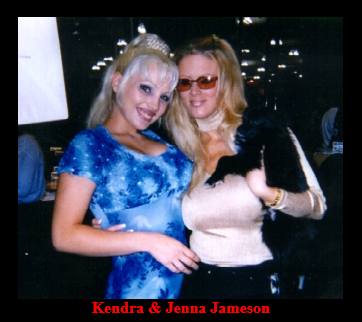 11. How many different dicks have you had in your ass?
KENDRA: more than i like to think about. 34 in one day….
12. If you had to have sex with Pamela Anderson, Jenny McCarthy or Carmen Electra, who would you choose and why?
KENDRA: none…i like someone that you can have intelligent conversation with afterwards 🙂
13. 2 Part Question. What 80s hard rock band that is still playing should give it up and call it a day?
KENDRA: NONE~in fact, i wish they were all still around…i hate all this new music. and plus, i still have a few more to fuck.
And what are some of your favorite bands?
KENDRA: I love MM, Poison, Newlydeads, and Skid Row. I dance to them, and have sex to them frequently.
14. Other than your ass, where's the strangest location you've ever had sex?
KENDRA: In a grocery store, while people were shopping.
15. Who would you like to bang but haven't gotten the chance to yet?
KENDRA: it used to be Tommy Lee, but he broke my heart going back to pam, so I don't know…
I guess Mark Mcgrath of sugar ray could help me recover 🙂
16. What rock star has the biggest hog (dick) you've ever been with and who has the smallest?
KENDRA: If I told ya, they probably wouldn't do me any more, and i can't be fuckin up my sex life for ya!
17. What is the kinkiest thing you have ever done on or off screen?
KENDRA: off screen, i had a threesome that involved another girl, a guy, and vegetables. It made for a pretty cool night.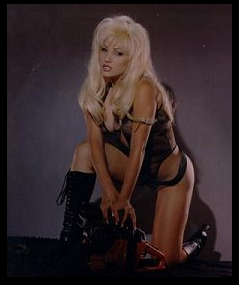 18. Have you ever had any STD of any kind?
KENDRA: No..i protect myself..and would strongly advise others to do the same.

19. Would you be willing to fuck some losers from a stupid metal website?
KENDRA: depends on whether or not the losers in question would give me a big writeup 🙂
20. Now is time for Metal Sludge's World Famous Word Association. We mention a name and you give us your opinion.
Jenna Jameson / cute
Jerry Springer / viagra
Howard Stern / funny
Luke Ford / silly
Gene Ross
Nikki Sixx / hottie
Nikki Tyler / nice
Savannah / dead
Pam Anderson / sags
Tommy Lee / dumb
So there you have it, tits and all!  Kendra had a website but she said the people who ran it were ripoffs, so she is currently looking for a new site.   Anyways, thanks goes out to Kendra for being down with Metal Sludge.