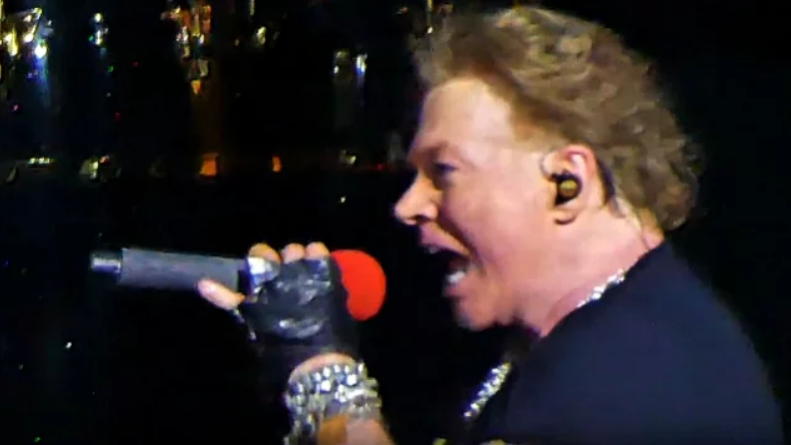 AXL GOT A HAIRCUT
Guns N' Roses return to the Sunset Strip for sold-out show at Hollywood Palladium

Blabbermouth — GUNS N' ROSES performed at the iconic Hollywood Palladium on Saturday, September 21 as part of the Citi Sound Vault series.
The concert marked the band's first live appearance of 2019. It was also GUNS N' ROSES' debut performance at the 5,000-capacity venue in nearly a decade.
The setlist for the show was as follows:
01. It's So Easy
02. Mr. Brownstone
03. Chinese Democracy
04. Welcome To The Jungle
05. Double Talkin' Jive
06. Better
07. Estranged
08. Live And Let Die (WINGS cover)
09. Slither (VELVET REVOLVER cover)
10. Rocket Queen
11. You Could Be Mine
12. Shadow Of Your Love
13. Attitude (MISFITS cover)
14. Civil War
15. Coma
16. Slash Guitar Solo
17. Sweet Child O' Mine
18. Wichita Lineman (Jimmy Webb cover)
19. Wish You Were Here (PINK FLOYD cover)
20. November Rain
21. Knockin' On Heaven's Door (Bob Dylan cover)
22. Nightrain
Encore:
23. Patience
24. Paradise City
Fan-filmed video footage can be seen below.
GUNS N' ROSES will kick off a five-week run of dates on September 25 in Charlotte, North Carolina. This includes two nights at Las Vegas's legendary Colosseum at Caesars Palace, their most intimate venue since the 2017 performance at The Apollo Theater. GN'R will also make highly anticipated stops at major festivals, along with two goliath Mexico dates at stadiums in Guadalajara and Tijuana. Tickets are on sale now at LiveNation.com.
Read the rest of this story at Blabbermouth