"So, we were told on Thursday that within 24 hours everything would be sorted out and now it's Saturday (Sunday, the promoter's time) and we have yet to hear back from them."
— Alex Kane / Guitarist of the Donnie Vie solo band on their Australian promoters Titans Touring

"It is with deep regret that I must announce the postponement of our upcoming tour. I sincerely apologize for any inconvenience caused and share your disappointment."
— Donnie Vie on the up coming Australian tour with Titans Touring for June / July 2023
———————————————————————————————————————————————————————-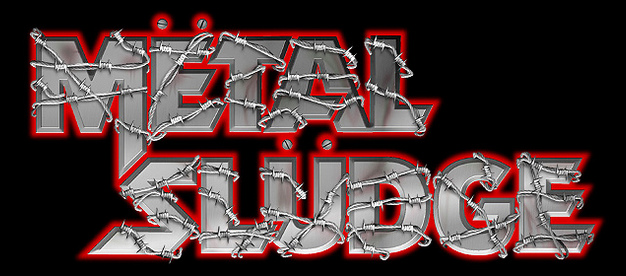 Metal Sludge — Hello faithful readers and supporters of all that is rock n' roll.

This is a friendly service announcement, to inform you that the Donnie Vie tour in Australia is pretty much dead on arrival, simply because, there will be no arrival.

At least not this week and there likely won't be anytime soon… at least not for Donnie Vie.

We shared the news that Donnie Vie (the classic Voice of Enuff Z'Nuff) would be headed Down Under to play 8 shows over roughly 2 weeks across Eastern Australia back on May 2nd 2023.

Metal Sludge also predicted HERE on May 4th 2023 there would be ZERO chance this tour happens as planned.

As of press time, both Donnie Vie and his guitarist Alex Kane (of Life, Sex & Death) have informed Metal Sludge directly that their current tour in Australia is not happening.

Vie took to social media on June 26th 2023 to share the following: "It is with deep regret that I must announce the postponement of our upcoming tour. I sincerely apologize for any inconvenience caused and share your disappointment. Unfortunately, due to some things falling apart on the other end, it has become impossible for us to proceed as planned. I deeply regret the delay in informing you and understand the frustration it may cause, but I hung in there as long as I could. I'm so bummed out because we were ready to rock it and I was so excited to see all my mates and ride the kangaroos. Stay tuned. I'm determined to get out there. Peace and all my love brothers and sisters."



Vie and Kane are not thrilled with their current situation and it appears they are left wondering what is going on.

They have also stated they were never supplied with the proper Australian work Visa nor their plane tickets.

Kane himself posted a video update via his personal Instagram that says in-part: "We were told on Thursday, that there's certain…. fundamental pre-requirements that need to be met, not the least of which is a work Visa and a plane ticket. So we were told on Thursday that within 24 hours everything would be sorted out and now it's Saturday (Sunday, the promoter's time) and we have yet to hear back from them. So, that's never a good sign but that's what we know right now. Um, ah if things go tits up, which the closer we get to, and ah the first show is in 72 hours, and it takes, ah, 40 to get there. Um, the closer it gets, the less likely it seems now, I hope that's not the case."

It also appears that both Vie and Kane made an announcement before Titans Touring acknowledged their related failure to bring the advertised artist to Australia once again.

It's never a good sign when the artist makes the dreaded "the tour is off" statement before the promoter does.

Titans Touring has now as of June 27th (Australian time) shared the following statement on their official Facebook page: "It is with regret that due to circumstances beyond our control this week's Donnie Vie tour of Australia has been postponed until further notice. We understand your frustration at this and offer our apologies and we will be working tirelessly to reschedule dates as soon as possible."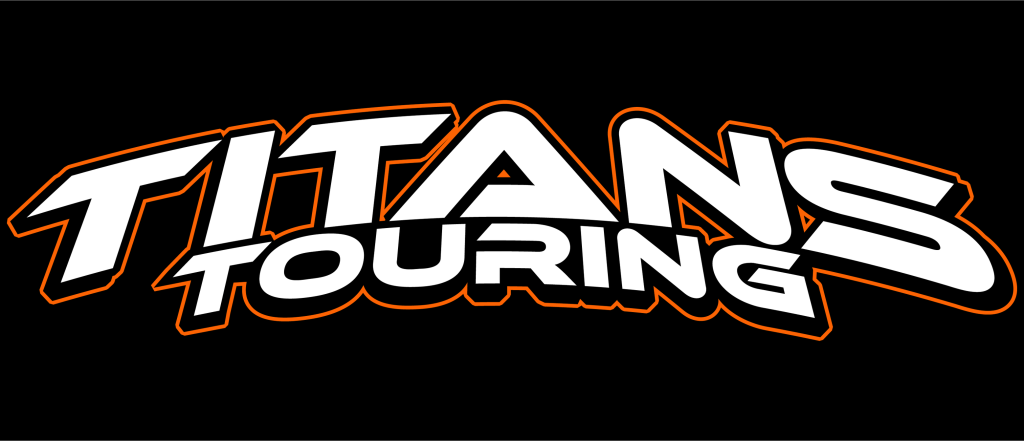 Titans Touring are the same company who put Wig Wam tickets on sale last fall for a tour in early 2023 and in the 11th hour, pulled the plug on that tour as well.

On October 10th 2022, the Norway based band Wig Wam announced their first ever tour of Australia which was slated for 6 shows in late January and early February 2023.

Okay… so pulled plug might not be fair, but call it what you want, the facts are that Titans Touring postponed the Wig Wam tour just 10 days out from the tour kick-off in Melbourne and now with less than 3 days notice, have done the same with Donnie Vie.

There has been much chatter from Wig Wam fans online in the past 5+ months about what happened with the band's tour of Australia, where to get refunds and/or when are the new dates.

According to an extensive search, there are no listings for Wig Wam dates anywhere in Australia.

Titans Touring are headed up by a man named Peter Hoffman.

If that name sounds familiar, you may recall Hoffman and his involvement with the Melodic Rock Fest Australia event that also left fans and ticket buyers short of the advertised promotion.

Melodic Rock Fest promised 25 bands in March of 2020 for their multi-day event but delivered fewer than 10 of them with 16 of the bands pulling out or canceling for a variation of reasons.

One Aussie insider has informed Metal Sludge that this is the same Peter Hoffman who according to the die-hard Kiss fan alleges: "Peter Hoffman is also the guy that was behind the ill-fated Kissworld Store here in Melbourne that failed spectacularly."

According to a quick search, the Kissworld Store in Melbourne never really got off the ground, and it appears this took place back in 2004 and 2005.

We've also been informed by the same Aussie insider that alleges: "Peter Hoffman is also the guy that was behind the Peter Criss Kissexpo thing here a few years ago where people got ripped off to the high heavens and are STILL waiting on DVDs."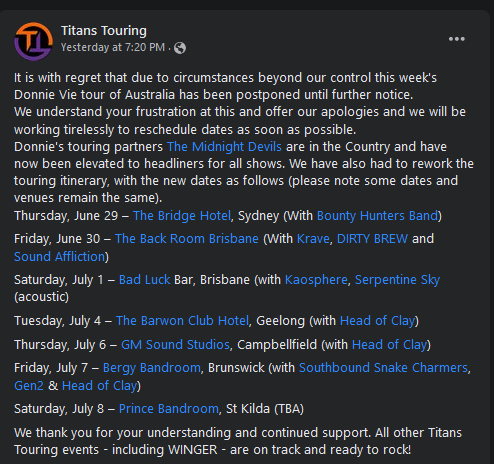 Titans Touring official website says: "Titans Touring is a new event Company showcasing the best in International and Domestic Acts. In this website you will be able to purchase special Meet and Greet tickets when applicable. You will be able to keep an eye on upcoming Tours and special events. 2023 is shaping up as a huge first year for Titans Touring. We hope to see you at a show."

It appears that both of Titans Touring tours planned to kick-off 2023 have failed to meet their projected dates for Wig Wam and Donnie Vie.

The company is now pushing a Winger tour that is scheduled for 2 weeks in September 2023.
We can only hope that the fans get what they paid for at any rock show, whether it's in the U.S., in Europe, South America or Australia.



Stay tuned to Metal Sludge for Breaking News, Updates and Features along with both new and classic interviews.