BRIDES OF DISFUNCTION
Nikki Sixx; "He (Tracii Guns) ripped me off for a lot of money", and Tracii Guns responds to the allegations
LOS ANGELES, California — It's been a while since Brides Of Destruction has been in the headlines but fear not, we have news for you.
Seemingly out of nowhere Nikki Sixx has went on the attack against his former bandmate Tracii Guns in a few recent tweets.
Brides Of Destruction was first formed by Sixx and Guns in 2002 but Sixx was gone by 2004 and headed back to a Motley Crue reunion.
The band officially disbanded in 2006 when Guns formed The Tracii Guns Band which eventually became the 2nd version of L.A. Guns.
About a week ago a fan asked Sixx; "@NikkiSixx #AskSixx would you like to record again with @traciiguns & did you enjoy the  BOD tour?"
Sixx shared the fans tweet and answered with; "He ripped me off for a lot fo money. Never"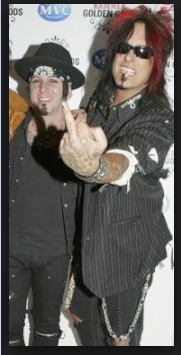 A few days later Sixx tweeted an answer to another fans #AskSixx question, the fan wrote; "What do you think of Cover bands?"
Sixx shot back with; "How funny would it be to do a cover band covering cover bands. I bet Tracey Guns would do it. Then he could pay me back my $"
Guns who has been busy with the reunited L.A. Guns took the time to post a lengthy reply to fans inquiring about Sixx's recent allegations.
Guns posted in the Metal Sludge forums with a post which we have screen captured below.
Guns who posts as Satans Chicken in the forum writes; "Nikki and I once upon a time were in a mid life band crisis. We were looking for something to do that would be fun and make some music together no see where it would lead . We were very good to each other and also enlightened each other in various ways musically vs business ."
Guns continues; "We didn't have a lot of money . His manager paid for our rehearsals and Nikki actually paid me 2000 a month for about 6 months until we eventually got a nice little record deal between sanctuary and universal JAPAN . Until that point I started an eBay account and helped Nikki sell his extra equipment to raise " Cash " I got 10% of that for doing the grunt work and I was happy to do it as he was very grateful that I took the task on for him . I also helped him to restructure his outgoing dough to help reduce his monthly nut and we did a good job and things were less stressful for him .
Basically we were allies and temporarily best friends because we needed each other at that point in our lives .
We did not end our band on good terms however , I was paid for my services that I contributed to his next venture . Scot Coogan was also involved longer than I was in these services and claims to me that he was never paid ."
Guns says he had not heard anything from Sixx in a decade and adds; "I know Nikki as a person very well and he is lashing out in an abusive way toward me right now . As hurtful as it is I understand him as a person and l have no interest in this internet drama .
If there was any reality to the fact of Me stealing money from Nikki I am sure enough time has passed to where he could have gotten ahold of me and made me aware that he felt something wrong happened but , the fact is there isn't anything to talk about as far as theft or wrong ding is concerned on my part ."
Guns ends with the following; "I am sorry he has anger toward me but I'd like to take the high road at this point and wish him strength in his future .
Good luck with your guitar lessons, Tracii."
We have screen captured Sixx's tweets and Guns' blog below (click to enlarge).
Stay tuned….