BURNING BRIDGES
Vinnie Vincent pulls out of scheduled Nashville appearance at Rock N' Pod Expo 2
Decibel Geek Podcast — Just when you thought it was safe to bet on Vinnie Vincent.
Huh?
Well, in a nutshell this is what we know.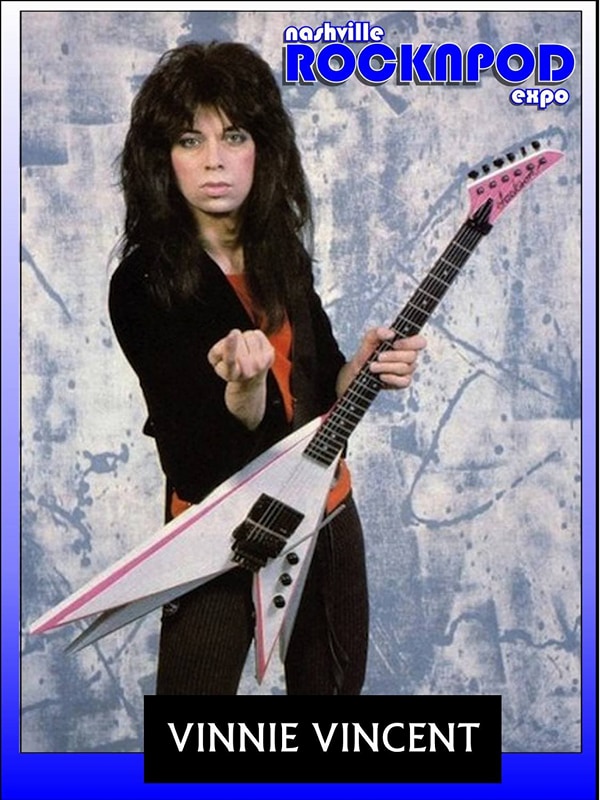 Decibel Geek Podcast and the 2nd annual Rock N' Pod Expo had booked Vincent to appear at this years event Saturday August 25th 2018.
The 'deal' say the organizers, was "good to go" and "in writing" and that all was well and in place on April 18th and the official announcement was made on May 5th.
The Vinnie Vincent appearance at Rock N' Pod Expo 2 at "Nashville Palace" has been being promoted since the announcement in early May.
But now the guys at Decibel Geek claim that Vincent has changed his terms of the original deal, and is pulling out.
Decibel Geek wrote on a new Facebook post: "Equally interesting this week is our discussion at the top of the show of Vinnie Vincent. As we announced a couple months ago, Vinnie was confirmed and announced as a guest for the Nashville Rock N Pod Expo 2. A lot of work went into promoting his appearance and things were about to go into overdrive. However, things started changing over the past week and ultimately, Vinnie's appearance was cancelled. We share with you the story of what went down and our take on it. The Nashville invasion is now an aborted mission. Such a shame."
It is being alleged that Vincent agreed to show up for no appearance fee, but would collect 100% of the paid 'meet n' greet' money from fans wanting to meet Vincent.
In addition, Vincent would get 100% of all his own sales, photo op sales, signed merchandise sales and the related.
Now it seems ticket sales may have been soft as of press time.
The Decibel Geek guys are saying Vincent has informed them via email on Tuesday of last week saying; "At this juncuture, I am going to require a guarantee and a deposit to secure my appearance. If that is agreeable to you, contact my manager and he'll give you numbers."
The Rock N' Pod Expo 2 has released an official statement on their Facebook writing: "ANNOUNCEMENT – Due to circumstances beyond our control, Vinnie Vincent will not be appearing at the Nashville Rock n Pod Expo. Purchasers of the Vinnie Vincent Eventbrite presales will be contacted about refunds. We apologise for this inconvenience."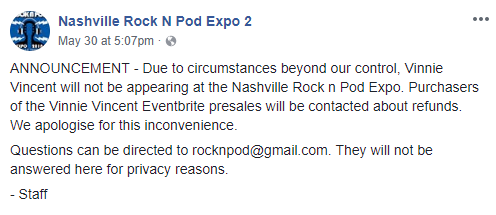 It should be noted that Vinnie Vincent official Facebook page had already added and shared the event.  (see screen capture below)
The posting from Vincent has now since been deleted and removed from his social media.
Listen to the latest Podcast from Decibel Geek below as the guys break it down in detail.
They also are alleging that they have proof of the dirty details surrounding the matter.
To hear the full podcast go to Decibel Geek Podcast.