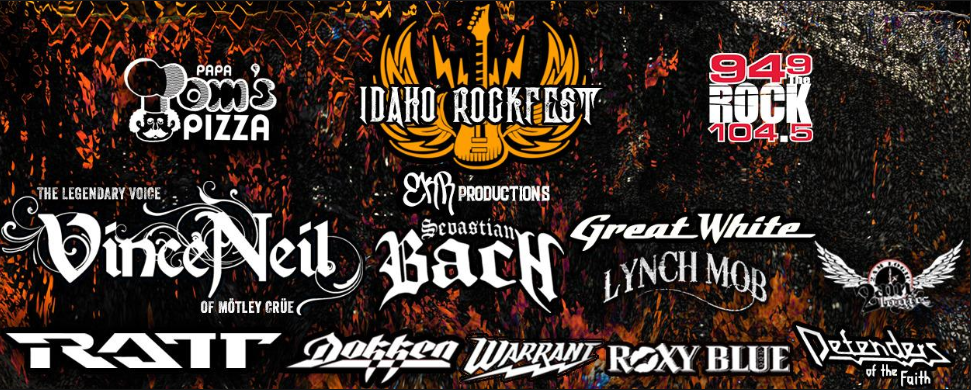 CANCELED
Idaho Rockfest cancel event mere hours after listing set times
Update: August 23rd 2018 (9:00am PST)
The promoters of Idaho Rockfest have confirmed our Metal Sludge report that their event has been canceled.
Please see screen capture from their official Facebook below.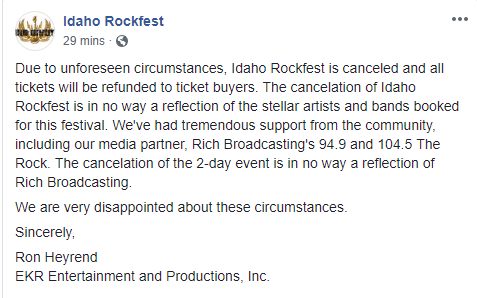 Industry Says — According to a reliable industry source, Metal Sludge has word that the first ever Idaho Rockfest has been canceled.
Idaho Rockfest was to be held at "Melaleuca Field" Friday August 24th and Saturday August 25th in Idaho Falls, Idaho.
Featured acts scheduled to appear included; Vince Neil, Ratt, Dokken, Sebastian Bach, Warrant, Great White and Lynch Mob.
The ironic part is that the event posted, shared and announced the weekend's set times at roughly 3;00pm (CST).
But as of 10:00pm(cst) the event promoters were reaching out to bands and informing them with the following message: "Due to unforeseen circumstances, Idaho Rockfest is canceled and all tickets will be refunded to ticket buyers."
The message continues, "I understand this means a forfeiture of all deposits. All of our messaging on solcial medis and in the press release will be very clear: the cancelation of Idaho Rockfest is in no way a reflection of the stellar artists and bands booked for this festival."
Look for a press release soon!
See screen captures below.