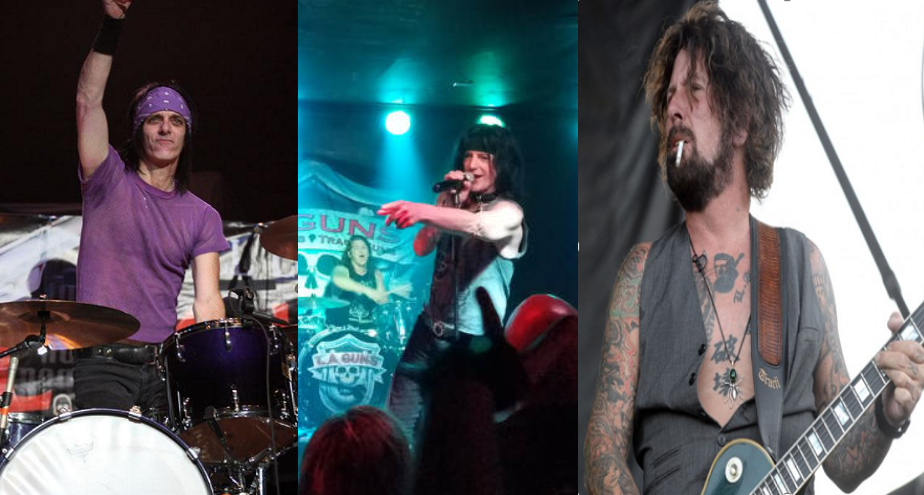 DRAMA ALERT
L.A. Guns play M3 in 2019 but not the Tracii & Phil version, Steve Riley returns with LAG alumni 
Oh Snap — Just when you thought the L.A. Guns band lineup was settled and sorted, a curve ball gets thrown at us.
That's right…it seems M3 has announced L.A. Guns as part of their 2019 lineup.
However, this version will not include Phil Lewis (vocals) or Tracii Guns (lead guitars).
Adding some fuel to the fire, L.A. Guns founder and lead guitarist Guns has already tweeted they won't be there.
But fear not, it appears that the classic era drummer Steve Riley is back with his version of L.A. Guns.
Riley wrote on social media today: "What's up gypsies! I'll be at M3 next year and I can't wait to rock out with you all. I'll be bringing alumni from LAG from over the years with a couple surprises. Really looking forward to seeing you guys! – Steve"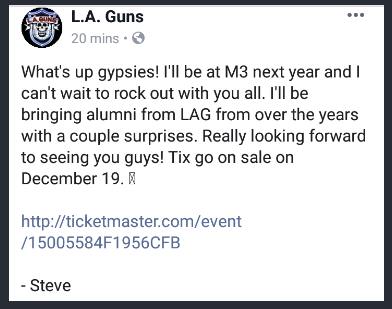 Guns replied on Twitter after the announcement writing: "Sorry to disspoint you @M3RockFestival but @laguns will not be attending."
Guns tweeted again noting whoever the lineup is will be playing his music.
In a reply on the Riley L.A. Guns page Guns has also posted a reply comment writing: "Pathetic lizard eating the scraps." 



Looks like we're in for another round of L.A. Guns Vs: L.A. Guns.
What makes this even a bit jucier is that L.A. Guns feat: Phil Lewis and Tracii Guns were scheduled last year at M3 but pulled out at some point.
The band pulling the plug on the annual event was alleged to be over some set times and order of who played when.
Now it appears M3 has booked L.A. Guns again, but not the Lewis/Guns lineup as was booked for last year's event.
Metal Sludge has confirmed that Jizzy Pearl will not be singing.
In the meantime, check out the M3 poster below.