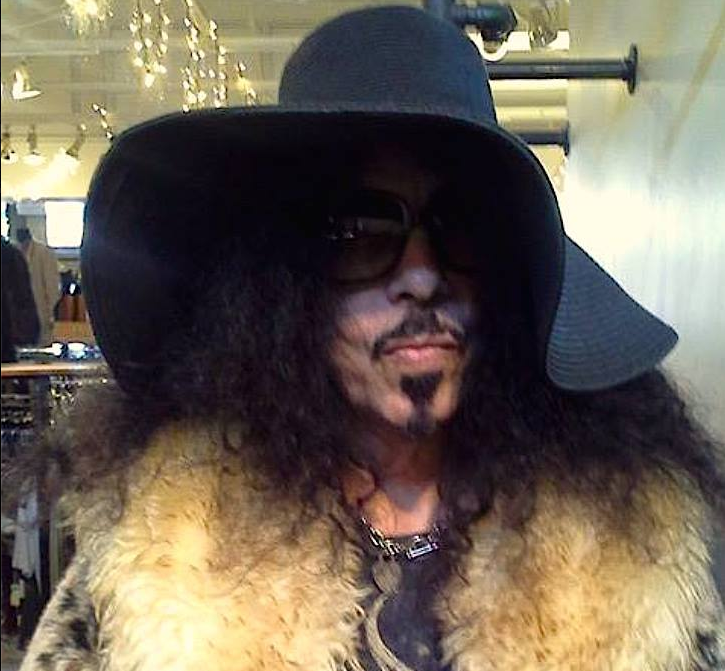 DRIVE YOU CRAZY, DRIVE YOU MAD
METAL SLUDGE EXCLUSIVE: 20 questions with Quiet Riot star Frankie Banali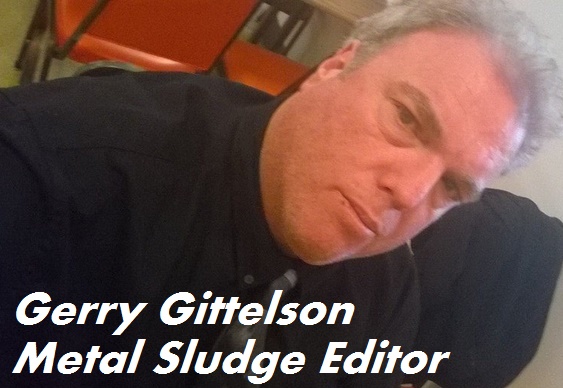 Los Angeles, CALIFORNIA — When he first found the limelight in 1983, Quiet Riot drummer Frankie Banali had already played the US Festival before a California crowd of nearly a half-million, and he was No. 1 on the Billboard album charts with "Metal Health," roundly regarded as among the greatest debuts in the history of recorded music.
That was three-plus decades ago, and Banali is still going strong. He is the band's only original, yet Quiet Riot, originally known for its stripes, still  has 'em. Former American Idol finalist James Durbin is the group's new singer — no easy task filling the huge shoes of the late, great Kevin Dubrow — while veteran bassist Chuck Wright helps hold down the rhythm section, and flashy guitarist Alex Grossi is in Carlos Cavazo's old spot.
A pioneering force in Los Angeles' rock landscape, Quiet Riot celebrates on Sunday, April 23 as the headliner for the annual outdoor Rainbow Bar & Grill anniversary party with Black & Blue, Jetboy and others.
In this rare interview, Mr. Banali, now 65, lets it all hang out. This is good stuff.
———————————————————————————–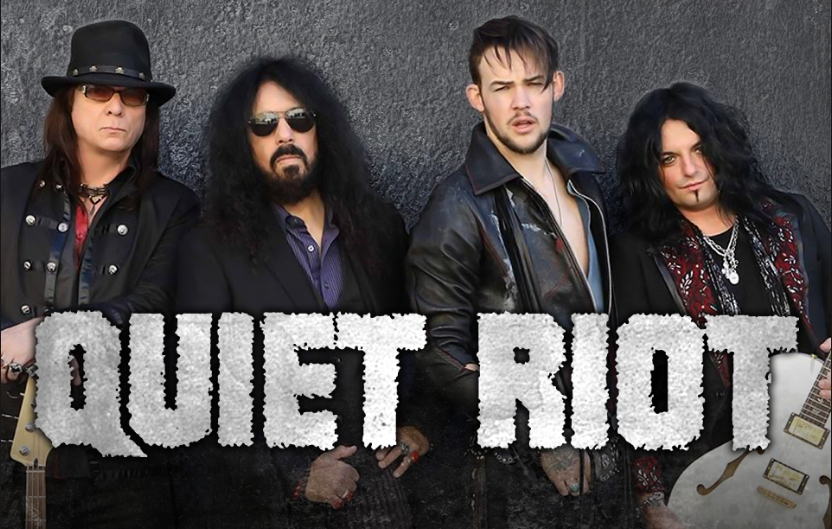 Quiet Riot is … Chuck Wright, Frankie Banali, James Durbin, Alex Grossi 
METAL SLUDGE: You were the biggest band in the world in 1983. Take us back to what your life was like back then.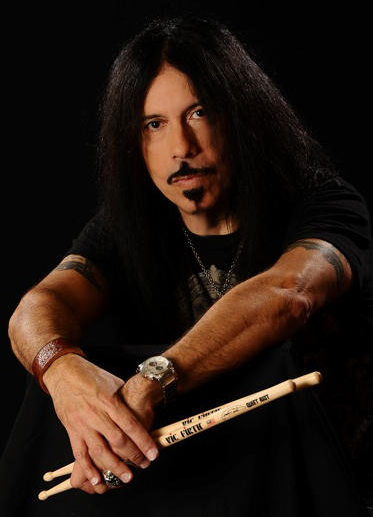 FRANKIE BANALI: Initially not as much changed as people think. The "Metal Health" record was released on March 11, 1983, so the first quarter of the year had already expired and we were still living hand to mouth. By the time "Metal Health" reached No. 1 on the Billboard charts in November, the year 1983 was nearly over and we were still a support act, at that time on tour with Black Sabbath on the "Born Again" tour, traveling in an old Eagle bus that spewed more exhaust into the bus than on the unsuspecting public. But we really were living the dream though I don't think we realized it or understood the magnitude of our new found success until 1984.
You return to the Sunset Strip on April 23 for the Rainbow party. How much fun will it be to back on the Sunset Strip?
BANALI: It's ironic that we are playing there 34 years after QUIET RIOT played the first shows after the release of Metal Health at the Roxy right across the driveway from the Rainbow. We headlined the Roxy Friday and Saturday, March 18 and 19, and oddly enough the direct support act was Black & Blue back then — who are again direct support to QUIET RIOT for the Rainbow anniversary show. Who knew…..?
You hit the drums really hard. Is being a drummer a good way to release stress?
BANALI: It's not therapy for me, I just really love to play the drums, and it's what I've done since I was fourteen, which is when I made my first dollar playing, so I really don't separate me from the drums or the drums from me. I had to hit hard when I started playing because the drums never got miked, and I never got monitors. By the time I was sixteen, I was playing in bands with two guitarists who each played through two full Marshall Major stacks and a bass player that played through six Sunn Colosseum bass cabinets and three heads. And I got one microphone for the entire kit and it was that big Elvis looking microphone that no one wanted. I learned how to hit and be heard.
Give us three private memories from the US festival — one involving sex, one involving drugs and one involving rock n roll.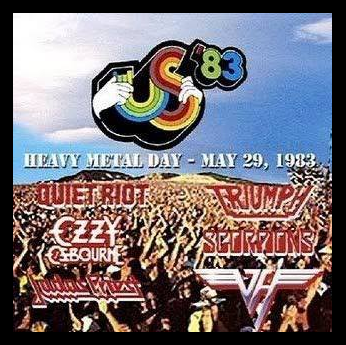 BANALI: Sex….. We arrived at the US Festival the night before and there was a young lady that was waiting for me with a thermos of margaritas which I sipped through a straw while she treated me like I was the special at an all-you-can eat restaurant serving one Italian sausage and two meatballs. Drugs….. Those were the days when cocaine was not "dangerous" or addictive and there was plenty of it. Understanding how critically important our performance would be, I didn't party that night. That was another matter for my drum tech. The next morning just before we hit the stage, said tech is setting up my drum set, drops down on one knee, clutches his chest and starts panting. Now he was a practical joker of Biblical proportions, so I come over and start kicking him and yelling at him to set up the fucking drums! He collapses and they roll him away on a gurney. Oops….. He didn't have a heart attack, it was a panic attack, and I had to tie my hair back in a pony tail, put a baseball cap on and set up the drums in from of over 375,000 people. Rock n Roll….. Everyone was warned that there was a line across the front of the stage that no one was allowed to cross. That was the sacred hollowed ground that only David Lee Roth could occupy. Just before we played the last song, "Metal Health," Kevin Dubrow turns around and says to me: "Is that the line I can't cross?" pointing to it, and laughed and said yeah…. He replies…. "Watch this!" and off he went where no one dared. Now that's Rock n Roll, that's Kevin DuBrow!
Also, do you still think of the US Festival every time you go to Palm Springs?
BANALI: I don't go to Palm Springs….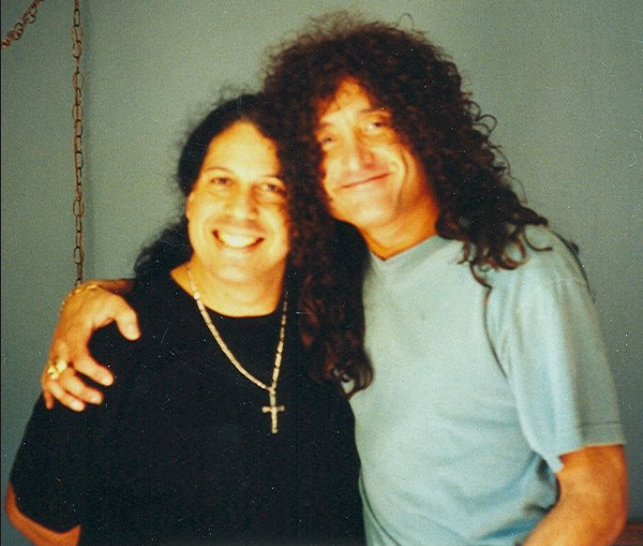 We loved Kevin DuBrow. Do you think of him often?
BANALI: Every single day of my life and I will for the rest of my life. I miss him as much as I miss my parents and spent more time with KD than I did with my own family same as he did. We had a great friendship and what made it great is that we went from being the best of friends, to being the worse of enemies, to repairing that friendship and became family. Life became a little less fun for me personally since Kevin died. Life goes one, that does not mean that it will ever be the same.
Tell us about how well James Durbin fits in?
BANALI: Surprisingly well. I knew he was really talented which is why he was my first choice when we realized that a change in the lineup was inevitable, though he was unavailable at the time. He really has this great vibe and confidence which I appreciate. He's a really good writer whose choices are not cookie cutter or pedestrian. And while he does Kevin's vocals and spirit justice, he also brings his own style which I embrace and is quickly becoming part of the QUIET RIOT sound.
Chuck Wright is everywhere. Have you ever met anyone who loves rock more than him?
BANALI: I consider Chuck the busiest of busy bees who is constantly going from place to place musically cross pollinating wherever he goes. I admire his relentless pursuit of musical endeavors and envy that he has the time to devote himself to such a degree. But most of all I appreciate his support and dedication to QUIET RIOT and me.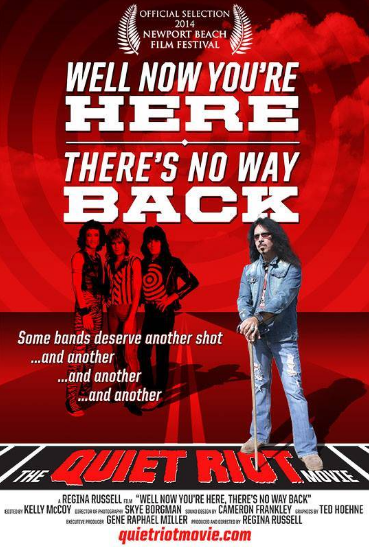 Your documentary was awesome, btw. How proud are you of it?
BANALI: I am proud that Regina was able to document the story of QUIET RIOT and worked tirelessly to bring such a complicated and complex story to life that spans decades and into real time and do it in a manner that is cohesive, factual and not glossed over or whitewashed. I and very proud of the film as a spectator and it's interesting to see a very large part of my personal and public life unfold before me on a screen. I laughed a lot, but I also had moments of great sadness too when I finally saw the final cut.
Click poster for more info on the Quiet Riot movie (DVD)

Are you still friends with Carlos Cavazo?
BANALI: Carlos is a ridiculously talented guitarist, more so than he's credited for. I'm still a fan of his guitar playing. I think it's important to understand that Carlos, Rudy, Kevin and I shared an incredibly historic time together. But I think it's also important to understand that Carlos and I, while we did have a lot of fun together, we were never very close because we have different tastes, different interests, different friends, different lifestyles. That was as true then as it is now. Carlos has not been a part of my life or that of QUIET RIOT for 14 years, and in that time the divide has grown further apart by lack of interest on both sides. But whatever the situation is, or whatever his feelings are towards me, really doesn't matter because while we will always be a part of each other's music history, it doesn't mean we have to be in each other's lives. I wish him well, always have and always will.
What is the general reaction when you introduce yourself as the drummer from Quiet Riot?
BANALI: I stopped introducing myself as the drummer of QUIET RIOT when people started calling me the drummer of QUIET RIOT. Now you either know that or you don't.
David Led Roth used to insult Quiet Riot from stage with the Jack Daniels. Did you ever confront him?
BANALI: I never see Diamond Dave, and back in the day confronting the mighty David Lee Roth would be as ill-advised as stepping into the cage of a starved lion wearing a suit of bacon….. I like a good argument, a good fight, but it has to be worth it.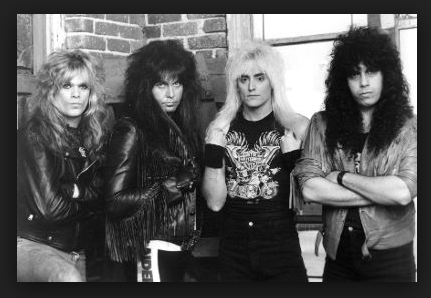 Talk about your contributions to Faster Pussycat at WASP. Did you enjoy playing with them?
BANALI: The "Faster Pussycat" experience was interesting. At the time, people were comparing me going on tour with them in the same light as Matt Sorum coming onboard with Guns N' Roses. It was a lot of fun to play with those knuckleheads, and I really liked playing their songs in time. That was a really complicated lineup, and I just stayed out of everyone's way and just watched what was going on around me like a wonderfully corrupt Hollywood b-movie. W.A.S.P. was a great and educational experience for me. I had known Blackie for a long time, though not well, but we were meant to work together and we finally did when I recorded the drums for the 1989 "Headless Children" record and subsequent year long world tour. I have played on nearly half of all of the W.A.S.P. catalog and I'm very proud of that. I have so many incredible and funny memories of that tour and Blackie and I are still friends. As a matter of fact, I got a email from him just yesterday wishing me a Happy Easter.
What's the biggest QR cheque you ever got?
BANALI: What are you, the IRS…..?
Was Spencer Proffer always straight with you?
BANALI: It depends on one's definition of straight. Did I know what I was getting into working with Spencer? Yes I did and so did everyone else. I learned a lot from Spencer, both good things and bad things. Spencer was a great producer for QUIET RIOT and I also understand that had he not signed us to a record deal and had we not defined a genre and achieved the success we did, you would likely not be interviewing me. I can't change the past, so I don't think about it, I'm aware of it. Not forgetting something and thinking about something are two very different things. Once you put those two elements in perspective you can live a better life, and life is short, so live it as well as you can.
Did you ever meet the guys in Slade, and if so, did they thank you for the millions of dollars you put in their pocket?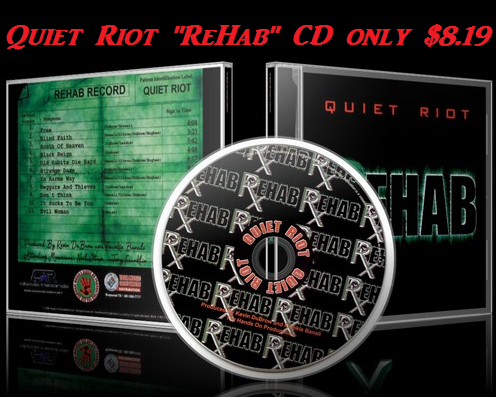 BANALI: I only met bassist and songwriter Jimmy Lea. QUIET RIOT were in London getting ready to start the UK tour supporting Judas Priest, and I went to Kensington Market the at the time hip place for rock and roll regalia. I spotted him in a store and went in, introduced myself (and yes as the drummer of QUIET RIOT) and put out my hand to shake his. He gave me the cadaver-cold, lifeless handshake and turned around and walked away without a word. When we were about to play Hammersmith Odeon in London, our management sent word to the Slade camp offering them VIP everything and a limo to the show. I'm still waiting to hear back if they can make it….. The thing is, Slade made all the money from our versions of the songs they wrote and we got all the fame. Fair enough. And while on the subject…. News Flash…. QUIET RIOT was not the first band to have a hit that another band wrote and we won't be the last, so get over it.
Give us 3 reasons for a 21 year old to start a new band.
BANALI: Personal freedom of artistic expression. A education in how different the many people you will play with are, file that under life's lessons. It raises your percentage of getting laid. Number three is the deal closer.
Which does Alex Grossi like more — hookers or blow?
BANALI: Hookers who do Blow getting so wasted they forget to get the money for the services in advance.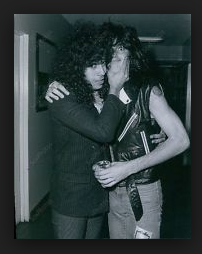 Did you consider Motley Crue friends or rivals back in the day?
BANALI: Neither. We were already climbing up the ladder and we never looked back. They were a heavier band and we were a rock band. Each of our successes neither hindered or help the other. I always got along with Nikki and still do, I like him a lot. Tommy and I became friends, but went in different directions. Mick I knew somewhat before both Motley and the "classic" QUIET RIOT existed. He's a great guitarist and a really sweet guy. I've always gotten along with Vince on the rare times I run into him over the decades, but I can't say I know him very well.
Do you think there will be a World War III?
BANALI: I'm sorry, I can't hear you in my bomb shelter……
Fifty years from now, Quiet Riot will still be on the radio. How cool is that?
BANALI: It's a nice legacy to have, though by then I won't be here to hear it…..
What is the most interesting thing in your pockets right now?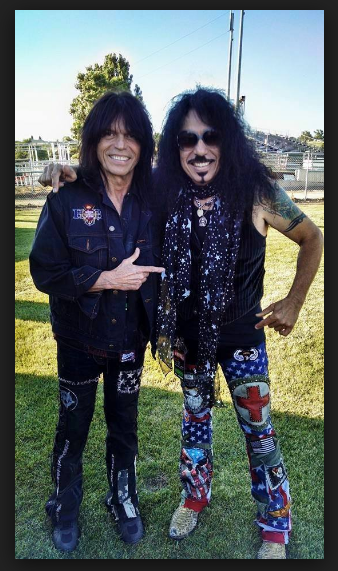 BANALI: A thumb drive with today's QUIET RIOT "Road Rage" mixes for me to review to make sure I'm still happy with the day's efforts. Oh, some lint.
Do you still get the same rush playing in front of 10,000 like you did in your 20s, or are you jaded?
BANALI: Everyone likes to play for 10,000 people, but I enjoy playing for whatever size audience we play to. Once I put on my stage clothes on after taking care of the business aspect of QUIET RIOT, I'm that little kid who wanted to do this, who wanted to play drums in a rock band. You can say whatever you want about QUIET RIOT or me, but you will never take that feeling away from me. You can't. That's personal, not business.
Do you wear black pajamas?
BANALI: With white skulls…..
How protective are you over your daughter?
BANALI: Try me. Believe me, it won't end well for you or anyone or anything you hold dear. And that protection is the same for anyone in my family.
Did you ever destroy a hotel room?
BANALI: What's the legal statute of limitation of redecorating without a permit?
And finally, what is the funnest thing about being in Quiet Riot?
BANALI: That some people actually think they can take shots at QUIET RIOT and that they will make a difference by doing so. The more they do that, the more determined I am to continue and the more I laugh. I find that funny!
Quiet Riot @ WebSite – Facebook – Twitter – iTunes – The Movie (DVD) –
Frankie Banali @ WebSite – Facebook – Twitter – YouTube –
Gerry Gittelson can be reached at gerryg123@hotmail.com