DUDE LOOKS LIKE A LADY
Vinnie Vincent makes first public appearance in decades at Atlanta Kiss Expo
By: Bob Suehs
ATLANTA, Georgia — The following is a report courtesy of Bob Suehs and Rock N' Roll Experience.
Vinnie Vincent made his first appearance in over 2 decades at the VIP reception for the 2018 Atlanta KISS Expo.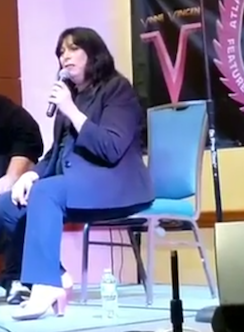 Vinnie arrived late to the expo and granted Eddie Trunk an exclusive interview prior to his scheduled 2 PM Meet and Greet.
Vinnie entered the hall sporting pink women's boots and a Little Richard styled wig.  Vinnie wore red lip stick and heavy make up which did little to cover his age and weight gain.
Vinnie's answers were delusional at times, he stated that he never felt like he was a part of the KISS group, that Paul was a comedian in the style of Don Rickles, and that Gene taught him how to be a rock star.
The biggest revelations of the day were:
Vinnie Stated that he would love to perform onstage with KISS again.
Vinnie said that Gene has asked him to appear at the Nashville release of the Gene Simmons Vault and that he will indeed be there.
Vinnie apologized for his box set fiasco and stated that every person who ordered the set in advance would receive 2 copies as well as a special thank you gift from Vinnie.
Vinnie broke down at one point while talking about his wife and had to pause in order to regain his composure.