eBroke
SouthGang singer Jesse Harte selling random items on internet store
eBay — SouthGang singer Jesse Harte has recently surfaced on the popluar public internet store eBay.
The once promising singer is trying to raise some money via several recent auctions that include previously used music equipment to odds n' ends such as framed autographed photos.
Harte even listed a Butch Walker Alvarezz acoustic guitar.
Walker was the band's standout musician who wemt on to have a successful career as a producer, song writer and solo artist.
It appears the guitar was coveted by fans, so much so Harte notes the auction is now over as someone made a "generous offer" and bought it direct from the singer.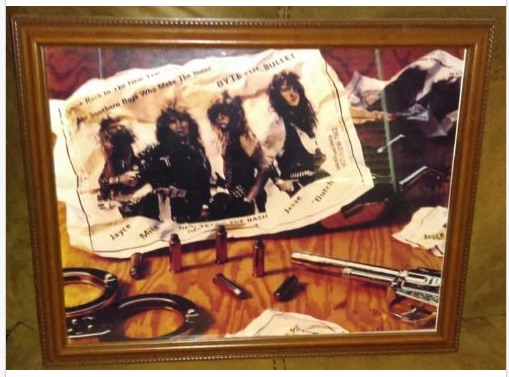 For $ 175.00 this framed photo can be yours.
Last we heard from Harte he was re-launching SouthGang 2.0, with a host of new players. Bur that seemed to fizzle out before gig #1.
Previous to that it was his project Bloody Red Hearts which did release an E.P. of music back in 2012.
Other than some hard stance political rants on various public social networks platforms, the singer has been relatively quiet on the music front.
It's nothing new for musicians to sell on eBay, but there is one item that stands out.
There is a listing is for what looks like a crinkled up flyer, photographed on a table with a collage of bullets, a hand gun and handcuffs around the image.
The image sits in a basic frame and the description of the signed photograph reads as follows:
In 1989 I was on the Sunset Strip standing in front of the Rainbow and a very cute girl and fan of my band walked up to me. She said I am studying photography and I made these for you. She handed me two framed pictures she had creatively shot after picking up one of the bands fliers off the street a week before. I was simply floored and thanked her. One of the pieces is in my man cave and the other up for auction. I will be happy to autograph and you can have the only other original from that night 27 years ago!
Best
Jesse Harte

As of this posting the listing has zero bids.
But, if you're in the market for a crinkled up flyer in a random frame for $ 175.00, the link is HERE.