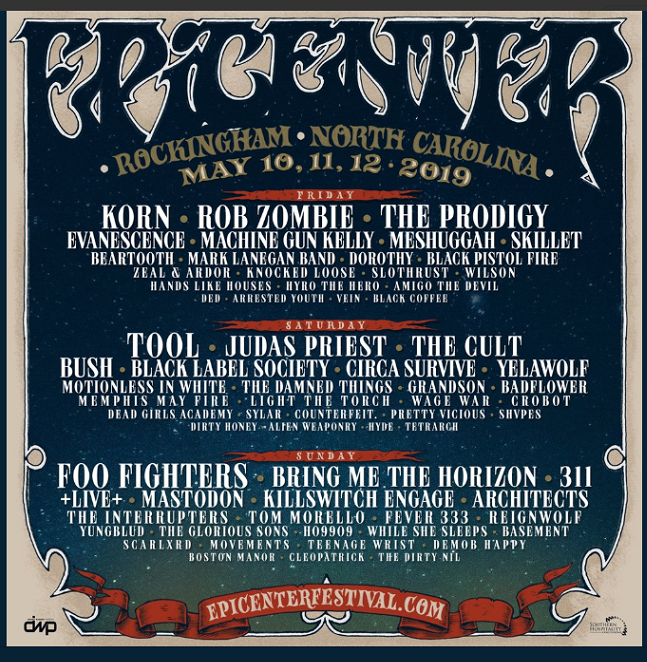 EPIC FAIL
Epicenter's colossal cluster of errors & bad weather leaves thousands stranded in cars for hours
ROCKINGHAM, North Carolina — A three-day camping and concert event in Rockingham this weekend was expected to draw thousands for performances by the Foo Fighters, Judas Priest, Tool and other rockers. But some who paid hundreds for tickets found themselves sitting in traffic, worried for their safety and, on Saturday night, forced out of the outdoor venue by severe weather.
By Sunday, many who had purchased multi-day passes to Epicenter Festival at Rockingham Speedway decided to cut their losses and stay home, and crowds were lighter under mostly sunny skies.
Leland Parker, of Marion, S.C., emailed WRAL News as the crowd built Sunday afternoon.
"It seems like another good day out here. Sun has come out," he wrote.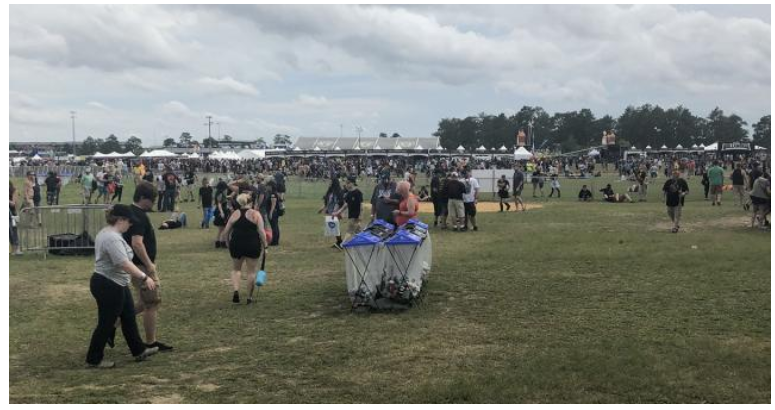 Hours in traffic only to miss concert
Several ticketholders told WRAL News they were stopped in traffic along U.S. Highway 1, waiting hours for access to the festival grounds. Some gave up. Others waited hours after midnight, into the wee hours of Saturday morning, to leave the grounds after Friday's performances.
"I've been to a ton of shows, and I have never had this problem," said Kelly Tesh, of Smithfield. "I've been to PNC Arena, to Walnut Creek, to shows in other states, and I have never had this problem."
Tesh and another person made the drive from Smithfield, getting within a few miles of the concert by 5 p.m. on Friday. She said that by 9 p.m. they progressed about a mile and a half, and their GPS showed another mile and a half to go.
The pair, who had spent $220 for two single-day tickets, turned around and went home.
Organizers posted to Facebook on Saturday that they were adding access lanes.
"Today we have increased the number of inbound day parking lanes that should make the inbound better. Of course, as with any large event, you should expect delays and we still encourage everyone to arrive early," they wrote.
The problems were compounded Saturday as severe weather moved in and the (largely outdoor) venue had to be evacuated.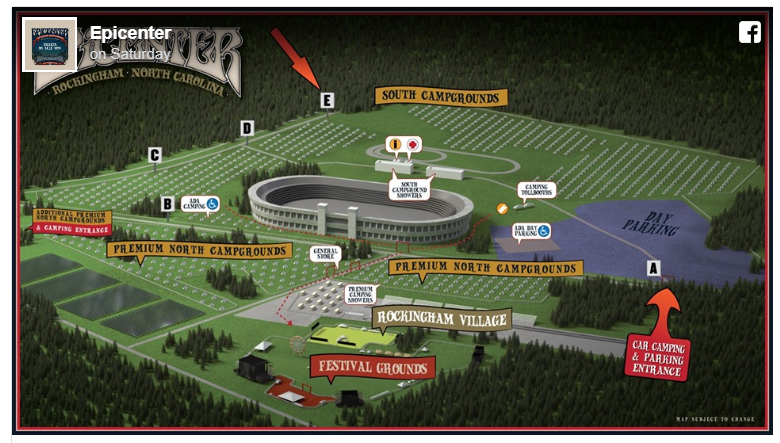 Severe weather cancels Saturday night performances by Tool, Judas Priest, The Cult
Those in attendance, many of whom were camping on the site for the weekend, were urged to seek shelter in vehicles as the storms passed.
WRAL meteorologist Kat Campbell said organizers made an absolutely necessary choice to evacuate the venue. A tornado warning was issued just west of Rockingham early Saturday evening when the National Weather Service spotted rotation in the atmosphere north of Wadesboro, about 30 miles west of Rockingham.
"There were definitely storms in that area packing dangerous lightning, heavy rain and some hail," Campbell said.
By 6:30 p.m., the festival posted to Facebook a message from the North Carolina State Highway Patrol asking people to stay in their vehicles and not to attempt to drive.
Right after 8 p.m., the slate for Saturday night – which featured The Cult and Judas Priest and was to conclude with a performance by Tool – was scrapped. When the Sunday schedule was posted, none of those bands were on it. The Sunday headliners, the Foo Fighters, were scheduled to conclude the concert.
Everyone was asked to leave.
William Hyland, who used vacation time to travel from Massachusetts with his girlfriend for the concert, said only the calm in the crowd kept the evacuation from getting out of hand. He said there were not staff on the ground to guide people to the exits or to keep them informed in the fluid situation.
Of the traffic and parking, Hyland said, "It was an entire fiasco."
Ticket prices started at $80 for standing-room, general admission access to the grounds for a single day. VIP tickets, which included dedicated entrance lanes to the festival and access to air-conditioned restrooms, cost up to $250 for a single day and $400 to $475 for a three-day pass. According to the festival website, all weekend VIP passes were sold out.
Hyland and others expressed frustration that, after they had purchased multi-day passes for hundreds of dollars, those who purchased a single day were offered the chance to return for only $1. Two of the concert-goers that WRAL spoke to got the offer in their email in the days leading up to the concert.
Parking passes were an additional $15 for a single day and $40 for the weekend. On the website, parking was described as "parking in an official Rockingham Festival Grounds lot," but several people told WRAL News they were directed to park in open fields with little lighting or security.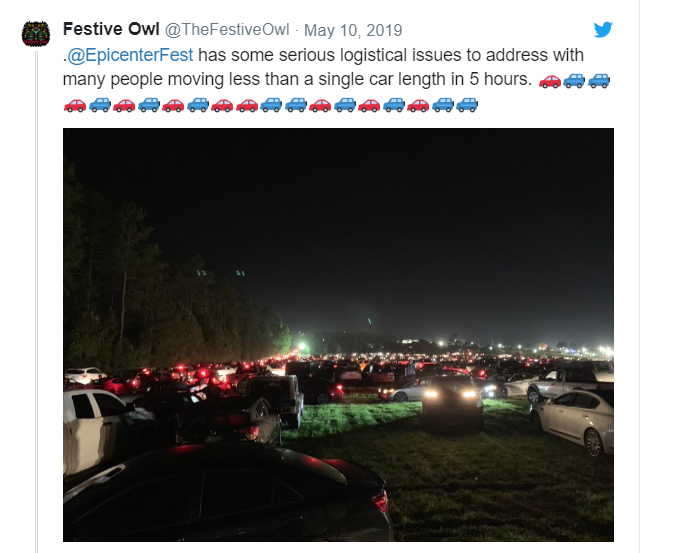 Parking lot 'like caged animals'
Ethan Brown, of Raleigh, his wife Elizabeth and their friends from Atlanta, purchased the three-day pass, but after their experience on Friday decided to eat the cost of the remaining two days.
"It was like caged animals," Elizabeth Brown said of the scene in the parking lot after Friday's performances.
The Browns said they sat in traffic – "like literally in park," Ethan Brown said – for about three hours between Hoffman and Rockingham Speedway, a distance of about 6 miles. They did get into the concert Friday night.
The problem came when it was time to return to their hotel.
"We got to our car at 11:10 p.m. and we did not move from that parking spot until 3 a.m.," Ethan Brown said.
Both Browns described a parking situation without oversight, with few lights and with no visible security. They said people were visibly intoxicated, jumping on top of vehicles and blowing horns.
Finally, Ethan Brown said, a woman knocked on their window and told them someone had cut through the fence to create an exit. "So we did that," he said.
Hyland said he, too, waited in his vehicle for more than an hour with no information before becoming aware of the gap in the fence that he used to exit the festival grounds.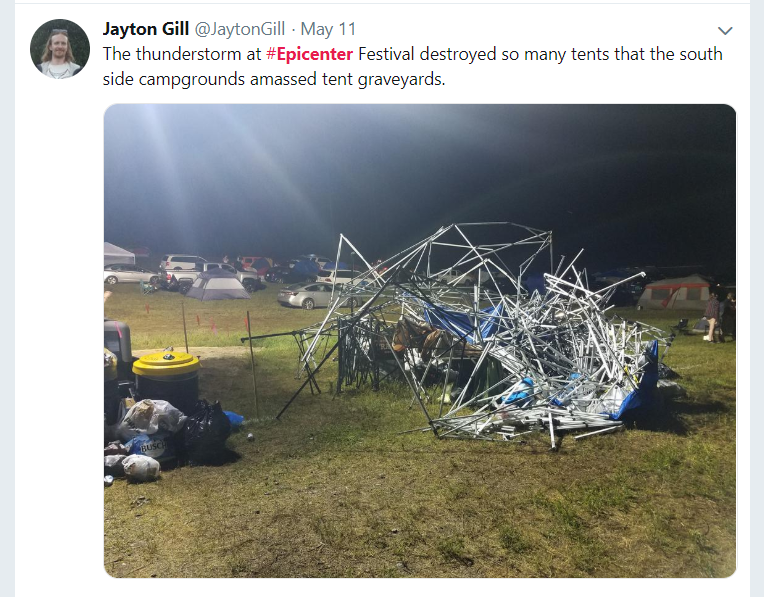 On Saturday morning, the Browns and their friends met several others with Epicenter tickets in the lobby of their Southern Pines hotel. All were trying to decide whether to return and use the tickets they had paid for or to give up on the chaos.
The Browns and their friends chose to return to Raleigh. After learning of the weather-related evacuation on Saturday night, they were doubly sure they made the right decision.
Hyland returned for Saturday and ended up sitting out the severe weather. Asked whether he would head back for Sunday's concert, he said, "We are thinking we're just going to drive back to Massachusetts and not even bother."
Liana Wyatt, of Raleigh, wrote in an email, "I made a decision after the first day to not attend the rest of the weekend after the safety concerns I saw."
She described parking areas with no lights, apparent direction or visible security.
"There's no telling what time I would have gotten home if that fan had not busted through the fence. I thank that individual," she wrote.
"Very, very disappointed in what was supposed to be an epic weekend and the festival of the year for many people."
A Facebook group formed to consider a class action lawsuit against the festival had drawn almost 1,400 members by Sunday night, and people were sharing their experiences there.


The above story courtesy of local station WRAL