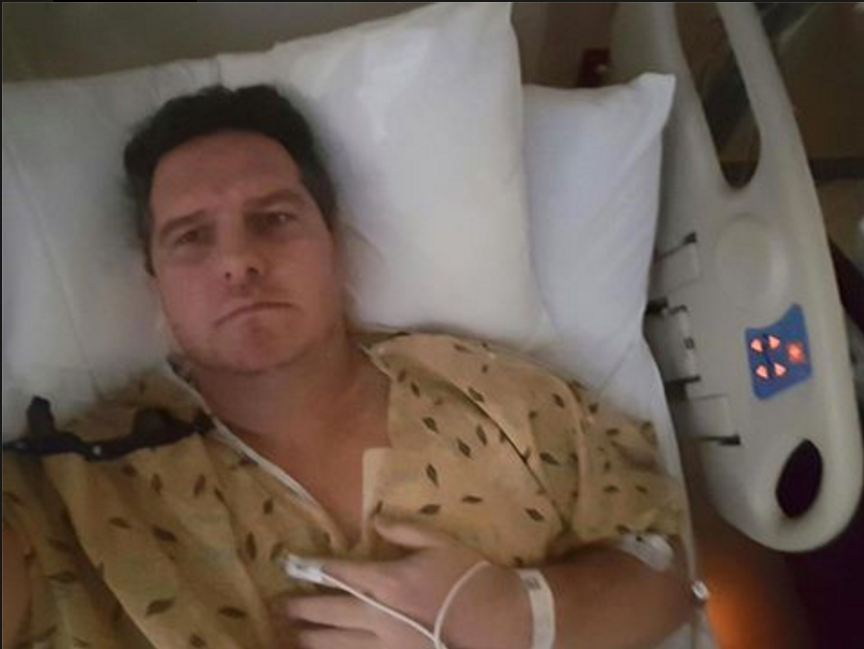 Photo courtesy of Facebook shows Freddy Stahmer recently in the hospital
FRAUD ROCK
Popular Farm Rock promoter Freddy Stahmer being sued and chased by FBI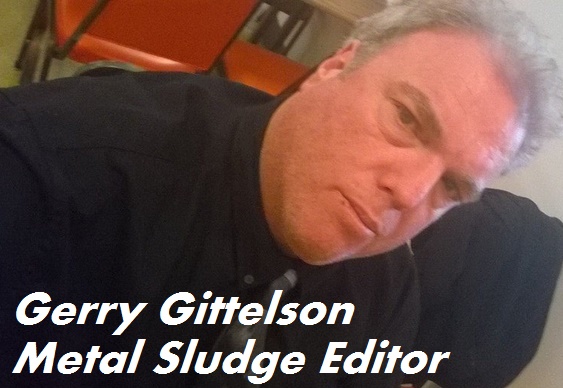 LOS ANGELES — It looks like Farm Rock promoter Freddy Stahmer has slipped in a big ol' pile of cow pie.
The Arizona businessman is being bashed on Twitter by noted rock reporter/personality Eddie Trunk, who proclaims HERE he was not paid by Fast Freddy for hosting the most recent Farm Rock event this past month in Tulsa, Oklahoma.
"Freddy fucked over a whole bunch of people, me included, and now (he) is on the run, hiding from everyone looking for him," Trunk wrote. "He has gone off the grid."
Furthermore, at least one civil suit has been filed against Stahmer and his company, Frederick Entertainment — their company Facebook site and his personal Facebook page have been taken down — and now, according to two close sources, a Tucson FBI agent is investigating Stahmer and has talked to at least two "victims."
It appears Stahmer has been allegedly collecting investment funds — some for just a few thousand dollars and at least one other for $250,000 — with a lot of promises but not much return.
A civil suit was filed Aug. 29, and you can see the link HERE on Daily Terriritial.
Metal Sludge called Stahmer's cell phone and left a message several hours ago, and he has yet to return the inquiry; we are not holding our breath.
At the first day of the two-day Tulsa event on Sept. 9, Stahmer allegedly promised to pay back an Arizona man between $30,000 to $50,000 from the gate proceeds, but the victim went all the way there and said he got nothing.
The man did not want his name published but said Stahmer complained of a pre-existing medical condition on the first day, went to a nearby hospital and never came back.
"He had given me a guarantee in writing, and I was there. I heard some of the bands were shorted, too," the man said. "I talked to the FBI, and the agent said this is a multi-state fraud investigation."
The man said Stahmer has dyed his hair, changed his appearance and is now on the run.
Another investor, Lisa Sunde, of Englewood, Colorado, said she saw this coming and collected most of the $13,000 she invested, cutting off ties last year after kissing goodbye the remaining balance of about $3,000.
"I tried to tell everyone, but all the rockers who had invested money took his side and not my side," Sunde said. "He paid me back in like three installments, and on the last one in April of 2015, he got very pissed. He was trying to avoid me, even when we were in the same vicinity, and I just kept texting him like crazy, telling him I want my money and harassing him. I just wanted my money back."
Sunde said she only got paid back some of her investment after posting negative posts online about Stahmer.
This story is developing. Stay tuned.
Gerry Gittelson can be reached at gerryg123@hotmail.com.