GLORYHOLE THIS
The Classic Metal Show talks the 'Eddie Trunk does not like Steel Panther' topic with Stevie Rachelle
YouTube — The Classic Metal Show recently tackled the Eddie Trunk doesn't like Steel Panther topic – once again.
With their weekly Saturday night show co-hosts Chris Akin and Wendell Neeley (pictured above with Trunk) touch on subjects related to the era, but don't hesitate to take (some of their) subjects to task.
The duo have previously had shows that featured their opinions and thoughts on Trunk going back to 2015.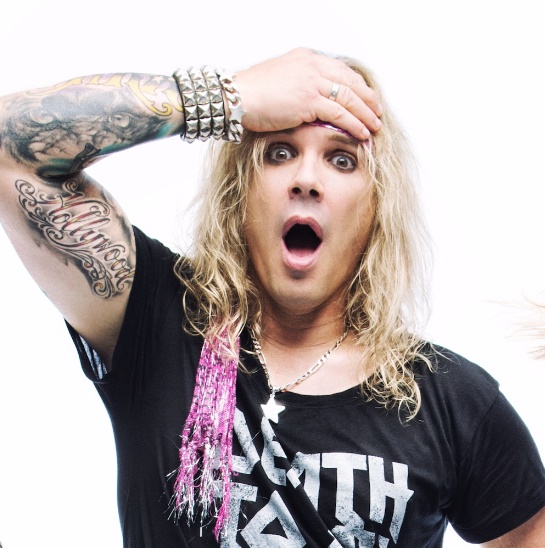 Some highlights from recent episodes include: "Eddie Trunk Doesn't Get Steel Panther" (Mar. 2015), "C'Mon Eddie" (Feb. 2016), "The Delusion Of Eddie Trunk" (Nov. 2016), "Eddie Trunk Loses His Mind Over The Grammys" (Feb. 2017) and again with "Eddie Trunk Is Scarred For Life" (Aug. 2017).
The late February show was the pair once again trying to understand the host of That Metal Show and his dislike for the Hollywood based glam gods.
Steel Panther singer Michael Starr (pictured at right) along with lead guitarist Satchel, Lexxi Foxx (bass) and Stix Zadinia (drums) are globally recognized and loved by many of their peers.
Except Trunk who has boasted his (not so nice) opinion of the group for years.
Akin a self-admitted shock jock and usually admits to being a ruthless prick is always a great listen when he gets on a roll.
Considering Mr. Akin thinks so highly of himself, you can only imagine some of the output from him on the show.
Neeley also a bit sharp at times, but he does not deliver with the knife-to-the-jugular style that Akin does.
Last Saturday night The Classic Metal Show in their 22nd year had Tuff singer Stevie Rachelle as their guest.
The 3 talk at length about their Eddie Trunk stories.
Rachelle also touches on the recent 80's In The Park festival in Florida and House Of Lords lip-syncing rumors.
Akin is a published writer who has a few books to his credit including his latest "Cause & Effect: Motley Crue – A Look At The Controversial Self-Titled 1994 Album From The '80s Most Notorious Band"
May we suggest listening to some of TCMS episodes found on various outlets below.
The Classic Metal Show @ WebSite – Twitter – Speaker – YouTube  – Tune In – Facebook – iTunes –