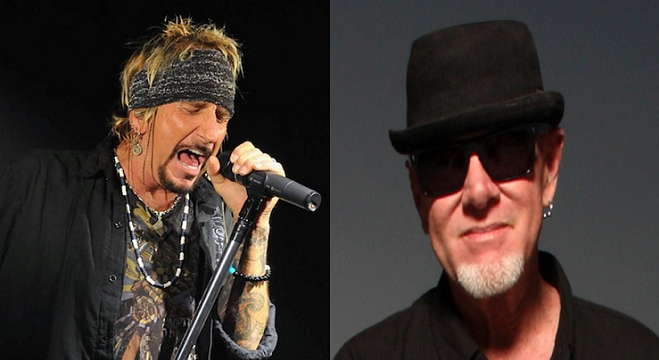 Blabbermouth — GREAT WHITE guitarist Mark Kendall has once again said that he holds no ill will toward the band's original lead singer, Jack Russell.
Russell exited GREAT WHITE in December 2011 after he was unable to tour with the group due a series of injuries, including a perforated bowel and a shattered pelvis. Jack largely blamed these injuries on his alcohol and painkiller addictions as well as the prednisone drug he was prescribed.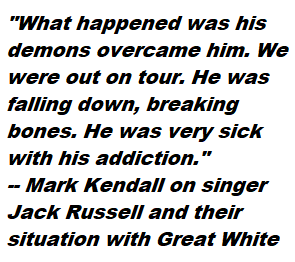 Asked in a new chat with That Metal Interview if Russell was fired from GREAT WHITE, Kendall said (hear audio below): "No. He wasn't fired. In the almost 30 years that we worked together, I think we might have gotten in, like, two arguments. Seriously! I mean, we were blood brothers. What happened was his demons overcame him. We were out on tour. He was falling down, breaking bones. He was very sick with his addiction.
"I work with addicts daily," Mark continued. "I literally have worked one-on-one with over a hundred people in the last nine years. And there are people I've met that can get a DUI and they've got nine years sobriety today; it's, like, a DUI is plenty. And then, on the other part of the scale, there's a guy that loses his family, his job, his house, his cars — everything — and he still doesn't stop [drinking or using drugs].
"We tried everything, and Jack was just unable to perform. He was so sick, his body was just breaking down. He had a walker. We had to push him in airports in a wheelchair. He had to sit down at the shows. And it became so bad and he was so dopesick that he just could not continue. And I've been at his hospital bed, I've been at his bedside in rehab centers day after day after day, being as supportive as possible.
"We just [told him], 'Go get well. We'll get a singer to fill in. And just get yourself healthy.' And he kind of just was unable to return. He didn't wanna come back on those terms. So he just went out and found musicians that would play with him and [made] his own [version of] GREAT WHITE, which kind of turned into this lawsuit thing, which we hated.
"People that assemble together, they're called a band because it's a group of people," Mark continued. "So one guy can't just leave and just call himself the band. That was our point. So we kind of won the lawsuit, but we wanted him to have a way to make a living, because the people he worked with were accepting him the way he was. So we were fine with that. So we let him call himself JACK RUSSELL'S GREAT WHITE or whatever.


Read the Full Article at Blabbermouth