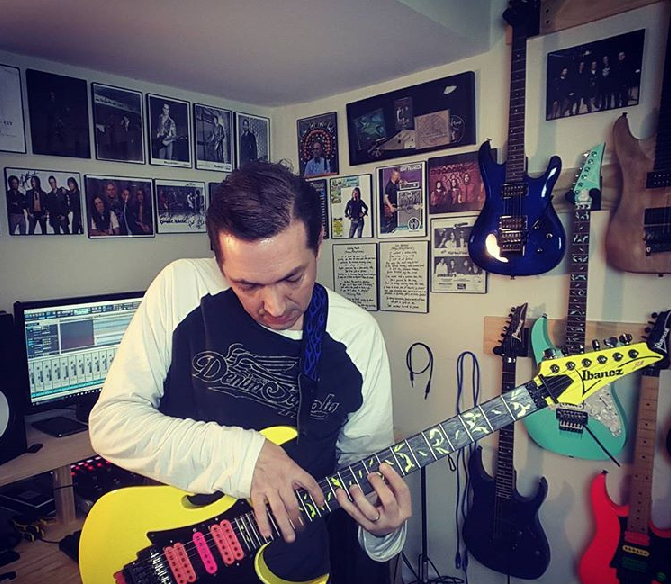 GUITAR GUY
Duane Morano talks his new CD, says "Mick Mars is underrated" and "Pledge Music is despicable"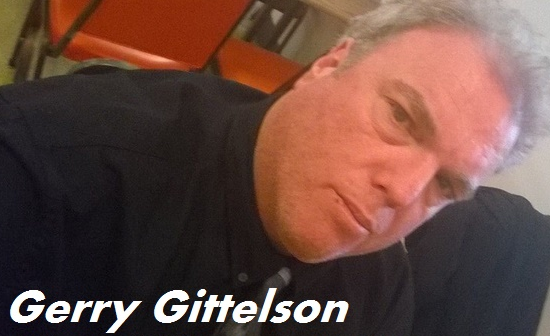 LOS ANGELES — Duane Morano is a late bloomer. With one foot still in the 1980s, Morano has come forward with an impressive new CD called "Incognito" that features a good batch of noteworthy collaborators and impressive performances.
Not to mention good songs. That's not always a given these days.
We caught up with Morano, and here is what went down.
————————————————————-
METAL SLUDGE: Did you see the latest Pledge-music controversy about Danny Vaughn, who also happens to be your singer? Thoughts?
DUANE MORANO: What pledge is doing is despicable. Danny has kept me in the loop on this since day one and I stand with him 100%. I removed everything from my store as show of solidarity and am asking people to get a refund. Once they get their refund, the can go to duanemorano.com and repurchase the CD, signed CD, or digital download because we all agree internally that I'm most likely going to be next on the unpaid list and I need to cut my loses.
If people bought other items beyond the CD, they can send those funds via paypal. Besides being a musician, I'm also an accountant and every artist should be get paid what they are owed on the terms that were agreed to. I don't understand how a company can blow through money that really isn't theirs.
What they did should be criminal. Pledge's latest press release gives me little hope that they will be able to secure working capital unless they file bankruptcy to restructure or sold the business. I don't see a way forward for them at this current moment.
MS: Are you sure this new CD was done in 2019? It is great but sounds more like 1989. Do you love 80s rock or what?
DM: 1989 was a great year because I graduated High School. Making Incognito sound like 1989 was intentional. When I set out to record my first CD, I wanted to go back to what inspired me to play and it was that late 80's time frame.
I did manage to sneak in some 7 string guitars on Manhattan and Barely Breathing. I love the 80's rock and that's where it all started for me but I'm actually into a lot of different types of music. The last 5 bands played on my phone are Halestorm, Elton John, Albert Lee, Breaking Benjamin, and Stevie Wonder.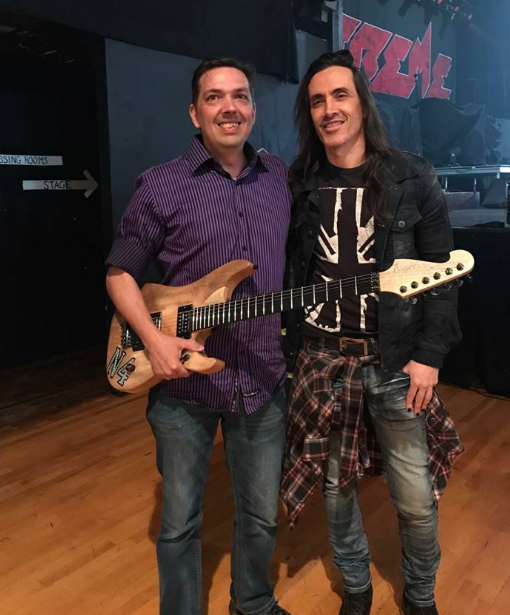 MS: Speaking of the 80s, what bad habits do you still have?
DM: I'm a smoker. I haven't been able to kick that one but need to.
MS: At what point in your life would you rather sleep with your guitar than a woman?
DM: I'd prefer a threesome with the guitar and woman. That would be mind blowing.
Duane with Nuno from Extreme hanging at soundcheck
MS: Did you touch yourself during the government shutdown or wait till it was over?
DM: I'm Italian. We don't need a shutdown to touch ourselves.
MS: What is in your pocket right now?
DM: A pack of smokes, 3 guitar picks, and my phone.
MS: You had some big-name collaborators on your CD. Who surprised you and made you say, "Holy crap, I did not realize he was that good!"
DM: That's a tough one because everyone had their moments where my mouth hit the floor. Danny's vocal on After the Love, Tony Franklin's bass line on Cookie Jar, and surprisingly my brother John. He completely reworked the bass line for Giovanna from just simple 1/8 notes into a moving, living thing.
The one that surprised me the most though was Terry Ilous. Besides being such a great vocalist, his ability to write a song and make changes to them went beyond anyone I'd ever worked with. The way his mind works and what he hears in his head is remarkable. He knows instinctively where every note should be so nobody steps on each other.
MS: What's the last thing you spent more than $100 on?
DM: A Millennium Falcon Lego set for my daughter.
MS: As a guitar player, give 3 reasons why music should return to school curriculums.
DM: 1- Music is an essential form of self expression and creativity and requires no additional resources. If you have a mouth, can clap, snap, or stop your feet, you can make music.
2- It can teach teamwork without creating competition. The fundamentals of music are for yourself and can be enjoyed in a group or solo.
3- It teaches essential math skills like fractions, addition, and division.
MS: Why do girls like guitar players?
DM: We're not as cool as the singer or as lame as a bass player.
MS: Give a little comment or memory about the following guitar players:
DM: — Eddie Van Halen -He changed the guitar world for me. My first real exposure to VH was 5150. I was listening to players like Chris Hayes from Huey Lewis but 5150 changed my playing direction.
— Slash – The first time I heard Slash I ran out and bought the cassette for GnR. It was so aggressive and filled with attitude.
— CC DeVille – A guitarist who plays for the song. He's really good at that. He doesn't over or under play.
— Carlos Cavazo – Mental Health is a staple and essential listening for all guitar players.
— Mick Mars – One of the most underrated guitarists out there.
— Neal Schon -One of the few guitarists that can do it all successfully. He's an amazing writer and amazing player. That's very hard to accomplish and a rarity to be both.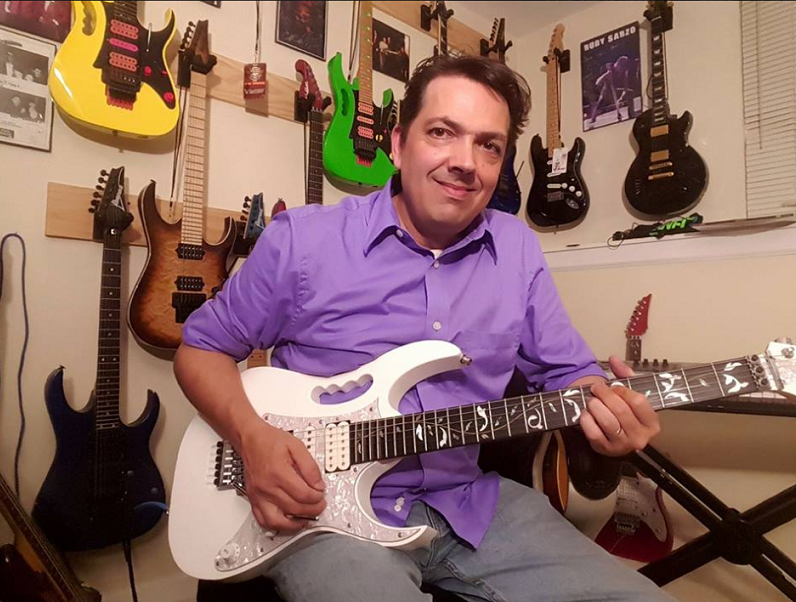 It appears that Duane has a lot of guitars.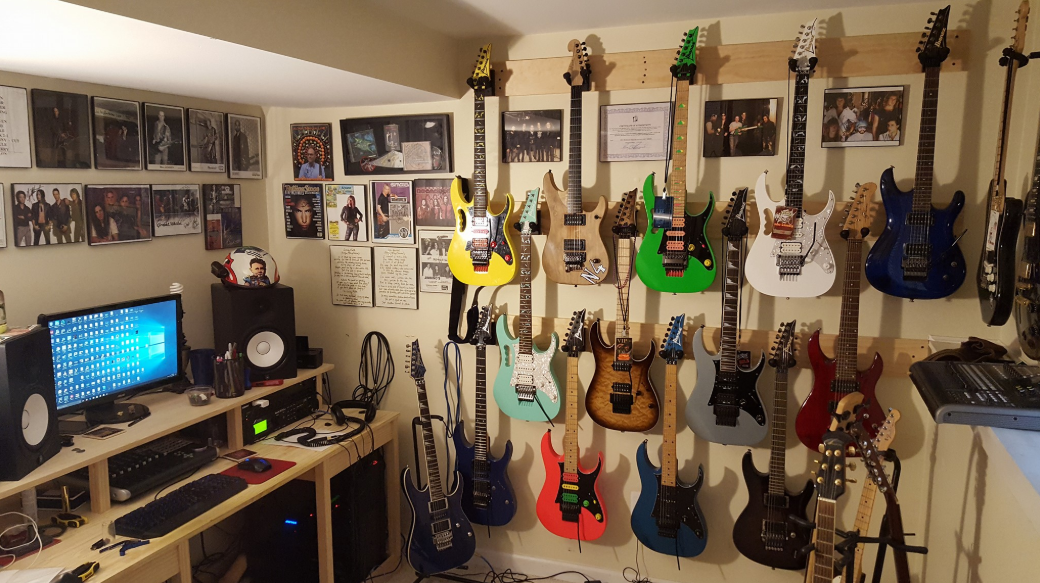 Wow…we have a feeling all isn't even pictured?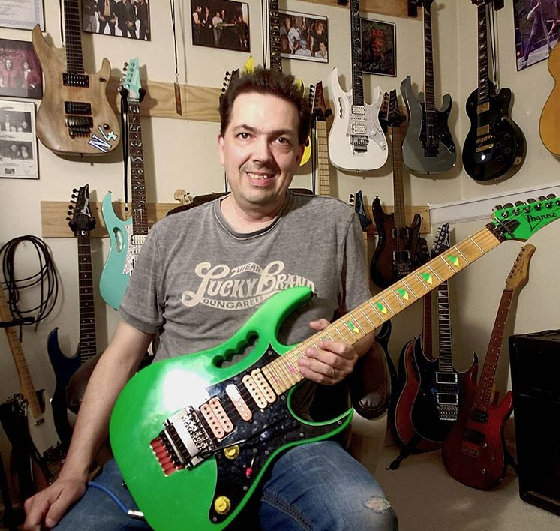 Duane informed us: "I own about 30 guitars. 3 basses, 3 acoustics and 24 electrics"
MS: How familiar to you are most of the artists these days on Billboard's top 10?
DM: I listen to a good amount of new music but I don't pay attention to the charts anymore so I couldn't tell you who's in the Top 10.
MS: Name a song that always makes you turn up the volume.
DM: Rob Zombie's Foxy Foxy.
MS: Is "sex, drugs and rock n roll" in the proper order?
DM: Yep.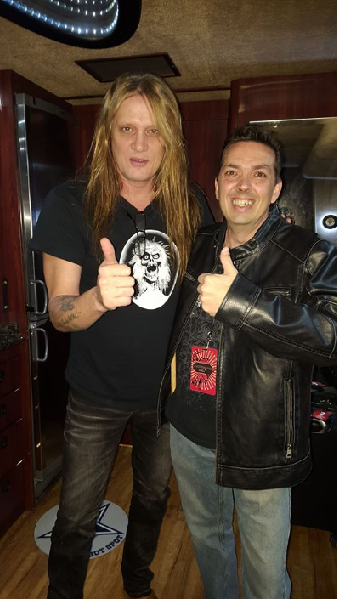 MS: Do you think legalizing marijuana is a good idea?
DM: I do. I don't smoke marijuana but it seems much safer than alcohol.
MS: Did you wish you were Keith Partridge with all the screaming girls chasing you down the block?
DM: I was like 2 when this show came out but anytime you are chased by screaming girls, I'm sure a good time always followed.
The Youth Gone Wild meets Duane Morano 
MS: List 3 great tips for a young guy looking for a girlfriend.
DM: 1- Be yourself
2- Pull up your pants
3- No D**K pics!!!
MS: If you could be buried one day with your favorite CD or old album, what would it be?
DM: 5150
MS: What were you doing during the following years:
DM: 2015 — Thinking about doing a CD
2010 — I just moved from Florida after spending 30 years there
2005 — I don't remember this year. Nothing notable happened.
2000 — Preparing for y2k. The sky didn't fall, the planes didn't crash, and life went on as normal.
1990 — Playing the local Tampa Bay music scene with Shattered Image
1980 — I was 9 and learning how to play the trumpet.
MS: Is Taylor Swift too tall for you, or would you make an exception?
DM: Actually, She's the same height as my wife.
MS: What 3 things do you have in common with Axl Rose?
DM: We breath air, eat food, and like AC/DC. That's about as much as I have in common with him as far as I know. I was never a lifestyle follower so I couldn't tell you anything about him.
MS: Finally, anything to add?
DM: Thank you so much for having me and please go to Duanemorano.com or visit me on Instagram, Facebook, or twitter.
Duane Morano @ WebSite – Facebook –  Instagram –  Shop – Youtube