GUNS N' ANGER
Bearded jerk in Guns N' Roses t-shirt pushes over Hollywood street vendor's food cart
HOLLYWOOD, LOS ANGELES (KABC) — A heated confrontation between a street vendor and a man walking his dog ended with a food cart overturned, spilling its contents onto a Hollywood street.
Police are looking into the confrontation, which was recorded by the vendor, Benjamin Ramirez.
In the video, a man is seen walking his dog with a woman in Hollywood near Romaine Street and El Centro Avenue. He gets into a confrontation with the street vendor in Spanish, telling the man to stop blocking the sidewalk.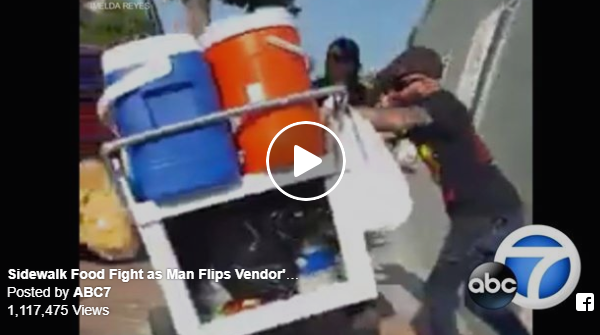 Ramirez, who records the encounter on his cellphone, and the man exchange angry words in Spanish. Holding an apparent Taser in his right hand, he warns the vendor to move the cart or he'll move it for him.
Ramirez, 26, recounted the confrontation in an interview with ABC7. He said it was the fourth time he's had a run-in with the man and woman seen in the video.
"He kept coming back and telling me that I couldn't sell here," Ramirez said through a translator. "I kept ignoring him. Then he sent his wife one time and I didn't understand anything she was saying, so she sent her husband. He said, 'You need to leave here. You're going to have serious problems with me.'"
Eventually the man ends up overturning Ramirez's cart, spilling most of its food contents into the street.
"He kept telling me that there was no room to walk on the sidewalk, and I said, 'There's plenty of room to walk around,'" Ramirez recalled. "I was afraid he was going to hit me with something because he came at me with something, so I grabbed my bottle of chili. I meant to throw it in his face but it landed on his chin."
Updated: The suspect in the Gn'R t-shirt has been exposed. Go read more at ScallywagAndVagabond.Com 
Read the full story from above at ABC7.Com