Guns N' Roses tix giveaway at "Tower Records" on Sunset Strip

Updated: Friday April 1st 9:15AM (PST)
Hollywood —  As we reported HERE the rumors have been heavy that a reunited Guns N' Roses will play a surprise show on Friday April 1st 2016.
The club getting the most attention from insiders was Doug Weston's world famous "Troubadour" in West Hollywood. As of early this morning it appears the band is definitely playing somewhere, but no one knows for sure just yet.
One new lead is Tower Records. Clearly something is happening here as the location is covered in Guns N' Roses promo and there is a lot of activity going on.
Will the band perform at the original Sunset Strip famed record store location or is this just the hub for the ticket giveaway?
No one knows for sure.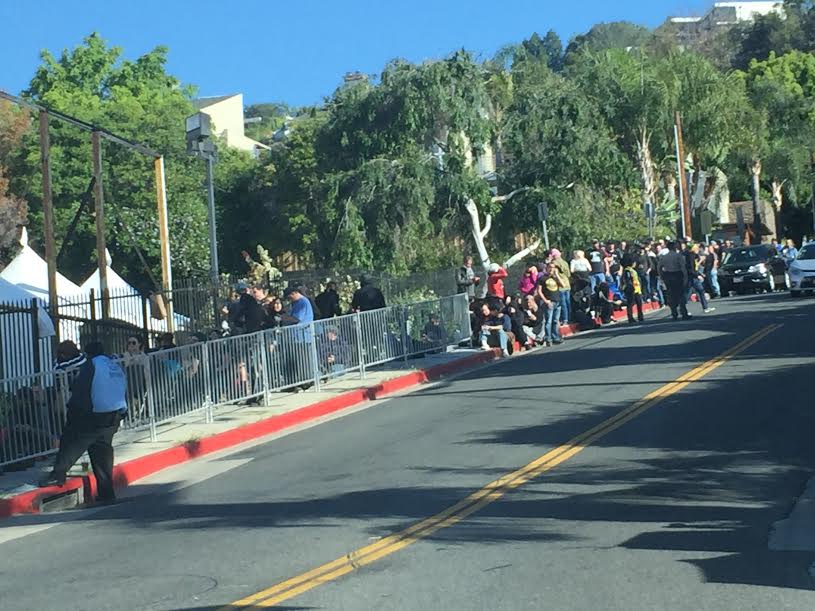 Metal Sludge's roving reporter 'Dirty' Dick GaZinia said diehard fans are already lined up and sent us the pictures included in this article.
GaZinia tells us by phone; "There are easily 4-500 people in line already, and it's gonna be a madhouse before noon."
The security and personel tells GaZinia that wrist bands will be given out at 10:00AM and it will be limited to 250.
For fans of the band who know their history, some will remember that both Slash and Axl Rose once worked at the famed record store in the early 80's.
The Tower Records location has been out of business for a decade closing it's doors in 2006 but the same structure still stands today.
The property owner is Gibson guitars which is Slash's longtime guitar endorser.
Ironcally the building was repainted in the fall of 2015 for the documentary All Things Must Pass a documentary about the famed store.
Another photo shows 2 different vans from KLOS radio at the Coffee Bean parking lot directly across the street. We suggested yesterday to tune into this station (95.5 in Los Angeles) if you live locally for more details.
Elton John and his guest Lady Gaga performed in the parking lot just over a month ago on February 27th.
Stay tuned for more on Guns N' Roses somewhere in West Hollywood tonight.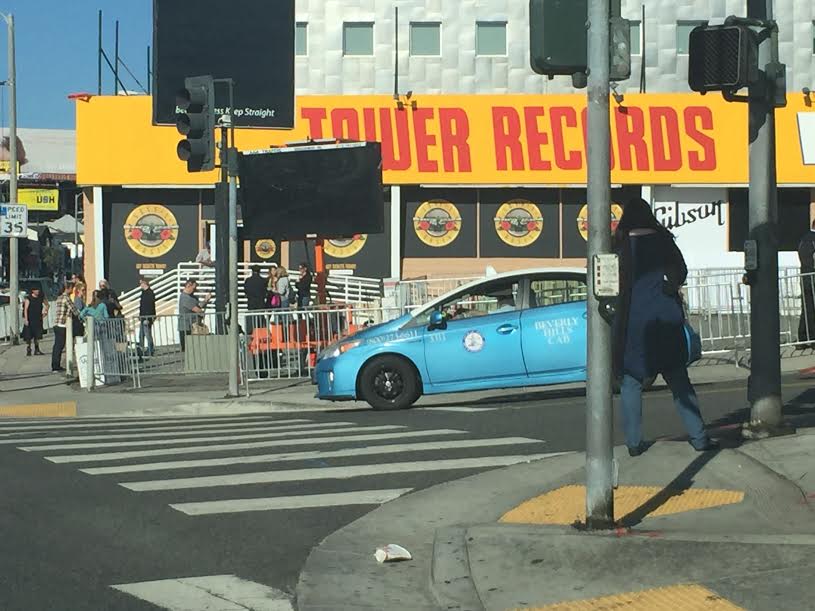 The "Troubadour" opened in 1957 and has been home to some of the worlds most elite talent on-going.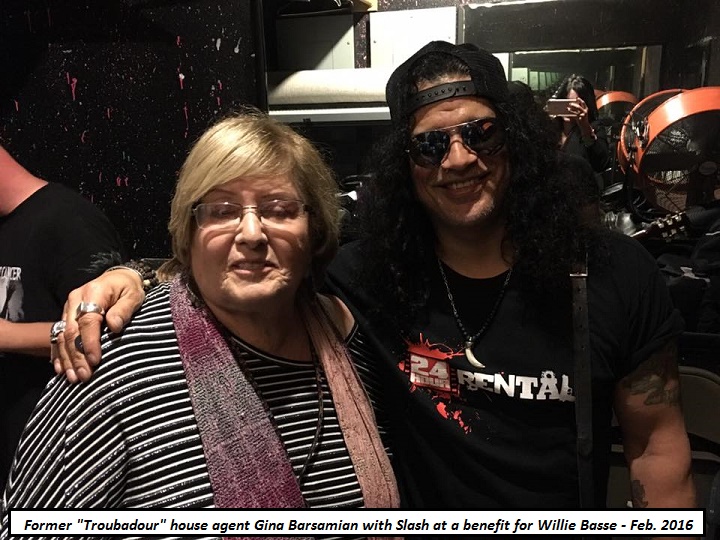 Guns N' Roses appeared at the Santa Monica Blvd. based club many times in their hey day and was booked by the then house agent Gina Barsamian.
There is no official word yet from the Guns N' Roses camp or the club, but several sources are saying there will be some type of announcement on Friday during the day.
One insider close to Metal Sludge reported the event "Is at the "Troubadour" and it'll be an invite only" performance.
The insider also speculated that a select amount of tickets would be made available as give-aways through local radio, or made for sale on a first come first served basis.
Stay tuned to all related social networks starting Friday morning.
We're also gonna go out on a limb and say you should stay tuned to KLOS if you live locally as 95.5 is Los Angeles' biggest classic rock station.