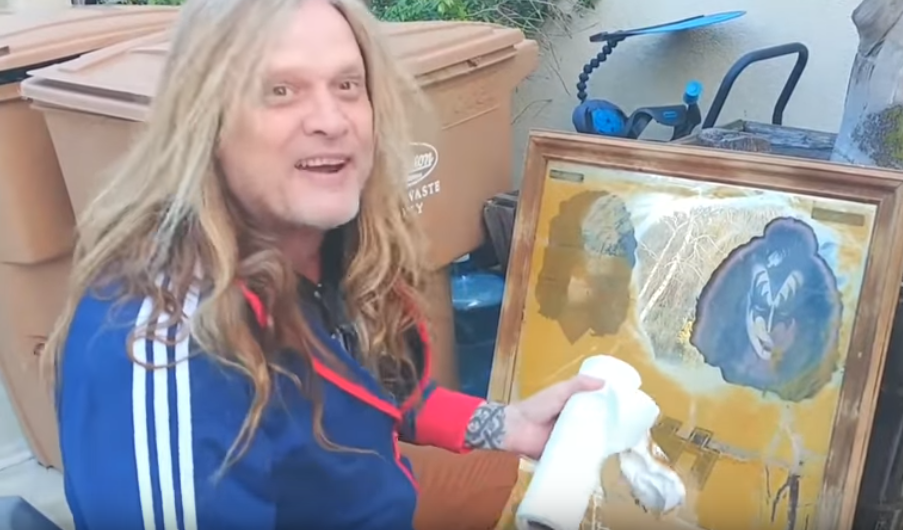 HAPPY MELTDOWN
Sebastian Bach acts like giddy 5 year old finding old junkie Kiss mirror in storage
Hurricane Left-Overs — Sebastian Bach recently uploaded a video of him celebrating finding an old junkie Kiss mirror in storage.
Bach is elated beyond words sharing his joy with wife Suzanne Le and his youtube audience.
It seems this mirror was thought to have been lost in Hurricane Irene, but survived the storm.
Watch below as the former Skid Row screamer uses some glass cleaner to unveil The Demon's face.
In a boisterous voice, "The Kiss mirror is A OKAY. I'm gonna be out here for a long time" as Bach sprays more cleaner on the mirror.
Wife Suzzane giggles and says; "Stupid."
In an even louder voice, "OH MY GOD! It's KISS!" adds Bach
He then apologizes to Paul Stanley as he cleans his idol's face.
Bach is so excited, it appears he might cry at any point.
Then he asks outloud, "What's the word about the floor…(as he pauses in deep thought)."
"Ummm, seismologist? No. Ahh, (sighs) what's the word for like the, weather guy?" Bach asks his wife.
They both seem confused and work hard to think of the name for a weatherman.
The singer then offers up a guess, "Archaeologist?"
Wife Suzanne breaks into laughter, "Oh my God!" and at some point notes her shock that he is cleaning.
As Bach begins to describe the Hurricane fluid leftovers on the mirror Suzanne adds; "Weatherologist."
"This is going to be killer, in about 2 hours!" shouts Bach
ADs