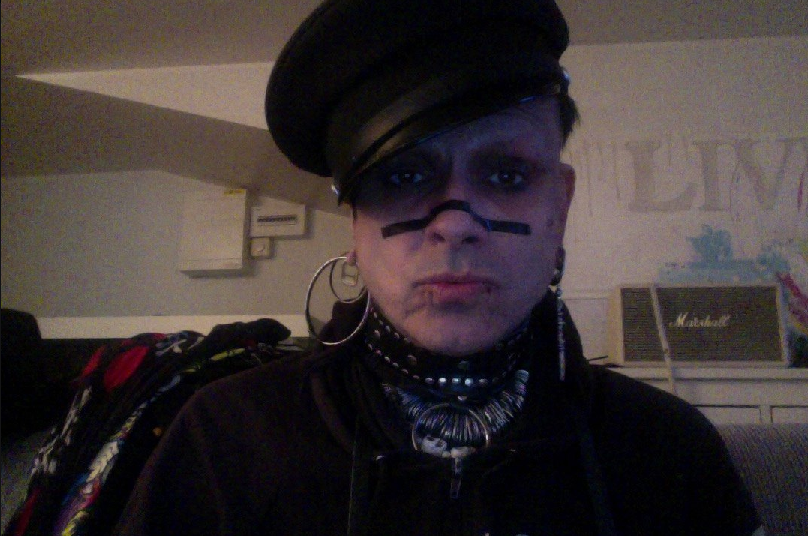 HOME SWEET HOMELESS
Brides of Destruction singer London LeGrand homeless after Sweden deports him
Facebook — Who has a spare couch for London LeGrand? We're asking for a friend. A brother in arms, a soldier and a true rock warrior who is soon to be if not already, homeless in the U.S.A.
He doesn't seem to be picky on where he's gonna go either, but here is the deal. The singer best known for his work in Brides Of Destruction recently was arrested in Sweden for staying past his 6 month visa.
He overstayed by just a tad, as last we checked 5 years is definitely longer than 6 months. But this ain't math folks, it's Rock N' Roll.
The frontman went awol from U.S. soil and has been laying it down in Scandinavia for several years, until recently.
LeGrand also was involved with Dokken guitatist George Lynch in their project Souls Of We, but Sixx and Lynch are in the past.
The future is just LeGrand, and according to his post… his backpack.
We think LeGrand is an all around good dude, and a kind soul too.
In short, we give a huge shout out to London for flying the flag, his flag and a God damn real flag for the cause known as Rock N' Roll.
This guy is as committed to his art as anyone can be. For that, we salute you Mr. LeGrand.
There is a GoFundMe started to get the word out, and get some coin into the rocker's pockets as well.
For anyone else out there who wants to give him a high-five, a shout-out or other, please get in touch with this freak!
——————————————————————
From LeGrand's facebook….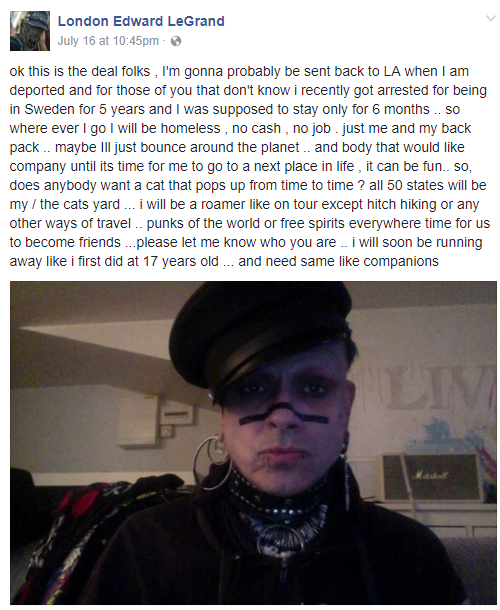 And the following is from his GoFundMe page started on July 25th 2017

Ok, this is the deal folks. I'm currently living in Sweden and about to be deported to the United States. Recently got arrested for being in Sweden for 5 years, was supposed to only stay 6 months. This has all happened so fast. I was caught completely off gaurd. I was just about to go into the studio with my band to lay down some tracks for the next BRIDES OF DESTRUCTION GBG release after we played several successful shows here in Sweden. I am far from prepared to go anywhere at this time but the law is forcing me. Where ever I go to in the States, I will be homeless, no cash, no job. It will be just me and my back pack! So what I thought I would do maybe is I'll just bounce around the States! Meet some cool people, fans, really ANYBODY that would like company until it's time for me to roll. This could be alot of fun! So does anyone want a cat, me London LeGrand, for a houseguest?? All 50 states will be my/the cats yard! I will be a roamer, a rock n roll gypsy warrior, just like on tour except without the comforts of a deluxe bus. I will be hitch-hiking or utilizing any other ways of travel that become available to me. So all my FREAKS, HIPPIES, GYPSIES, ROCKERS, and PUNKS of the world AND to FREE SPIRITS everywhere, It is time for us to get to know each other and become friends!! Please let me know who you are! I will soon be running away just like I first did at 17 years old to chase my Rock n Roll dream and I need to find some like companions!! Fuck em' All,
London LeGrand
Alright now friends, family, fellow musicians, freaks, and free-spirits, like London said, this all came about quickly.. He is not prepared to make the transition but if he doesn't they will throw him in prison! RIGHT NOW LONDON NEEDS YOUR HELP!!. This is an investment into keeping him going so he can focus on the great music he has been a part of with so many bands under his belt. ADDICTION FOR DESTRUCTION, GEORGE LYNCH'S SOULS OF WEI PROJECT, BRIDES OF DESTRUCTION featuring NIKKI SIXX and TRACII GUNS, and ROCKSTARS ON MARS!! Donations will be used for London's immediate and urgent needs including new eye glasses (which he desperately needs!!), travel expenses, food etc. If your interested in having London come to you in your hometown and stay awhile please drop a note along with your donation. Every dollar counts so anything you can donate will be put to good use. London is one of the most down to earth, cool, kind, non jugemental, giving, people especially Rockstars that I have ever known. I've never seen him not offer his help to someone in need. It's time we show him the same.
Thank you, NS
PR for London LeGrand
——————————————————————-